The simplest way of finding the KGMID
What is a KGMID (Google Knowledge Graph ID)?
A KGMID (Google Knowledge Graph ID) is a unique identifier for entities in Google's Knowledge Graph. Each Knowledge Panel in the Google SERPs (Search Engine Results Pages) contains a KGMID. It can therefore be considered the ID of the Knowledge Panels.
A KGMID represents a specific Named Entity and helps Google to distinguish between entities with similar or the same name.
You can see what Google understands about an entity by looking it up in the Knowledge Graph API. If you have the KGMID you can use the Kalicube free Knowledge Graph API Reverse Lookup tool to see what entity it represents.
What is the easiest way to find the KGMID?
The easiest way to find the Google Knowledge Graph ID (KGMID) is to use the "Share" feature in the Knowledge Panel.
To find the KGMID follow the steps listed below.
Perform a Google search for the entity (person, place, organisation, ) you are looking for
If a Knowledge Panel appears on the right side of the search results, click on the three-dot "burger" menu at the top of the panel or the "share" icon inside the panel. This will open a small window with a URL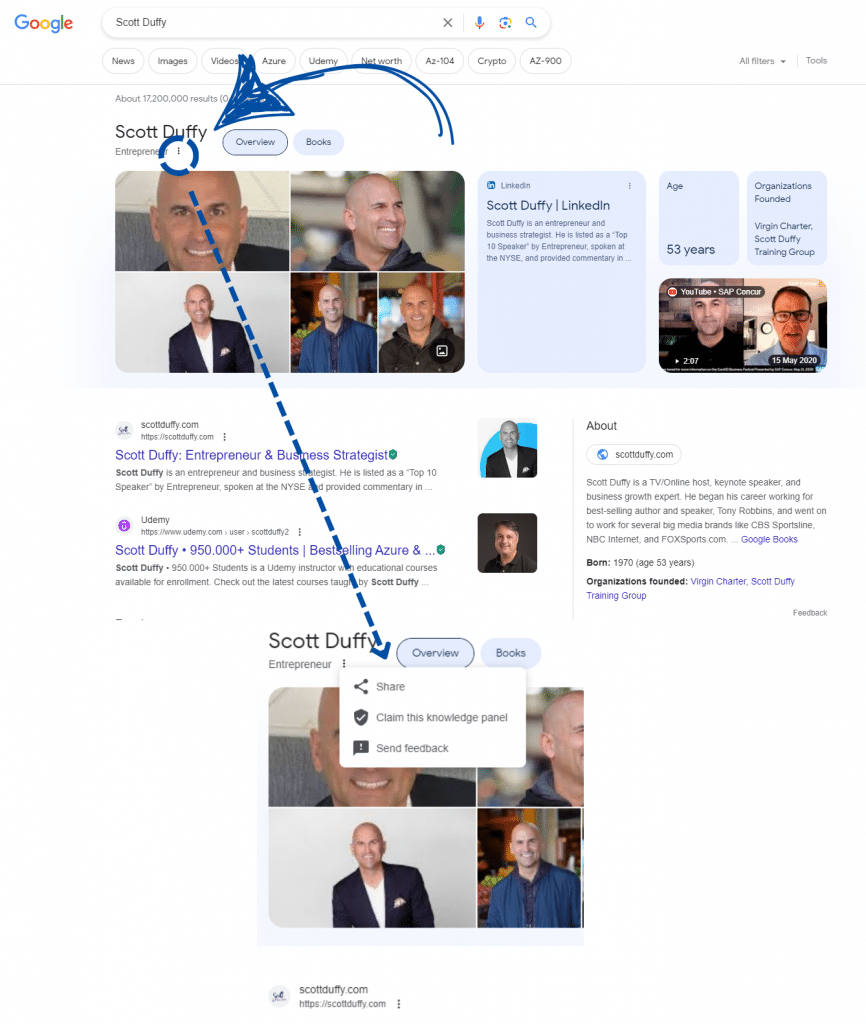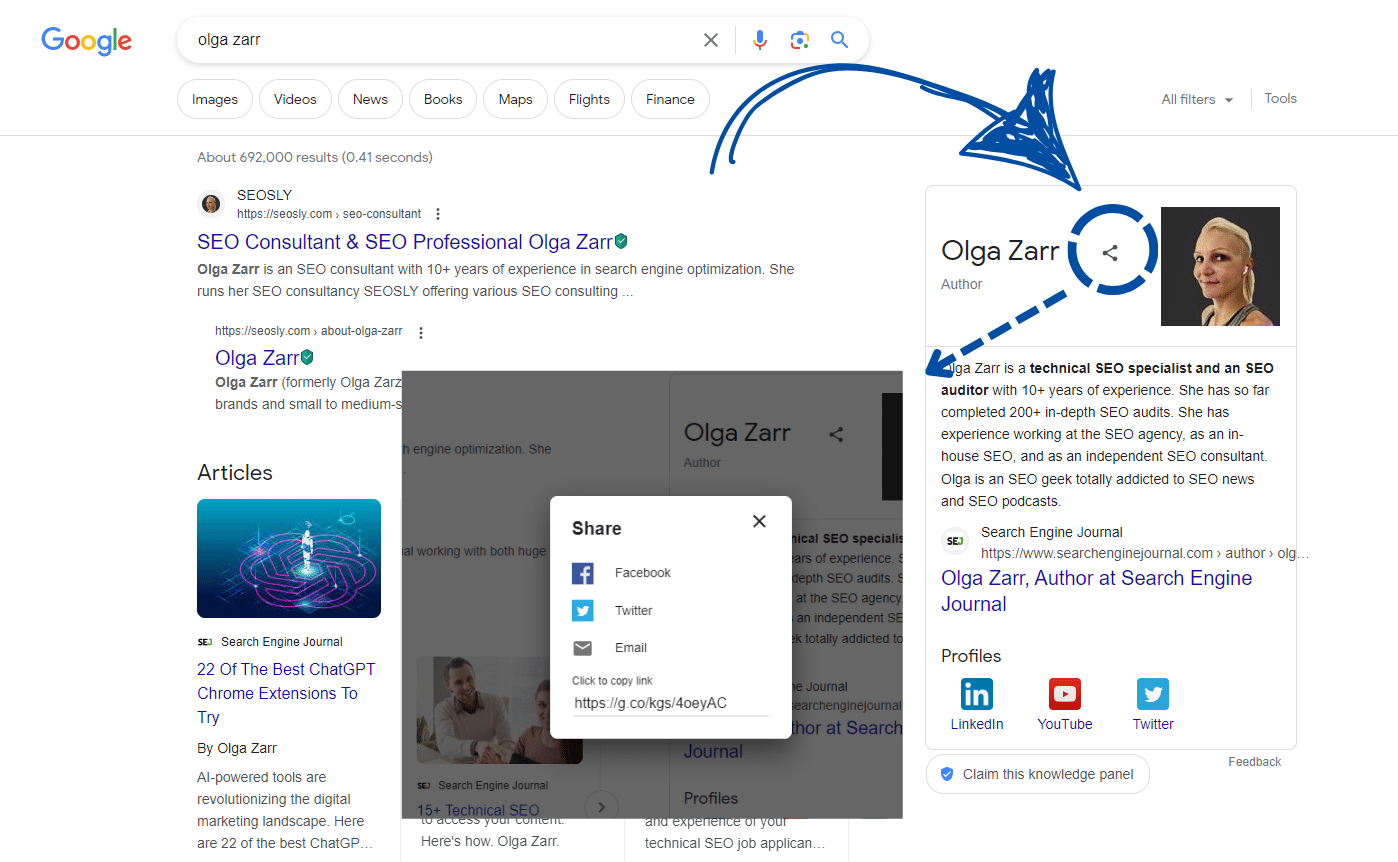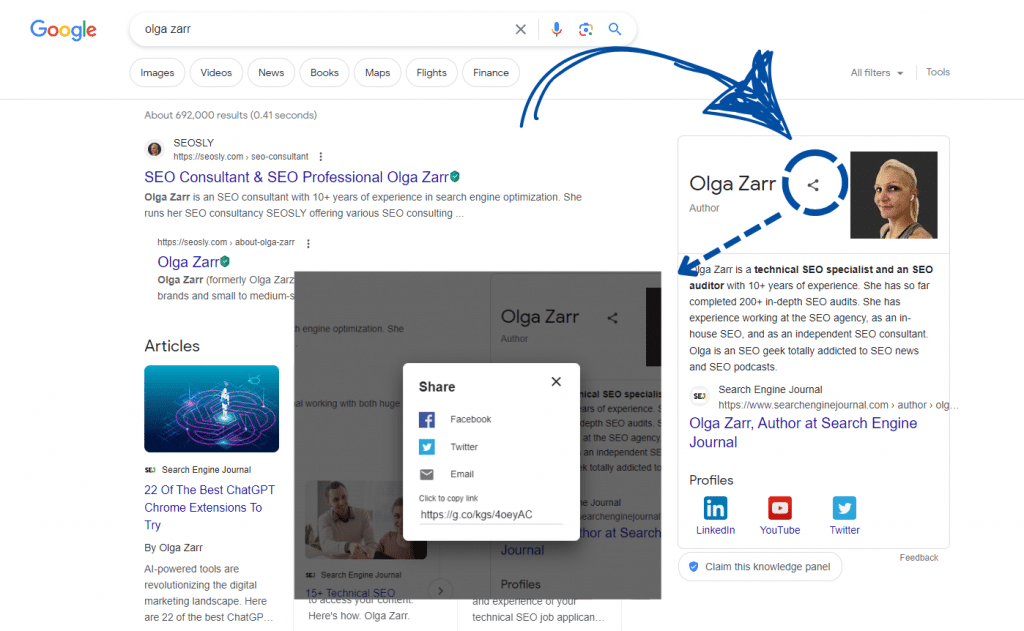 In this URL, look for the sequence starting with either "/g/" or "/m/". The sequence following this is the KGMID of the entity.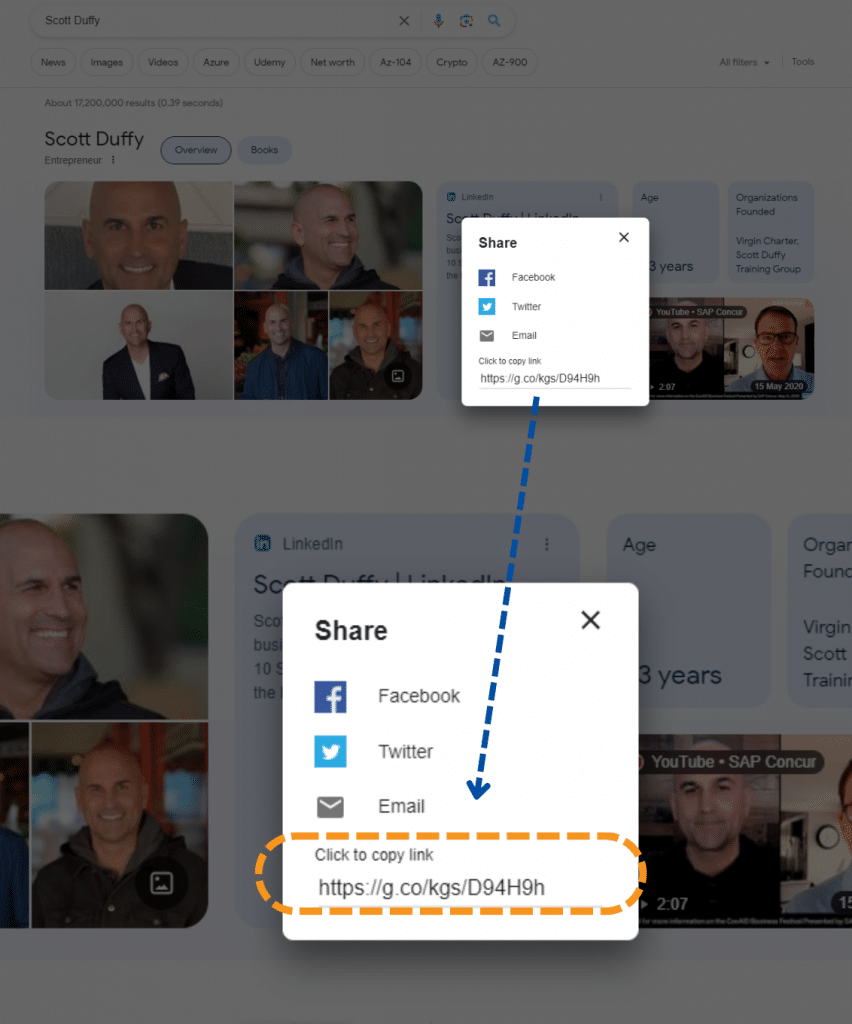 Copy this URL and paste it somewhere (like Notepad or in the address bar of a new browser tab).
Remember to make sure you're looking at the correct Knowledge Panel for the entity you're interested in, as different entities can have similar or identical names.
Why is finding the KGMID important?
Finding the Google Knowledge Graph ID (KGMID) is important for a few reasons:
SEO Optimisation
Google uses its Knowledge Graph to generate search features like Knowledge Panels, Featured Snippets, or other SERP features. By better understanding and potentially improving the Knowledge Graph data associated with your brand (via your KGMID), you can influence these search features, resulting in higher visibility. In addition, the KGMID helps identify your brand's digital footprint on Google's Knowledge Graph. This can help with online reputation management and identifying misinformation that could be damaging to the brand.
Specific Entity Identification
Each KGMID is unique to a particular entity. This means that if you have the KGMID, you can accurately identify the specific entity it represents. It also helps distinguish between different entities that may have similar or the same names.
For example, two people with the same name will have different KGMIDs, allowing for the accurate identification of each individual. This specificity is important and can prevent confusion or misrepresentation.
Improving Knowledge Panels
A KGMID is a unique identifier for entities in the Google Knowledge Panel. A KGMID doesn't directly enhance a Knowledge Panel, but it does enable efficient analysis, manipulation, and tracking of data associated with a particular entity in the Knowledge Graph. So if you own or manage an entity that appears in a Knowledge Panel, knowing the KGMID can be helpful in monitoring, updating, or claiming the panel.
How does KGMID fit into Brand SERP Optimisation and Knowledge Panel Management?
In the context of Brand SERP Optimisation, a Brand SERP is essentially Google's understanding of the brand informed by the data in the Knowledge Graph associated with a particular KGMID. Understanding your brand or company's KGMID will help you better analyse and optimise your entity's presence in search results. You can customise the information Google considers when generating SERPs – such as your site's content, metadata, and structured data – to improve the accuracy and relevance of your brand's representation in search results.
In the context of Knowledge Panel Management, each Knowledge Panel has a specific KGMID. Knowing the KGMID will help you claim, manage, and optimise your Knowledge Panel more effectively. You can submit updates or changes to Google and help Google better understand and trust your entity, resulting in a more accurate and comprehensive Knowledge Panel. When you claim your Knowledge Panel, you link your organisation directly to KGMID and establish an official connection in Google's Knowledge Graph.
Overall, understanding and effectively using KGMIDs can help improve how your brand or entity is represented in Google search results and increase visibility and accuracy.
There are about 8 ways to finding the KGMID of any entity. To learn more about these ways, read this article by Jason Barnard (The Brand SERP Guy) here.
Kalicube offers free tools used to find KGMIDs and also done for you Knowledge Panel Services. If you are an ORM, PR or digital marketing agency, then Kalicube Pro is definitely a platform you will need to best serve your clients. Kalicube Pro for agencies >>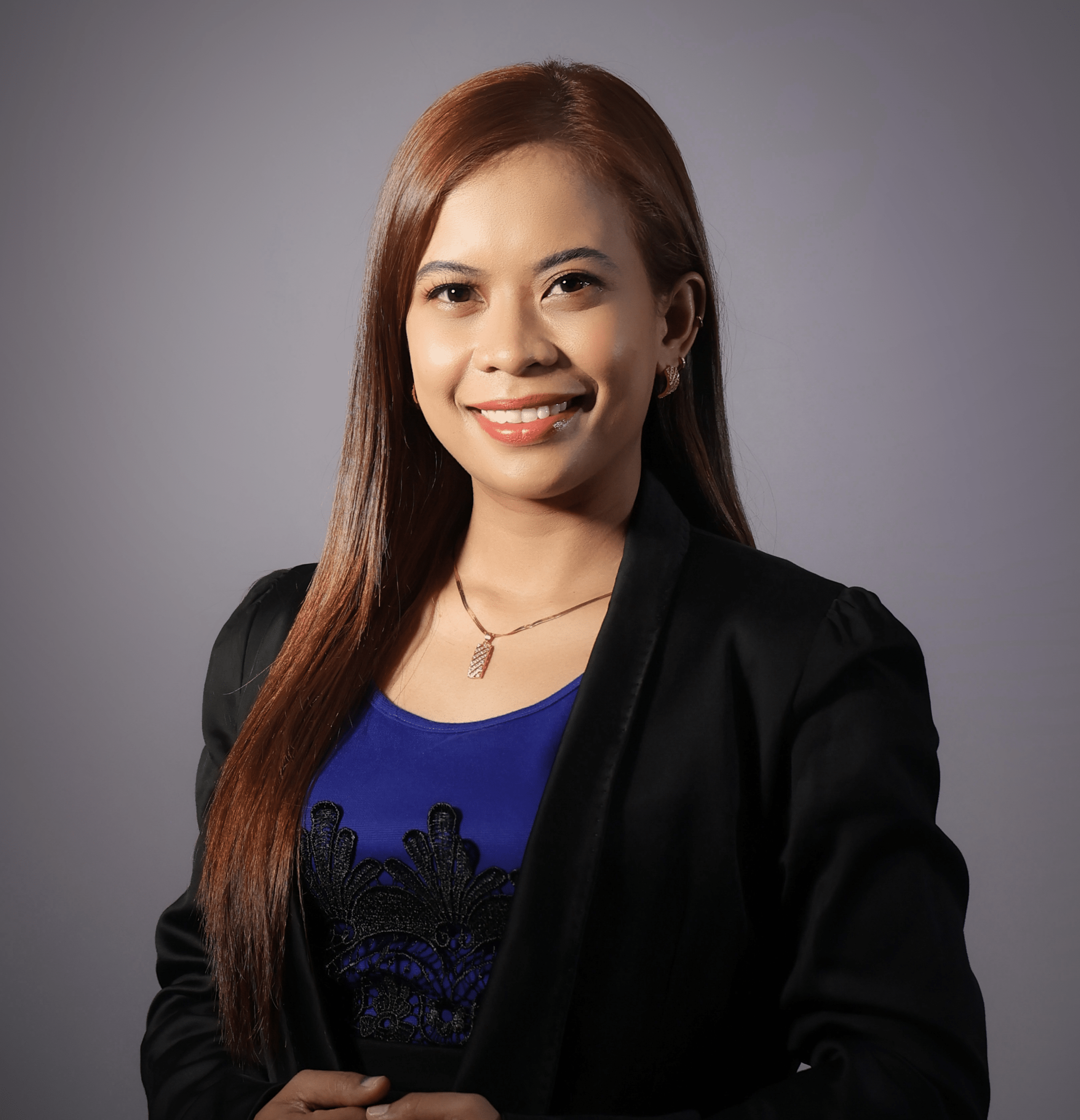 Jean Marie
Website Content Manager. Joined Kalicube in February 2022
LinkedIn: www.linkedin.com/in/jeanmarielaurente
Email: [email protected]