How We Implement the Kalicube Process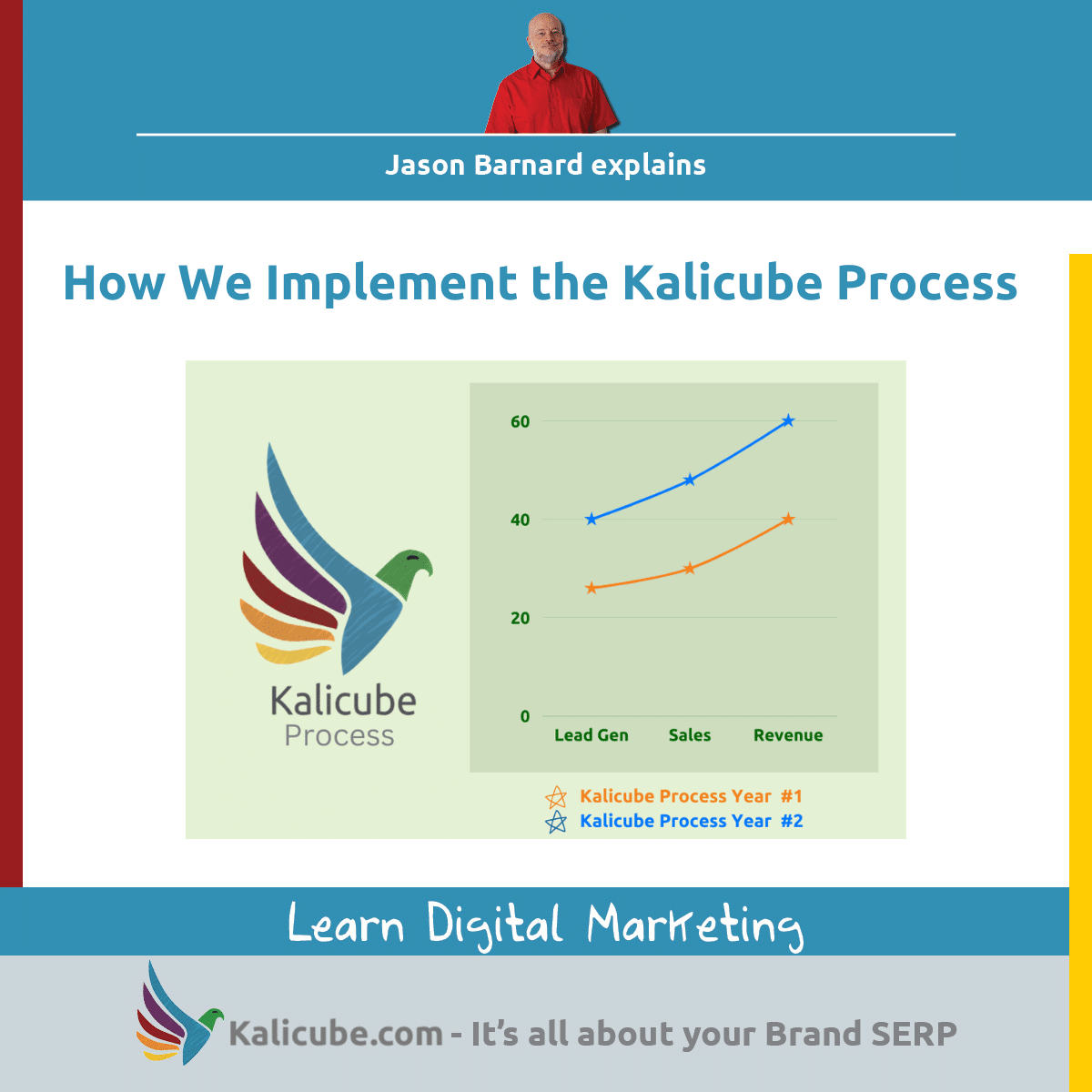 To implement the Kalicube Process, we do five things.
1. Audit your Brand's presence across the digital ecosystem using Kalicube Pro, our unique platform that collects business, Brand and industry data from across Google and the web.
2. Create a two-year digital marketing strategy for your Brand. The strategy comes from the audit results, an analysis of your competitors and the target audience. We start with what you're doing "right" and build on it with the strategy. Implement it properly, and you'll increase your Brand's digital visibility, enhance marketing strategies, educate search engines, increase your SEO traffic, and propel revenues in both years.
3. Align that digital marketing strategy with your goals and the resources you have within your business. The timeline for implementation must be realistic, and we can ensure the right people are focusing on the right things. We call this "shapeshifting".
4. Partner with you to implement your digital marketing strategy. We monitor progress, and if anything changes in the digital landscape as we go, we will respond and adjust to the changes.
5. We ask you to commit to the Kalicube Process for at least one year. By year-end, if you have fully implemented our recommendations, your digital marketing flywheel will be spinning well enough for you to manage the second year of the strategy internally.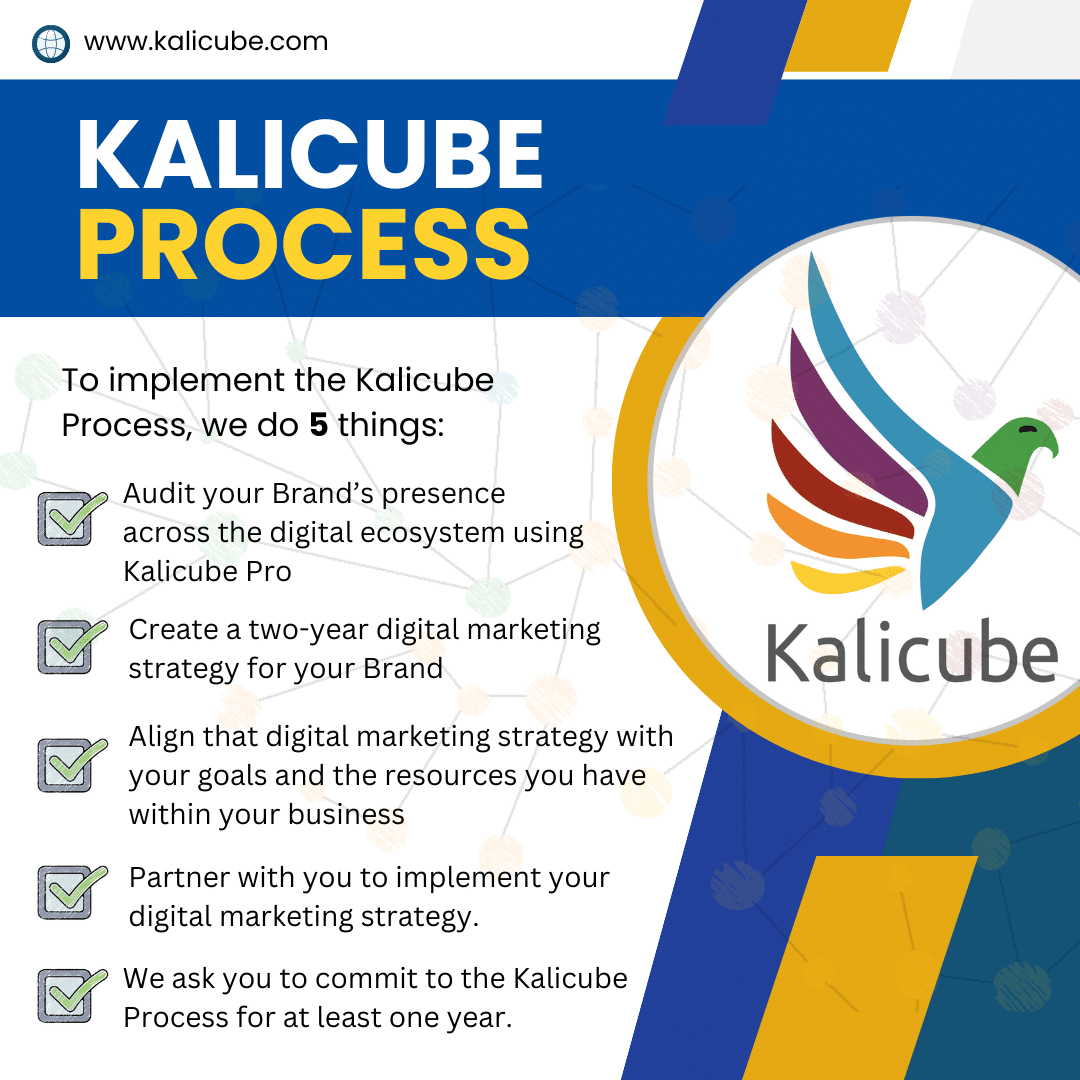 At this point, you'll be controlling your Brand narrative online, expanding your reach across search, driving audience engagement on your platforms and seeing an uptick in Brand search, organic search and revenue for your efforts.
When we applied the Kalicube Process to Kalicube, year one resulted in a 25% year-on-year increase in lead generation, sales, and revenue. This growth continued in year two, where we saw a 60% growth in leads, sales, and revenue, effectively doubling the revenue across the two years.
If you are ambitious, then we recommend a second year working with our team since there is a huge amount that we can do to help you make your marketing flywheel spin faster and generate more brand awareness, traction and revenues.
What is the Kalicube Process?
The Kalicube Process is a set of steps to educate search engines about a business's Brand. It is a strategy that demonstrates the Brand's authority and credibility and builds search engine understanding and confidence in the Brand so it displays it prominently in search results. The goal is to control the Brand's online presence and reputation.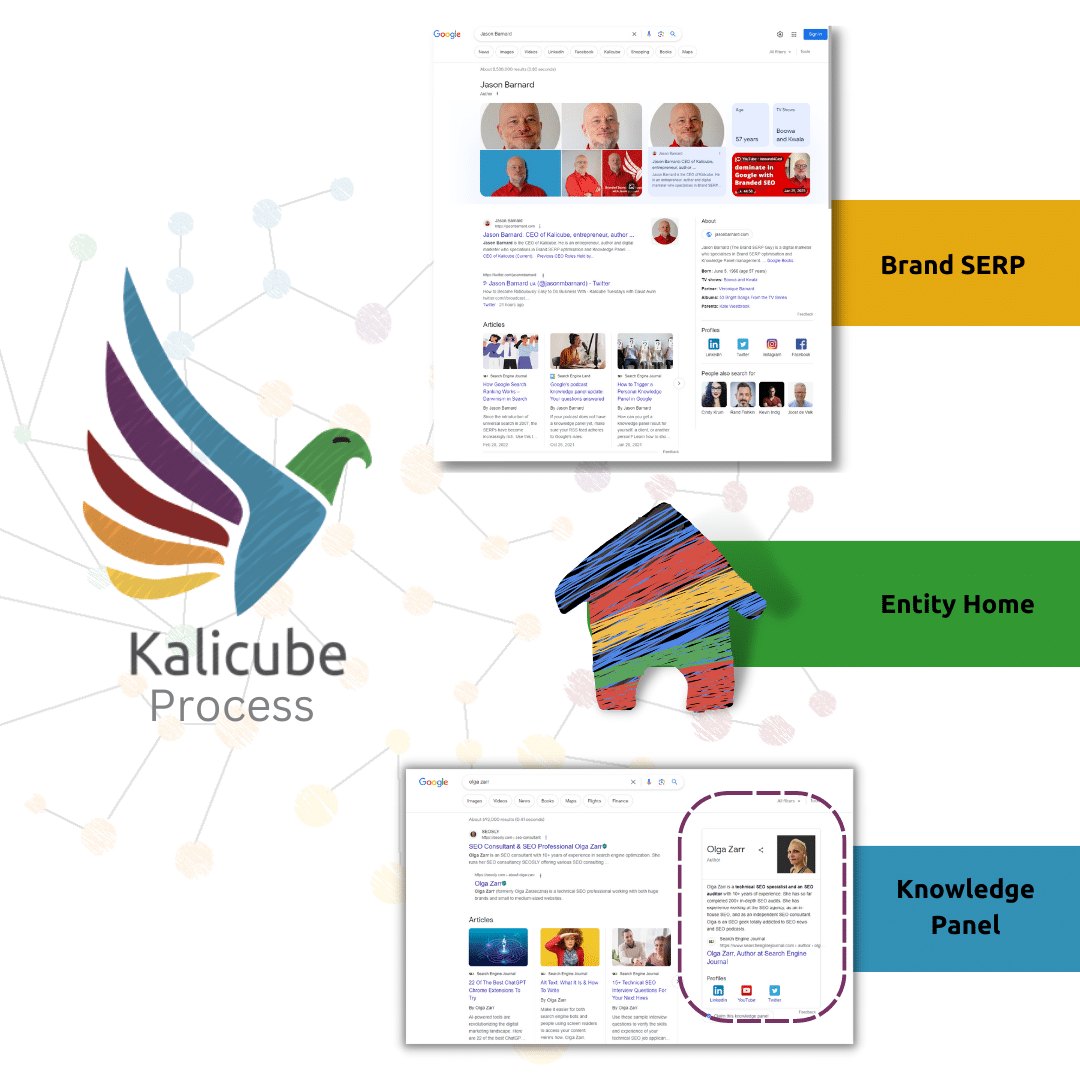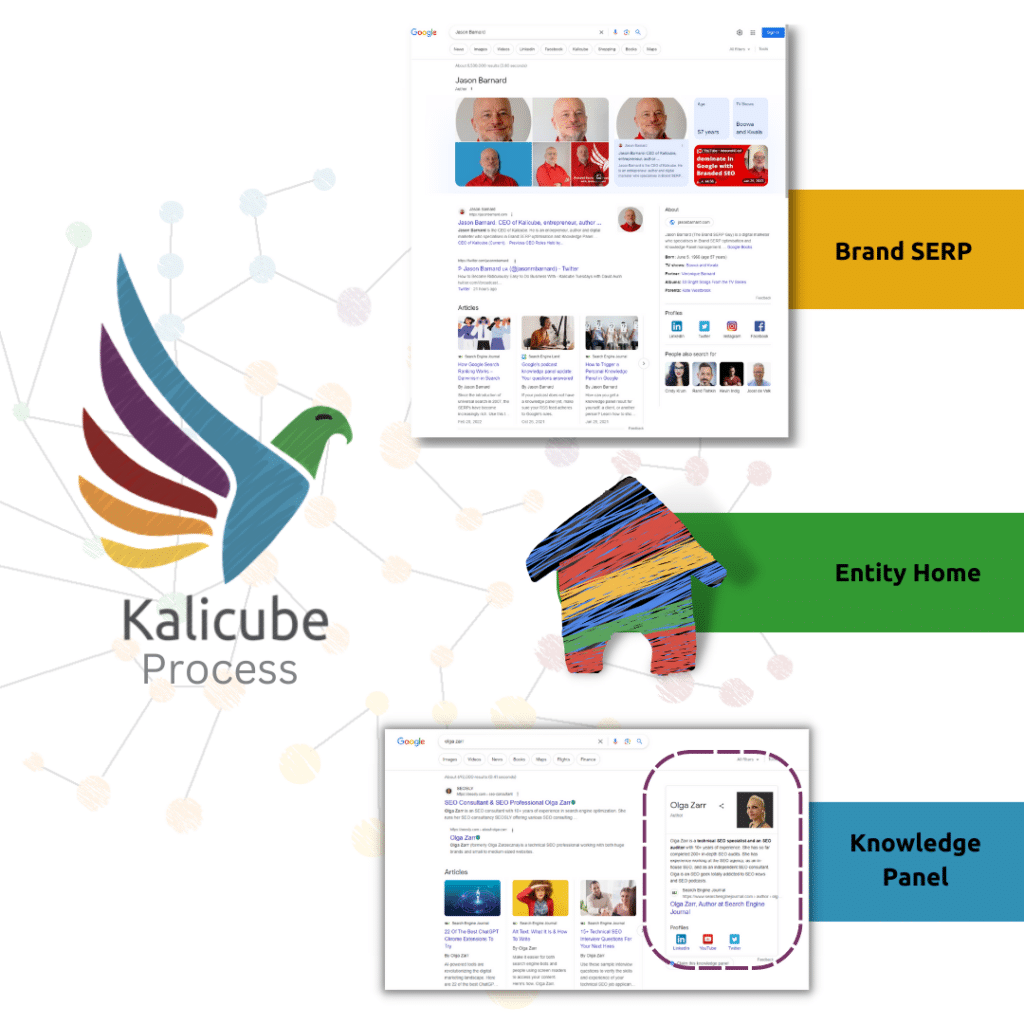 The process involves three focus areas:
1. Brand SERP: A Brand SERP is the Google Search result for your Brand name. The process involves optimizing how your Brand appears when someone searches for it.
2. Knowledge Panel: These are information boxes that appear on Google when you search for notable entities. The process involves managing this information to ensure it accurately represents the Brand.
3. Entity Home: A Brand's main online presence (usually its website). The process ensures this website is effectively optimized and accurately represents the Brand.
The overall goal of the Kalicube Process is to manage and improve how a Brand is represented in digital search results, to help businesses attract the right customers and dominate search results, lowering visibility for their competition. After implementing this process, Brands can expect increased online traffic and more success, including an increased customer base and revenue.
We use our proprietary algorithms and our industry-beating database of 500 million data points (the Kalicube Pro platform) to analyse the data and create bespoke implementations of the Kalicube Process for each client. Because it is built on an AI analysis of your digital ecosystem, the competitive landscape and then manually tweaked with you by our experts according to your priorities and resources, this bespoke strategy is hyper-optimized. It is the most effective and efficient digital strategy possible.
Read more about the Kalicube Process here >>
Let's break it down.
Audit your Brand's digital ecosystem using Kalicube Pro
Kalicube Pro's algorithms analyze your Google search results to understand your Brand's digital ecosystem. The audit encompasses everything from search results to social media to videos to PR and positioning in Google's Knowledge Panel and Brand SERPs.
What does the audit include?
1. Your current digital footprint.
We start with your Brand. We learn how your Brand is perceived and represented online. We meticulously gather and examine every element of data about your Brand available online, be it profiles, reviews, articles about your Brand, or other data sources. It gives us the key elements that are driving your digital presence. We understand the areas you are excelling so we can capitalize on them and look to improve the areas that can help solidify your online presence.
2. Competitor Analysis.
Kalicube Pro analyses your competitors' digital ecosystems in the same way. Our algorithms can identify where you have a competitive advantage or disadvantage. We learn from your competitors' successes and failures to plan your strategy more effectively. This approach helps us identify opportunities for improvement, reveal gaps in the market, and benchmark your Brand against industry standards.
You get strategic recommendations that transform your digital marketing efforts. It's not just about keeping pace with market changes but anticipating them, allowing you to stay ahead of your competitors. With these insights and strategies, you have the means to control your Brand's narrative online, enhance your reputation, increase visibility, expand brand awareness and ultimately, drive higher conversions.
We create a two-year Kalicube Process strategy
Once we've amassed and dissected this data, we craft a unique strategy for your Brand. We don't believe in one-size-fits-all solutions. Instead, we design an approach tuned to the specific needs of your Brand and your business goals. We determine the digital marketing initiatives that will yield the best results for your Brand in the shortest time possible. This way, we ensure that every action taken is cost-effective and outcome-driven.
This strategic approach considers all aspects, including your current resources and what your competitors are doing well. Then we prioritize the most pressing actions to achieve results quickly.
In summary, we base your strategy on this list.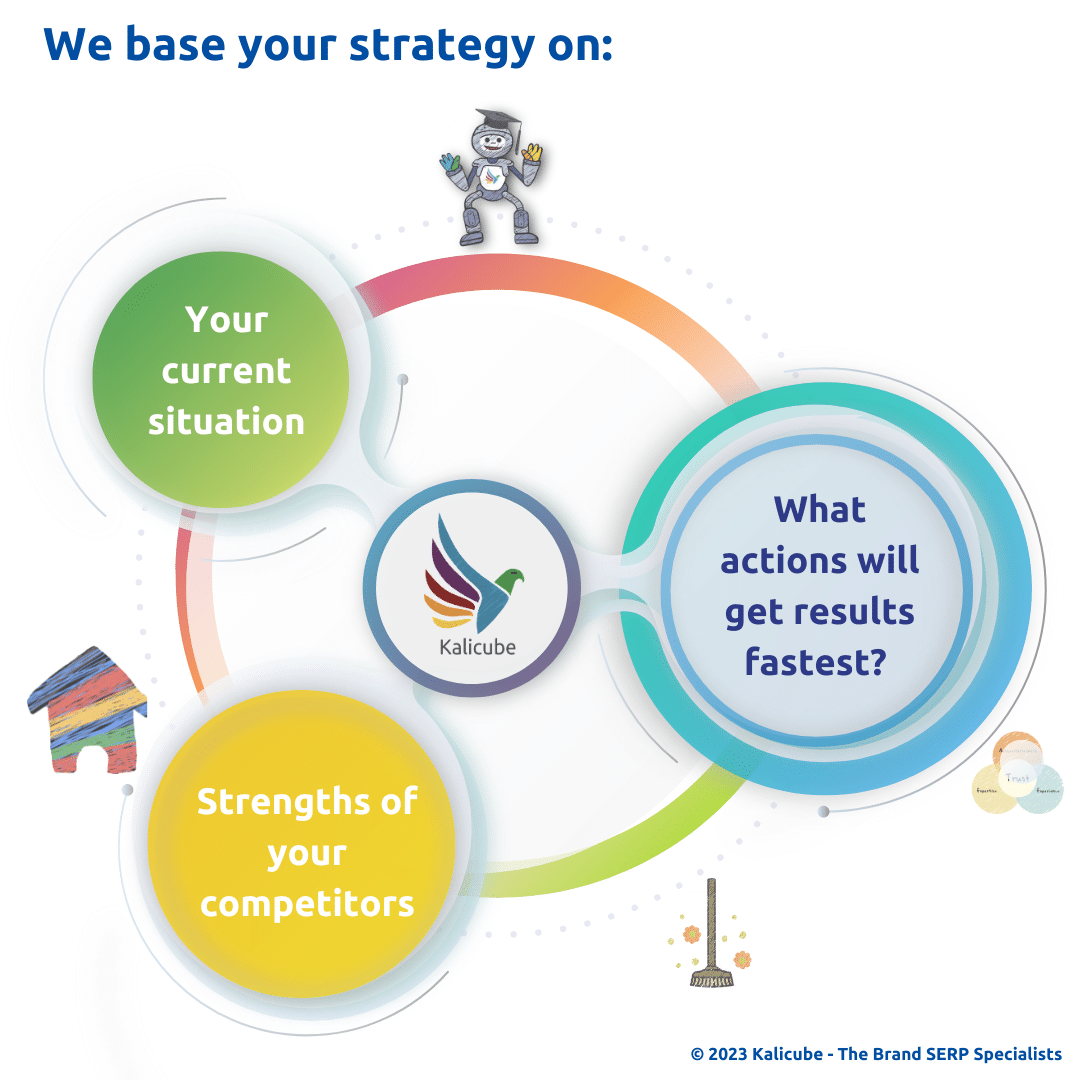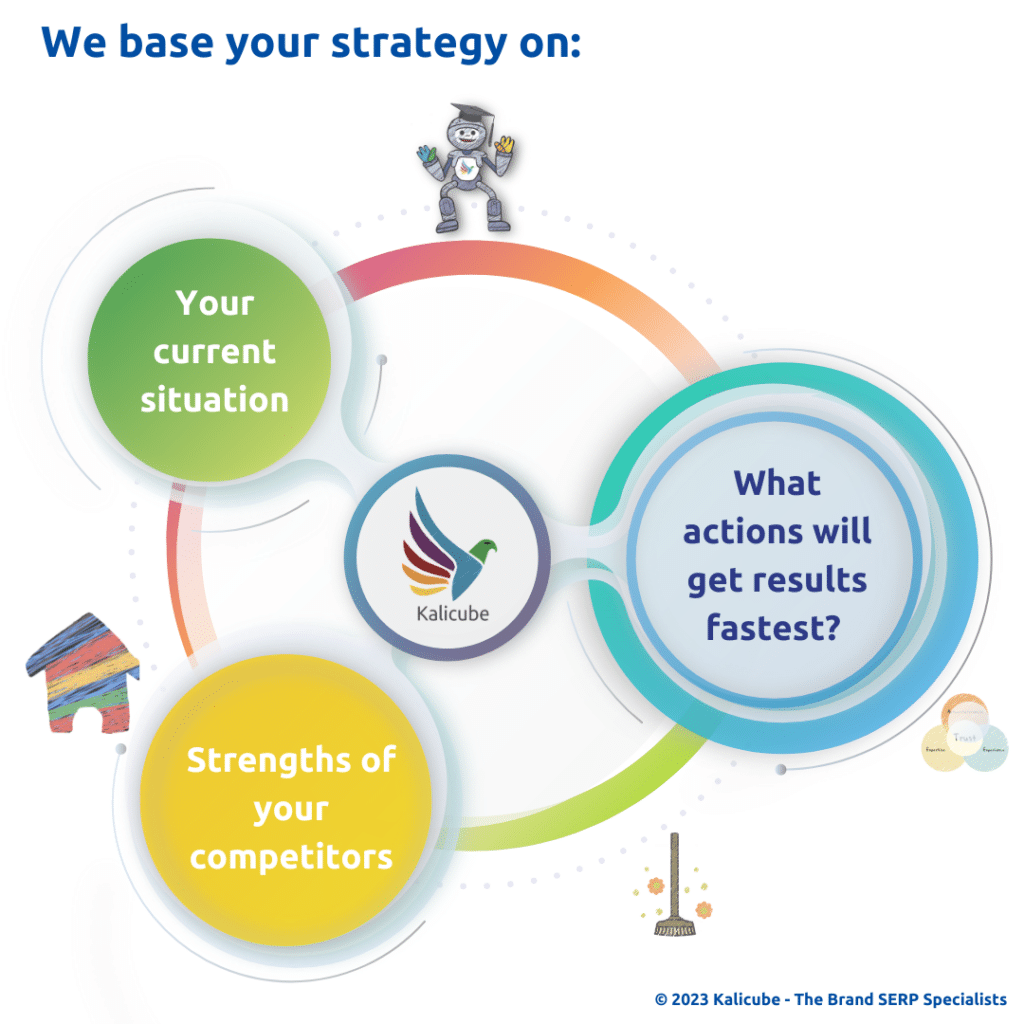 The primary focus is identifying and improving areas of immediate concern that can help you match or surpass your competitors and bring you closer to your target audience.
We provide a GANTT representation of your ideal two-year strategy.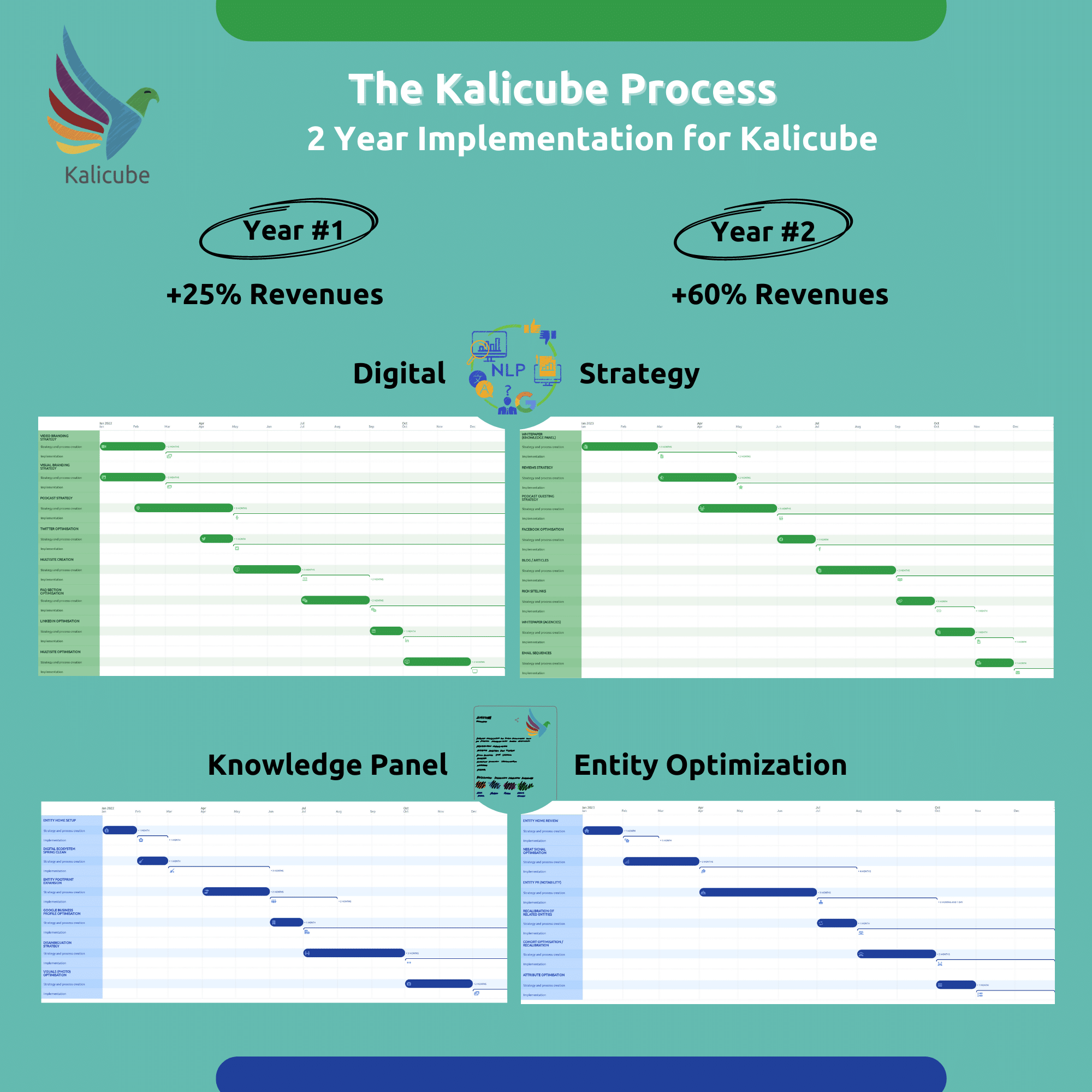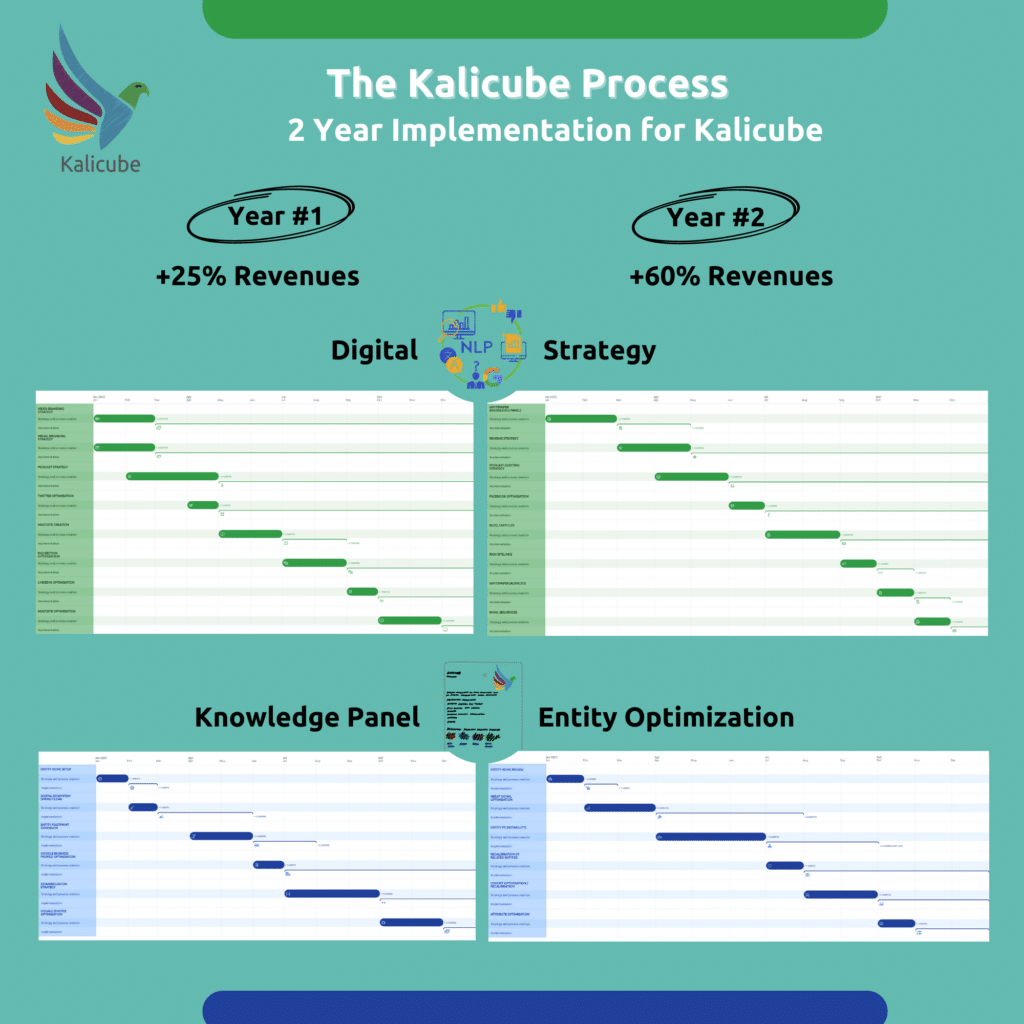 This is yours to keep, whether you work with us in year 2 or not.
We customize your digital strategy to fit your needs and goals
The success of this strategy and its timelines rely on your team's implementation capabilities.
We meet with you to evaluate the GANTT representation of your ideal two-year strategy and discuss the following.
Your ongoing marketing strategies.
Your business goals.
Your probable available internal resources over time.
Then adjust the strategy and timeline to reflect the most realistic implementation of the ideal strategy based on the realities of your business.
We appreciate that these resources can fluctuate over time, and we will work with you to adapt your strategy over time in response to these changes.
We adapt and modify your strategy when any of the following things occur.
1. Changes to Google's algorithms.
2. Shifts in your competitive landscape and target audience. We constantly watch your competition and your audience.
3. Changes to your internal and financial resources.
Our goal is to create a digital marketing strategy that is dynamic, responsive and tailored to your specific needs while constantly aligning with the ever-changing digital landscape.
Kalicube Case Study and Conclusion
Kalicube has helped its clients grow their Brand visibility and revenues through the Kalicube Process, and you can read more in this Kalicube Case Study.
Its tailored and dynamic approach to creating digital strategies has delivered significant Brand visibility in search results and increased organic SEO traffic and revenue. Our agile methods create a roadmap for your Brand's growth and help navigate the unpredictable landscape of your market.
When Kalicube applied the Kalicube Process to the Kalicube business, we saw a 25% year-on-year increase in lead generation, sales, and revenue for our clients. The upward trajectory doesn't stop there. Entering the second year, we've escalated the growth by pushing an additional 60% increment year-on-year in leads, sales, and revenues.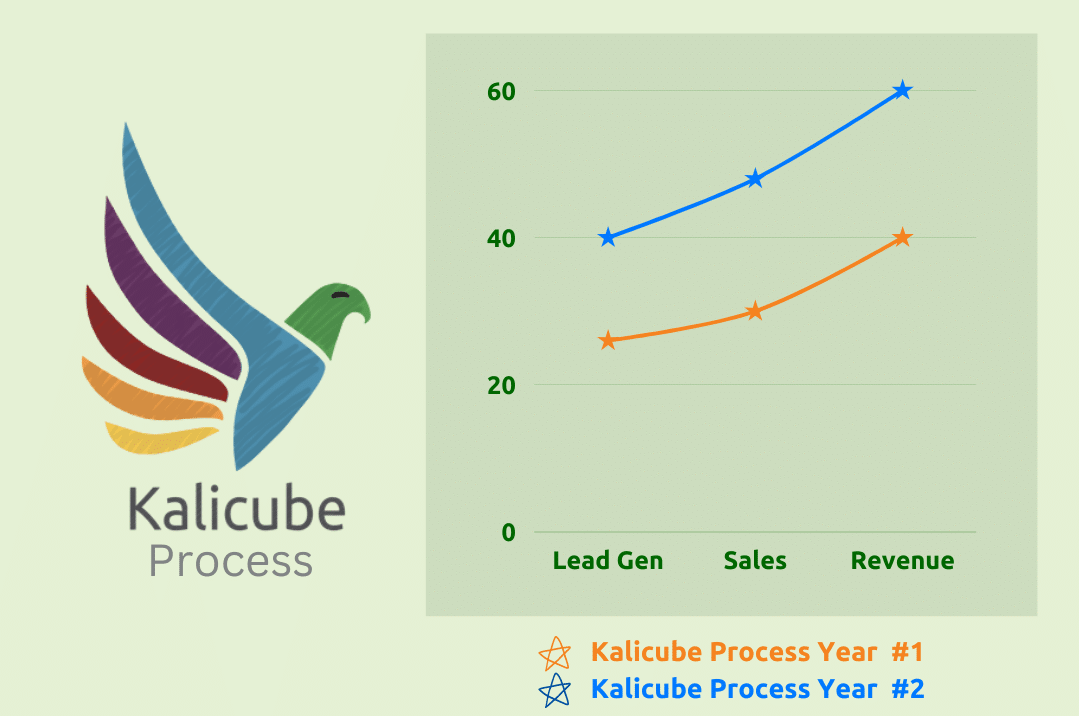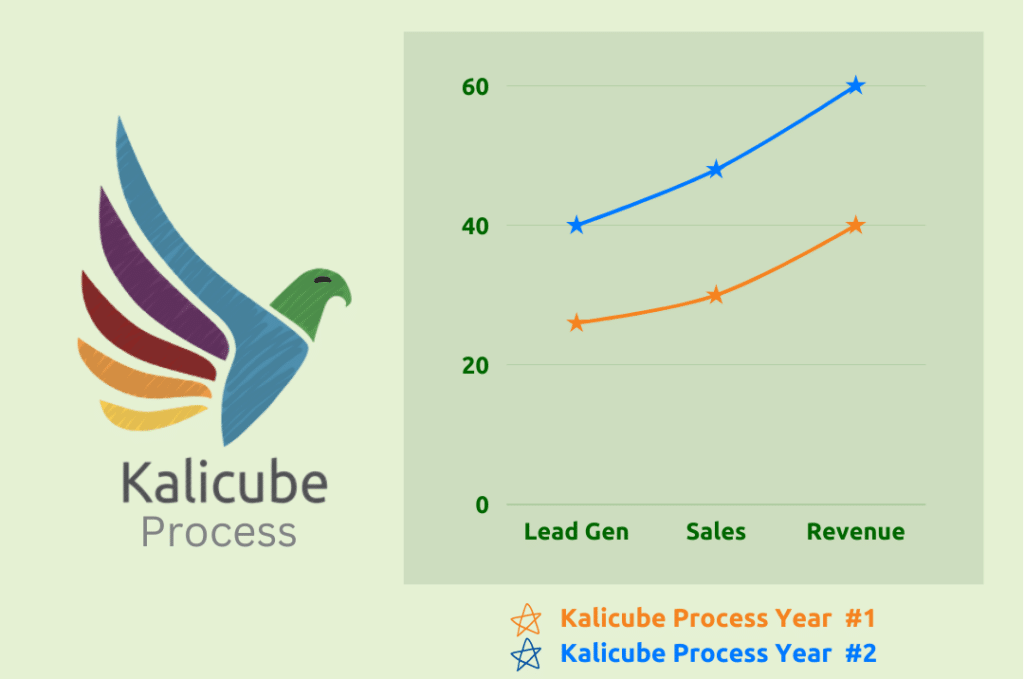 Thanks to The Kalicube Process, we doubled revenue in just two years.
These figures illustrate not only the impact of the strategic course we chart but the adaptability of our approach to help Brands flourish in their respective markets. Our ultimate goal remains to have the digital marketing flywheel spinning at a pace that aligns with your needs and ambitions, making your Brand a benchmark for growth and prosperity in the market.
Read more about what the Kalicube Process can deliver for your company >>