Managing your brand on Google is vital. When we talk about "Brand" at Kalicube, we are technically referring to entities: people, companies, podcasts, books, music groups… At Kalicube, we generally focus on companies and people since these tend to be the focus for our clients.
What is the "Kalicube Process" ?
The Kalicube Process is a strategy that makes optimising your brand's online ecosystem super-simple and straightforward: from your site to Google Search to Facebook, to YouTube, to Twitter, to digital PR. It is split into two distinct parts: Brand SERP and Knowledge Panel. We can also look at this as Left Rail (Brand SERP) and Right Rail (Knowledge Panel).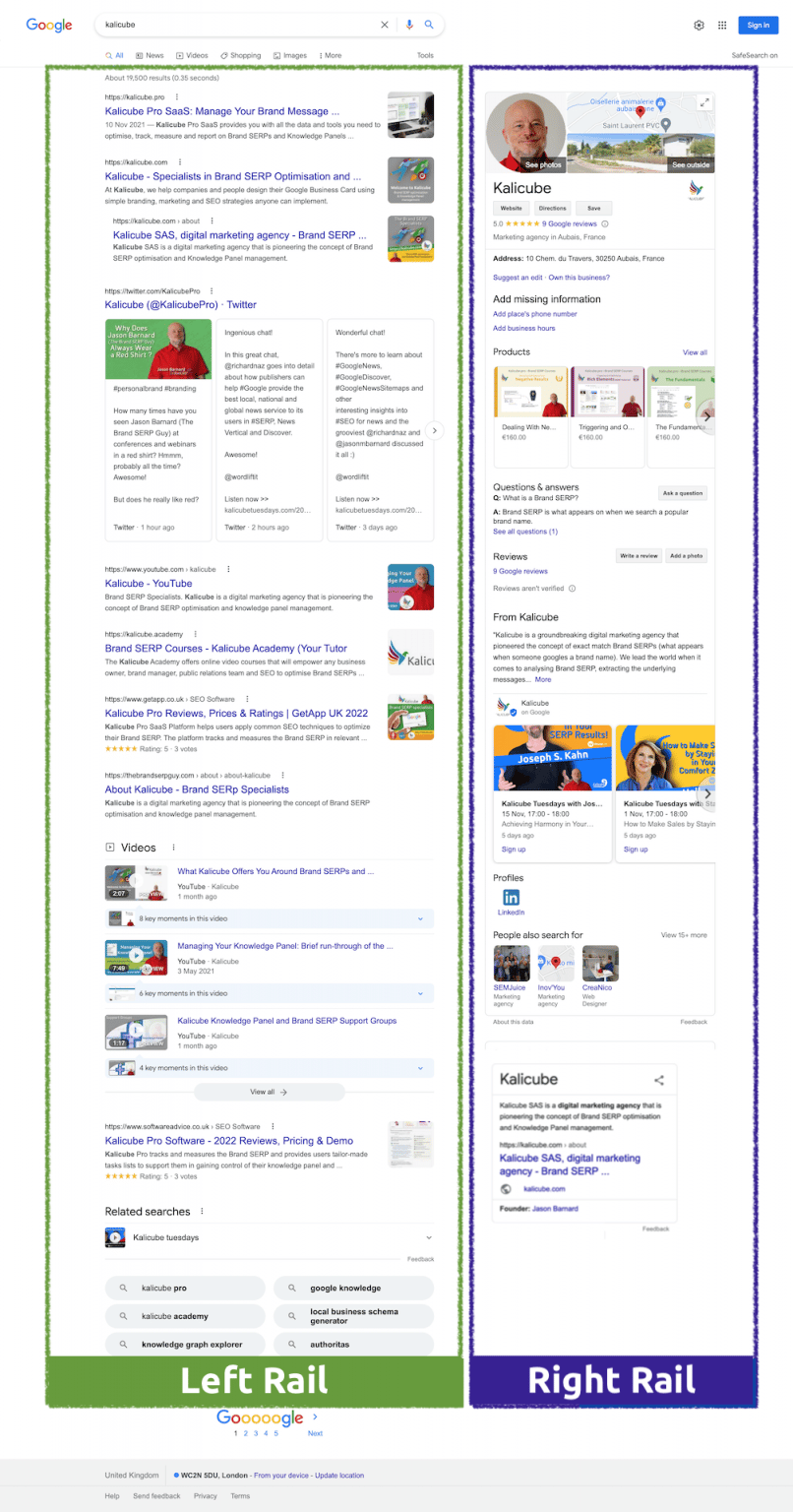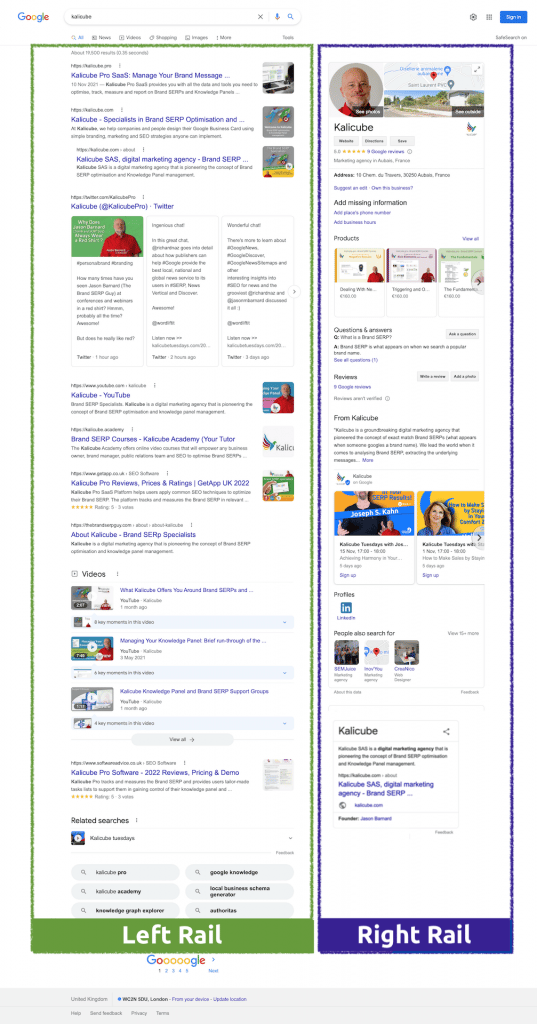 Kalicube's Brand SERP Optimisation Process
The Brand SERP aspect of Kalicube Process is a strategic mix of marketing, branding and SEO. The emphasis on each aspect is (in this order):
When you execute a content marketing strategy within a framework that makes sense for your business, uses your resources wisely and addresses the needs of your audience, then over time, your Brand SERP will become the "Google Business Card" you need and "Google Recommendation" you want.
You can also "flip" that and start with the Brand SERP and build your digital marketing strategy outwards from there. By that I mean, look at what Google shows on your Brand SERP. That is the content Google's algorithms evaluate to be the most valuable to your audience and also the content that is representative of your brand's digital ecosystem. Look at your Brand SERP and ask yourself: 1) what do I see, 2) what did I expect to see, 3) what do I want to see? Create and publish content that moves you from 1 to 3. This is an easy way to start that will be effective even without a predefined digital marketing strategy or acquisition funnel. This is how we did it at Kalicube and it has worked amazingly well.
Whichever way you approach it, creating content that satisfies a need your audience has is vital in marketing. The Kalicube Process starts there.
The proof this approach works is that you are reading this article 😉
Marketing: Create Content That Solves a Problem or Answers a Question for your Audience
Make sure the content you are publishing solves a real problem or answers a relevant question for your target audience. Ensure that the content fits into your marketing funnel and that you can offer the person consuming the content a next step with additional content that keeps them in your funnel – horizontally, or going downwards towards conversion.
Create that content in a format that is appropriate and publish on platforms where your audience naturally gathers and consumes content and promote it within that platform.
Branding: Communicate Your Brand Message Through the Content
Depending on your audience, you might publish on YouTube, Facebook, Twitter, Medium, Soundcloud, LinkedIn, a news / media site, or even your own website. Make sure that you consistently communicate a solid, clear brand message and brand image: 1) in the content 2) on all pages on the platform you control 3) in your promotion of the content.
SEO: Leverage SEO Techniques, Tactics and Strategies
If you published the the content on a second or third party website, then republish the content on your own site. Whether you repurpose it, publish only a part of it, or republish it as-is depends on the content, its place in the acquisition funnel, the original publishing platform.
You can package all content on your website (and some on second and third party sites) to make it attractive to Google using traditional SEO techniques. These simply take the content you already know is helpful and valuable to your audience, and makes it simple for Google to find, understand and use when its users are searching for solutions on Google Search.
The SEO techniques you use can be as simple as using headings properly, or writing great meta titles and descriptions… or complex geeky SEO such as Schema.org markup, Javascript SERO and so on.
You Can Keep the SEO Simple.
Luckily for 99% of marketers and brand managers in the world, the geeky stuff is absolutely not needed for the Kalicube Process to work wonders 🙂
Knowledge Panel Management
At Kalicube we have developed a simple process for educating Google so that it correctly understands who you are, what you do and which audience you serve. Done correctly, that will build a Knowledge Panel every time (whether it appears on a Google search for your name is another matter).
Long term, this same process builds confidence in that understanding for Google's algorithms, and adds details about the entity such as founder, awards won, nominations, date of birth etc.
Kalicube's Three Step Knowledge Panel Process
Kalicube has a simple 3 step process to get and manage a Knowledge Panel in Google. Here is an overview:
Identifying your Entity Home (i.e. the website where the named entity "resides" online),
Getting significant corroboration (aka PR campaign),
Create an infinite self-confirming loop (links from the Entity Home to the corroboration and back).
Put simply, these three steps will give you the opportunity to feed Google with information and reassure it about the veracity of the information you feed it. The three steps specifically aim to trigger a Knowledge Panel but, once you have established the Entity Home, you have the opportunity to then educate Google so that it correctly and confidently understands your brand message.
First Steps: Spring Clean
The best approach here is to first of all do a "spring clean" – write a great description on your Entity home, duplicate that description (or close variants of it) on the existing corroborative sources, then add links (or Schema) to signpost the existing (now consistent) corroboration sources.
Consolidation and Enhancement: Digital PR
Once you have a solid foundation, consolidation end enrichment becomes an exercise in ongoing education and reassurance. Feed the Knowledge Algorithms with additional details about the entity and build its confidence in the understanding it has. Quality, relevant Digital PR over time is a HUGE player in this consolidation and enhancement strategy. You are looking for exposure from relevant, authoritative and trustworthy third party corroboration that confirms (repeats), reassures and adds additional details little by little over time. And, of course this is also going to help enormously with your overall SEO, digital strategy and acquisition.
The Knowledge Panel and Brand SERP are Mutually Supportive
You might have guessed it already: once you have educated Google about you, your brand message and your relationship with your audience and triggered that Knowledge Panel (Left Rail), then your Brand SERP will blossom (Left Rail) – especially if you have a great Digital PR strategy. Google will understand which content your audience will find useful, valuable and engaging when they make a search on your (Brand) name and it will show that content.
You will have the perfect Google Business Card and "Google's Stamp of Approval" and (because you have worked on content for the Left Rail), a super powerful digital ecosystem, and an incredibly effective digital marketing strategy in place.
Your Options to Learn and Implement the Kalicube Process
The Kalicube Process creates a great online ecosystem, ensures Google projects an honest image of your brand and establishes the facts about you in Google's "brain". We believe using it is a no-brainer. But then we are biased 🙂
If you do choose to jump onboard with us, there are multiple options for learning.
Free Resources From Kalicube
At Kalicube we are happy to share our "secrets".
We want you to use the process because it will help your brand online and make the world a little bit better than it was before.
Here are the free resources. Just by going through all of this, you will be able to implement the Kalicube Process to great effect.
The Book: The Fundamentals of Brand SERPs for Business
The free resources contain everything you need, but Jason Barnard's book The Fundamentals of Brand SERPs for Business brings the Kalicube Process into focus. It provides a simple, organised explanation of the Kalicube Process for Brand SERP optimisation and Knowledge Panel management.
The book provides clear explanations and practical techniques, tactics and strategies which are within the reach of any business owner, marketer and brand manager. The book makes the Kalicube Process easily accessible to anyone. It can be read over a weekend, and then used as a reference for your digital strategy as you implement the techniques and strategies month after month and year after year.
Learn more about The Fundamentals of Brand SERPs for Business here >>
Kalicube Academy: Course-Driven DIY
You can take DIY brand SERP optimisation and Knowledge Panel management to the next level with the Kalicube Academy (Brand SERP and Knowledge Panel courses). The Academy offers multiple courses covering everything from your homepage to your social media strategy, video strategies, branded Google Ads, tactics to avoid, your Knowledge Panel and much, much much more!
Get more information about the Kalicube Academy here >>
Kalicube Pro SaaS Platform
The SaaS platform is the ultimate way to implement the Kalicube Process for both Brand SERPs and Knowledge Panels. It provides all the data and tools you need to optimise, track, measure and report on Brand SERPs and Knowledge Panels on Google for your clients.
The Kalicube Pro platform is invitation-only and is the prefect fit for Online Reputation Management, Digital PR, SEO, Digital Marketing Agencies. The platform works on a subscription basis:
A yearly subscription that includes full access to the Kalicube Academy, onboarding and heavy-weight expert support.
In addition, agencies pay a monthly subscription fee for each Entity they are actively tracking on the platform
Read more about the Kalicube Pro agency offer here >>
Brand SERP and Knowledge Panel Done-for-You Services
The ultimate implementation of the Kalicube Process is, of course, Kalicube's Done-for-You services 🙂 Who better than the Kalicube team to implement the Kalicube Process efficiently, effectively and emphatically for you? By leveraging the full power of the data in the Kalicube Pro platform, we will get you total dominance and control of your Brand SERP(s) and Knowledge Panel(s) in just a few months.
We call the moment you attain dominance and control the "Entity Identity Tipping Point". Sounds complicated and geeky, but it just means that you control your brand on Google, which is a HUGE achievement and massively powerful as the foundation of your entire digital strategy. Getting solid foundation stones in place is essential for any project.