How Does the Kalicube Process Work?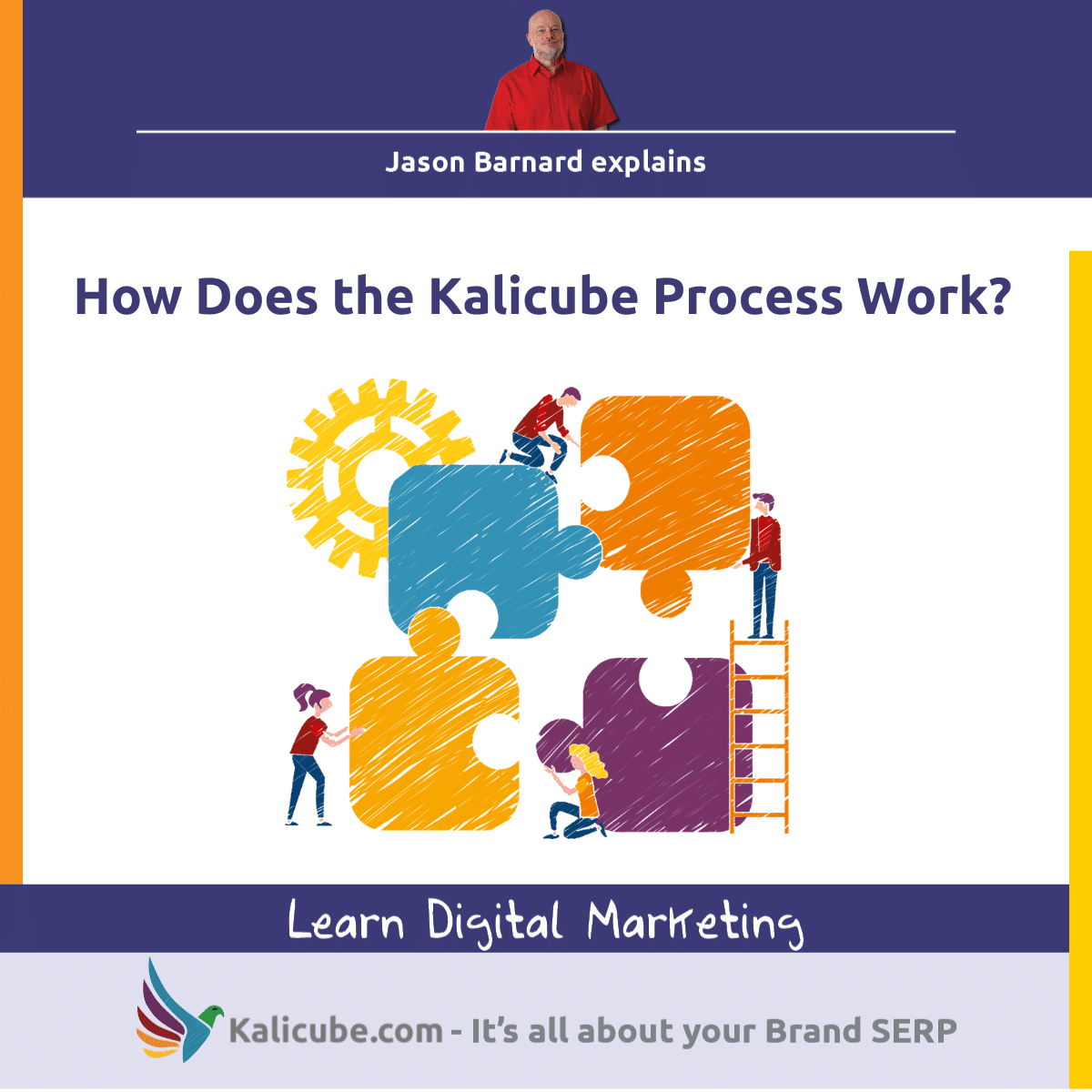 The Kalicube Process works through 3 steps that optimize your brand across your digital ecosystem.
1. Audit and clean your complete digital footprint
The first step is auditing your digital footprint. The Kalicube Process works best after you clean up and optimize every relevant channel in your digital ecosystem: Social media, YouTube, forums, newsletters, websites, Knowledge Panels, videos, articles, and public relations.
Your brand then presents a consistent, credible, and understandable message across every platform in your brand's digital strategy.
The audit is a fundamental process ensuring your brand message is stable and aligned. A consistent message means your audience and the search engines understand who you are. You enhance the value of each interaction with potential customers and solidify your brand at the center of the search engines' comprehension.
Pro Tip: Without a solid brand, you have nothing to market, and without helpful, valuable, and relevant marketing material, you have nothing to feed the search engines.
2. Analyze the Brand SERP using The Kalicube Process.
The Brand SERP is the start and end point of every Kalicube Process digital strategy. Breaking down the Brand SERP into three interconnected parts is essential.
The steps your brand needs to take are clear once you analyze the Brand's SERP, the competition SERP and the generative AI results. The digital marketing plan crystalizes when during the Brand SERP analysis.
We build understanding, credibility, and deliverability into your digital strategy so you achieve three things.
Standing where your audience hangs out online, bringing them down the sales funnel.
Ensuring your prospects understand that you are legitimate and trustworthy through consistent and convincing messaging across all the touch points.
Convincing Google you are the real deal, so Google actively recommends you to the subset of its users who are your audience.
A natural result of your efforts is an SEO-optimized Left, Right, and Top Rail for your brand.
Left Rail – Google's Recommendations about your brand (the search results on the left-hand side of a desktop search)
Right Rail – Google's understanding of the Facts about your brand (search results on the right-hand side)
Top Rail – Google's generative AI results – the Search Generative Experience (top of the search results page)
What does Left Rail, Right Rail, and Top Rail Mean?
The Left Rail Recommendations of search results have been part of the search results since the very start of the Internet.
The Right Rail of Knowledge has been an element since Google introduced its Knowledge Graph in 2012.
Google and Bing introduced the Top Rail Generative AI results in 2023 (Google's Search Generative Experience and Bing's Chat).
Your Brand SERP contains all three, and the Kalicube Process leverages and optimizes each.
Examples of Left Rail Recommendations
Google has been providing its users with a prioritized list of Recommendations about brands since 1998. Initially, the Recommendations were ten blue links. Over time Rich Elements (otherwise known as SERP Features) are more prominent. Five examples of Rich Elements are Video Boxes, Image Boxes, Google Maps, Social Media Boxes, and People Also Ask. As you have seen, the Recommendation results in the Left Rail of your Brand SERP reflect your digital marketing strategy.
In this example, the Rich Elements are People Also Ask, Twitter Box (Carousel), Google Map Pack, and Top Stories Box (Carousel).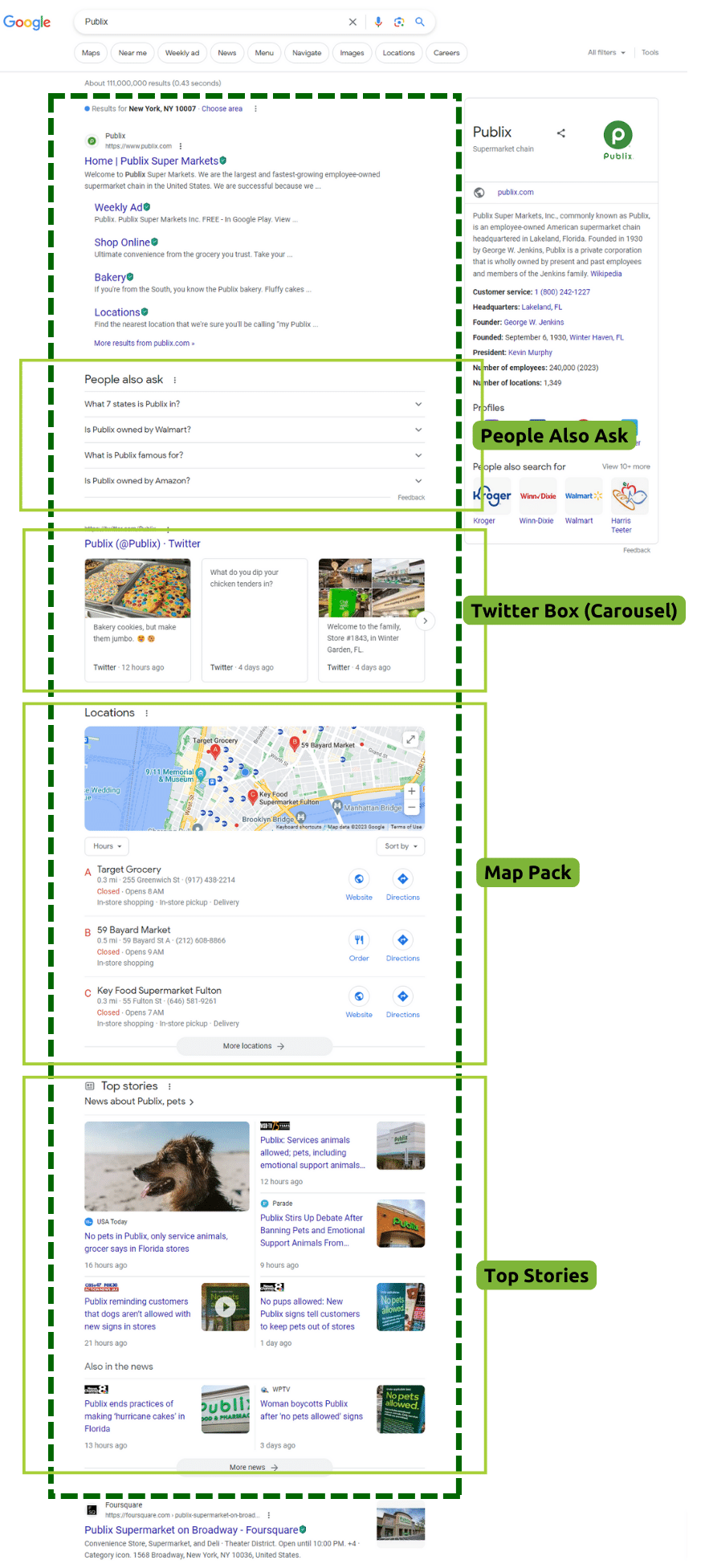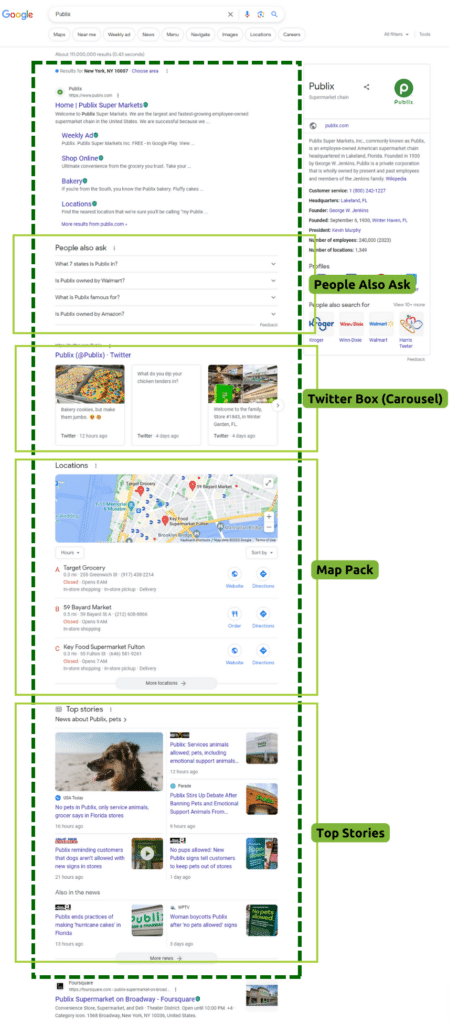 Example of a Knowledge Panel
On your Brand SERP, the Knowledge Panel is the visual representation of the information or "facts" about your business and brand Google has stored in its Knowledge Graph.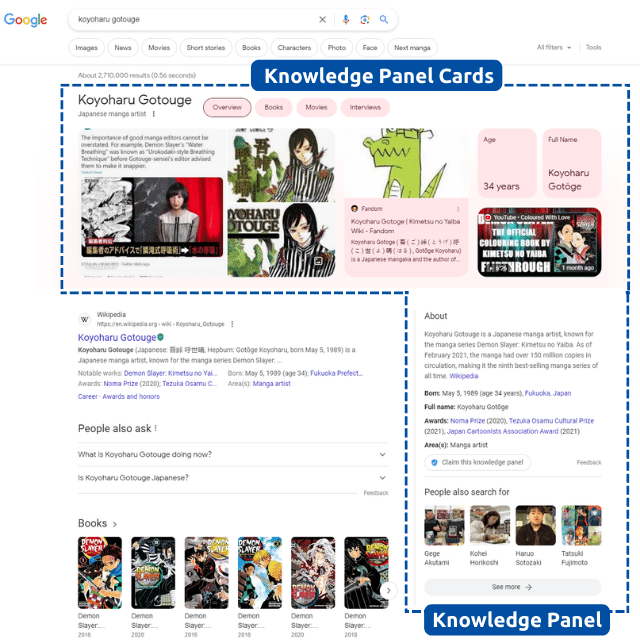 What is a Knowledge Graph?
Knowledge Graphs are repositories of machine-readable information. Businesses and institutions globally use Knowledge Graphs to store facts. They are like Wikipedia for machines, only hundreds of thousands of times larger, and contain the data that the new technologies use to train and learn. Knowledge Graphs aren't unique to Google or Bing.
What is Generative AI?
Generative AI is machine learning technology that trains on enormous volumes of data. In the context of search engines, Generative AI allows users to ask questions in Bing Chat or Google Bard and Search Generative Experience (SGE) and get a machine-generated answer. This answer can serve additional questions and lead your audience on the complete buying journey without visiting your website. When your company is in the Knowledge Graph, it is part of the training data the machines use in their training. Your brand must be in the Knowledge Graph.
Thus, we use the three parts of your Brand SERP as our guide and KPI.
Pro Tip: Your Brand SERP is the Key Performance Indicator of the Kalicube Process. The Brand SERP is your starting point, your ongoing source of strategic insights, and defines your digital marketing strategy. As you improve your visibility online, your Brand SERP shows you where to expand your digital marketing efforts. You'll extend your marketing efforts, dominate new areas of your digital footprint, reach more of your audience, and outperform the competition.
3. Explain and set the goals to roll out your strategy.
The Kalicube Process identifies where to build your brand presence across your digital ecosystems.
Brand
The brand is our first focus. We ensure the message is solid, consistent, and understood by everyone in the company.
Marketing
Marketing is next. We ensure your teams create helpful and targeted marketing materials and put those materials where the audience is looking for solutions to a problem that your company can solve, wherever that may be – YouTube, Facebook, Medium, LinkedIn, your website, or Google.
Establishing where your audience is looking for solutions is imperative so you are there with the answer when they arrive. You show them you have the key to their problem and demonstrate that yours is the best in the market. And then tell them what the next steps are. And that builds you a solid digital marketing strategy that increases leads and revenue in year one.
Pro Tip: Stand where your audience is looking, show them your solution, and provide them with the next step.
SEO
As your company is rolling out the digital strategy provided by the Kalicube Process, your teams are integrating search engine optimization. As you create content for your audience (and place it where your audience is looking), The Kalicube Process ensures that you are packaging that content for the search engines.
The Kalicube Process benefits you, your audience, and the search engines when you focus on the pillars listed below.
Understanding
Credibility
Deliverability
What this means for you
You understand what brand information you need to communicate and to whom.
You know how to demonstrate the credibility of your brand.
You have an efficient and effective process for delivering relevant marketing content in the right places to the right people in the ideal format.
What this achieves for your audience
Your audience understands you, what you offer, and that your offers are valuable to them.
Your audience sees you as the most credible solution for them.
Your content is placed front and center for your audience across the web and delivered how they want to consume it.
For Google and Bing
The search engines understand you, what you offer, and who your offers help.
The search engines appreciate your credibility as a solution for the subset of their users who are your target audience.
Your content is fit for purpose and can be delivered cost-effectively by search engines.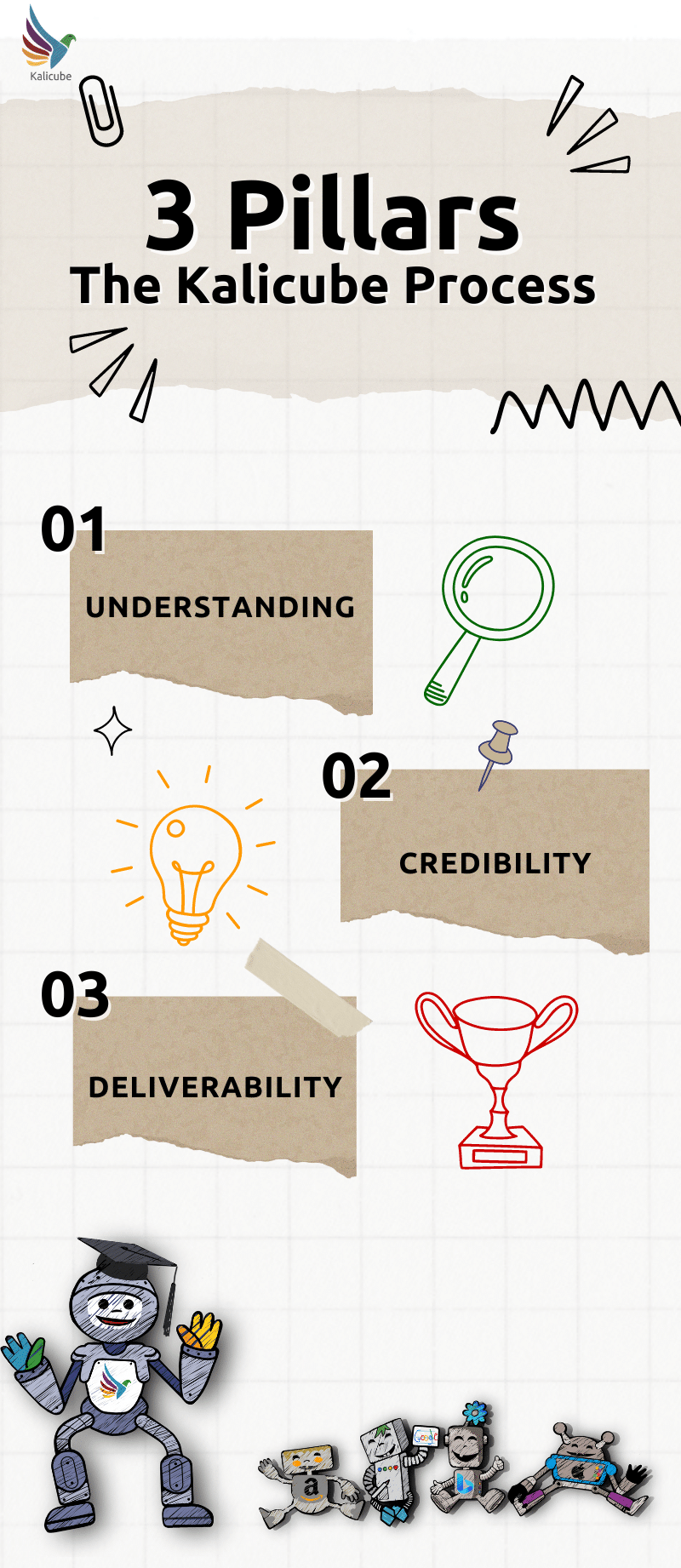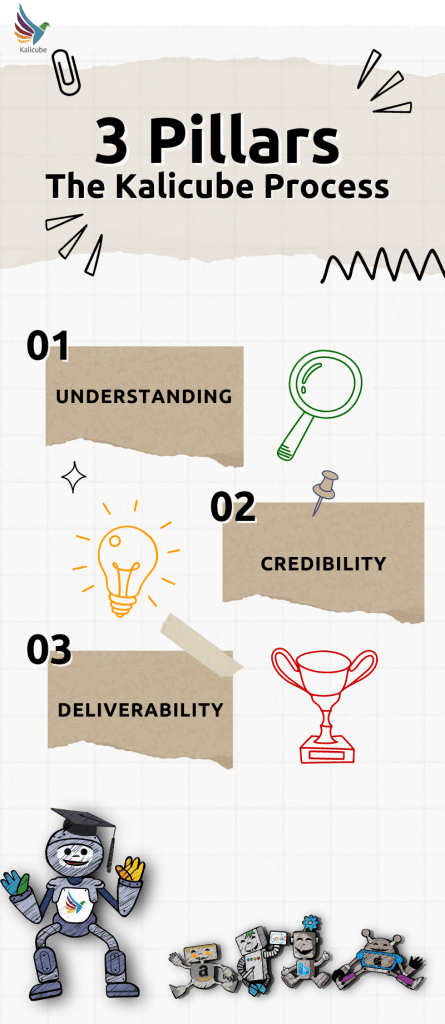 Pro Tip: Understanding means communicating who you are, what you offer, and to whom. Credibility means demonstrating you are the most credible solution for your audience. Deliverability means creating valuable content in audience-relevant formats search engines can access with ease.
Read this Pro tip three times: Consider how this applies to you. Secondly, read again, thinking about what this means to your audience. Finally, read again, thinking about the needs of the search engines.
Pro Tip: The search engines use the fragmented information they find online and display an unclear representation of your brand in the results UNLESS you are actively cleaning up and educating the Search Engine Algorithms.
Your Goals Using the Kalicube Process.
Goal 1: Own page one of Google/Bing Search Results for your brand name.
1. Left Rail – Recommendations (the search results on the left-hand side).
2. Right Rail – The Facts about your brand (Knowledge Panel and search results on the right-hand side).
3. Top Rail – Search Generative Experience (SGE) – Generative AI.
Goal 2: Be present across your market with a relevant, convincing, consistent brand message.
Be present in the right places at the right time with the right offer.
Stand where your audience is looking.
Provide a convincing offer.
Guide them down the funnel to conversion.
Goal 3: Dominate your market as the go-to industry leader (now and tomorrow).
Pro Tip: The Kalicube Process optimizes all three parts of the Brand SERP, which creates a solid presence across all relevant channels and leverages marketing, branding, and SEO to build a holistic (future-proof) digital marketing strategy.
Your Options for Implementing the Kalicube Process
To implement the Kalicube Process, choose one of the three options below.
Do it yourself. Access our free learning resources, join the Kalicube Academy, or read "The Fundamentals of Brand SERPs for Business" book for everything you need to optimize your brand for your audience and the search engines.
Book a Done For You Service. The team at Kalicube works with you to implement the Kalicube Process for your business – working within your existing resources and priorities and saving you valuable time. We can start building and implementing your digital marketing strategy year-round.
For Agencies. Enhance your offerings by subscribing to our cloud-based AI-powered Kalicube Pro SaaS solution and offer comprehensive brand digital marketing services with SEO baked in. Want to learn more about how Kalicube Pro can boost revenue and your client base? Download the "Get 6 Easy-To-Sell Services and Lucrative Margins with Kalicube Pro".
Do you have a question? Please contact us at [email protected].