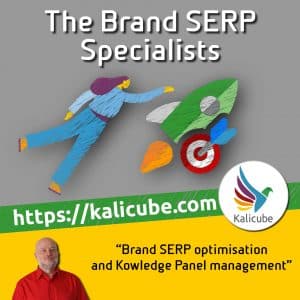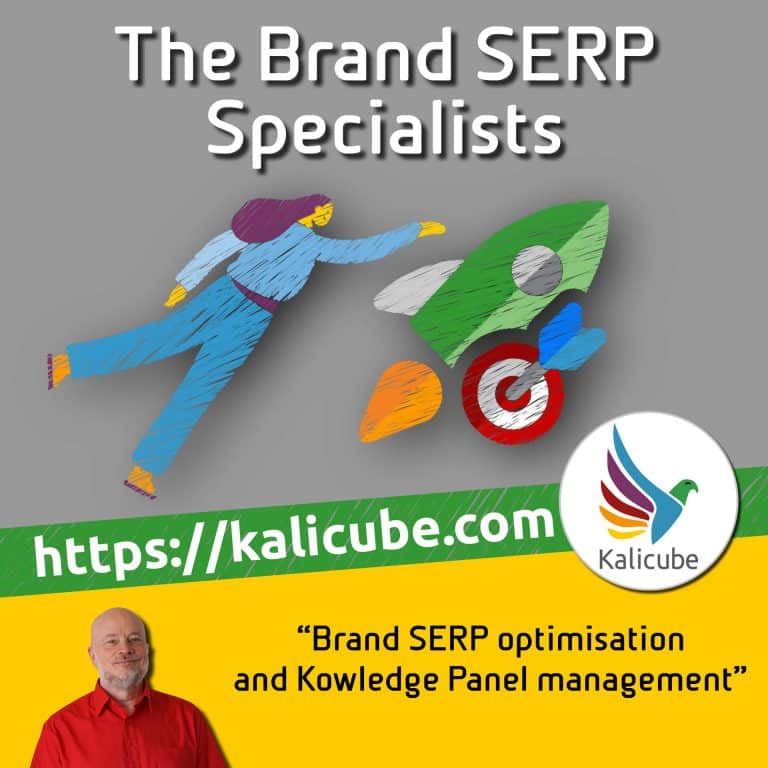 Digital marketing agency
Kalicube is a digital marketing agency that is pioneering the concept of Brand SERP optimisation and Knowledge Panel management.
Kalicube's Products and Services:
Kalicube offers Kalicube Pro SaaS, a cloud-based SaaS platform that helps agencies optimise Brand SERPs and manage Knowledge Panels for their clients. The company also offers the Kalicube Academy (Brand SERP and Knowledge Panel courses), done for you branding on Google services and bespoke consultancy.
Target Audience and Clients:
Kalicube's audience is Online Reputation Management professionals, PR agencies, Brand Managers, SEO practitioners and Digital Marketing agencies. Recent successes have been triggering a Knowledge Panels for ourselves, deduplicating Jason Hennessey's Knowledge Panel, helping 516 Marketing boost their client base, changing a subtitle in a Knowledge Panel and improving backpacker Job Board's brand SERP.
Free Brand SERP and Knowledge Panel Resources at Kalicube
Brand SERP FAQ, case studies, Knowledge Nuggets, Kalicube Tuesdays, our podcast series and a wide array of Geeky Tools (schema markup generator, Knowledge Graph explorer, Brand SERP explorer…)
History:
Kalicube was founded by Jason Barnard in 2015 and since its inception has specialised in helping companies and people optimise their brand message on Google. Kalicube serves clients worldwide from its headquarters in Aubais, France and through its website kalicube.com.
The Kalicube Team:
Jason Barnard is the founder and CEO of Kalicube. Meet the Kalicube Team here.
Kalicube's Partners:
Wordlift, Yoast, SE Ranking, Authoritas, SEMrush, 516 Marketing Inc, Holistic SEO, Ahrefs.

More about Kalicube SAS:
We lead the world when it comes to analysing Brand SERPs (what appears when someone googles a brand name), extracting the underlying messages they portray and implementing proven optimisation techniques. And that means not only Bluelinks, but also Rich Elements (videos boxes, image boxes, Twitter Boxes, Entity Boxes, People Also Ask…) and, of course, Google My Business and Knowledge Panels.
Why are Brand SERPs so important to your business?
There are 3 main reasons you need to track, analyse and optimise your Brand SERP.
All three reasons fundamentally important to your brand since they apply to every brand, whatever the size, location or industry.
Optimise our Google Homepage / Business Card
Ensure that when your clients and prospects google your brand name, they see a page that is positive, accurate and convincing.
Protect Your Good Name
Build and maintain a 'reputation cushion'. If the results on the first page of results for a search on your brand name are stable and evergreen, they will not easily be replaced by news about a temporary issue or problem. (aka proactive reputation management). Obviously, if you have a glaring first-page reputation problem, you'll want to correct that first.
Audit Your Digital Marketing Strategy
Identify the strengths and weaknesses of your digital marketing strategy. The Brand SERP that Google provides is an easy-to-understand reflection of what is working in your strategy and what is not. And, because it is visual, immediate and comes from the highest authority (Google), it an audit like this is easy to explain and sell to your boss or client.
At Kalicube, we can help you with every point in that list.
We are the industry leader when it comes to tracking, analysing and optimising what appears when someone Googles a brand (or personal brand) name and we have been helping brands correct, protect and improve their Brand SERPs since 2015.
Kalicube's ability to help your brand with the three questions above is broken down into 3 clear arms
Research into Brand SERPs
Kalicube has been tracking Brand SERPs since 2015. We currently track Brand SERPs and knowledge panels for over 70,000 brands across 11 countries. This is an unparalleled dataset that means we understand better than anyone how Google represents brands in its results, whatever the vertical.
Ask us for data on your industry and see where you are losing ground on the competition.
Teaching / Helping Brand SERP Optimisation
Kalicube offers free tracking to brands that includes a self-service optimisation platform, an automatic checklist and a series of video courses in which Jason Barnard (The Brand SERP Guy) shows students step-by-step how to optimise their Brand SERP.
Track your Brand SERP and start optimising – it's easy, when you know how 🙂
Bespoke Brand SERP and Knowledge Panel Services
Perfect if you are looking to take the optimisation of your Brand SERP and knowledge panel to the next level, or simply don't have the time to learn all the tips and tricks yourself. With our bespoke services, you benefit from personalised one on one consulting, and a prioritised list of simple tasks to complete that will transform your Brand SERP into an accurate, positive and convincing business card.
Contact us for bespoke services for your company
Where can you find Kalicube?
Kalicube serves clients all over the world, but the company is based in the South of France: Kalicube SAS,10 Chemin du Travers, 30250, Aubais, France.
You can contact us through the form on this page