Mark A. Preston's Successful Personal ReBranding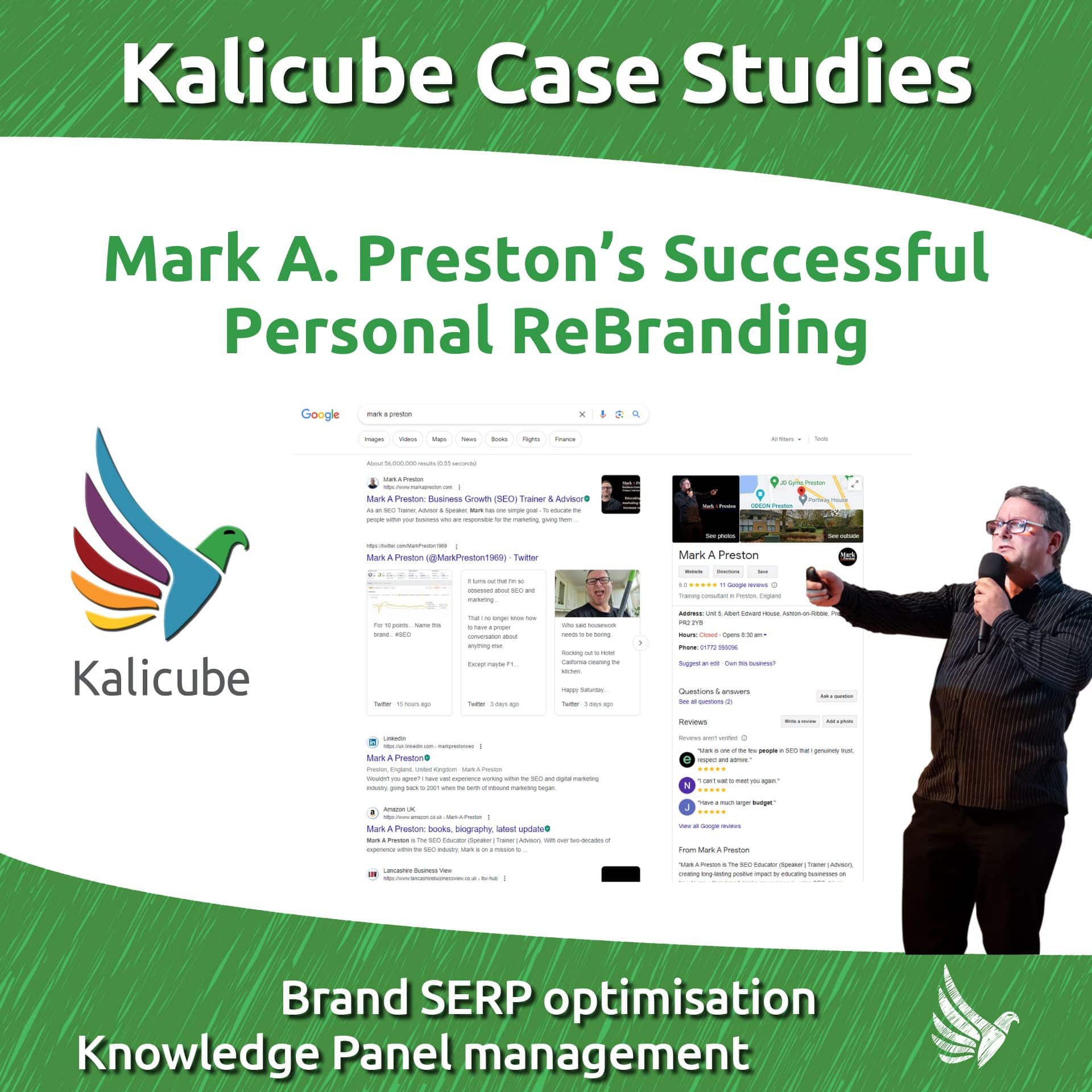 Mark Preston (now rebranded as Mark A. Preston) has been in the SEO industry since 2001. He built a lead generation business, created a multi-location agency with zero investment, established a 50+ franchisee digital marketing franchise network, and helped solve problems as a freelance SEO consultant. Mark has transformed unknown brands into well-known brands and personally trained hundreds of professional marketers. A professional speaker, Mark has spoken at marketing conferences and corporate events worldwide, worked with established brands as an SEO consultant, and authored two SEO business books.
Why implement a personal rebrand?
Mark's former personal brand name was "Mark Preston SEO," and although he ranked (and still ranks) high on Google for terms like "SEO Speaker," Mark sensed a significant change in the SEO industry in September 2020 and didn't want his personal brand to be directly associated with "just" SEO. With the personal brand name "Mark Preston SEO," Mark knew diversifying was challenging.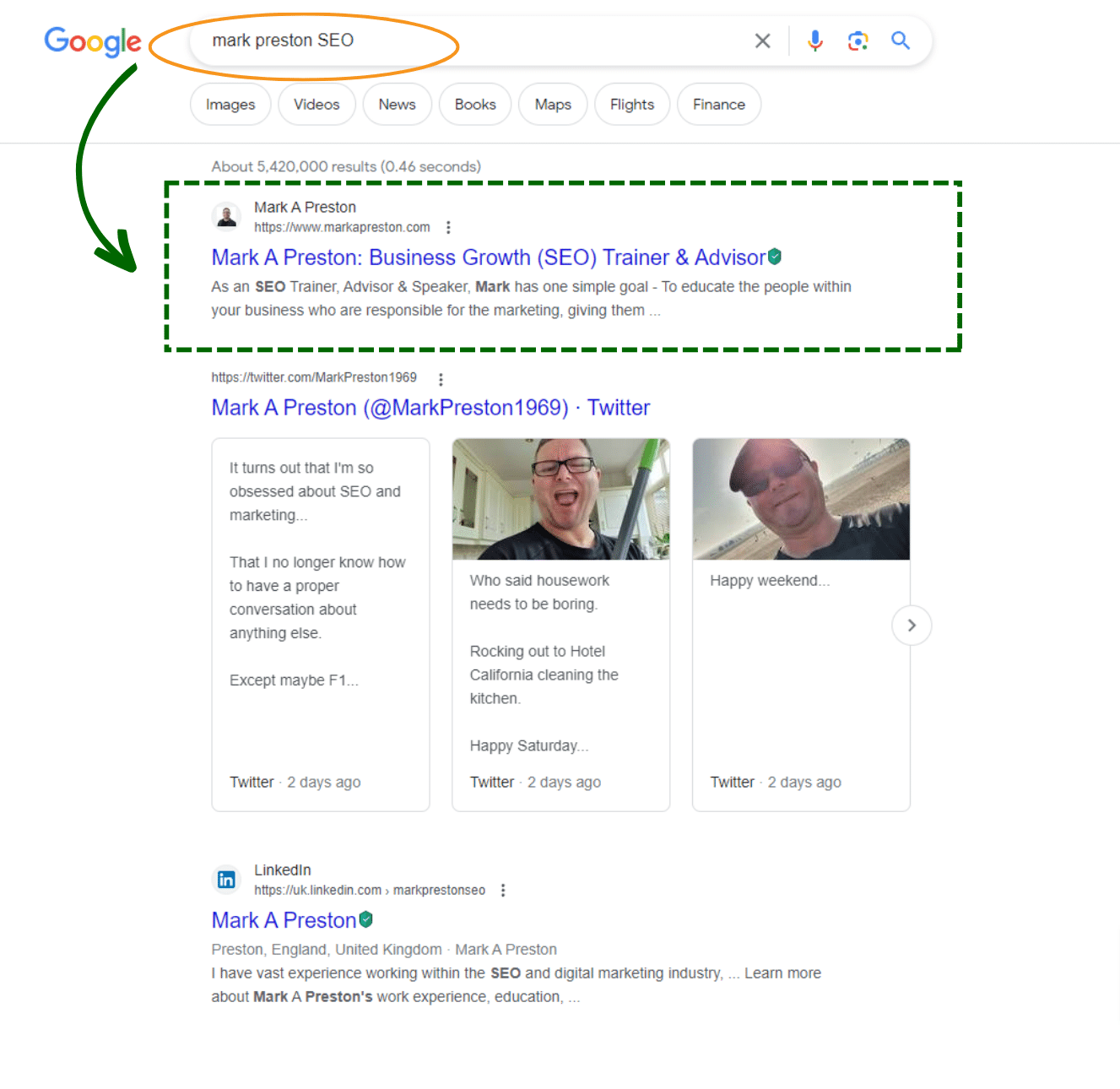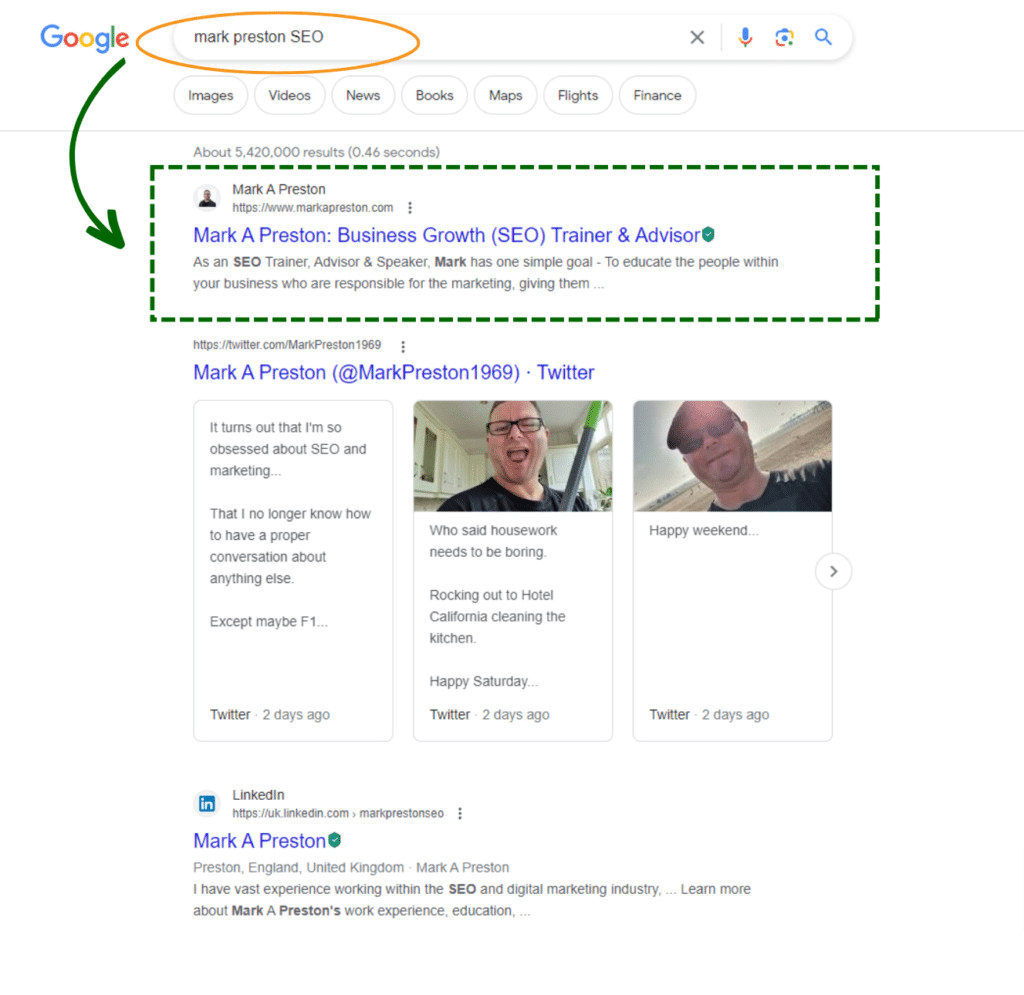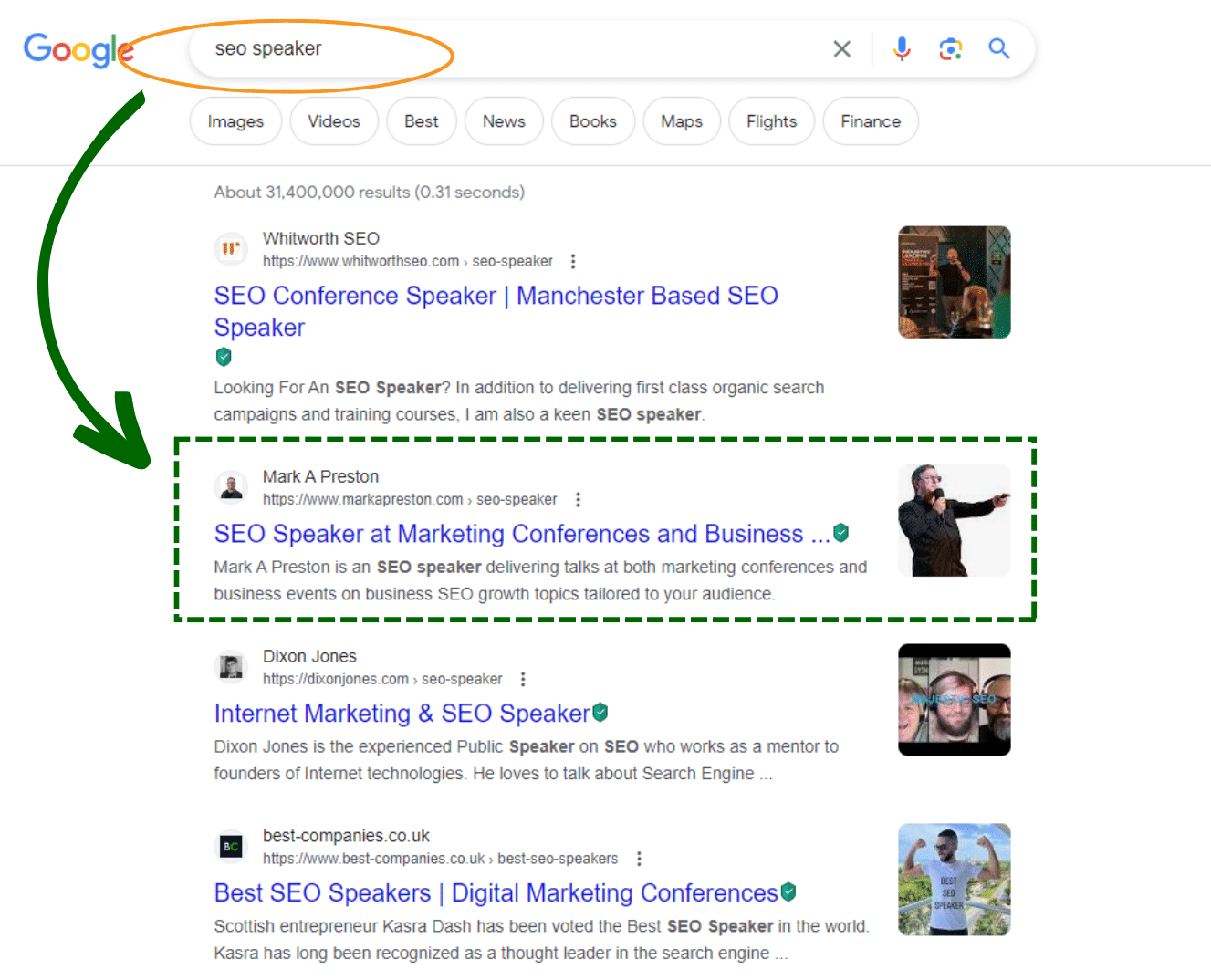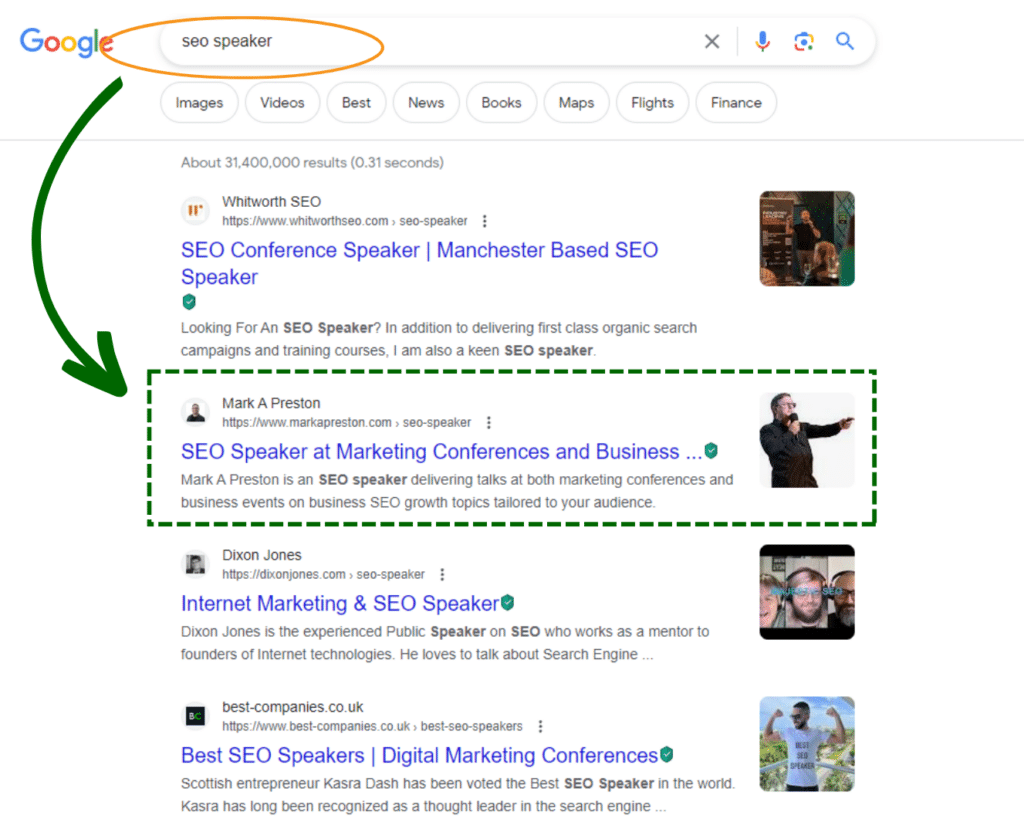 Deciding a new personal brand name
The goal with the new personal brand name was the following.
The new personal brand was about Mark rather than a particular service or product.
Ensure it was unique to make securing the Brand SERP real estate easier.
With that in mind, Mark established a variety of variations of "Mark Preston" only to find plenty of people using the same name on Google. An Australian businessman and motorsports professional, a managing trustee and chairman of Grosvenor, a British artist, an actor, and a performer all use the name Mark Preston, among numerous others.
Then a lightbulb moment came inside Mark's head….
"My full name is Mark Andrew Preston, so why not just use 'Mark A Preston' as my new personal brand?"
A new website, markapreston.com (and the .co.uk version), was registered, and the website's personal rebranding process and migration from the old brand to the new brand were carried out on the website.

Job done…so Mark A. Preston thought
Mark soon realized that more than redirecting his old website to the new one and rebranding his social media profiles was required. The challenge lay in that his former brand name had five years' worth of online mentions, requiring a more complicated transition.
Kalicube, the Brand SERP experts
When Mark A. Preston realized he needed help to cement his rebrand, only one name sparked his enthusiasm – Jason Barnard, also known as "The Brand SERP Guy" and the dynamic CEO of Kalicube. Mark contacted Jason to discuss his vision and ask for his important advice.
With a wave of their digital magic wand, the Kalicube team provided him with a comprehensive list of direct URLs that tracked every online mention of Mark's previous brand. The Kalicube team provided the exact steps required moving forward.
Now the real work began….
Mark A. Preston then went through this extensive list and contacted each website. His task? Mark graciously requested that 'Mark Preston SEO' be renamed "Mark A. Preston' as his new personal brand name. Mark's efforts also extended to asking these websites to redirect their links to his new online destination.
This process took about a month of hard work, and surprisingly, about 85% of the websites changed his brand name for him.
The results spoke for themselves
Within three months, a Google search for 'Mark A. Preston' produced spectacular branded results. Mark had successfully revamped his web presence, completely dominating his Brand SERP.
Mark A. Preston: Business Growth (SEO) Trainer, Advisor & Speaker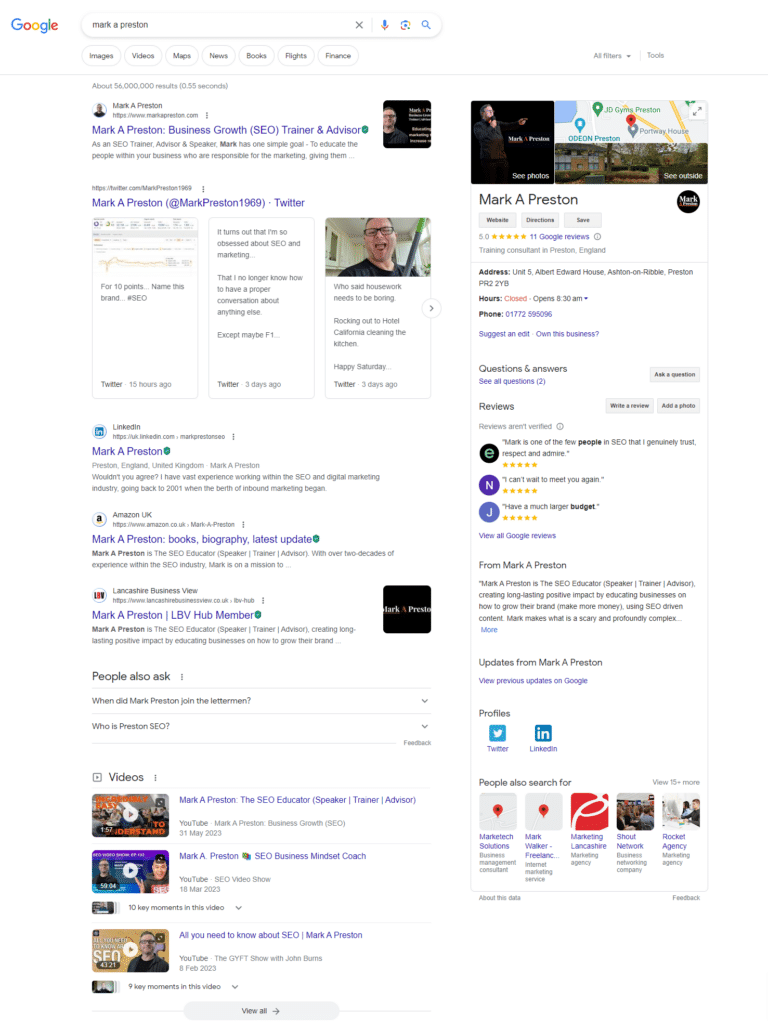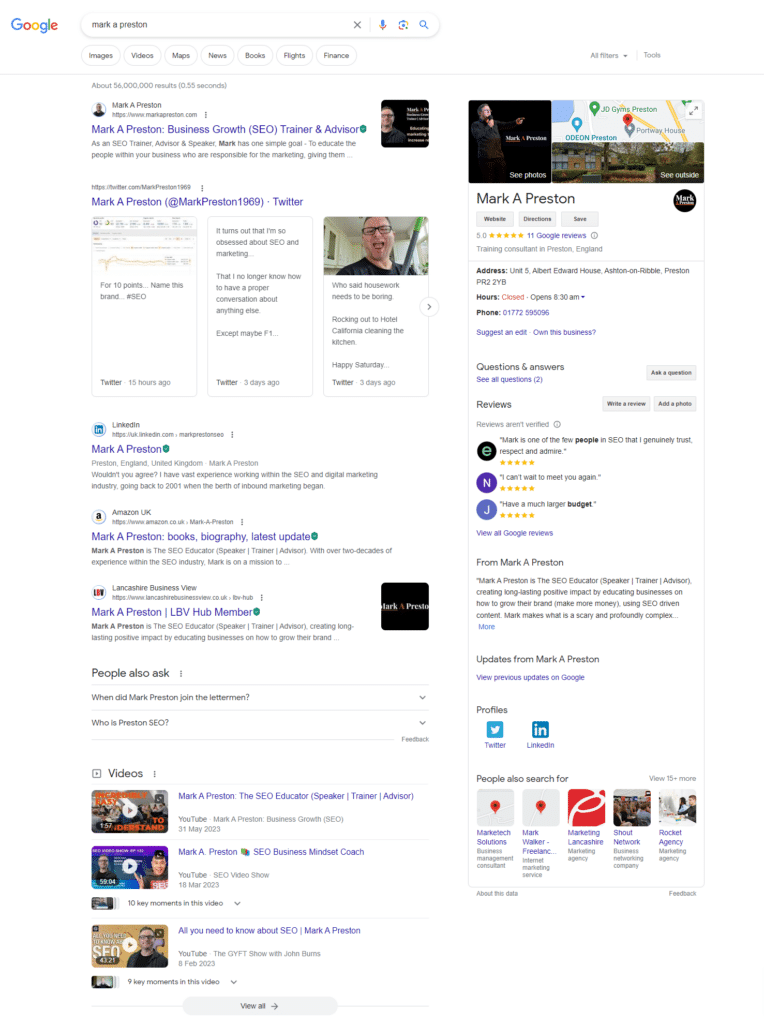 "After just three months of rebranding, it looks really strange every time I see my name mentioned without the A in the middle. It's just natural now to refer to myself as Mark A. Preston."
Plus…
The direct search traffic for Mark A. Preston tripled when compared to the direct search for his former brand name.
As a last thought…
Mark A. Preston has transitioned from just being about SEO to being a business growth trainer, consultant, and speaker, while still maintaining an element of SEO.
Mark A. Preston added…
"The success of my rebrand and Brand SERP would have never been possible to the level it has been without the help of the Kalicube team. I am forever grateful."