Digital Brand Management With a Keyword Focussed Brand Name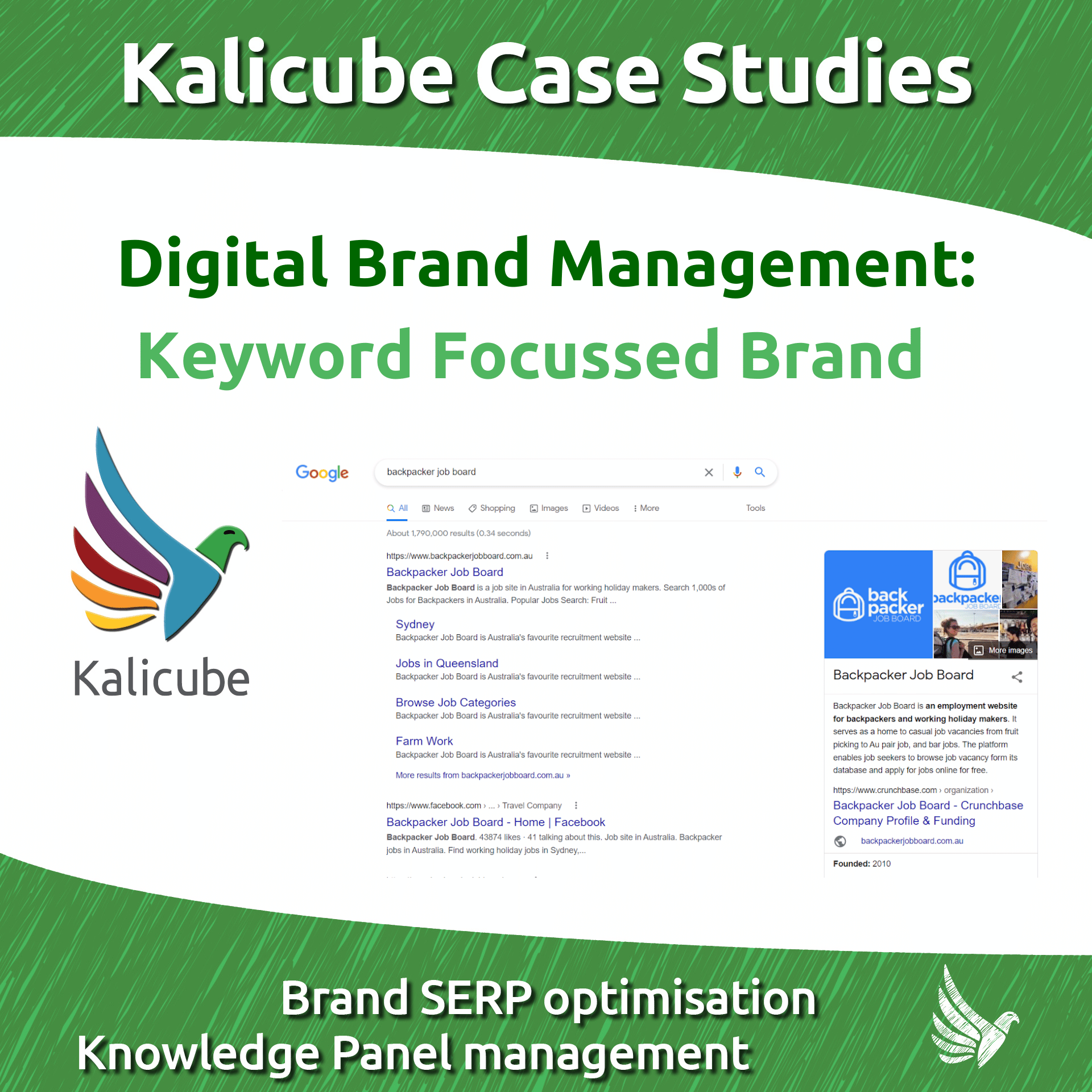 Introduction
Who is Backpacker Job Board?
Backpacker Job Board is an employment website established in 2010. It was founded by Matthew Heyes, who built the site while on a working holiday in Australia on Queensland's Sunshine Coast.
What is a Generic Brand Name?
"I would describe it as using a term that relates to the product or the service. For me, it's the service and that was my primary key phrase that I wanted to rank for organically."

Matthew Heyes, CEO of Backpakcer Job Board
Problems
Naming a Company or a Service Using Keywords Used To Be a Good Idea
Historically, a keyword-loaded brand name would often rank high on Google for those keywords because Google's algorithms relied heavily on word counting, so it was easily fooled. Having the target keywords in your domain name (the extreme is called EMD / Exact Match Domain) was also a good technique for ranking higher. Combining both was pretty powerful, and so became a common SEO strategy.
But since Google launched Hummingbird in 2013, things are no longer so simple:
"There's definitely different aspects that are cons – a list of reasons to not take that approach. I think that if I could rewind 12 years and go back and look at that strategic approach again, it's a difficult one as to whether or not I would still go down that road of having a very generic brand name."

Matthew Heyes, CEO of Backpacker Job Board
So, companies who used this strategy and named the company or its brands, products or services with names that closely match their main keywords now have multiple problems and challenges. As we'll see, there are solutions, and there are even some advantages to be gained if you are patient and are willing to put in the work.
Complete Brand SERP Dominance Isn't Possible Because of the Ambiguity
There is also a problem that lies with Google itself and how it deals with this ambiguity: it is not sure whether the search means the generic term backpacker job board or the brand Backpacker Job Board when searching for the keyphrase. Google's solution here is to cover both possibilities.
"What is Google learning every time there's a new entry to the market that uses a generic, ambiguous brand name? Should it reward those generic service-based keyphrases? There's a risk that doing this results in weaker search results"

Matthew Heyes, CEO of Backpacker Job Board
Every time a new entrant uses this key phrase, it is used even more. And the more often the key phrase is used, the more Google may consider it generic. If this is the case, it poses a problem for Backpacker Job Board's Brand SERP as Google will increasingly skew the results towards the generic term, making it more difficult to dominate its own Brand SERP.
Challenge 1
Restricted to a Single Niche Service
One look at the name Backpacker Job Board is enough to understand that it is a website offering jobs for backpackers, and that will be the lasting impression the brand name gives. It will be extremely difficult to move away from this and offer a different service, because of the brand name.
"It makes it more difficult, from a business point of view; for you to be able to pivot or introduce new services into your business. Take away the digital marketing element and look at it purely from a business point of view, it really cements you in your niche because your brand is your service. As soon as you want to explore beyond that service, it makes it more difficult."

Matthew Heyes, CEO of Backpacker Job Board
Challenge 2
A Very Fragmented and Difficult Market
Since Backpacker Job Board is a successful generic name, competitors are using the same tactics for their head keywords as Matthew is using for his Brand. They use the words backpacker, job, and board in their content and that makes them a candidate to be ranked by Google on the Brand SERP of Backpacker Job Board.
"I can take that one step further – in recent years as the platform has become more successful users search directly for my brand. New competitors then discover the brand name high in their list of researched key phrases. They think, "Okay, Backpacker Job Board is a good phrase for SEO, we should target that!" With a handful of sites doing this, it creates competition for my brand SERP and can compete with some of my secondary assets."

Matthew Heyes, CEO of Backpacker Job Board
Challenge 3
Slow and Long Process to Start and Profit With
The ambiguity in the brand name caused problems in the early stages. As a new company in the market, he struggled to compete with established players.
Matthew's process is what we can call a marketing flywheel, a concept favoured by Rand Fishkin: it is incredibly difficult to get a flywheel spinning, but once you do, it is almost self-maintaining. As Rand puts it: "(once you get the) flywheel effect, you put in the same amount of work (or less) each time, and get more and more out of it the more you repeat it. This is a beautiful, highly-rewarding system. But, it usually takes a long time and a lot of effort to get going".. When getting the flywheel going, you'll often feel frustrated: You take two steps forward and then you feel you're taking one step back. But little by little, you start getting that flywheel going and once it starts spinning, you're totally on a roll.
"The site is 12 years old. I would say it's seven years' worth of very decent rankings and a strong performance against our target key phrases."

Matthew Heyes, CEO of Backpacker Job Board
So, it took Matthew 5 long years to overcome the generic nature of his brand name, rank #1 for the generic term, and get the flywheel spinning. But once spinning, it has been a huge payback: the SERP for the generic term "backpacker job board" is now his Brand SERP and he truly dominates it.
Even better, in the last couple of years, he has been dominating the generic term not only for his company's location in Australia but also in other countries such as the United States and the United Kingdom.
How exactly did Matthew manage to dominate his Brand SERP?
Solution
Gradually Build Your Authority in the Market and Improve Google's Understanding
Building Authority
"It was a slow approach. I think my solution wasn't something that I was consciously aware of as a strategy. It was actually just the process of being successful in that area. The more successful I was and the more established that I was, the more authoritative status it claimed. This achieved strong backlinks from authoritative sources. I think that was really the first stage in that process. That certainly took years but once that was established, I felt like Google began to get a better appreciation and understanding of 'who' the site was and it was more than just a brand."

Matthew Heyes, CEO of Backpacker Job Board
Improving Google's Understanding Using Kalicube Pro SaaS Copywriting Sandbox Tool
Kalicube offers a sandbox tool that uses Google's NLP (Natural Language Processing) to help you write a company description that clearly communicates who you are, what you do and who your audience is in a way that Google truly understands.
Matthew used this tool to write a significantly better description for Backpacker Job Board which was a big step on his way to being recognised as an Entity associated with his core topic, which in turn enabled Matthew to truly dominate his Brand SERP (remember, this is a generic SERP too, so a double win!)
Here is what Matthew wrote with the help of Kalicube Pro. The analysis shows that Google sees it as 73% relevant to job listings and job ads, which is the goal since this is the service the brand offers.
Kalicube Pro goes even further, as the tool not only displays the category attributed to the text, but also all entities recognised by Google's NLP. This is extremely powerful when you are trying to see if Google has recognised who you are, what you do and who your audience is (the three key things you need to ensure Google understands).
In this case, Google has understood the "who" (it has recognised the company Backpacker Job Board and the founder Matthew Heyes) and it has also understood what the company does (job/employment website) and also who the audience is (backpackers in Australia).
Providing the Information to Google and Corroborating
Matthew then followed Kalicube's three-step process: How to Get a Google Knowledge Panel for a Company
Identify the Entity Home of the Company
Corroborate and Confirm Information About the Company
Create an Infinite, Self-Confirming Loop for the Company
The Entity Home is his website homepage, so he added the new description, plus the Schema Markup generated by Kalicube Pro there. Then, using Kalicube Pro, he found all the sources Google was using to understand his company (company profiles, social accounts, data sources, review platforms, articles…) and corrected all the information on them (including using the same description on all) so that they all corroborated/confirmed the information he provides on his website. He created the infinite, self-confirming loop by adding a link back to his site with the anchor text "Backpacker Job Board" to as many of those sources as possible.
What Happened Next
Continuous Usage of the Kalicube Pro Platform to Educate Google
Google is always striving to give the best experience by displaying accurate and informative results. But no matter how advanced the algorithm, Google is still a child that can and will learn. Kalicube Pro is designed to provide a simple, efficient and effective process for educating this child about who you are, what you do and who your audience is.
Educating a child takes time, patience and a lot of work to reinforce the learning. With this in mind, having started the child's education using Kalicube Pro, Matthew has continued to use the platform to reinforce the learning and build Google's confidence in its understanding of who Backpacker Job Board is, and what it offers and who its audience is continuous. As the saying goes, "Don't stop until you reach the top. When you reach the top, don't stop, keep moving up", which is especially true for any digital marketing strategy.
"(Kalicube Pro forces you to explain to Google in a lot more detail about who you are) I think you do that because through Kalicube Pro you start to have a better understanding of Google itself and its algorithm. You understand it and you want to feed it more and so you find yourself writing more articles that explain what you're doing or where you've been, how the brand is interacting with different conferences and events or sponsorships or collaborations. And all of that is a powerful reinforcement."

Matthew Heyes, CEO of Backpacker Job Board
One year on, Backpacker Job Board truly dominates its Brand SERP (and thus the generic SERP), not only in the blue links but also with Rich Sitelinks and a beautiful Knowledge Panel.
What Were the Concrete Gains?
Dominated Searches on the Brand Name
Proving That it is Possible to Educate Google Despite the Ambiguity
Matthew's success is a testament that while a keyword-heavy, ambiguous brand name might not be the ideal strategy, to begin with, he still prevailed and the results were astounding.
Dominated Searches on the Primary Key Phrase
Driving Qualified Traffic on a Head Search Term
Since the brand name describes the service, once Matthew dominated his own Brand SERP, he also dominated the main key phrase for his business.
"This is something that Kalicube walked me through. It took me a long time and I ended up using the NLP part of Kalicube Pro to really nail that primary search phrase."

Matthew Heyes, CEO of Backpacker Job Board
Expanded His Presence Across the Industry
Employment Website for Backpackers Keyphrase
Because Google has understood exactly what Backpacker Job Board offers, and is very, very confident in that understanding (thanks to the reinforced learning over the last year) the site now appears on many Google search results around the topic of employment websites.
"Now, if you look at the key phrase "employment website for backpackers", I get #1 ranking, I get Rich Sitelinks and sometimes I even get the Knowledge Panel for that. I found that really interesting because I used the Kalicube Pro process to really perfect that descriptive phrase, corroborated that in a number of different places and then it became a phrase that triggers my Knowledge Panel in itself."

Matthew Heyes, CEO of Backpacker Job Board
Backpacker Jobs Keyphrases Internationally
Additionally, now the site ranks internationally for many related (head) search queries in multiple countries: USA, UK, Canada, South Africa…
Thanks to its understanding of what the website offers and to whom, it is giving Backpacker Job Board top ranking on relevant topical searches around the globe. Matthew points out that:
"Many backpackers will check out the job opportunities before leaving home, so this makes total sense, and is very good for my business"

Matthew Heyes, CEO of Backpacker Job Board
Becoming a Brand SERP Obsessive is Good for Business
When asked to pick between the three choices of him being a Brand SERP obsessive, a Brand SERP geek, or a Brand SERP fan, Matthew replied that he is Brand SERP obsessive.
"It's definitely focused me, not in a conscious way either, Google wants you to be really clear and really precise. Just that process of being clear and precise about what it is you do, you find yourself focusing on those core elements of your business. I think that there definitely is something that goes hand in hand there. "

Matthew Heyes, CEO of Backpacker Job Board
"I think there's an element of ego that's involved in it, you want what you think you should have. I feel like my product is good enough to warrant and demand that space and then you become obsessive about it because you constantly search for it as well."

Matthew Heyes, CEO of Backpacker Job Board
His Brand SERP is His Business Card
The people googling your brand name are your prospects: your A-list audience. They know who you are and want to know more about you and what you offer. That means your Brand SERP is your Google Business Card.
"I definitely treat it as a business card. That's something that I've seen Jason Barnard say before. It's almost like a gold star of authority to say that this website's good enough."

Matthew Heyes, CEO of Backpacker Job Board
That business card is also seen by clients: rather than remember the domain name or use bookmarks, many people lazily google the brand name to get to the site. That means many existing clients will see the Brand SERP before your homepage every time they come to your site. Having a great Google Business Card will help build their trust in you and the belief they are working with the right company.
Conclusion
Is a Generic, Keyword-focused Brand Name better or is a Unique Name better?
Generally speaking, when it comes to your overall digital presence, a unique brand name will be easier to manage than a generic or ambiguous name. A key phrase-based, ambiguous name can become an advantage, as Matthew Heyes has shown with Backpacker Job Board. But that requires dedication. So, if you prefer a generic name, or if you already have a generic name and don't want to change it like Matthew Heyes, then you will need to work extra hard and extra long to educate Google and dominate your own Brand SERP. That then gives you the opportunity to dominate multiple short head (popular) search queries in your niche.
Although a unique brand name is generally better and gives a relatively easy path to dominating and controlling a Brand SERP, there are other challenges, especially in the wider context of digital marketing. But that is a story for another day.
Where Kalicube Pro SaaS Brings Real Value
Either way, unique brand name or ambiguous brand name, Kalicube Pro's process (and in particular the Copywriting Sandbox tool) is a massive help in ensuring Google gets a better understanding of who you are, what you do and who your audience is.
Kalicube Pro SaaS helped Matthew to dominate the SERP for keyword-cum-brand-name "Backpacker Job Board" which is a massive win in and of itself. The bonus is that thanks to Kalicube Pro, he managed to dominate related SEO terms too because our process also ensured that Google confidently and clearly understood the service his company provides (employment website for backpackers).
Despite the disadvantages the ambiguity of a keyword-heavy brand name brings, the advantages, if done right, can be worth it because, in the scenario where even the popular keyword "backpacker jobs" is searched for, Google shows the website in position #1 and the Knowledge Panel. From a digital marketing and business perspective, this SERP domination is very beneficial as it generates exposure and that will have a positive impact on your bottom line, even if it is someone who has no prior knowledge of Backpacker Job Board.
List of all gains:
Dominated and took control of his Brand SERP even with a generic name.
Google fully understands what the brand service is and therefore ranks it on an extended range of short head keywords related to employment websites catering for backpackers.
The Brand also ranks first for its core business of backpacker job searches.
Built a great online business card that reassures clients and convinces prospects.
Since the original goal was to rank and dominate the SERP for Backpacker Job Board, this is another great example of how Kalicube Pro brings value to its customers. Find out what value Kalicube Pro SaaS can offer you >>