Right Rail of a Google SERP: What You Need To Know
What is the Right Rail of a Google SERP?
The Right Rail of a Google SERP is the right hand side of a SERP (Search Engine Results Page) on desktop.
This is super important since anything in the Right Rail is what Google considers factual.
The SERP Elements that can appear in the Right Rail are: Knowledge Panel, People Also Search For, Google Business Profile, or the See Results About box.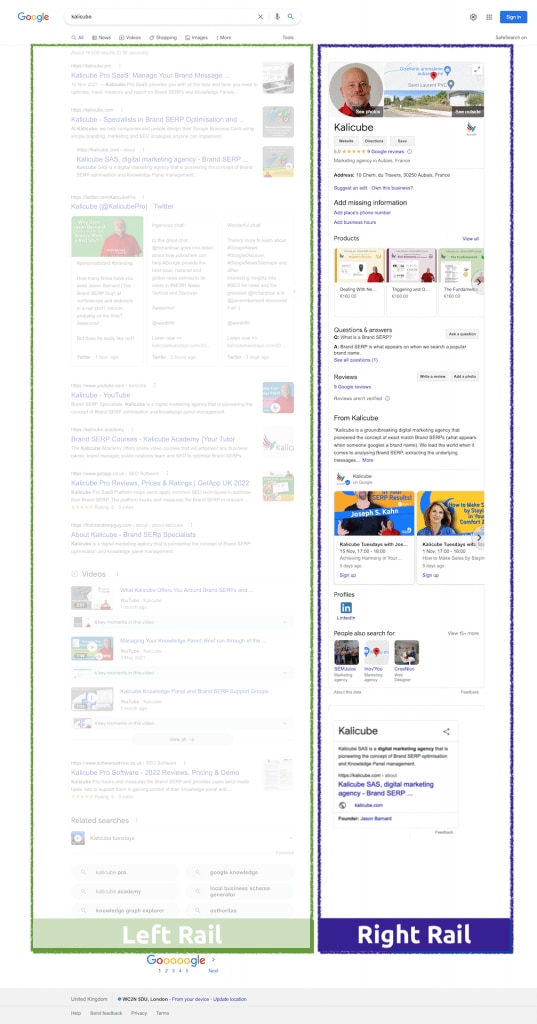 How Does the Right Rail Fit Into Brand SERP Optimisation and Knowledge Panel Management?
On a Brand SERP, Google displays the facts that Google has understood about the entity (company, person, film, has not found or understood enough facts about (or closely related to) the entity.
Google only displays a Knowledge Panel if it has a confident understanding of the facts about the entity, and it believes that a factual summary of the entity is helpful and valuable to the searcher.
Having a Knowledge Panel in the Right Rail on a Brand SERP is a must for any company – it projects a positive, professional image to their audience and also indicates that Google has a confident understanding about who they are, what they do and which audience they serve.
Optimising the Right Rail for an entity (person, company, podcast, music group…) involves triggering and managing a Knowledge Panel. The exception to this is local bricks and mortar businesses who should focus on their Google Business Profile.