What are Entity Boxes in SEO?
Simple Definition of Entity Boxes
Entity Boxes in Google SERP (Search Engine Results Page), labelled as Related Searches, appear when a user searches for an entity (companies, people, organisations, things, places, topics etc.) and Google is able to identify entities that are thematically related to the user's original search query.
Although they have the same label as Related Searches (which show the user possible search queries that are topically related to the original search query), Entity Boxes show related entities or topics, each with the name and a small thumbnail image. This is basically the equivalent of the People Also Search For Box (at the bottom of the Knowledge Panel), but the Entity Boxes are grouped by topic and the title text for the box is the topic.
What Do Entity Boxes Look Like?
Entity Boxes appear towards the bottom of the SERP. Each box has a title (the topic), and contains between 3 and 6 topically related entities, each with the name and a small thumbnail image. Google can show multiple boxes if it wants to cover multiple topics related to the original search query.
They are labelled as Related Searches since they are related searches, but they are entity names and therefore link through to Brand SERPs – see below. Which related entities are displayed in the Entity Boxes depends on how closely related they are to the original search query.
In this example for a search on the brand name "Bank of America", Google shows the user entities under the topic of financial sector companies: Google clearly understands that Bank of America is in that industry (topic).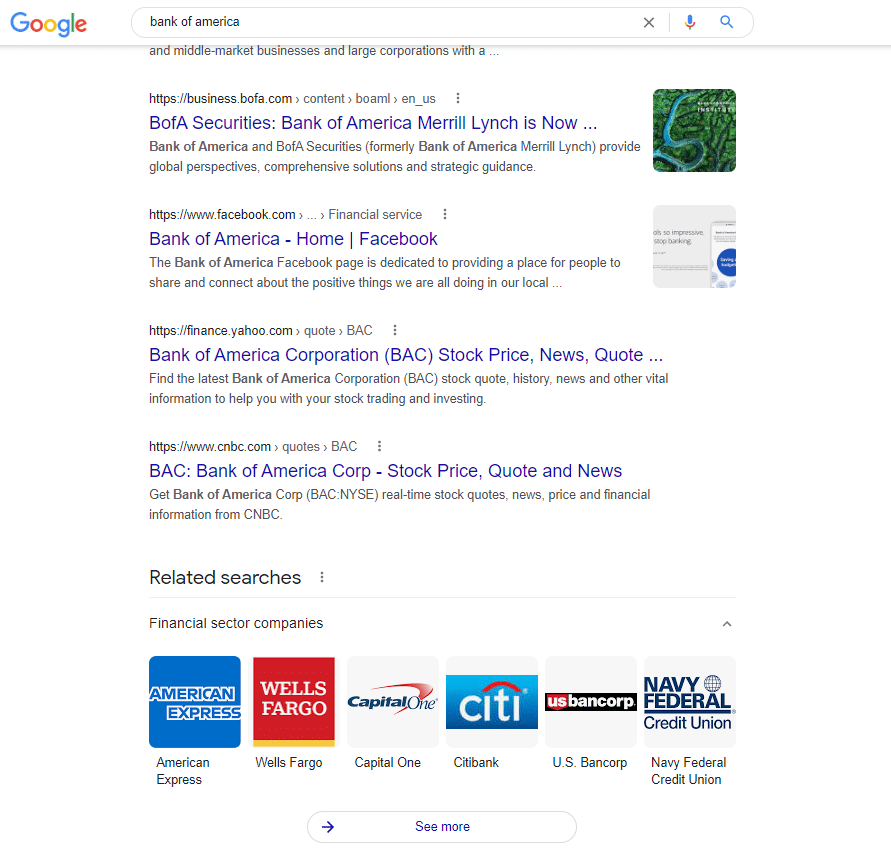 In this second example, Google displays two topics for the Entity Boxes that are closely related to the search query Eiffel Tower: Paris buildings and tallest structure in Paris. This is because Google understands that the Eiffel Tower is a tall structure located in Paris, and so has two very relevant topics to show the user.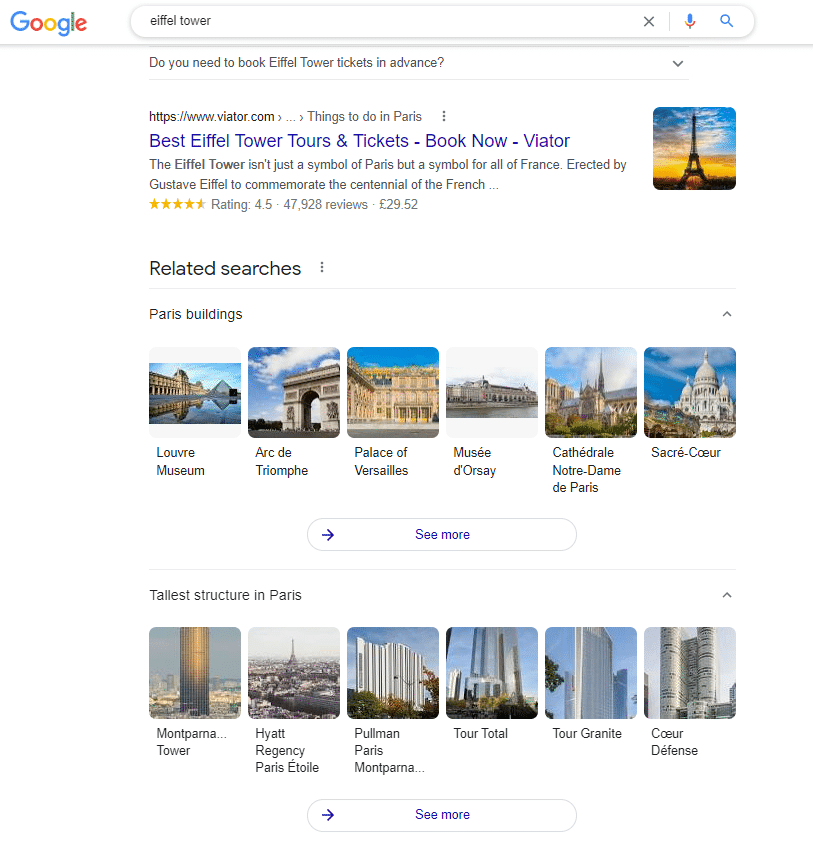 Can I Control When My Name (or Brand Name) Appears in the Entity Box?
The Entity Box is triggered by Google algorithms that automatically select the entities (people, organisations, things, places) that appear in the Entity Box, so you have no direct influence on it. Google's algorithms use a number of factors to make the selection, its understanding of the entity, its confidence in the understanding, topicality, relevance to the original search query, geographic proximity, search volume (popularity) and Google's understanding of intent.
However, you can improve your chances of appearing in Entity Boxes on Google search results pages, which is important for your digital branding strategy. It is important to ensure Google understands who you are and what you do (topics you are relevant for) and then build its confidence in that understanding. The better Google understands who you are and what you do, the better your chances of dominating Entity Boxes in your topical niches. Start by getting a Knowledge Panel.
How Do Entity Boxes Fit Into Brand SERP Optimisation?
In the context of Brand SERPs (what your audience sees when they google your name or brand name), Entity Boxes are incredibly important for brand owners because the topics displayed give you insights into both the topics and the entities Google considers most closely related to your brand, especially considering that you can have multiple Entity Boxes, each with its own topic and related entities.
For a business, the Entity Box generally features competitors, or other businesses that are topically or tangentially related to your business. So, your competitors can appear on your Brand SERP, and you can appear on theirs. Additionally, since Entity Boxes are topic-based, you have an opportunity to appear on a wider range of Google search results where the algorithms have clearly identified a topic where you are relevant.
As a business owner who wants to get their business out in the public eye, appearing in Entity Boxes is a wonderful opportunity because it's a great way to show your brand reputation and credibility to a relevant audience.
Learn more about Brand SERPs and how you can control yours to keep your potential clients focused on an accurate and convincing depiction of you with The Fundamentals of Brand SERPs for Business by Jason Barnard or learn more about Rich Elements and how to trigger them in your Brand SERP with the Kalicube Academy.