Related Searches in SEO: What You Need To Know
In this article, you will learn more about Related Searches (SERP Feature), their importance for SEO and how they contribute to Brand SERP Optimisation.
What are Related Searches in SEO?
Simple Definition of Related Searches (SERP Feature)
Related Searches on Google are located at the bottom of the Search Engine Results Page (SERP) and show users possible search queries that are topically related to the initial search query. This is Google's smart way of suggesting relevant search queries, terms or phrases and thus help users refine their search or find more in-depth information about the topic they are looking into. Like other Google SERP features, the contents are determined by Google's algorithm from the billions of pages in its search index.
Google says that Related Searches are "automatically generated based on an algorithm to determine terms related to your search".
What Do Related Searches Look Like?
Users can see multiple search terms, phrases or keywords related to the original search query directly at the bottom of the Search Engine Results Page (SERP). The number varies depending on the original search query, but generally you'll see between 3 and 8). When the user clicks on one of the Related Searches they are taken to a new search results page with results for that search query.
Here is an example of Related Searches when searching for a company like Kalicube.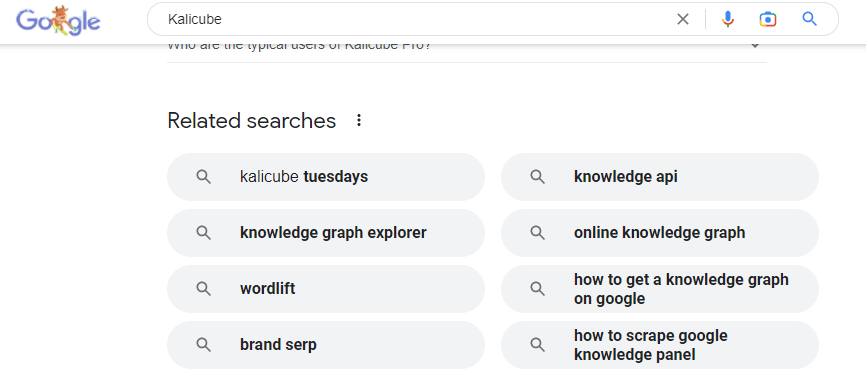 But here is what makes this SERP feature interesting…
Sometimes, on branded searches, Google will show other brands and companies from the same industry, presented using their brand name and logo.
Here is an example of H&M's Related Searches for a user in in New York, USA.

You can also check out this short-video by Jason Barnard, The Brand SERP Guy, about a case study on the power of Related Searches for Authors.
Can I Control When My Brand's Name in Related Searches?
Since Google's algorithms automatically select the terms and brands that appear in Related Searches , you have no direct control. The algorithms select from the billions of search queries it sees every day and use a variety of factors to make the choice, including the nature of the user's search query and Google's understanding of the intent. Google only suggests terms, phrases or brands that have high relevance to the user's initial search query.
How Does Related Searches Fit Into Brand SERP Optimisation?
Although Google has dedicated algorithms for this feature that cannot be controlled directly, that does not mean brand owners like you should overlook the importance of Related Searches.
As a company who values your audience (both clients and prospects) googling your brand name, influencing the Related Searches on your Brand SERP and also showing up in Google's Related Searches on your competitors' Brand SERP is a very interesting proposition.Think about it… if Google includes you in the Related Searches of a big company, then you are "buzzworthy," which says a lot about your brand's credibility and reputation. It's also great visibility for your brand to a relevant audience!
Kalicube Solutions