Podcast Boxes in SEO: What You Need To Know
What are Podcast Boxes in SEO?
Simple Definition of a Podcast Box
A Podcast Box in Google SERPs (Search Engine Results Page) displays a collection of podcast episodes in relation to the user's search query. Podcast Boxes appear for many different types of search query, especially queries that focus on topics where Google's algorithms deem that the user is researching a topic. Episodes from famous podcast series such as WTF with Marc Maron. 
You can find more about Google Podcasts and how podcasting works on Google in this article.
What Does a Podcast Box Look Like?
The Podcast Box displays three blocks of podcast episodes. Each block contains the title, publication date, and a thumbnail. The box is in the format of a carousel with navigation arrows to scroll horizontally through up to a dozen episodes.
If the search query is not specific to one podcast, the Podcast Boxes will generally contain sample episodes from multiple podcasts that relate to the query. Here is an example of a Podcast Box for the generic search "best digital marketing podcasts".

When searching a podcast name, or if the intent is specific to a particular podcast, the podcast boxes contain the latest episodes from that podcast. Here is an example of a Podcast Box in a search result for "Kalicube Podcast".

Clicking on an episode will take the user to the Google Podcasts search results page, which includes a brief description of the episode and allows the user to listen to the podcast directly on Google Podcasts.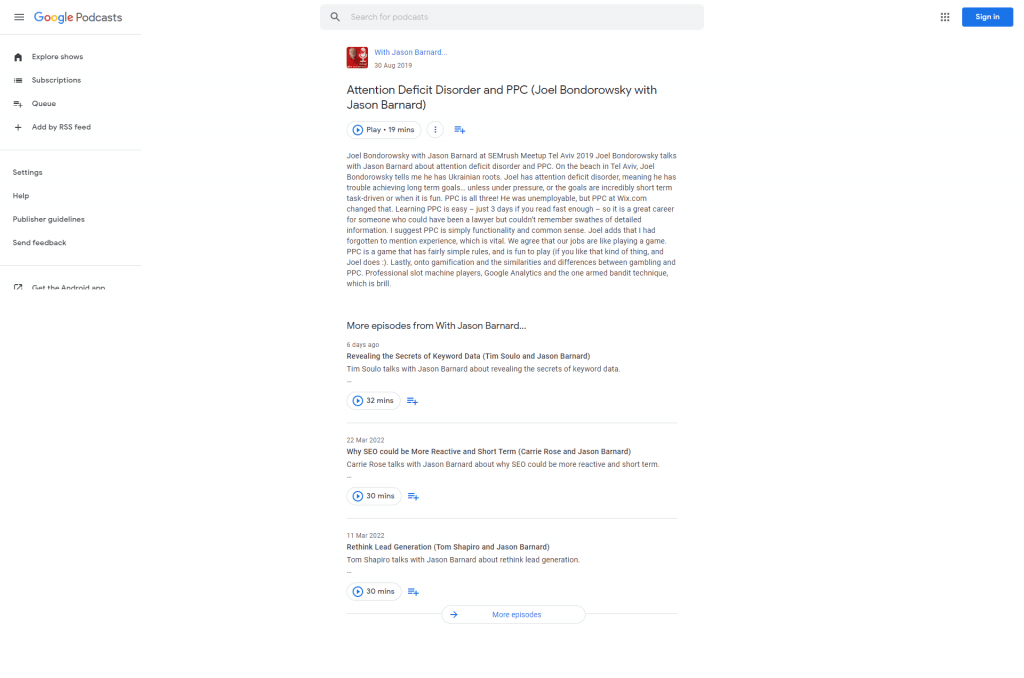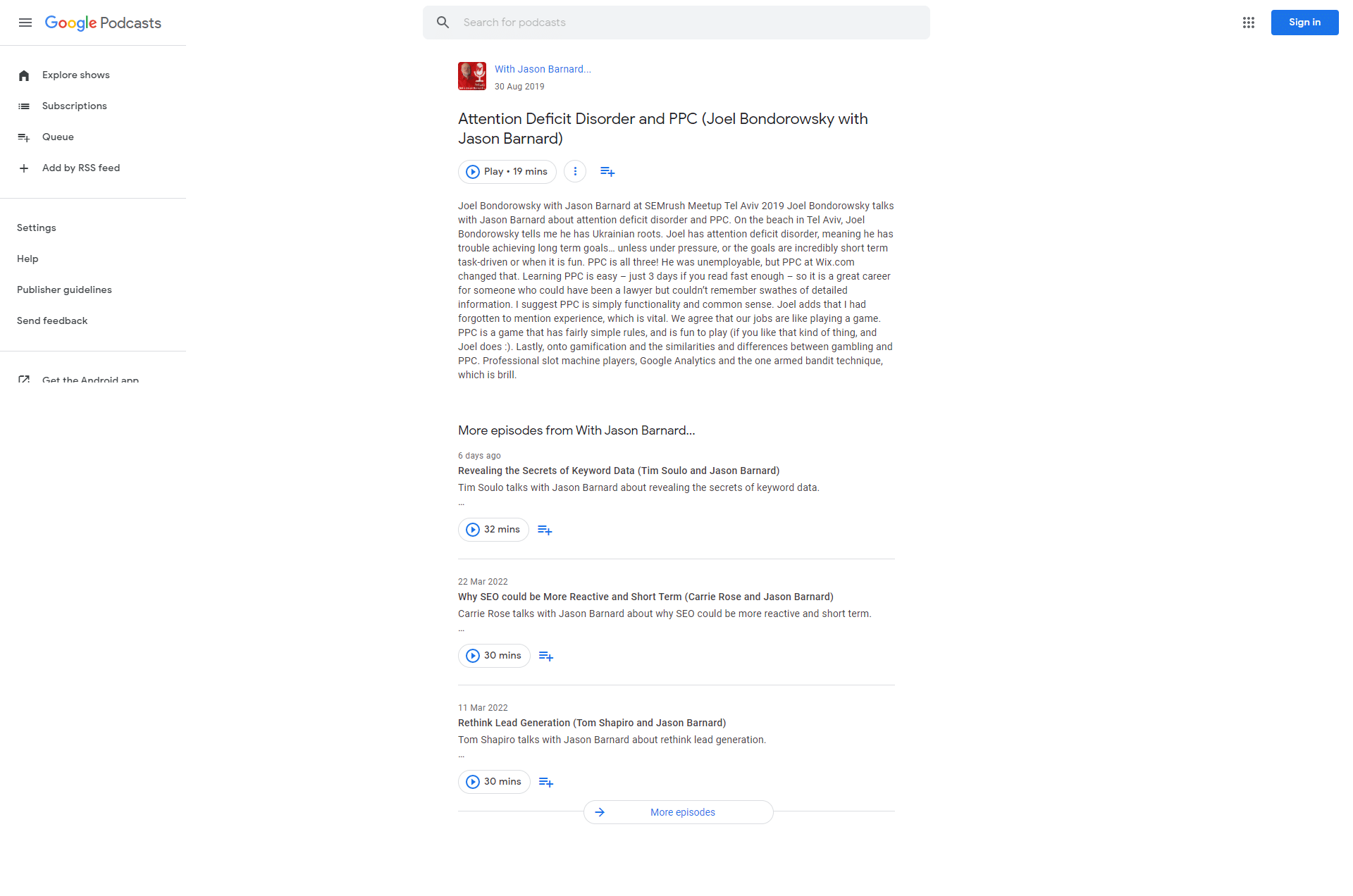 How Do I Appear in a Podcast Box in Google SERP?
Podcasts are distributed by their publishers using RSS feeds. A podcast RSS feed is a file on the podcast's own website that provides a list of episodes that podcast players and platforms such as Google Podcasts, Apple Podcasts, PodBean, Podchaser can use to allow their users to listen to the podcast in question. The RSS feed includes information about the podcast series such as the show title, author, visuals etc, plus detailed information about the episodes, including title, description, timing and visuals.
Google uses its own platform (Google Podcasts) to populate Podcast Boxes in its SERPs. So, to be featured in Podcast Boxes in SEO, your podcast needs to be indexed in the Google Podcast directory. If a podcast is not in Google Podcasts, it cannot appear in Podcast Boxes in Google search results.
Here is an article about RSS feed guidelines for Google Podcasts.
How Do Podcast Boxes Fit Into Brand SERP Optimisation?
When a user searches a podcast name, then the Search Engine Results page they see is called a Podcast Brand SERP. If the podcast is listed in Google Podcasts, then that Podcast Brand SERP will generally contain Podcast Boxes containing the latest episodes from the podcast.
In the case of Brand SERPs for people and for companies: If the podcast is published from the official website of the person or company, then the Podcast Boxes will appear if Google's algorithms deem them to be highly relevant to the brand's audience. If the podcast is published on another site, then in addition to Google's evaluation of the relevancy, Google needs to have understood the relationship between the person or company and the podcast.
Here, for example, Google is able to show Podcast Boxes for "With Jason Barnard" (the podcast), "Jason Barnard" (the host) and "Kalicube" (the publisher).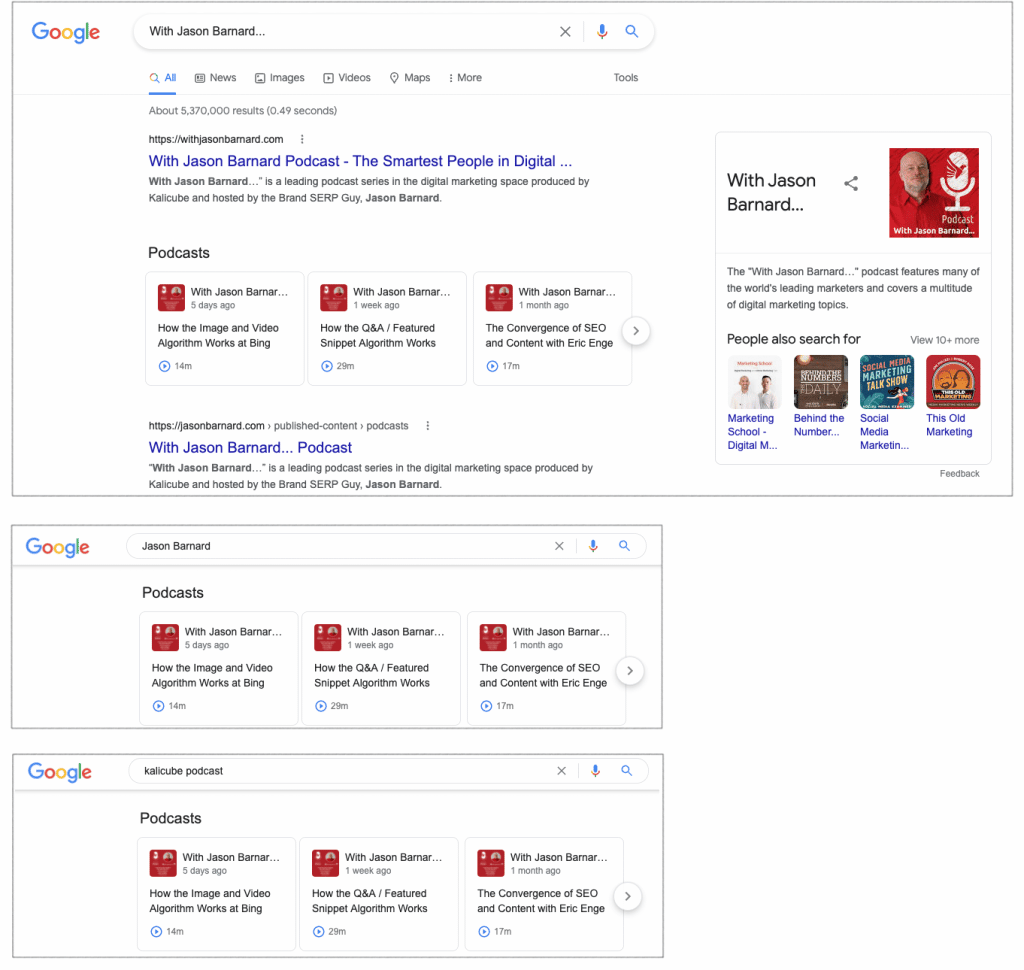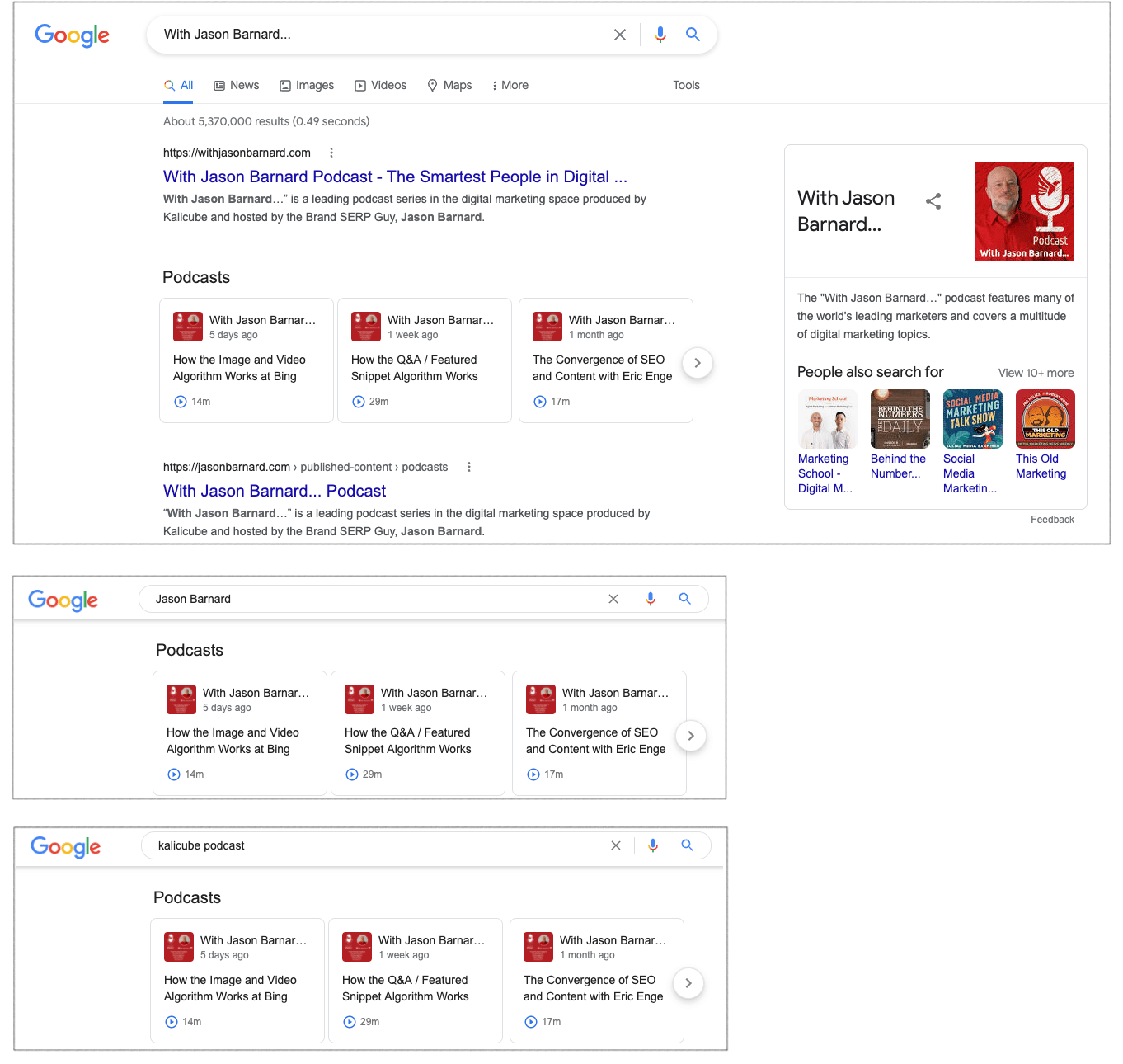 Having Podcast Boxes on your Brand SERP (as a person, company or podcast) supports the impression that you have a credible and effective online presence, especially with your audience (who share your interests).
Importantly, once Google shows Podcast Boxes on a Brand SERP, then the contents will update with the latest episodes within a day of publication. This offers direct control of what your audience sees when they google your brand name, which is very positive for Brand SERP Optimisation. 
While a Podcast Box is essential for the Brand SERP of well-known podcasters and podcast shows, other brand owners or individuals can also benefit from publishing podcast shows. Adding this to your marketing mix can help you promote your brand and expand your audience… and perhaps increase sales further down the line.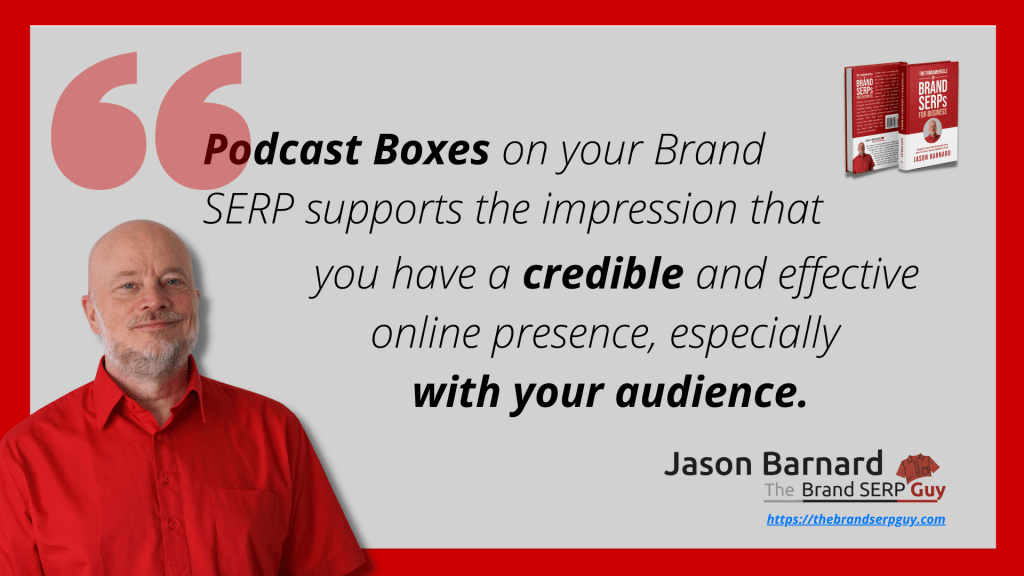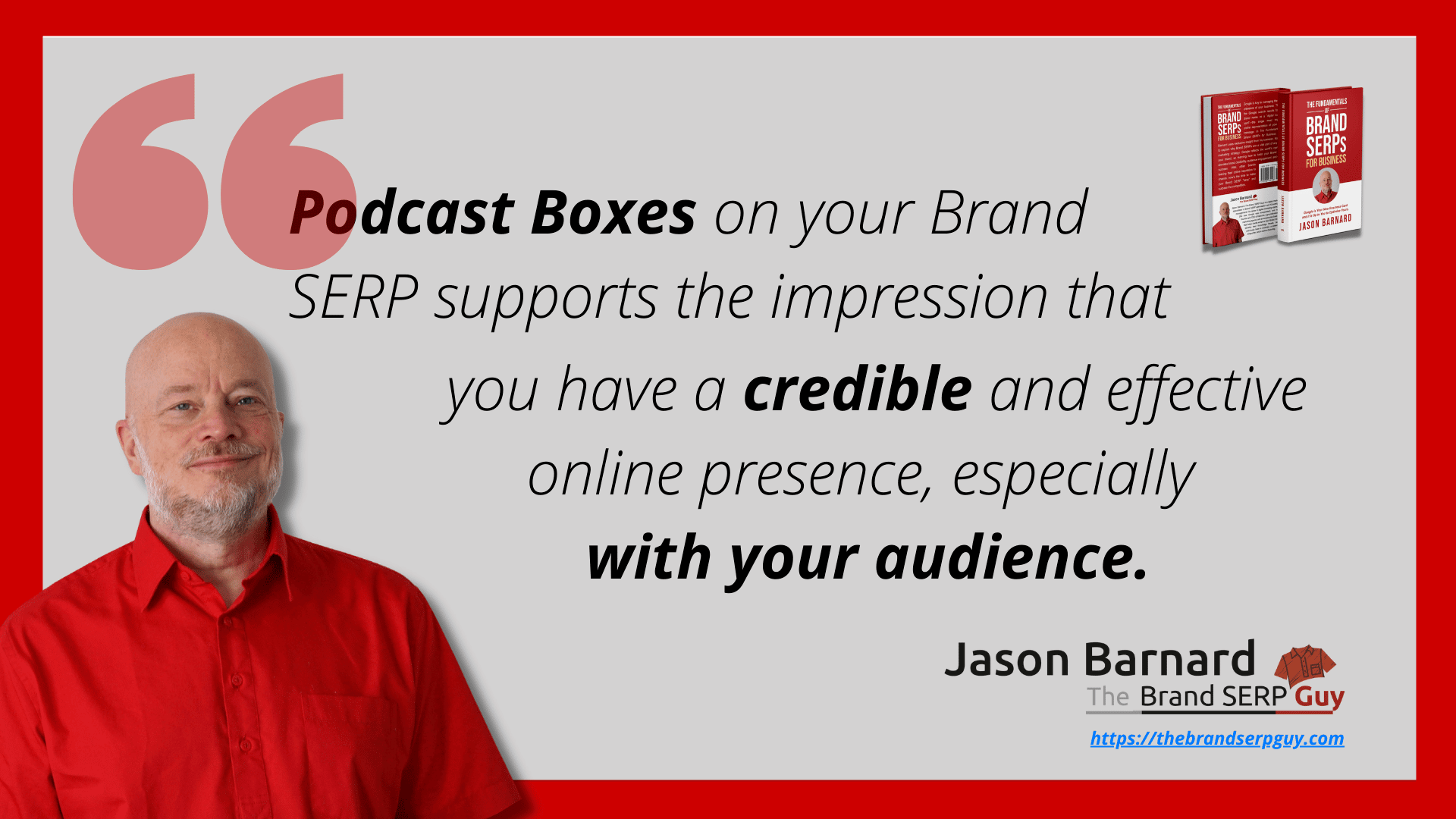 Kalicube Solutions