Improving Backpacker Job Board's Brand SERP – Client Success Story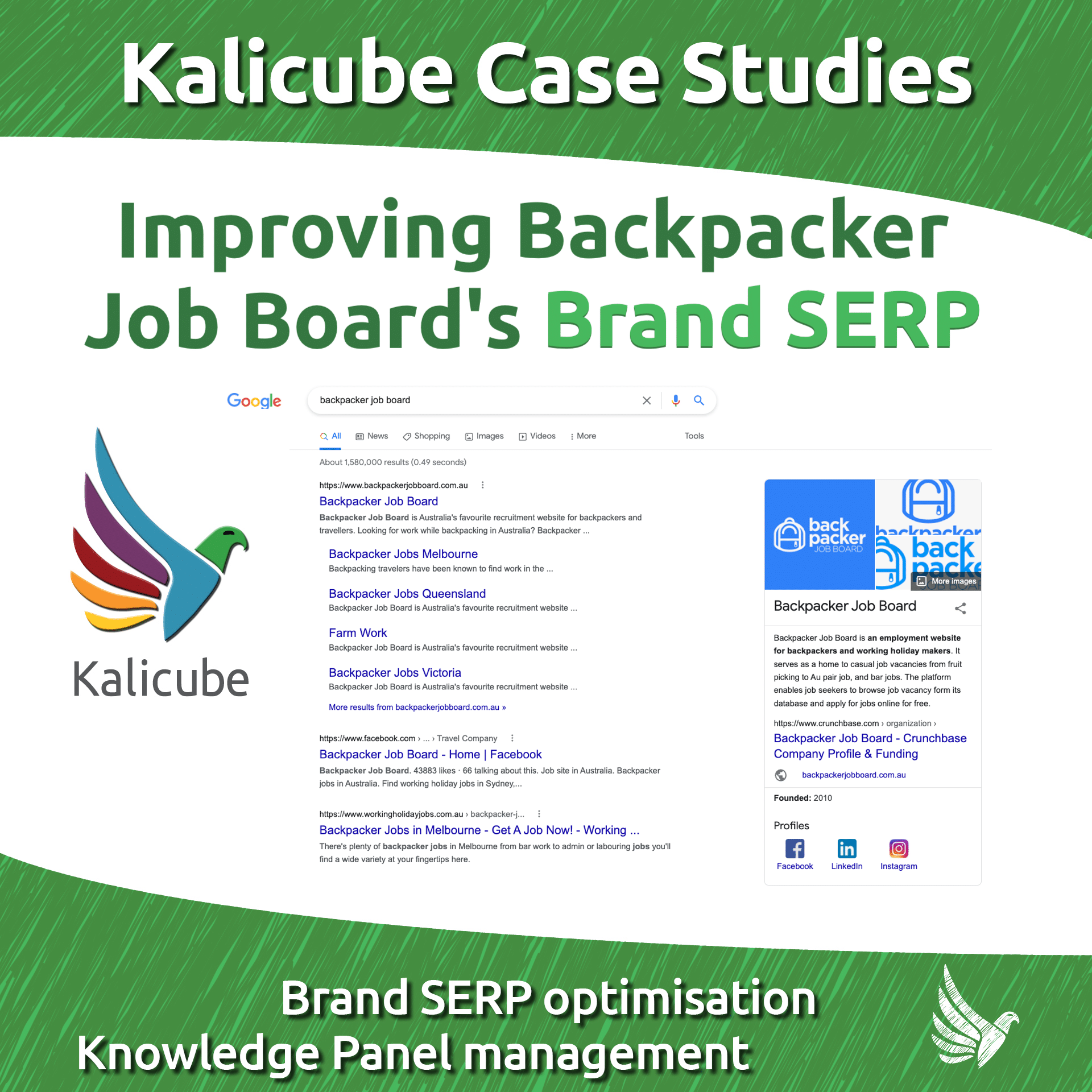 Kalicube Pro Case Study: Backpacker Job Board
Who is Backpacker Job Board
Backpacker Job Board is an employment website for working holiday makers travelling in Australia. The platform is niche, but very popular within its membership. I am its founder, Matthew Heyes.
Backpacker Job Board was a solid 5/10 before using Kalicube Pro
As an avid SEO enthusiast, I have always had a strong interest in improving the site's organic search performance. I signed up to Kalicube Pro having a good understanding about technical SEO. I understood schema markup, but did not fully appreciate the depth of schema options. I knew nothing about semantic triples and I didn't know what an entity home was and why it's so important.
At just over 10 years old, the Backpacker Job Board website had a strong backlink profile and had a handful of high authority news articles and references across the web. However, Backpacker Job Board has never had the level of notability required to achieve a Wikipedia brand page. If I was to achieve my brand SERP goals, it had to be without the benefit of a Wikipedia page.
Before using Kalicube Pro, the Brand SERP for "Backpacker Job Board" was ok; a solid 5/10. The 10 blue links were a list of owned resources and social profiles. Unfortunately, the Brand SERP lacked any of the rich components enjoyed by other larger brands. We had no Knowledge Panel, no Twitter Boxes or Image Boxes and we were not in the Knowledge Graph.
What happened next (Brand SERP Strategy)…
I began using Kalicube Pro and the experience instantly changed my strategic approach. I quickly learnt that I needed to 'feed' Google 'better' information. I needed a semantic approach to brand SEO and all my actions needed to be corroborated by authoritative third party entities.
The Kalicube Pro platform provides a deep wealth of hugely valuable resources, and they really helped me get up to speed with Brand SERP SEO and vastly improve the Google results pages my clients and prospects see when they search my brand name: Backpacker Job Board.
The video clips by Jason help enormously with 'hand-holding' as you progress through the Kalicube Pro process: they are particularly useful and make sure you are precise in your decision making and defining your entity.
My aim was clear: take control of what my audience sees when they Google "Backpacker Job Board". With Kalicube Pro, the process to achieve that became immediately clear. I needed to define my entity home and then use Kalicube's in-built NLP tool to accurately describe the entity. After completing this and making amends to my schema, my next task was to authenticate these changes by feeding Google corroborate references. This last step is a manual process and is quite laborious- but I was very pleasantly surprised at how quickly it yielded results.
Kalicube Pro really made understanding the key concepts straightforward and provided an incredibly helpful structure to work through that process
Visible Brand SERP Results Were Faster Than I Had Anticipated…
Within a few days of my initial updates, I could see that Google's understanding of my entity had changed.
The first change I noticed was that my Brand "Backpacker Job Board" was being picked up as a suggested answer in related search suggestions for non brand queries. This was a huge thrill as it was something I had targeted for a number of years and had never been able to achieve. See screenshot below.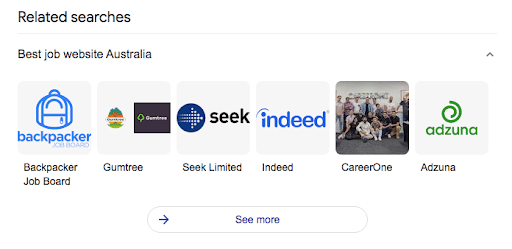 The same update delivered a feature in this entity carousel (see below).

Within a few more days, I noticed more improvements in brand and non-brand SERPs. This included the activation of a Twitter feed/box element in brand search results.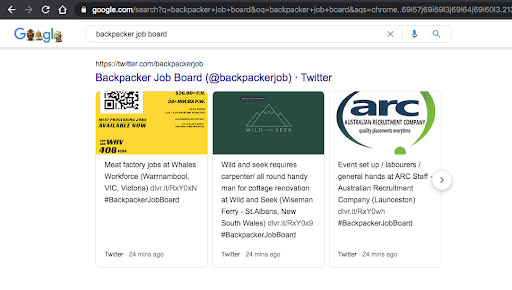 Even better, references to the brand in local press were also triggered as Top Stories in brand search results.

Finally, the most exciting development in brand SERP was the addition of the Knowledge Panel. This started out as a sprout. See screenshot below.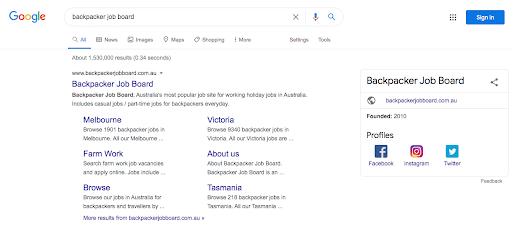 Each of those in and of themselves is a big win. Taken together they mean that my brand in Google has been taken to a new (exciting) level. Brilliant.
The Knowledge Panel (did it 'stick')?
The Knowledge Panel status continued to change over the next few weeks. After 4 months, the panel is now a permanent fixture on my Brand SERP. Even better – It features my logo and a description snippet from Crunchbase. See screenshot below.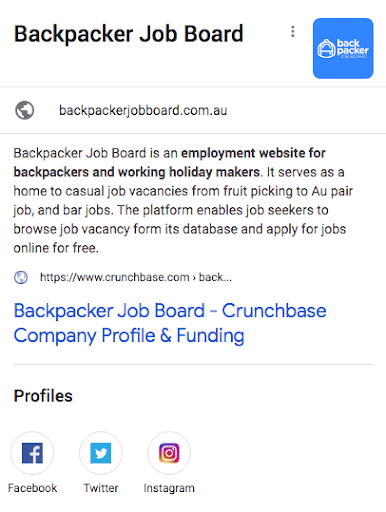 Did Kalicube Pro Deliver Value?
Not only does Kalicube Pro provide a bespoke process for the Brand SERP and Knowledge Panel, but it also helps you curate all the information you need to deliver on the methodology. Then of course, it tracks and stores the results so you can easily see and measure the progress over time. Viewing the progression week after week allows me and my colleagues to keep abreast of (and understand) how Google's confidence in the brand recognition is improving.
I've continued to track this data in Kalicube Pro which means that I can continuously review the effectiveness of changes I make over time.
My next goal is to see my brand (and related entities) join the Google Knowledge Graph. With thanks to Jason and Kalicube Pro, I believe this goal is not far off.
What Can Kalicube Pro Do for You?
Provide a bespoke list of tasks to gain control of a Brand SERP and a Knowledge Panel
Information and methodologies to do what's on your list
Track and measure the progress over time