How to Optimise Your Brand SERP (The Kalicube Process)
In this article you will learn what a brand SERP is, why it is important to optimise yours, and a simple step by step process (The Kalicube Process)
Before starting, here's a quick intro:
Definition: A Brand SERP is what appears on Google when someone searches your brand name (the Search Engine Results Page for your Brand name).
Importance: Most people will search for your brand at some point before or during their working relationship with you.
Insight: Brand SERP optimisation is an astonishingly effective path to a sensible, effective and efficient Digital Marketing Strategy.
In this article you'll learn how to bring marketing, branding and SEO together to optimise your Brand SERP, and (as a lovely side-effect) create a hugely effective digital marketing strategy.
Introduction to Brand SERP Optimisation
Brand SERP optimisation is the practice of optimising a brand's presence in search engine results pages. It is a way of improving a brand's online presence and increasing visibility. It is also a way of increasing brand awareness and improving brand recall.
Brand SERP optimisation can include optimising the brand's website, as well as managing its presence in Knowledge Panels and other features that appear on search engine results pages1. It can also involve removing competitors, and image-harming reviews, news, or events in the context of brand entity reputation.
Brand SERP optimisation is an astonishingly effective path to a sensible, effective and efficient digital marketing strategy. It can help to bring marketing, branding and SEO together to create a consistent and positive brand image. It can also affect the search engine's perspective for a brand, as well as the users' perception of a brand.
Knowledge Panels are a feature of search engines that display information about a particular topic or entity. They typically appear in the right-hand column of search engine results pages and provide users with a summary of information about the topic or entity being searched for.
Kalicube's SaaS platform and other products and services are designed to help businesses optimise their brand's presence in search engine results pages and manage their Knowledge Panel information. This can include optimising website content and structure, managing the information that appears in Knowledge Panels, and improving the overall visibility of the brand in search results.
By order of importance:
Marketing,
Branding,
SEO.
Back to the 1990s – Marketing is Your Top Priority
A Focus on Marketing Provides the Right Content For Your Brand SERP
If you come from the world of marketing, then a focus on creating content that your audience needs and wants goes without saying. However, many digital marketers and SEOs have been "playing Google" and focus on Google more than they focus on the human audience.
So, the first step in the Kalicube Process for Optimising a Brand SERP is right in your ballpark. Create content that
create content that helps your audience solve a problem that is important to them,
produce content in a format that helps your audience make good use of your solution,
distribute content on platforms where your audience naturally gathers.
Find the Problems Your Audience is Facing Where You Can Truly Help
Simply put, you want to produce content that is helpful to your target audience. This can be anything from a simple answer to a simple question, or a huge study that delves into complex issues.
There are many ways to do this. The #1 way NOT to rely on is to use your "instinct" or "gut feeling". You are almost certainly wrong.
Better to look at
search trends within your topicality or industry – traditional keyword research using tools like SERanking.com or tools that look into People Also Ask on Google such as https://alsoasked.com,
ask your sales and support staff what questions your prospects and clients are asking,
ask your clients directly through a survey, or an email asking for their feedback about where you can help them.
Identify What Format Makes Sense for Your Audience
The format can be text, tables, lists, audio, video, livestreams… the important point is to make sure you produce helpful content in a relevant format. For example, "Javascript for a popup on a webpage" would require a short article with code examples on your site or on Stackoverflow. "How to Play Blues Guitar" would require a video on YouTube, or an explanation with tablature on your own site.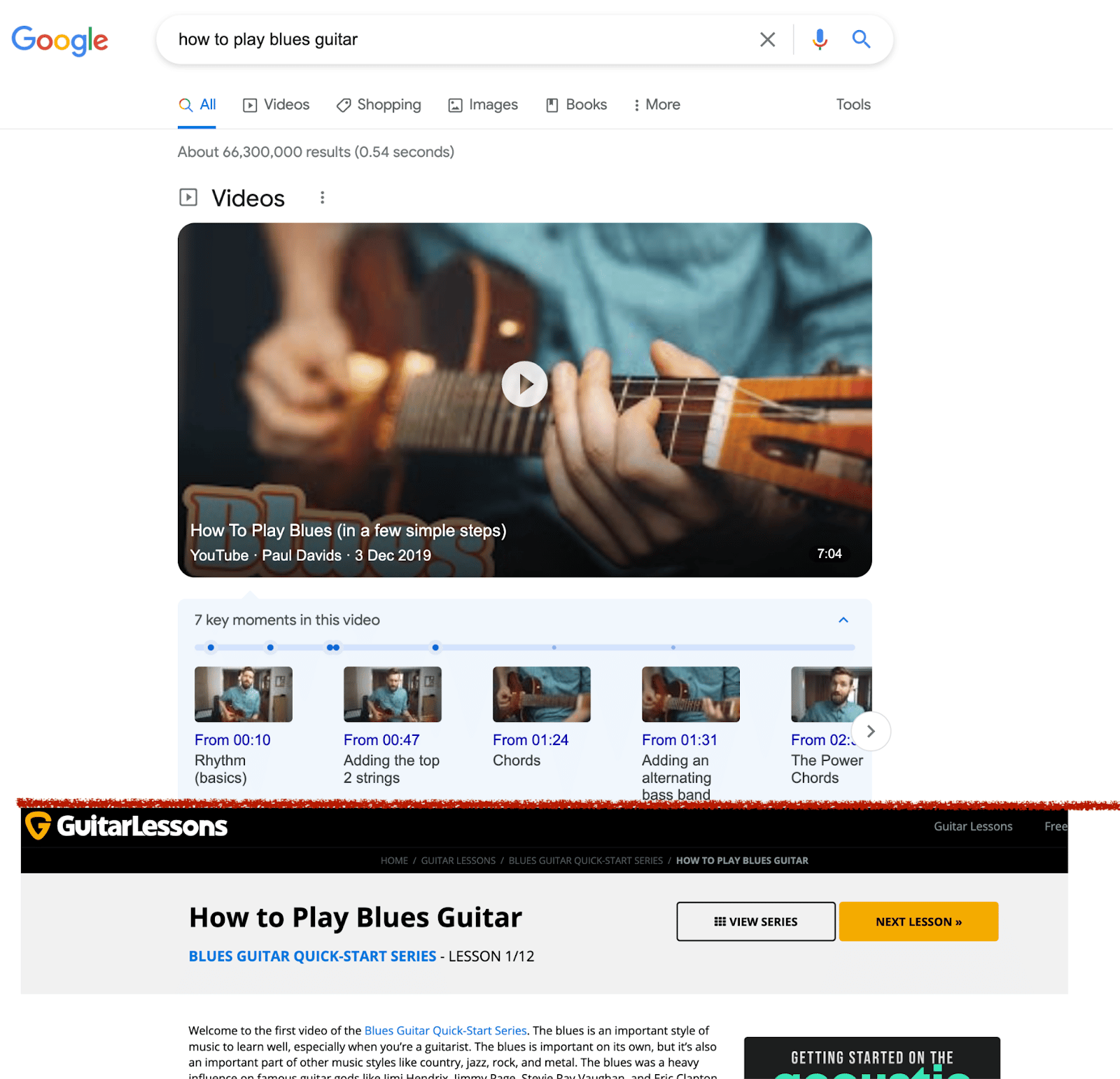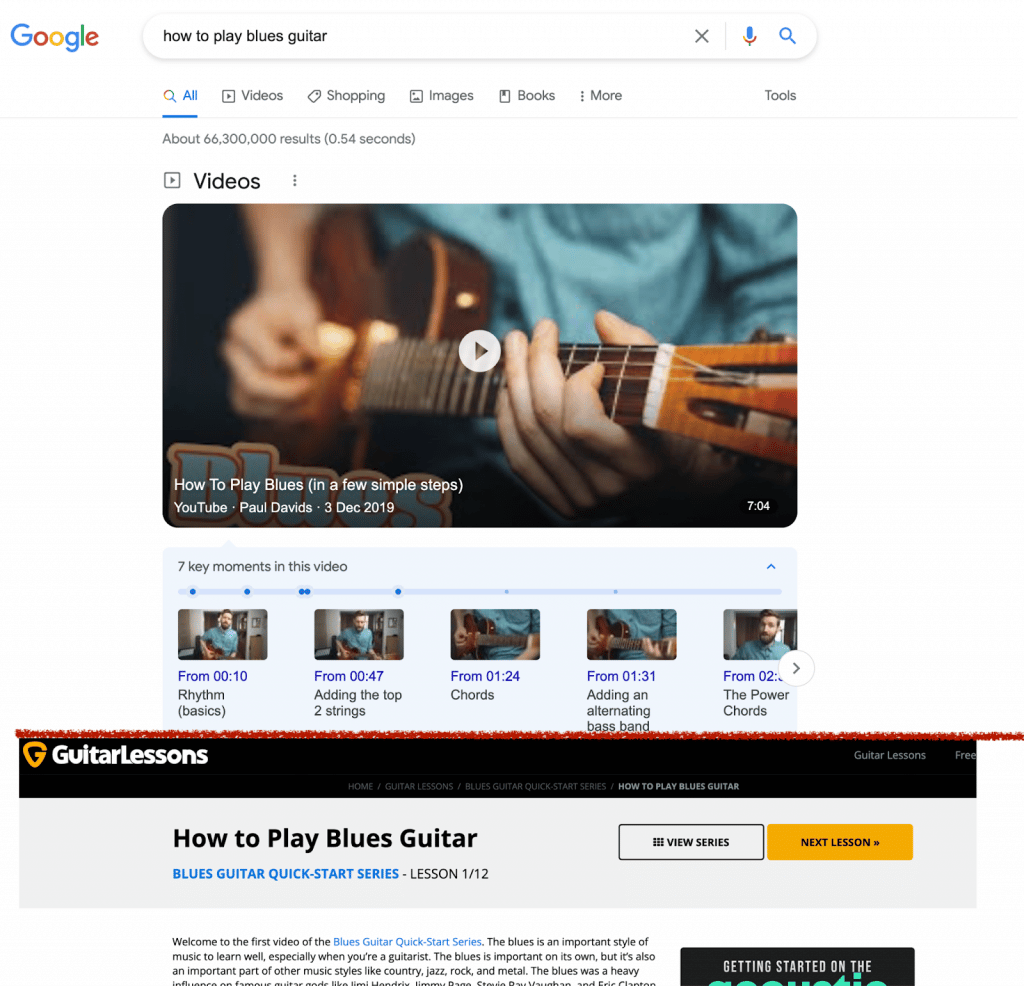 Realistically there are three choices:
Text-based content
Audio-based content
Video-based content
And there are three types of platform:
First party (sites you own)
Second party (pages you control on sites you don't own)
Third party (sites you have no immediate control)
Publish Your Content on Platforms that are Relevant for your Audience
This could be Facebook, LinkedIn, Medium, Crunchbase or even your own site. Look at where your audience gathers and publish there. It is not up to you. You need to reach out to people who are your audience (and thus potentially your clients) where THEY hang out.
You also need to ensure it is easy for them to find on that platform. So, if you are using TikTok, you need to implement a TikTok Strategy. On LinkedIn you need a strategy that works there. On Quora, the strategy would be all about answering questions…
Your Brand is Your Most Valuable Asset
Consistent Branding is the Foundation of Your Brand SERP
In every piece of content you produce online you need to ensure that you communicate your brand message consistently using text and / or visuals.
That is a simple statement, but a vast undertaking since it covers everything – text, image and video – on all first, second and third party websites.
That means every member of your staff needs to understand what brand message you want to project and communicate.
Don't focus just on your own website. You are necessarily publishing content on multiple platforms already: YouTube, Facebook, Twitter, Medium, Soundcloud, LinkedIn, press releases pushed to news / media sites, and even replies on Quora or Trustpilot.
Make sure that you consistently communicate a solid, clear brand message and brand image:
in the content
on all pages on the platform you control
in your promotion of the content.
Obviously a consistent brand message is essential to any business. But in the context of Brand SERPs it comes into full focus. Why? Because Google will show content from all around the web on your Brand SERP. It wants to show your audience a balanced and helpful overview of who you are, what you offer and where they might want to interact with you.
To do that Google assesses your entire Digital Ecosystem to establish which content from around the web (in addition to your website) will best serve your audience when they search your brand name.
It is therefore essential that your brand message (textual and visual) is consistent across the web since your Brand SERP will naturally contain content from first, second and third party sites.
Packaging Your Content for Google
Simple SEO Techniques Pull Your Brand SERP Together
It is ironic that SEO comes only third in the list of strategies you need to implement in order to optimise your Brand Search Engine Results Page. Why is that?
If you have created content that is genuinely helpful to your audience, branded it and published it on platforms that make sense for customer acquisition, then you are already winning. At this point, all you need to do is "package that content for Google" and it will perform both on your Brand SERP and as part of a wider SEO strategy.
SEO is simply a set of techniques, tactics and strategies that package content for search engines like Google. Some are technical, some are not.
Here are Some Examples of Non-geeky SEO Techniques for Brand SERPs:
Copywriting is very powerful as an SEO technique (get our free guide to copywriting for SEO here),
Informative Meta Titles and Descriptions (that show in the SERP) are a definite plus and an easy win,
Internal and external linking helps to point Google to the content YOU feel is best for your audience,
Consistent anchor texts help build Google's confidence in its understanding of the destination page,
Google prefers quality, high-resolution images, so make sure you include some in your branding strategy,
Subtitles for a video help Google immensely
Here are Some Examples of Geeky SEO Techniques for Brand SERPs:
Semantic HTML5 is a helps Google understand the information in a webpage (guide to Semantic HTML5 for copywriters here and a guide to Semantic HTML5 for developers here),
Schema.org Markup is hugely powerful since it is Google's "Native Language",
Mobile friendliness is essential – make sure your website and all content you publish on all platforms is mobile-friendly,
Pagespeed is less important for Brand SERPs than for general SEO, but of course it helps.
You'll find more about all these Brand SERP-friendly SEO techniques in the Kalicube Academy courses.
Importantly, you can perform SEO both on sites you own and sites you don't. For Brand SERPs working on both are essential.
If you published the content on our own websites, then you will want to work on the traditional SEO techniques such as meta title, H1, image optimisation, pagespeed and Schema markup.
If you published the content on a second party website (that you partially control), then some of those tactics won't be accessible to you. Generally speaking, on second party sites you can expect to be able to optimise the headings, the texts, and the information about you. Whatever the platform (Twitter, Medium, LinkedIn, Muckrack…) allows you to update, personalise and optimise, take that opportunity.
Third party websites are trickier since you need to ask the publisher to make changes. However, if you have a good relationship with them, then this is often not such a huge "ask". Importantly, if you are in contact with them before publishing, it is a relatively simple task to prepare the content "pre-packaged for Google" if you plan ahead.
For content published on both second and third party sites, you have the option to republish the content on your own site where you have full control over SEO techniques and strategies. Whether you repurpose it, publish only a part of it, or republish it as-is depends on the content, its place in the acquisition funnel and the terms of the original publishing platform.
Luckily for 99% of marketers and brand managers in the world, the geeky stuff is absolutely not needed for the Kalicube Process to work wonders- In Brand SERP optimisation, the SEO techniques are simple🙂
Special Case: Deal with Negative Results on Your Brand SERP
A negative review or forum thread on your Brand SERP is one way to dissuade customers from doing business with you. You definitely don't want a customer or prospect to see a one star review or a series of negative words when they google your brand name.
The approach to removing these negative results is often to create positive content to try to "drown" the negative. This is not the correct approach. The most effective strategy is to use the Leapfrogging technique we advocate at Kalicube. Learn more about leapfrogging here.
But you should never get to that stage. Brand SERP Optimisation is, in effect, Proactive Online Reputation Management. If you manage your Brand SERP over time and optimise it, then these negative results will be significantly less likely to be seen as relevant for your audience by Google, so they will struggle to rise to the surface and appear on your Brand SERP.
Why Is Optimising Your Brand SERP Important
Your Brand SERP is your Google Business Card. Remember, anyone who Googles your brand already has an idea of who you are. They are perhaps a client, a journalist, an investor.
Your Brand SERP is Google's stamp of approval (or not). People use Google because they trust Google. That person who googled your name could be a prospect who has seen your brand name somewhere and wants to know more. And you need to make a great impression to convert their curiosity into engagement and ultimately to a conversion. A rich Brand SERP that reflects positively on you is an implicit recommendation from Google.
Your Brand SERP is an honest critique of your digital marketing strategy and a representation of your brand's online ecosystem and an . Since Google crawls the web constantly, who better to be able to understand your Digital Ecosystem? Google's web index contains your website, your social channels, articles about you, webpages that mention you, your reviews… in fact pretty much everything you or anybody else says about your brand online. And it understands how your audience engages with you thanks to user activity on its SERPs, data in the web index, Chrome, Analytics, Android, Gmail, Google Play, YouTube, and many more Google products.
Google has the data to create a representative SERP Business Card, give you its stamp of approval (or not) and show you a realistic reflection of how well you are doing with your digital marketing strategy.
Good Brand SERP vs Bad Brand SERP
Just look at how unconvincing a 10-blue-link Brand SERP is in comparison with a Rich Brand SERP. If a potential client googles your brand name and sees nothing but boring blue links, they would more than likely hesitate to do business with you. More importantly if they see a negative review site, that's likely to be a huge brake on their enthusiasm.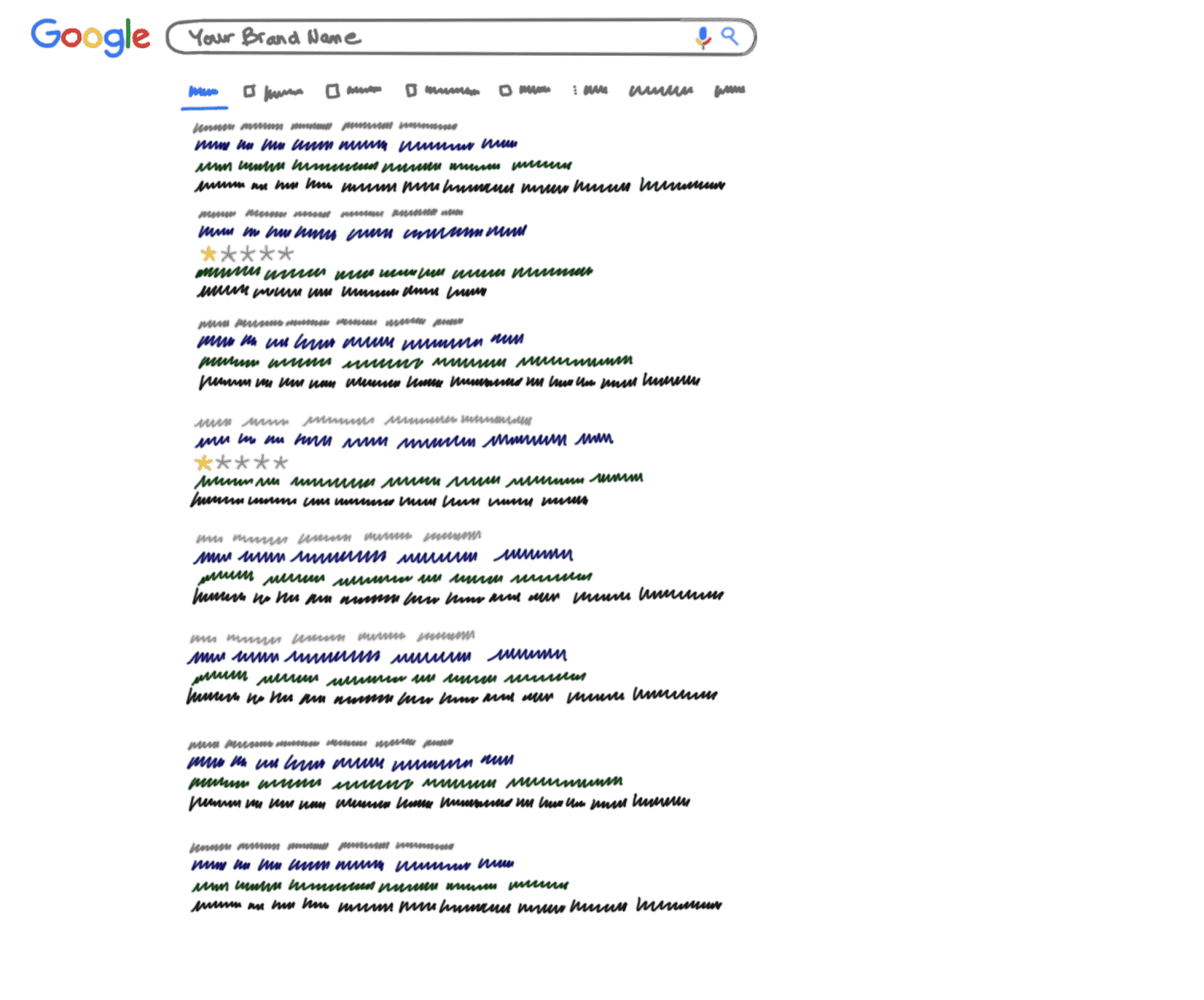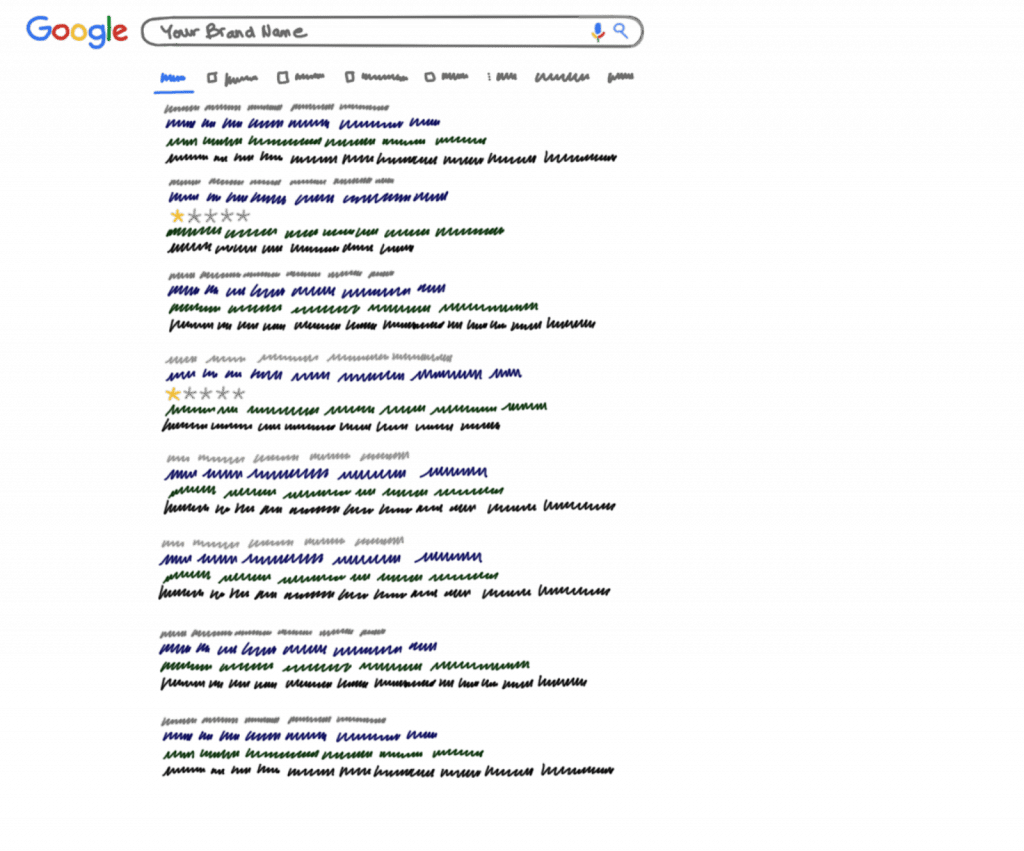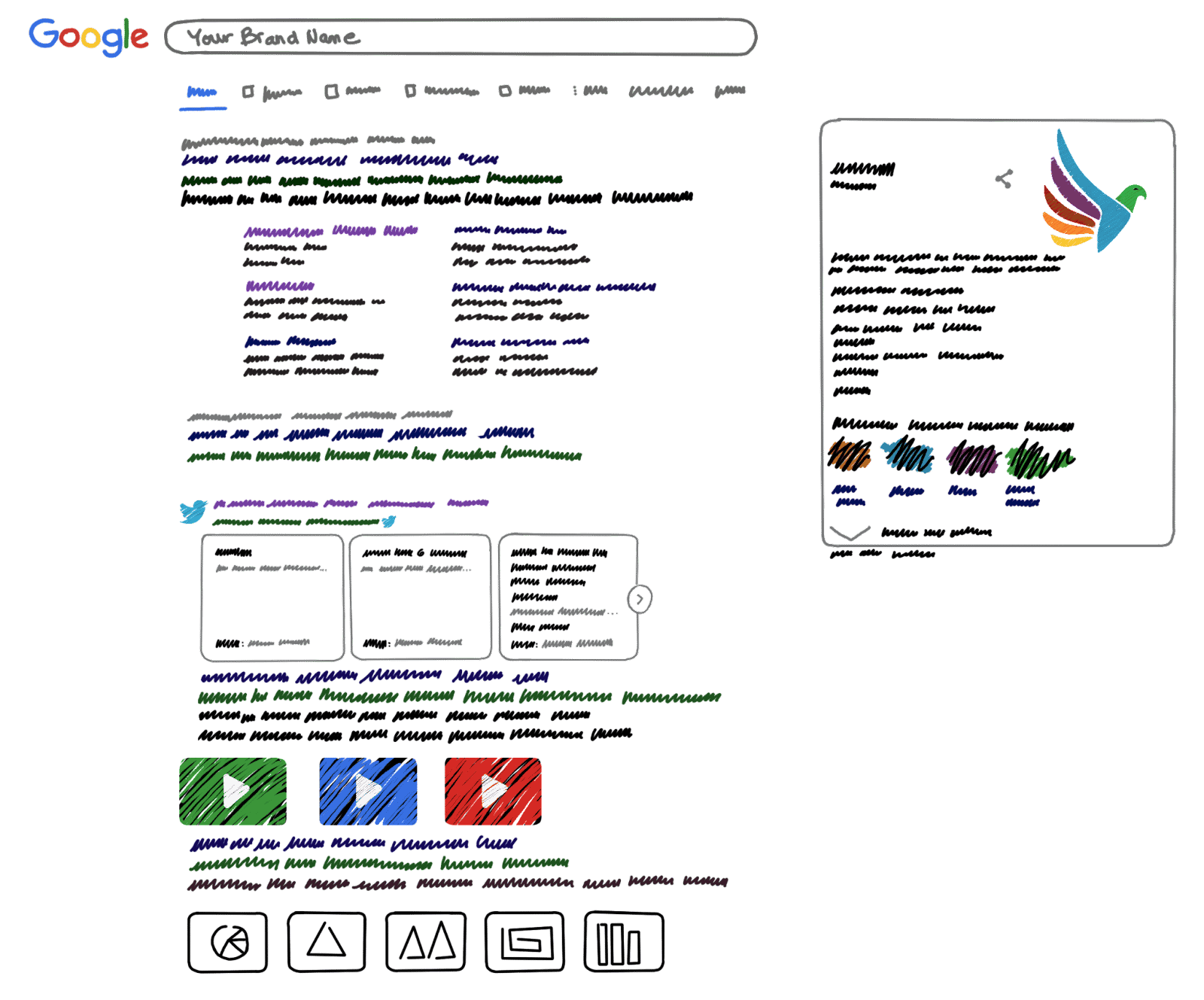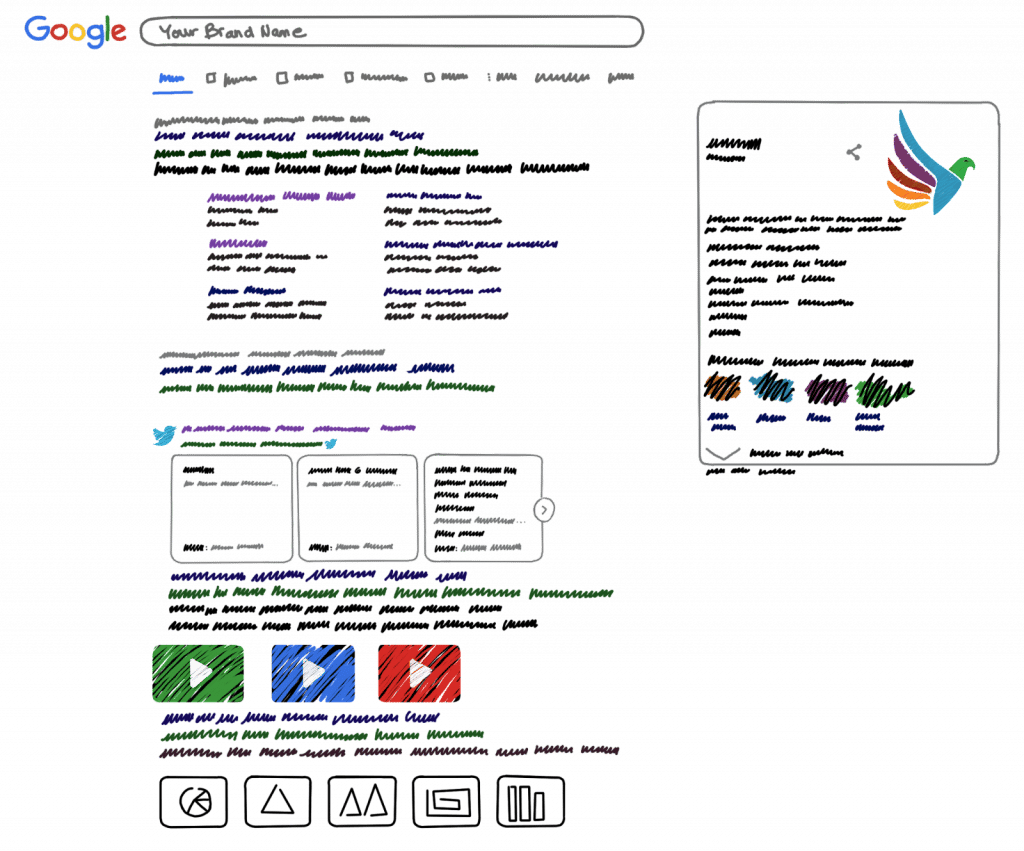 When people search for you or your brand, this is the Zero Moment of Truth. What people read here becomes reality.
How Do Brand SERP Optimisation and Knowledge Panel Management Fit Together?
A Knowledge Panel is a part of the overall Brand SERP so Knowledge Panel Management and Brand SERP Optimization are very closely connected to each other.
Your Knowledge Panel reflects Google's understanding of the facts about your brand. The reason we use the term "Management" for Knowledge Panels, rather than Optimisation is that when you are working to improve your Knowledge Panel, you are managing the facts that Google understands.
Your Brand SERP is Google's reflection of what its algorithms perceive to be the most relevant, helpful and valuable information for your audience. The Left Rail is the content Google recommends to your audience. The Right Rail (Knowledge Panel, Google Business Profile, See results About, People Also Search For) is Google's representation of the salient facts about your brand.
Why an Optimised Brand SERP Matters to Your Business
There are many reasons you should care about the quality of your Brand SERP. Here are the top three:
When your Brand SERP is truly impressive (with Google's stamp of approval), you will be more attractive to your audience (clients, prospects, journalists, potential hires etc), which will ultimately improve the bottom line for your business,
If your Brand SERP provides a balanced reflection of your Digital Marketing efforts, then you have a strategy that works,
A great Brand SERP indicates that Google has a solid understanding of who you are, what you offer and which audience you serve…. Which will boost every aspect of your SEO performance.
The Brand SERP and Knowledge Panel courses in the Kalicube Academy are intermediate level for Brand SERP aficionados. Whether or not you have SEO experience… if you have even just a little experience with Brand SERPs, then the Academy will take you to the next level. The Kalicube Academy provides you with the tips, tricks and strategies you'll need to optimise your Brand SERP and manage your Knowledge Panel … and leverage that work to drive an efficient, effective, and ultimately successful digital strategy by "building from the Brand SERP outwards".
You can search "Kalicube Academy" or "Brand SERP Courses" on Google or visit kalicube.academy to find out more about that.