People Also Ask (PAA) in SEO: What You Need To Know
What are People Also Ask Boxes in SEO?
Simple Definition of the People Also Ask Box
The People Also Ask (PAA) Box is a question-and-answer box to help users uncover further information related to the topic they are searching. It proactively suggests questions related to the user's original search query and usually provides concise answers with a link to the webpage that it took the answer from. The People Also Ask gives a good idea of other related questions people ask Google.
Read this article to learn more about the People Also Ask (PAA) Box.
What Does the People Also Ask Box Look Like?
The PAA Box features between 2 and 5 questions in an accordion format. When the user clicks on a question, the accordion opens and a short answer and a link to the source is shown. A click on a question often adds two or three additional relevant questions to the bottom of the list. This can sometimes seem like Google has a limitless number of questions and answers to show! The answers are usually paragraph-oriented and sometimes combined with images, and lists.
Here is an example of the PAA Box when asking a question about Brand SERPs and SEO.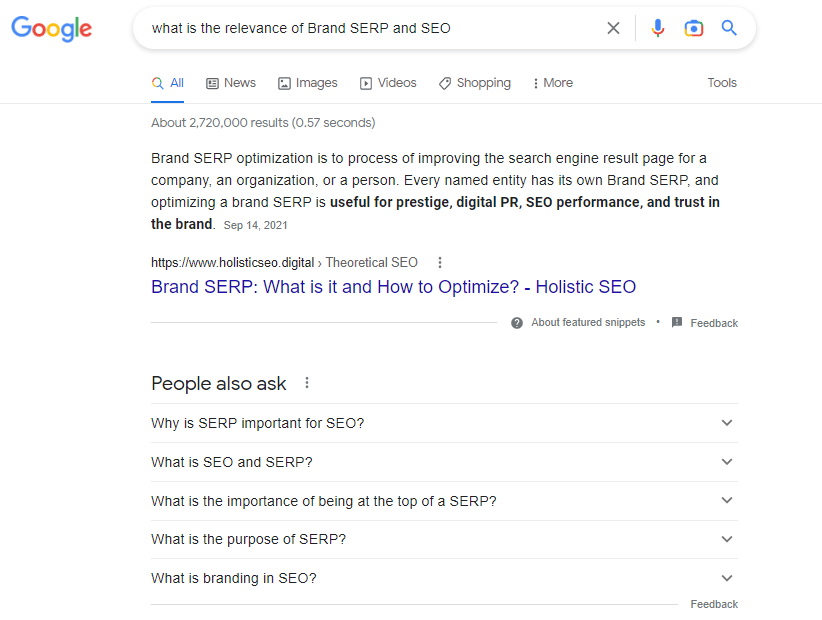 How Can I Rank In Google's People Also Ask Box?
As with Bluelinks and all other SERP elements (or Rich Elements as what we call it in Kalicube) there are many SEO techniques and strategies for getting a place on Google's search results. In the case of People Also Ask Google is trying to help its users find what they are looking for as efficiently as possible. That means ranking on PAA is all about accuracy, brevity and relevancy. An additional advantage is that the work you do trying to rank in PAA Boxes will help you better understand your audience's search patterns and help you prioritise content creation for your SEO strategy.
In this article, you'll find helpful tips on how to rank in Google's People Also Ask Boxes.
How Does the PAA Box Fit Into Brand SERP Optimisation?
People Also Ask Boxes appear on about 60% of Brand SERPs (the Google result for a search on a brand name). That makes them incredibly important for Brand SERP optimisation. Interestingly, only about 10% of brands answer the PAA on their own Brand SERP. This is a massive "miss" on their part since the questions Google shows in this context are necessarily the questions that are most important to that brand's audience. 
By not answering them, you are failing to control the message your audience sees when they google your brand name. As a brand owner, you need to provide the answer to as many questions about your brand as possible, starting with the questions that appear in the PAA on your Brand SERP.
Kalicube Solutions