Google Map Pack in SEO: What You Need To Know
What is a Map Pack in SEO?
Simple Definition of a Map Pack in SEO
A Map Pack in Google SERP (Search Engine Results Page) appears in the middle or near the top of the SERP and shows the location of several local businesses or places in Google Maps in relation to the user's search query.
What Does a Map Pack Look Like?
On the left of the Map Pack, Google displays a list of businesses or places with information including ratings, services provided and business hours. On the right Google shows a map with location markers for each of those in the list, plus (often) several additional businesses or places. At the bottom, the user is offered the opportunity to see a more complete result in Google Maps via a navigation arrow "More businesses".
Here is an example of a Map Pack for a general search query Digital Marketing Agency.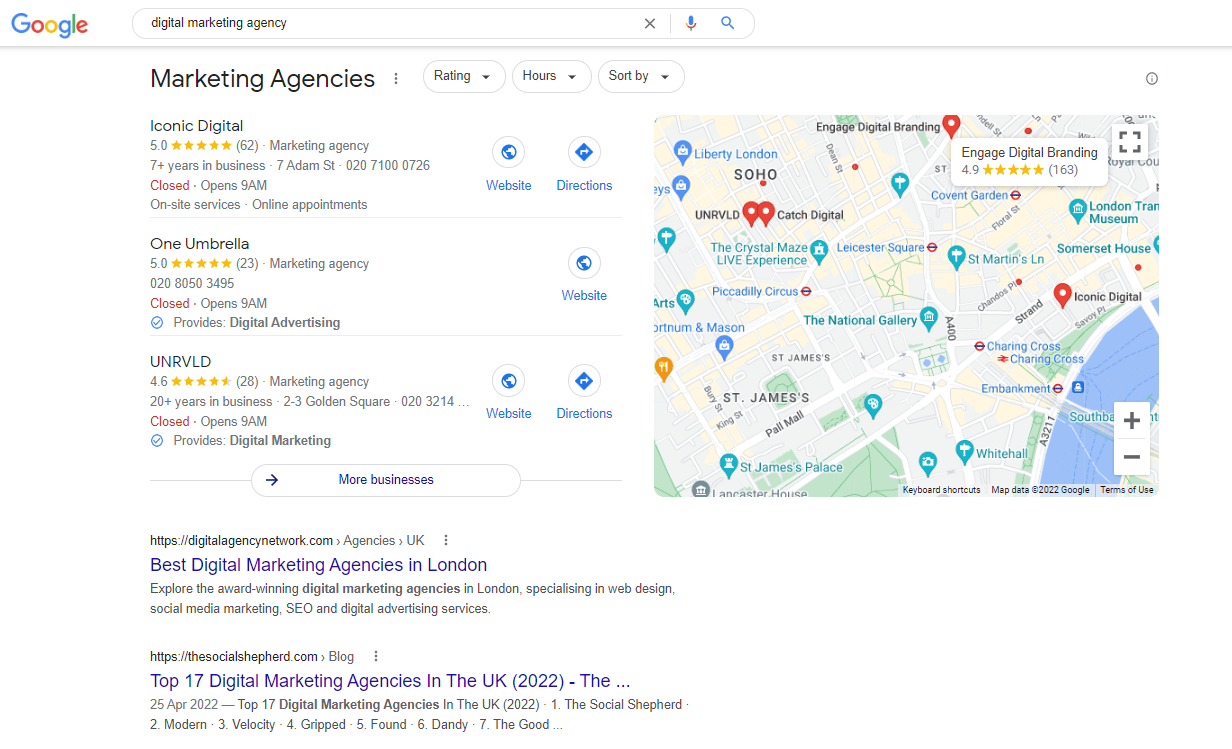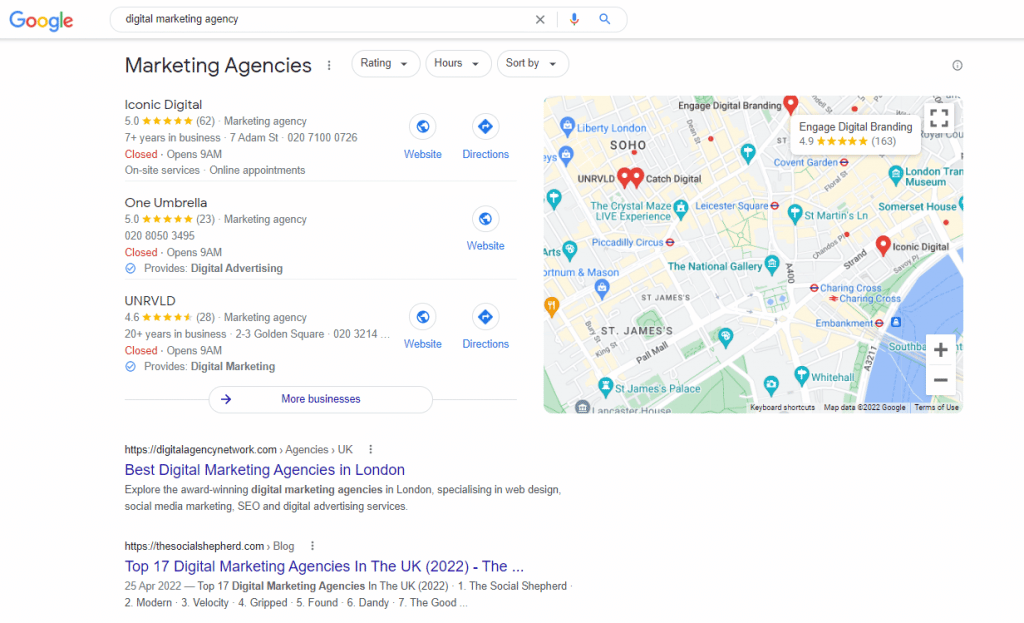 Can I Rank My Business in the Google Map Pack?
Map Packs contain only businesses that have a Google Business Profile (also known as Google My Business), so in order to be eligible to appear in a Map Pack, you must have one for your business.
There is no hard and fast rule for getting a position for your business at the top of the Google Map Pack for relevant searches. Like all other Rich Elements in Google SERP, ranking in Google Map Pack is based on dynamic algorithms. There are many, many techniques and strategies, starting with the basics: ensuring the information is accurate (company name, address, services, etc.) ensuring you have added a meaningful description of your business, adding visuals, products, choosing the correct category, great reviews from your clients and a great many other seemingly small details. These basics (GMB basics here) are essential to have any chance.
This is not a guarantee that you will reach the top 3 position in the Google Map Pack for specific search queries. To improve your chances, you'll need to work on a wider Local SEO strategy for your business. Read this article for more about the practicalities of Local SEO.
How Does a Map Pack Fit Into Brand SERP Optimisation?
In the context of Brand SERPs (what your audience sees when they google your brand name), a local map pack will generally only show when the company has multiple outlets in the area. In this case, the Map Pack will contain a listing of the multiple outlets from that chain. If there is only one outlet in the area, Google will show a dedicated panel on the right hand side on desktop (at the top on mobile).
For a specific brand, you can check out this interesting example of Slack's Brand SERP that shows a link through to their San Francisco office with a Google My Business and a map pack of their office in New York.
A Map Pack can also appear on a Brand SERP when the company name is ambiguous. An (extreme) example: if the local business name is "Shoe Shop" then a Map Pack would probably appear for a search on that brand name in most towns.
Kalicube Solutions