Google Business Profile: What You Need To Know
What is a Google Business Profile?
A Google Business Profile (previously called Google My Business) is the information box that displays on the RIGHT Rail (right hand side) on a desktop search on Google. You might call it a Google Local Business Listing since it represents the information Google has about a local business.
These panels are part of Google Maps (see the map top right), and this is the on-SERP representation of that listing on Google Maps.
So, if a user uses Google Search to find a specific business by name they will see a panel like this on the right hand side.
A Google Business Profile (Google My Business) are primarily designed for local bricks and mortar businesses. The aim is to provide helpful factual information about the business such as opening hours, popular times, reviews, phone number etc – information that is practical and will help the user decide if this is the local business that can solve their problem (drink a coffee, get money from an ATM, buy shampoo, play in the park…). These local panels are primarily useful where the searcher is likely to want to go to the place / office / outlet.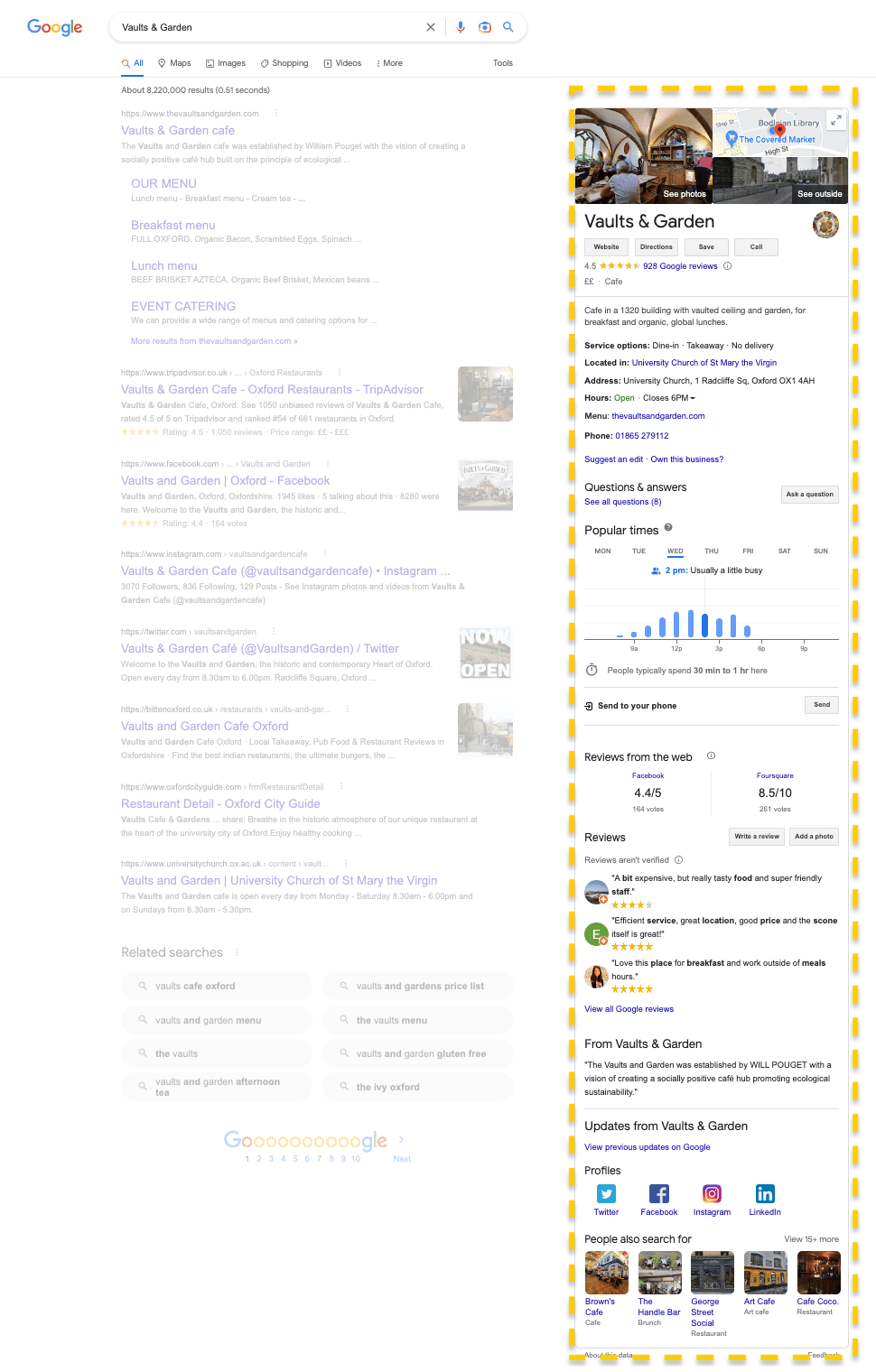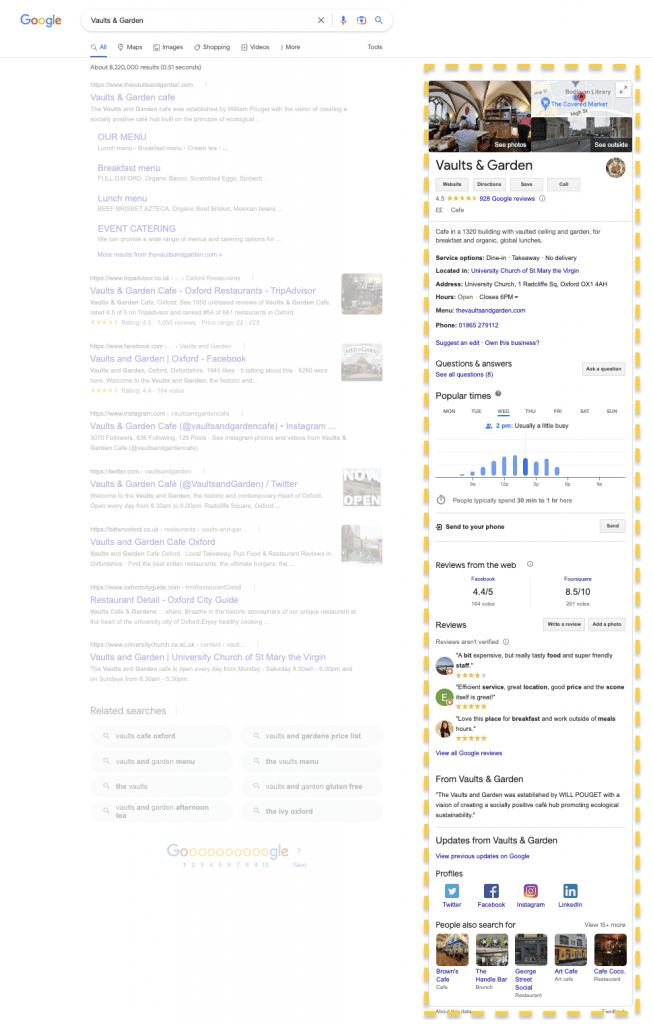 As you can see, these panels can contain a LOT of information. In some cases the Right Rail is longer than the Left Rail.
What Information Can the Local Business Control?
Google Business Profiles (previously known as Google My Business) are basically local business listings – Google's Yellow Pages. The business can claim their profile (or create one if it doesn't exist) and are able to control some elements, but not all. Examples of elements that the business can edit are the name, opening hours, services provided, accessibility, phone number, description. Examples of elements that the company does not control are social profiles, reviews from around the web, popular times.
Do Major Corporations Have a Google Business Profile?
Here is Kalicube's Google Business Profile. Kalicube is not a local business, it is a large marketing agency that serves clients worldwide. The Google Business Profile represents our offices. All major corporations have a Google Business Profile for their offices (potentially multiple Google Business Profiles – one for each office).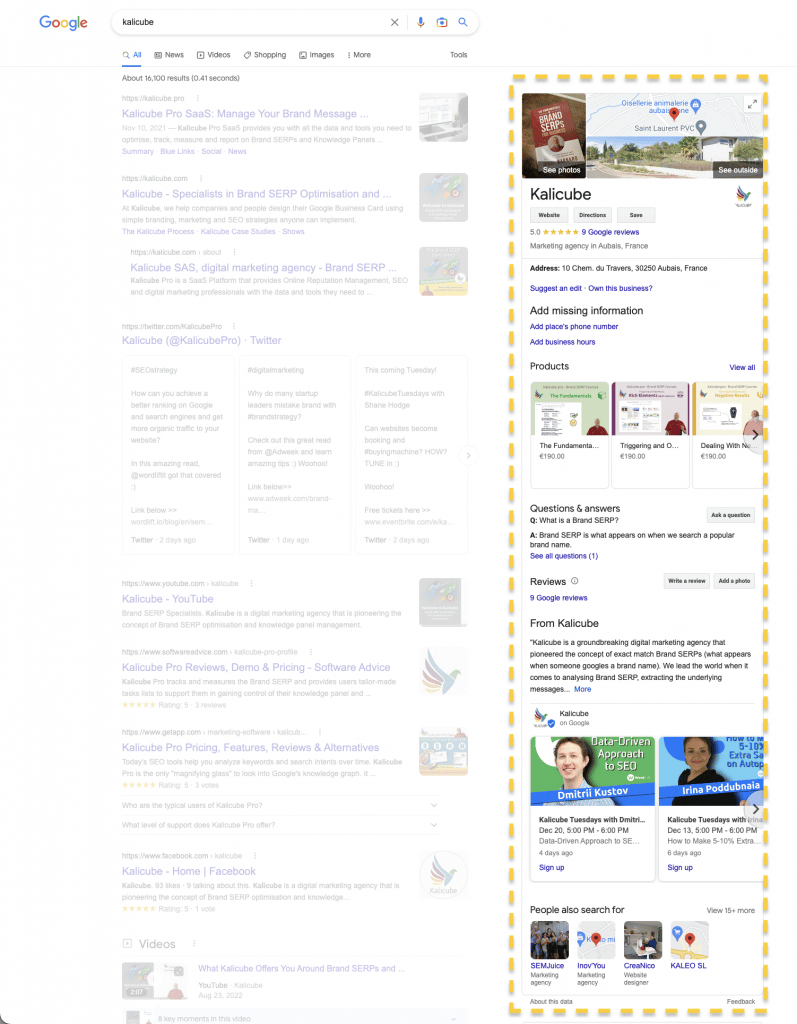 How Do Google Business Profiles Fit into Brand SERP Optimization and Knowledge Panel Management?
At Kalicube we consider a GBP as a Local Business Knowledge Panel. Although the business can control some of the information, increasingly Google is providing information that it gathers and evaluates through its Knowledge Algorithms.
Since they appear on Brand SERPs for bricks and mortar businesses, branches of major retailers, and also head offices of corporations, they are a huge part of Brand SERP optimisation, and need to be managed in much the same way as Knowledge Panels.
Local Businesses / Branches of Regional, National and International Chains
Some content of these Local Business Knowledge Panels are directly editable by the business itself. Always bear in mind that your control is partial (see above). For a local business with just one or two outlets, this is a simple task. For a chain of outlets, management is complicated by the question of who manages – each outlet or a centralised team.
The commonality here is that these businesses are looking for walk-in clients and using the panel for the purpose of making the outlet attractive to potential clients and also make it easy to get to the place of business.
Corporations Without Walk-in Service
For a company that doesn't have staff to deal with clients walking in off the street then their Google Business Profile is a tricky thing to handle. Deleting it always causes massive complications (and is illogical since it is a physical location / office). Keeping it allows management of certain aspects (whether the address is displayed or not, for example) but leaves the company with a panel on the Right Rail that makes them seem like a "small time local business".
Obviously when the searcher is near the corporate office, thy see the Local Business Knowledge Panel. Companies often overlook what displays for a searcher who is further afield. In another town, the user is VERY likely to see the Local Business Knowledge Panel. Worse, in another country, that is often also the case (making the company look "small-time" and local).
The solution in this case is to trigger a Corporation Knowledge Panel and work over time (usually a year or more) to ensure that it dominates.
Kalicube Solutions
You can browse our free resources (hundreds of articles, case studies and how-to's to help you optimise your Brand SERP and manage your Knowledge Panel;
You can sign up for the Kalicube Academy where we offer in-depth video-driven courses, resources and quizzes that make optimising your Brand SERP and managing your Knowledge Panel a relatively simple task;
You can opt-for the done-for-you Brand SERP and Knowledge Panel solutions where we do the hard work, identify the solutions and ensure that you achieve your goals and get Google "dancing to your tune".
Agencies are a Special Case
Agencies: the Kalicube Pro SaaS Platform is a unique solution that makes optimising Brand SERPs and managing Knowledge Panels for your clients easy, effective and efficient (even at scale). We would be super happy to discuss with you how we are leveraging Kalicube Pro SaaS as an agency to provide immensely valuable and highly visible results to our clients that is driving our profitability sky-high.
Agency Referral Programme
We know that not every agency wants to learn a whole new skillset, let alone integrate it into their process. And for many, this is a need that is limited to just a few clients.
At Kalicube we have a team who can take that burden off yous shoulders, and we'll pay you to do that!
Managing Knowledge Panels and optimising Brand SERPs is HYPER niche and can add a huge workload to an already overloaded process. Plus it often presents issues and problems for which your team are not prepared… Or perhaps you simply know your strengths and want to focus on your core skillset with your client: branding, marketing, press relations, SEO…
In that case, please contact us and join our generous referral programme (10% throughout the client's lifetime).