Event Boxes in SEO: What You Need To Know
What are Event Boxes in SEO?
Simple Definition of Event Boxes
An Event Box in Google allows users to discover more about one or more events. They appear at or near the top of the Search Engine Results Page (SERP), making it easy for the user to find out the schedule of the event, where they can buy tickets, who the artists are, and more… information in Event Box usually comes from social media sites like Facebook, event sites such as Evenbrite, and the official website of the event.
Event Boxes appear both on searches on the event name and also on searches where Google believes that the event will be appropriate information to show, such as "pop concerts in London in May" or "events near me", as we see below.
What Does An Event Box Look Like?
An Event Box contains useful information about an event, such as the name of the event, the host, the schedule, the venue, and a preview of various visual elements (images, icons, and photos) related to the event.
Here you can see an example of an Event Box in a search result for "Digital conference events near me".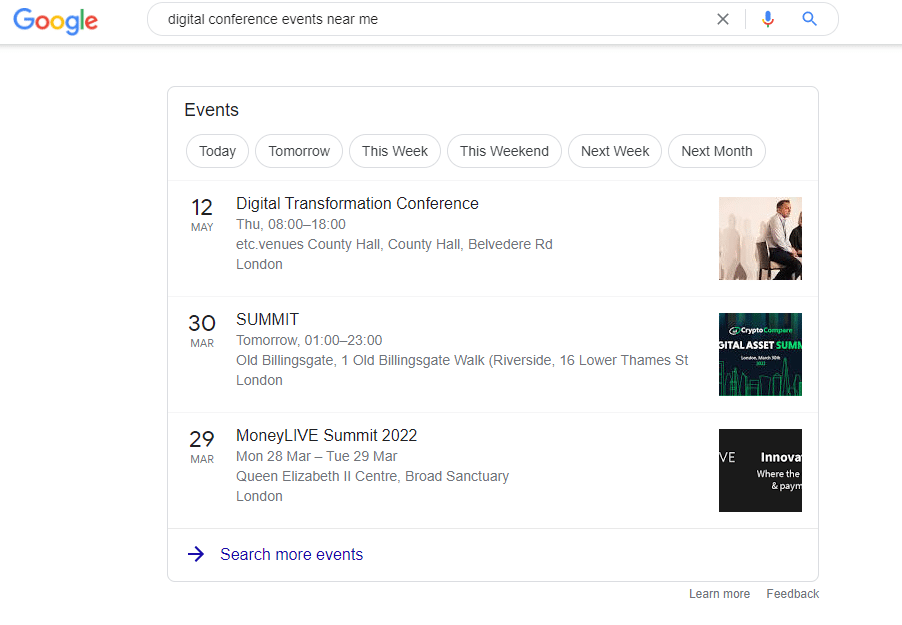 Clicking on the event name will take you to the Google Events search results page, which gives more detail about the event and venue including time and date, venue map and directions, ticket information, and a brief description of the event's content
Where appropriate, Google also lists other related events. The user can expand the details for each event in the list to get more information about it.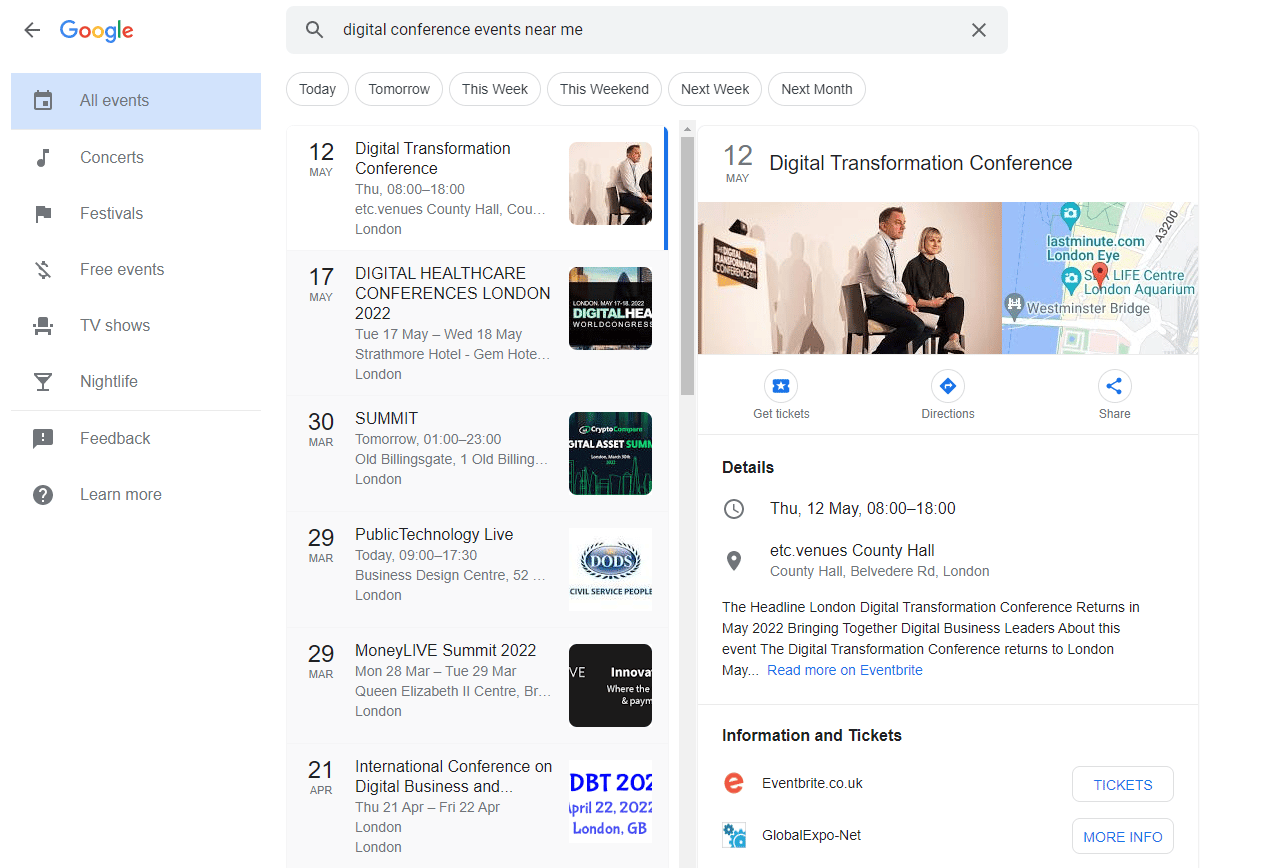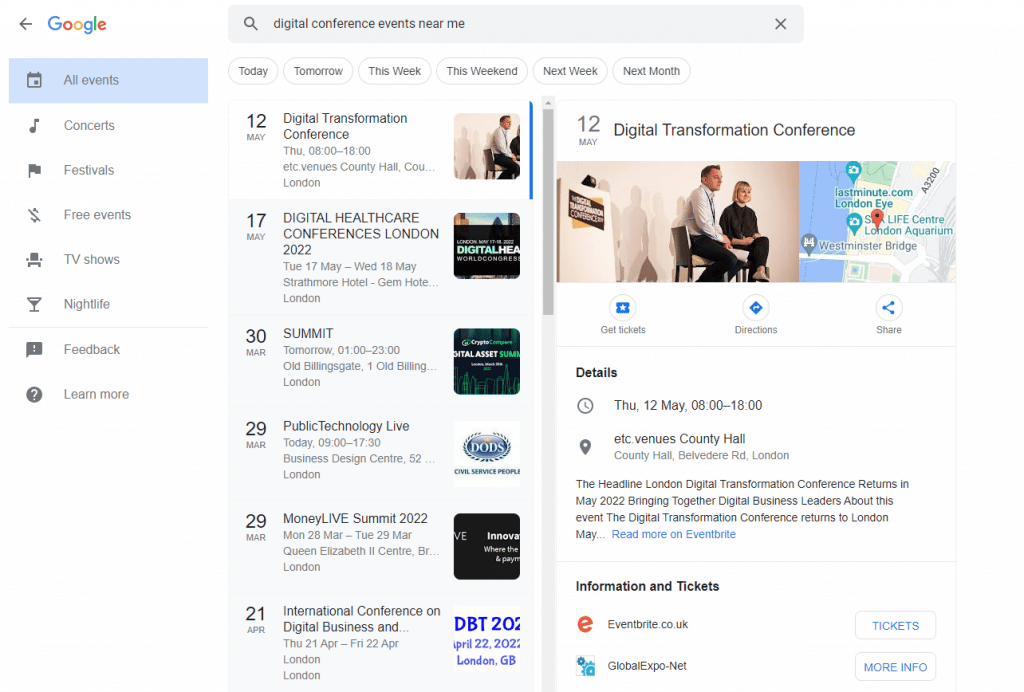 How Do I Make My Events Appear on Google?
The easiest way to get your events to appear on Google is to post them on specialist events sites such as Eventbrite and Eventable, or on Social Media platforms with event options such as Facebook. By doing this, you send Google an excellent indication that you are organising an event and you provide it with the information necessary for the Event Boxes.
Of course, as with every element in Google's Search Engine Results Pages, Google's algorithms decide whether your events appear in a user's search query or not.
Here are three techniques that Google suggests to help ensure your events appear in Event Boxes.
How Do Event Boxes Fit into Brand SERP Optimisation?
Event Boxes don't often appear on company Brand SERPs, except for event-related companies such as concert halls, exhibition centres, circuses etc and Personal Brand SERPs for people appearing at events such as entertainers. In these cases, however, an abridged version of the Event Box is integrated into the Knowledge Panel.
A direct search on an event name is the Brand SERP for that event, and should be managed and optimised just like the Brand SERP for a company or person. For these Brand SERPs, the Event Box will trigger if Google has sufficient information about the event from one of the sources mentioned above.
In all these cases, brand owners should ensure the accuracy of the information on the platforms they announce events (their own site, Eventbrite, Ticketmaster, Facebook, etc), and also ensure that the format meets Google's requirements described in the article above. When Google displays the information correctly and shows it on the Brand SERP in the form of Event Boxes, it adds to your credibility and reputation, which is essential to brand management!
Kalicube Solutions