Article Boxes in SEO: What You Need To Know
What are Article Boxes in SEO?
Simple Definition of Article Boxes
Article Boxes in Google SERPs (Search Engine Results Page) contain articles published by specific authors related to the user's search query. Article Boxes generally appear on a search for people who write articles on websites that Google recognises as authoritative sources within the industry, such as The Guardian, The New York Times, Search Engine Land or Search Engine Journal.
What Do Article Boxes Look Like?
Users can see the published articles in a series of three blocks in the SERP (as shown below). Each block contains the title of the article, the website Google recognises as the original source, the author, and the publication date. The box has the format of a carousel with navigation arrows to scroll horizontally through up to a dozen articles.
Here is an example of an Article Box for the search on the name "Jason Barnard".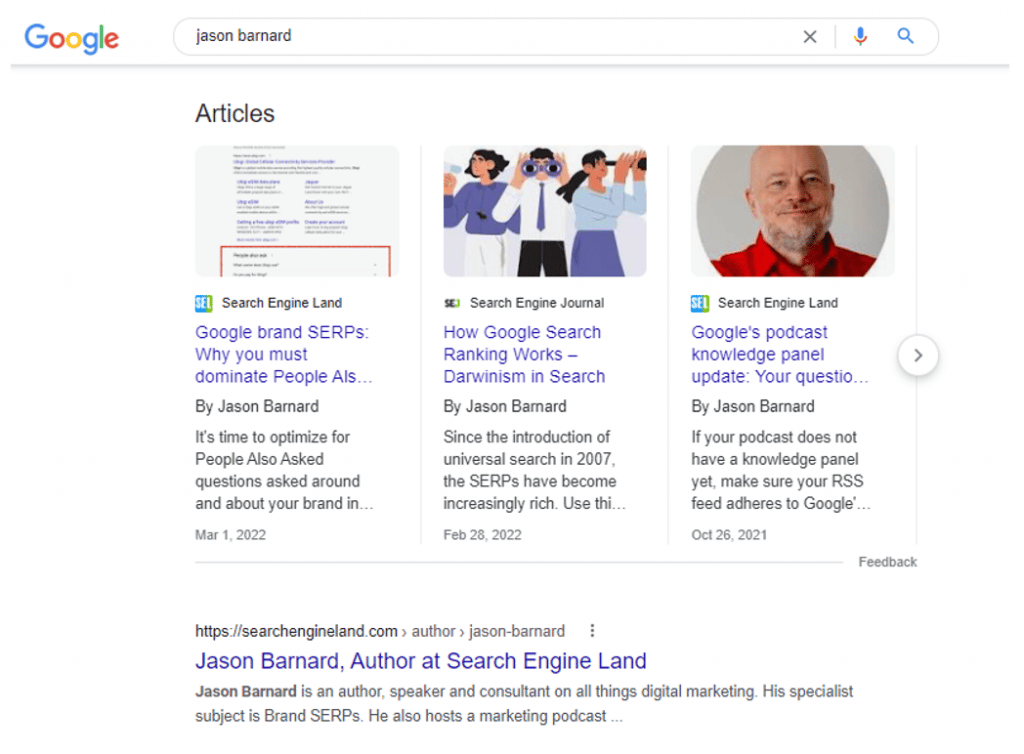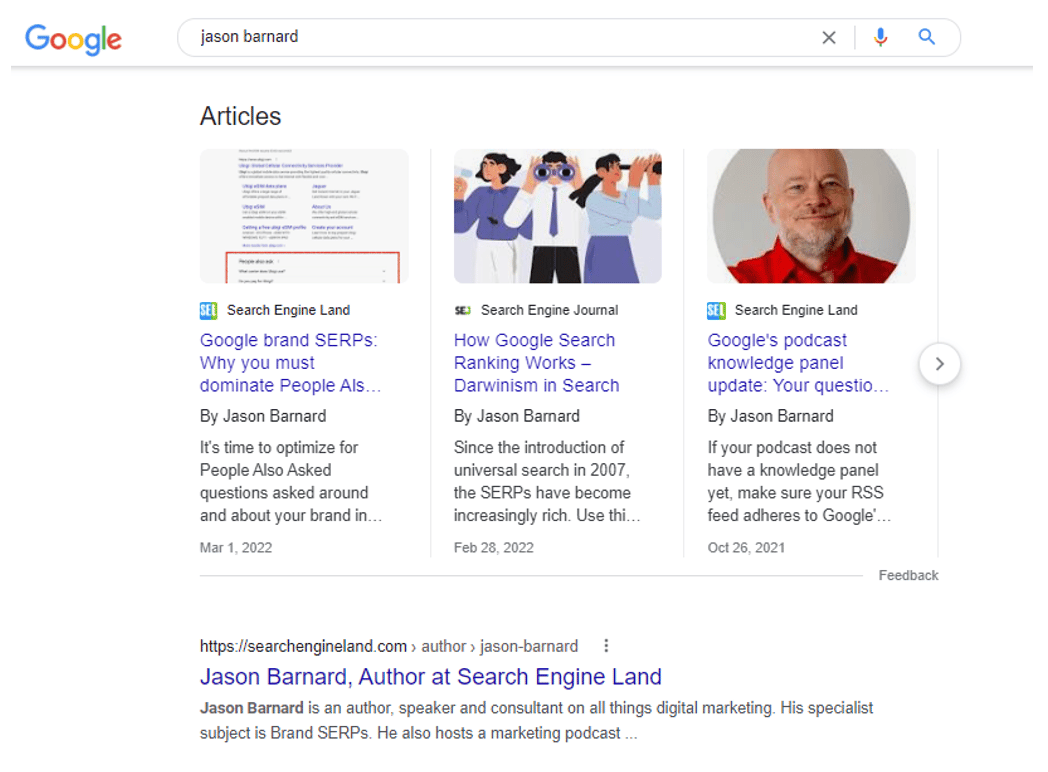 How Can I Trigger Article Boxes on my Brand SERP?
For an article to appear in the Article Boxes of Google SERPs, it must be published on a website that Google sees as credible – that can be a company website, an authoritative personal blog, or a news website. But Google has its own algorithms to trigger Article Boxes for an entity.
The example above shows that for a person like Jason Barnard, the owner of Kalicube, Google shows articles from Search Engine Land and Search Engine Journal because it is confident Jason wrote these articles and it recognizes those sites as credible within Jason's industry. Articles from Kalicube.com (the official website of the Kalicube company) are not displayed because Kalicube.com is not recognized by Google as a news source.
How Can Article Boxes Fit Into Brand SERP Optimisation?
In the case of Brand SERPs for people and companies, articles published on the official website will be displayed in the Article Boxes if Google's algorithms deem them to be highly authoritative and relevant to the brand's audience. If they are published on another website, Google needs to evaluate and understand the relationship between the person or company and the articles.
Article Boxes on your Brand SERP, whether you are a person or a business, give your audience a good impression that you are credible, authoritative and recognised within your industry. Importantly, once Google displays Article Boxes on a Brand SERP, the content is updated with the latest articles within a day of publication. This gives you direct control over what your audience sees when they google your brand name, which is very positive for Brand SERP Optimisation.
Kalicube Solutions