KPIs in Brand SERP: Everything You Need To Know
What are Key Performance Indicators in Brand SERP Optimization?
Key Performance Indicators (KPIs) in the context of Brand SERP optimization help quantify the success of your marketing, brand positioning and Search Engine Optimization (SEO) strategies. KPIs provide valuable data on how your Brand is perceived and represented in search engine results.
If you don't actively optimize your brand and educate the search engines, you leave your brand reputation and online presence in their hands.
And your online presence is your Google Business Card.
The Key KPIs for a Brand SERP
You can use several KPIs to evaluate Brand SERP Optimization. The major KPIs are in the list below.
SERP Ranking: This measures the position of your brand's website on the SERP when searching for a Brand-specific keyword. Your brand must dominate the top spot.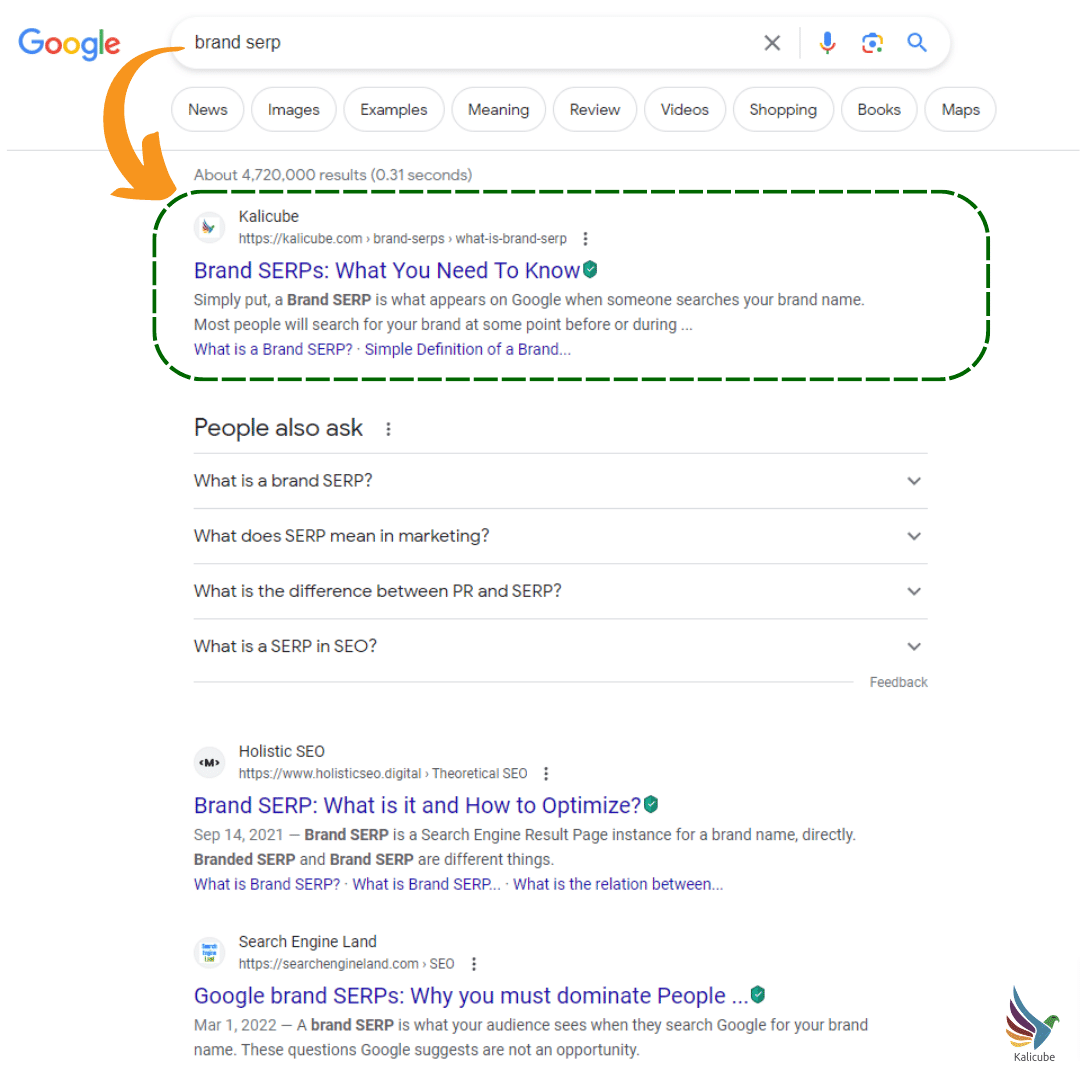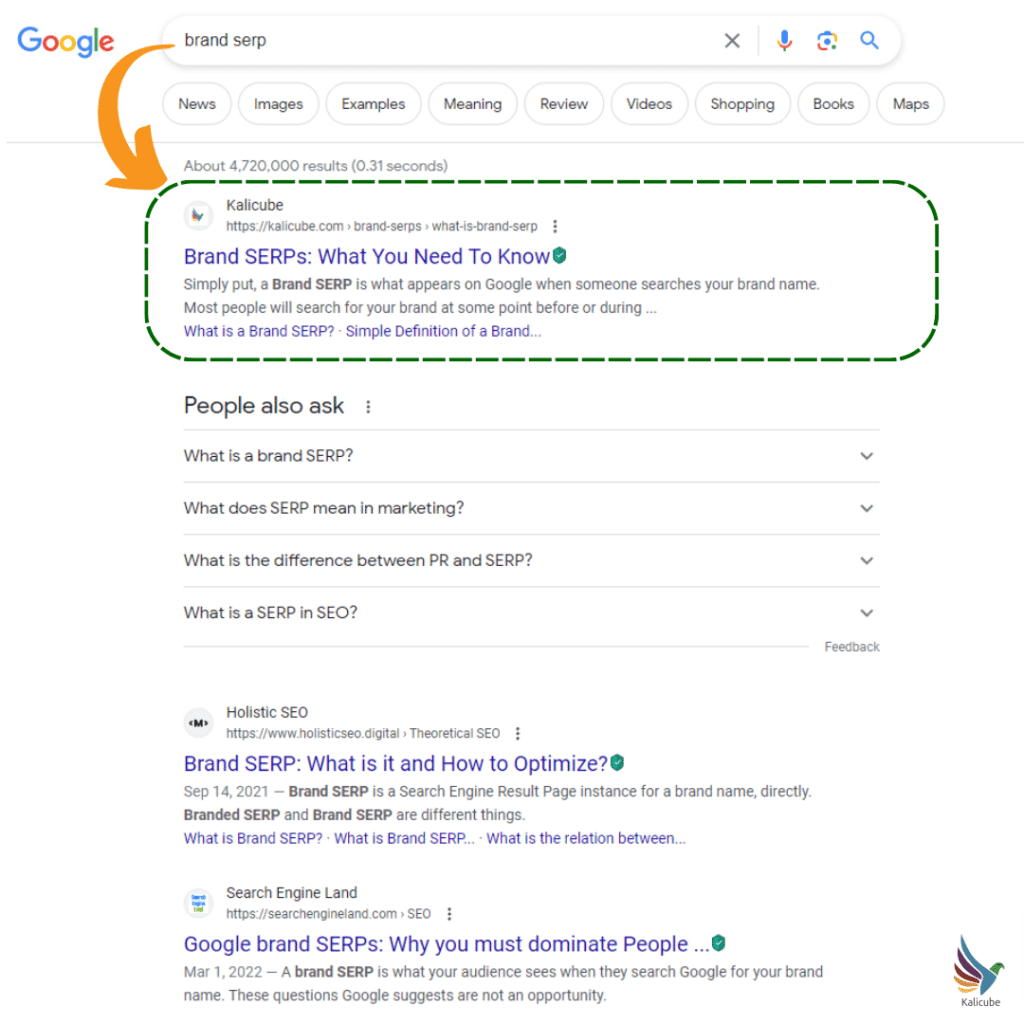 Number and Quality of Sitelinks: These are the additional links below the main website link in the SERP. The best Brand SERPs display the user-centric pages as links below the main website link. These pages are About Us, Contact Us, Login and Category Pages.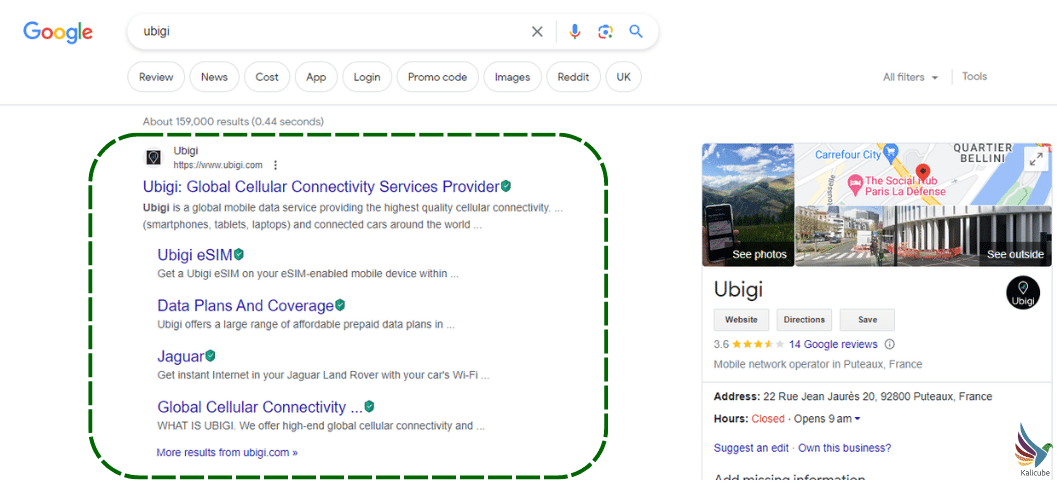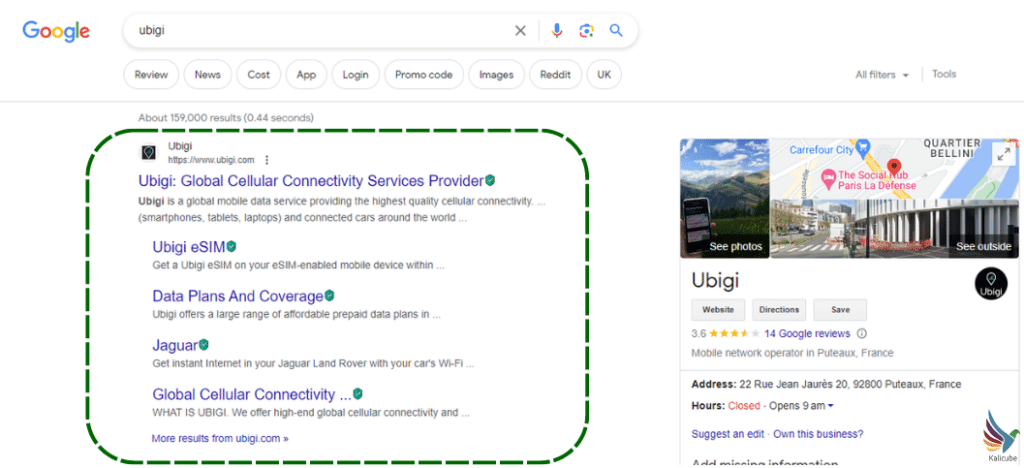 Click-Through Rate (CTR): This is the percentage of people who click on the link to your website after seeing it in search results. A higher CTR indicates that your meta description and title tag are helpful for your audience.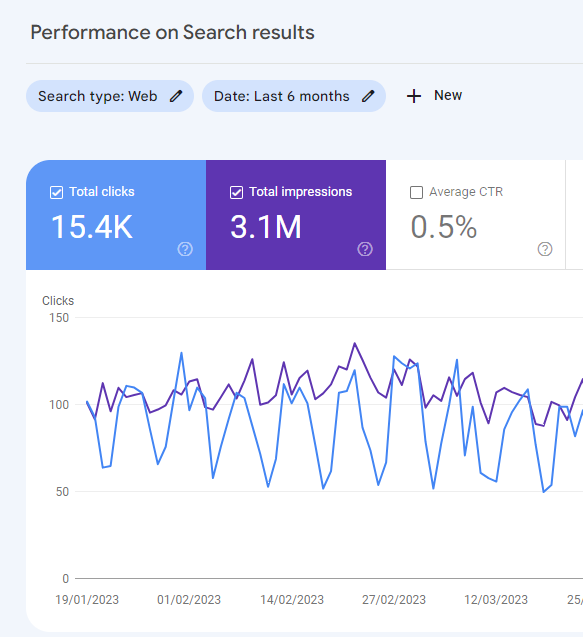 Time on Page: How long visitors stay on your website. The longer they stay, the more they find your content valuable.
Brand Mentions: What do people say about your Brand? Monitoring the volume and sentiment of Brand "mentions" provides concrete evidence of your Brand's online reputation.
Rich Snippets: This is additional information that appears in the SERPs to give users a better understanding of your page's content. If Google has included Rich Snippets from your site (e.g. reviews, images), the search engine believes their users will find your content helpful.
Social Profiles: How many social media profiles appear in your Brand SERP?  Are they social profiles you are investing in? Are they the platforms your audience uses? Engagement is fundamental to a profile showing in your Brand SERP. So check your competitors to see where they are engaging and what is ranking in their SERP.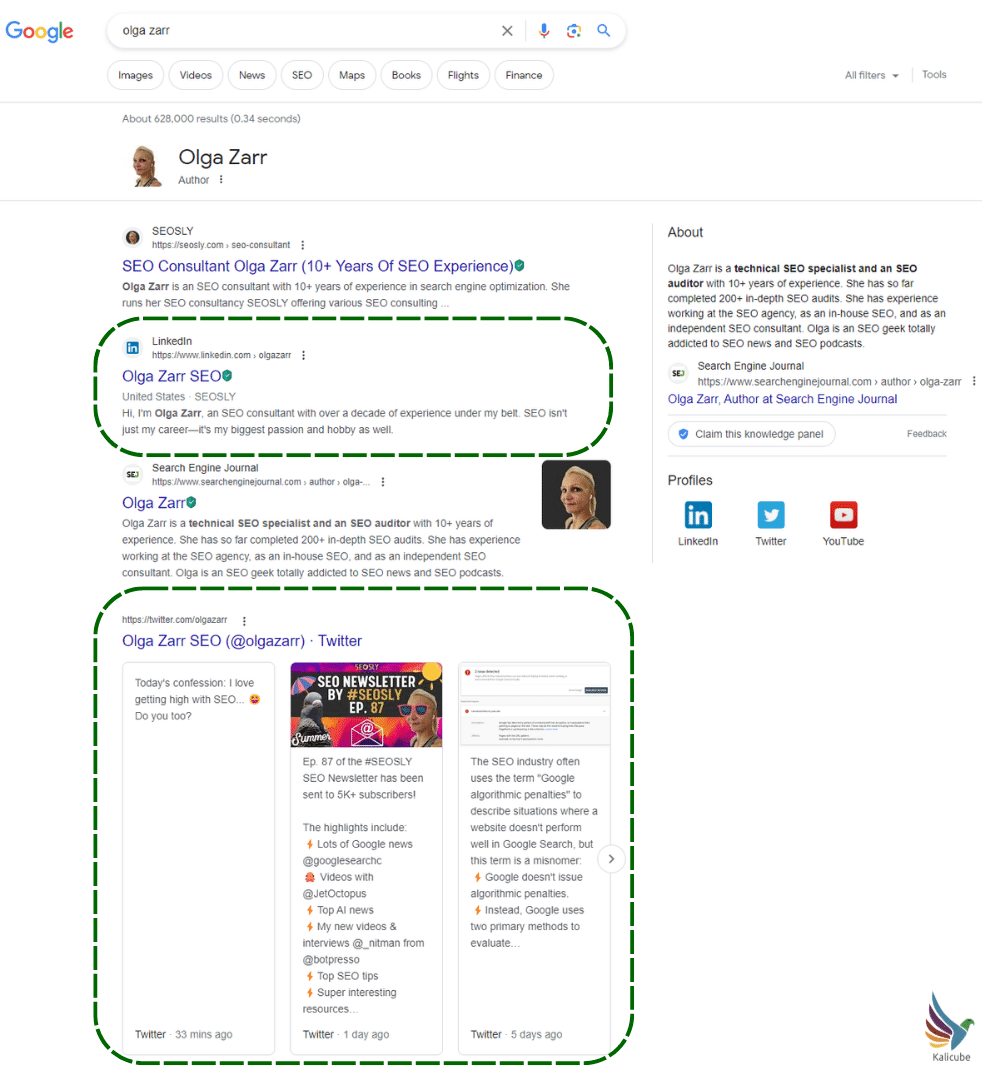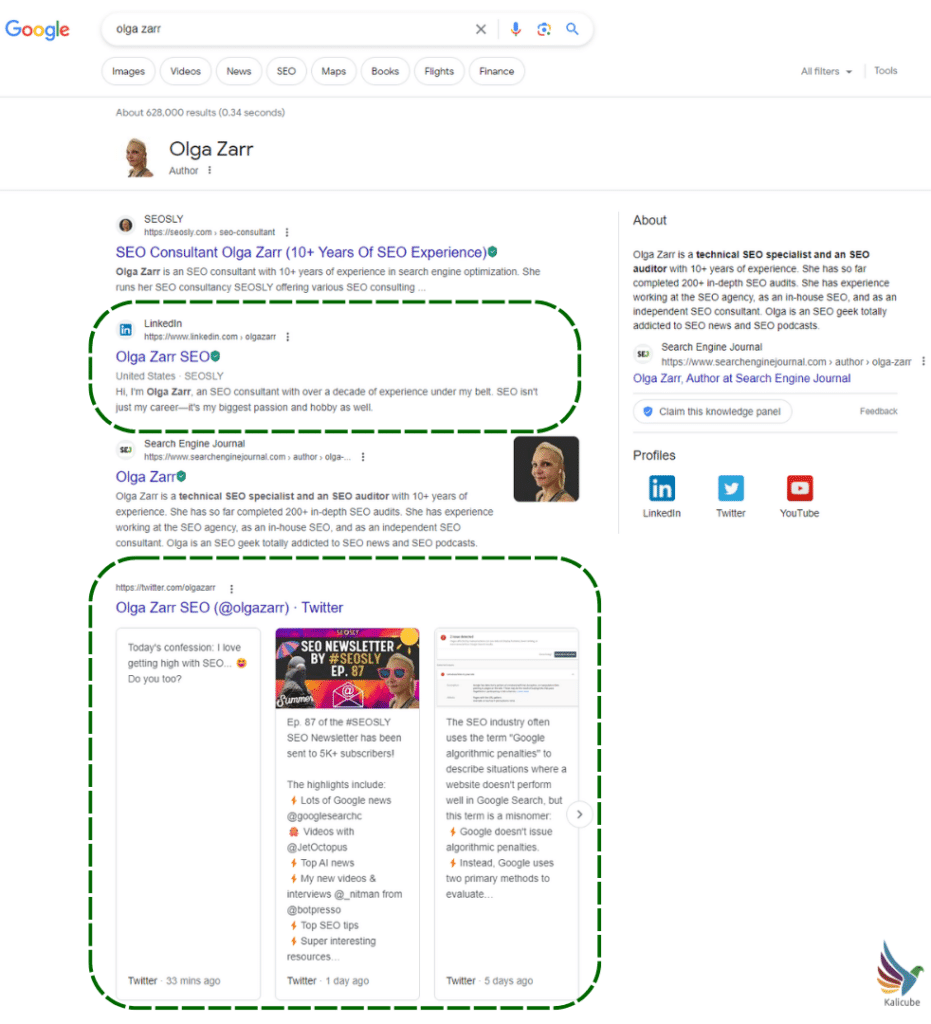 Video Boxes: If YouTube is part of your digital marketing strategy, having video boxes in your Brand SERP is crucial. If your Brand SERP doesn't include your YouTube videos, it's time to investigate why.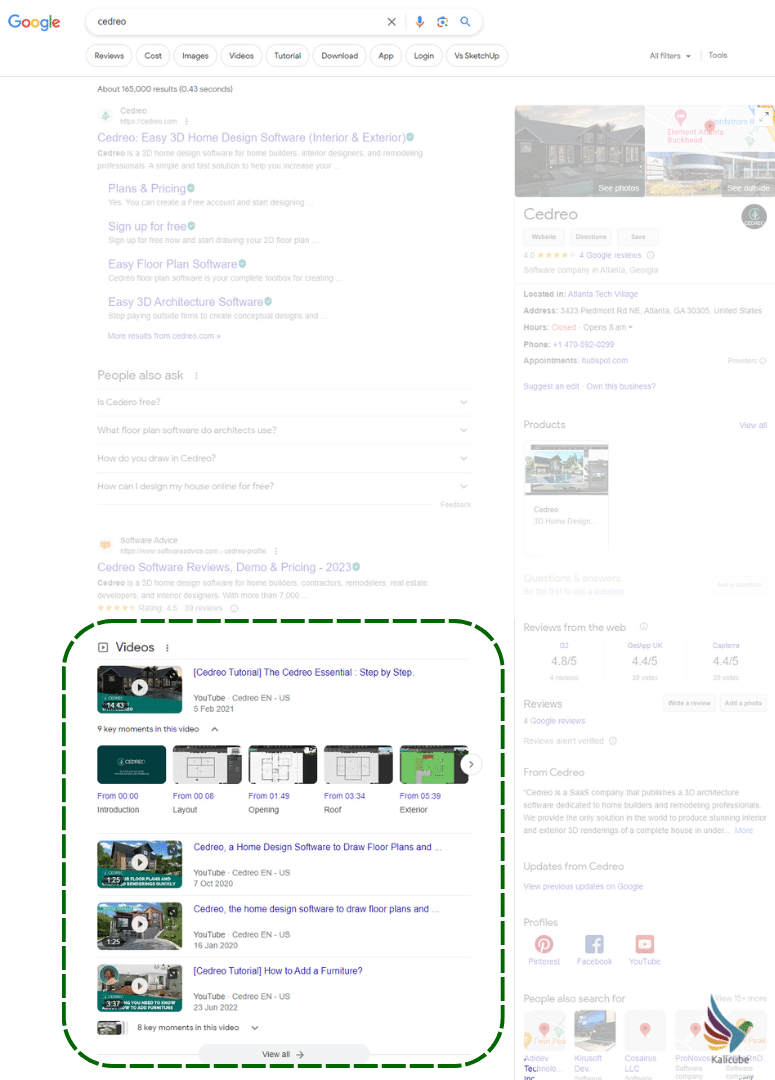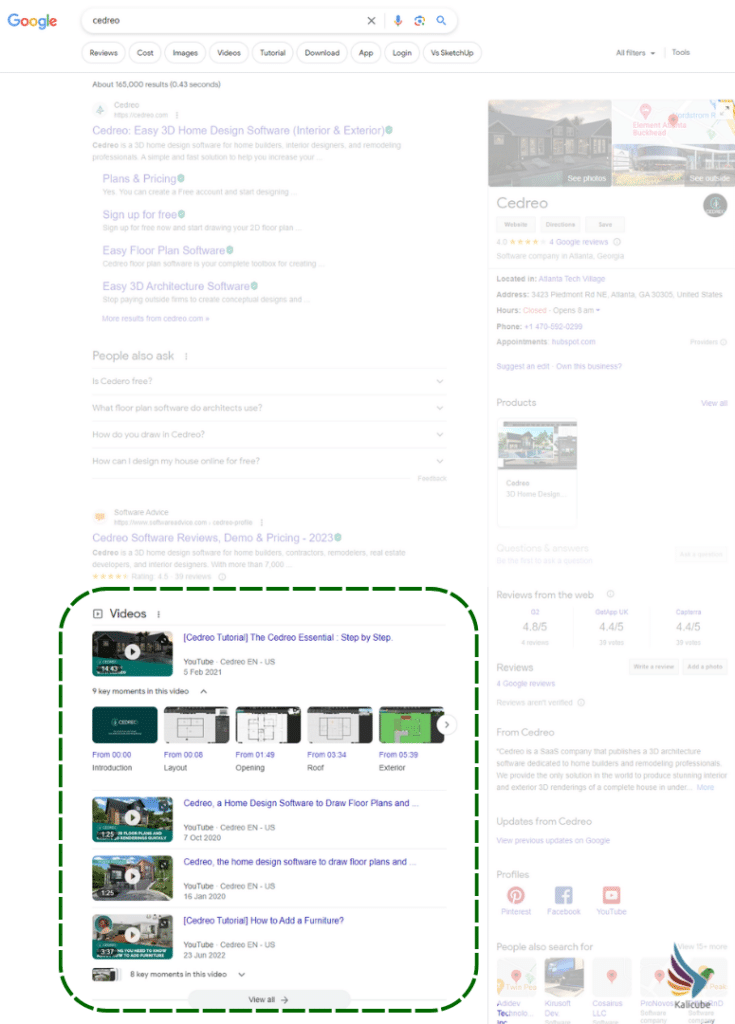 Review sites: If your brand collects customer reviews from third-party sources (and we highly recommend them), these sites are an extremely valuable KPI.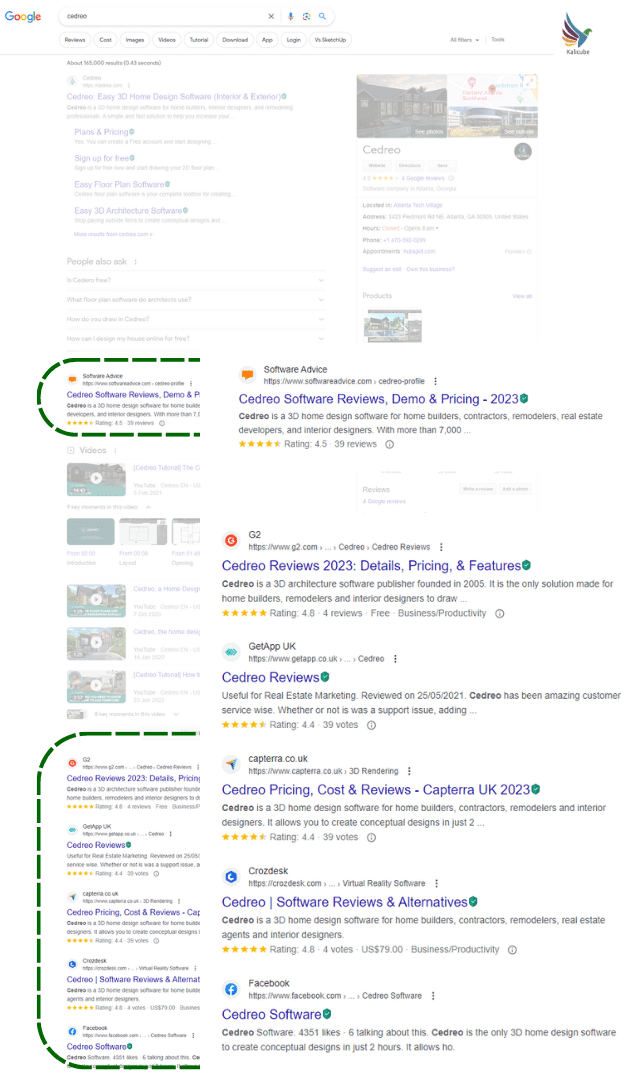 People Also Asked (PAA): Does your Brand SERP have PAA Questions? If your Brand SERP has no PAA, the search engines don't understand your brand enough to create PAA. It's a flag and a strong signal you need to continue educating the search engines.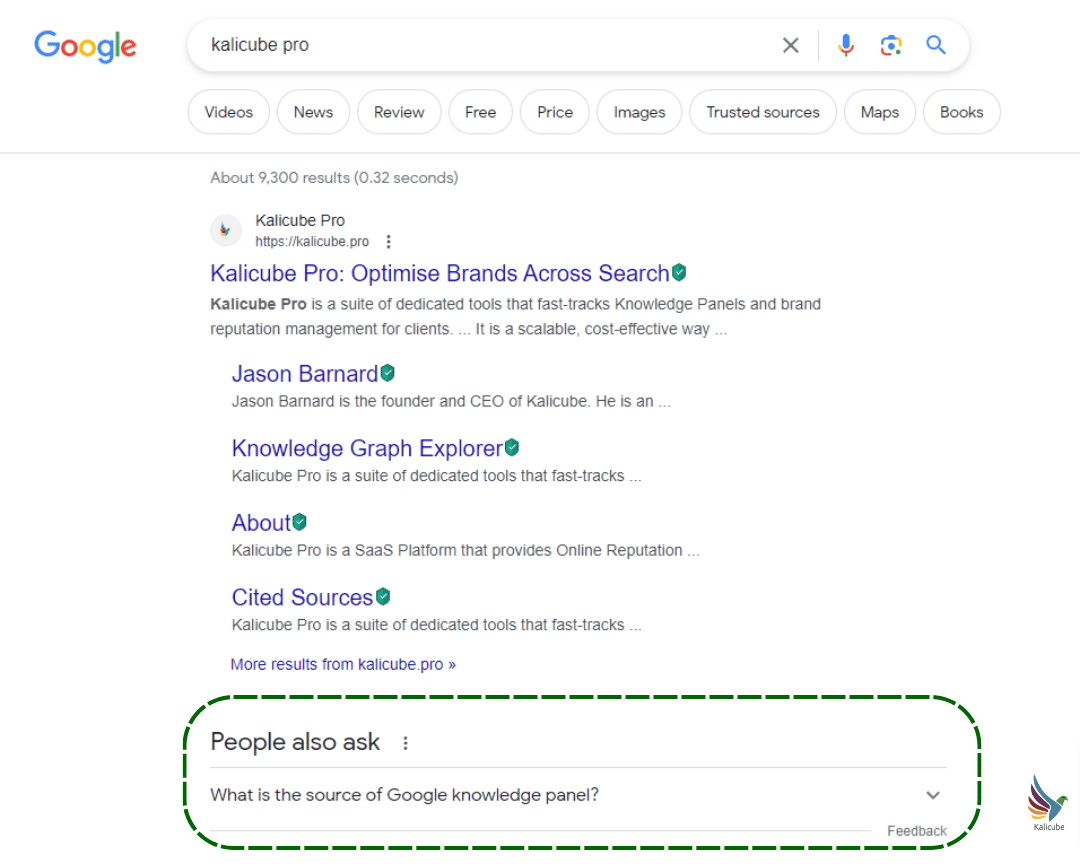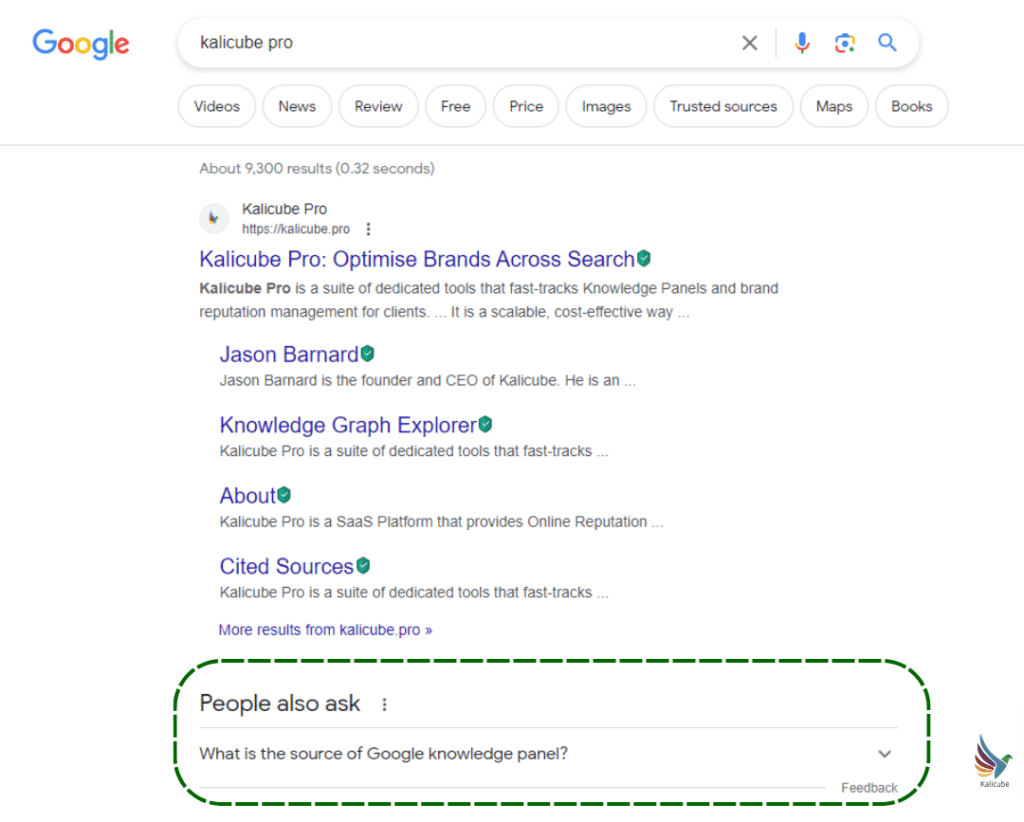 Pro Tip: If the search results show PAA and they are non-branded questions, immediately answer the questions in an FAQ (ideally optimized for featured snippets and voice search) or an article on your site. Ensure you link the answer to your brand. Non-branded PAA is Google's way of telling you they see a relationship between their users and your brand, but they aren't confident yet. Ensure you join the dots with an answer.
Filter Pills and Related Searches: Filter Pills are the pill-shaped icons at the top of the SERP. They allow users to interact with your brand through different verticals. They provide insights into what your audience is interested in when they look at your brand. Related searches give you clues about other areas of focus. Create branded content to cover the searches and further entrench the search engine's understanding and confidence in your brand.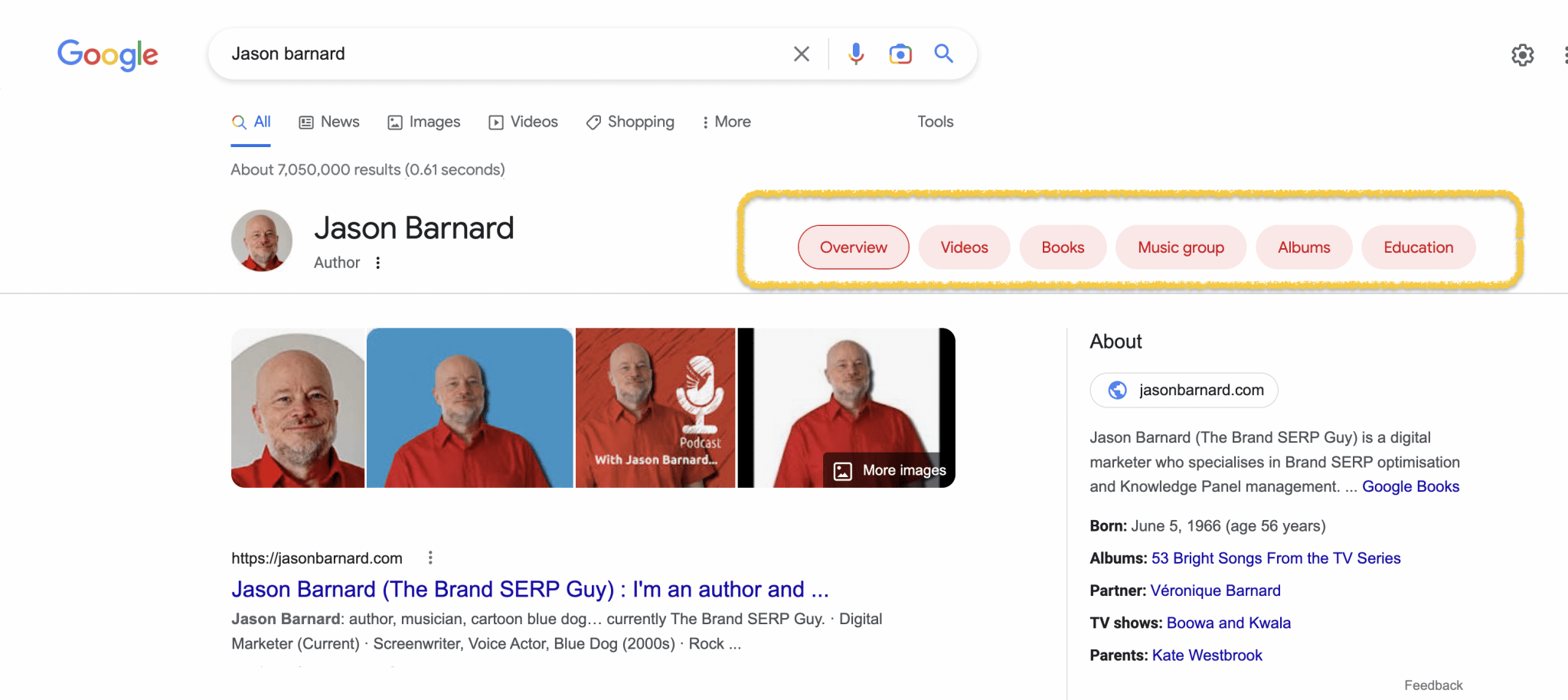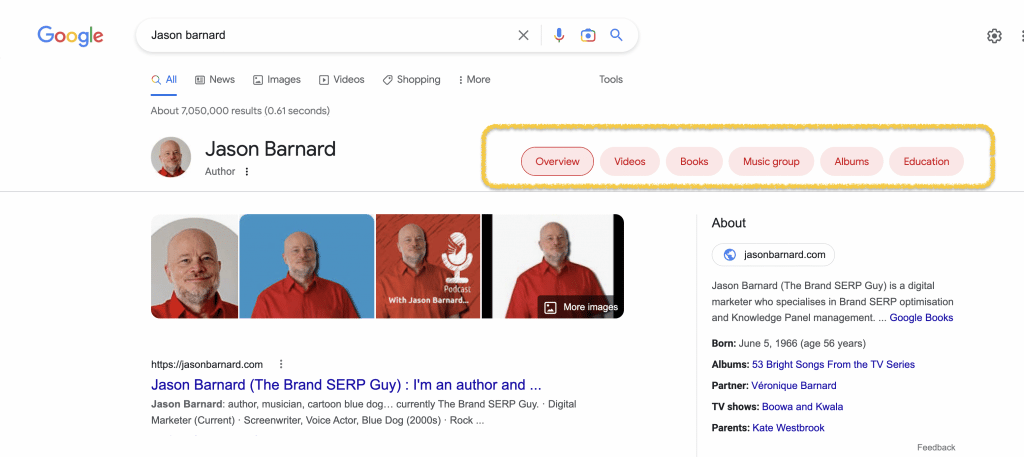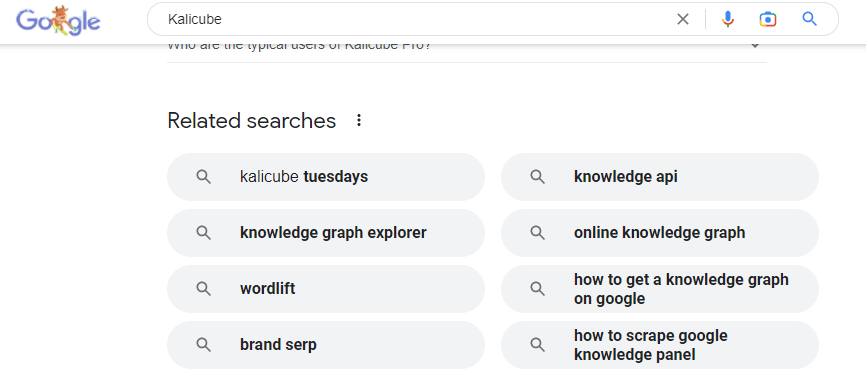 Presence of a Knowledge Panel: A Knowledge Panel is Google's presentation of the "facts" it understands about your brand. An information-rich Knowledge Panel means your brand has a listing in the Google Knowledge Graph and a source Google trusts.  It is not the same as a Google Business Listing. It is a clear signal that Google understands who you are, what you do and who you serve. It knows you are notable, credible, authoritative and trustworthy.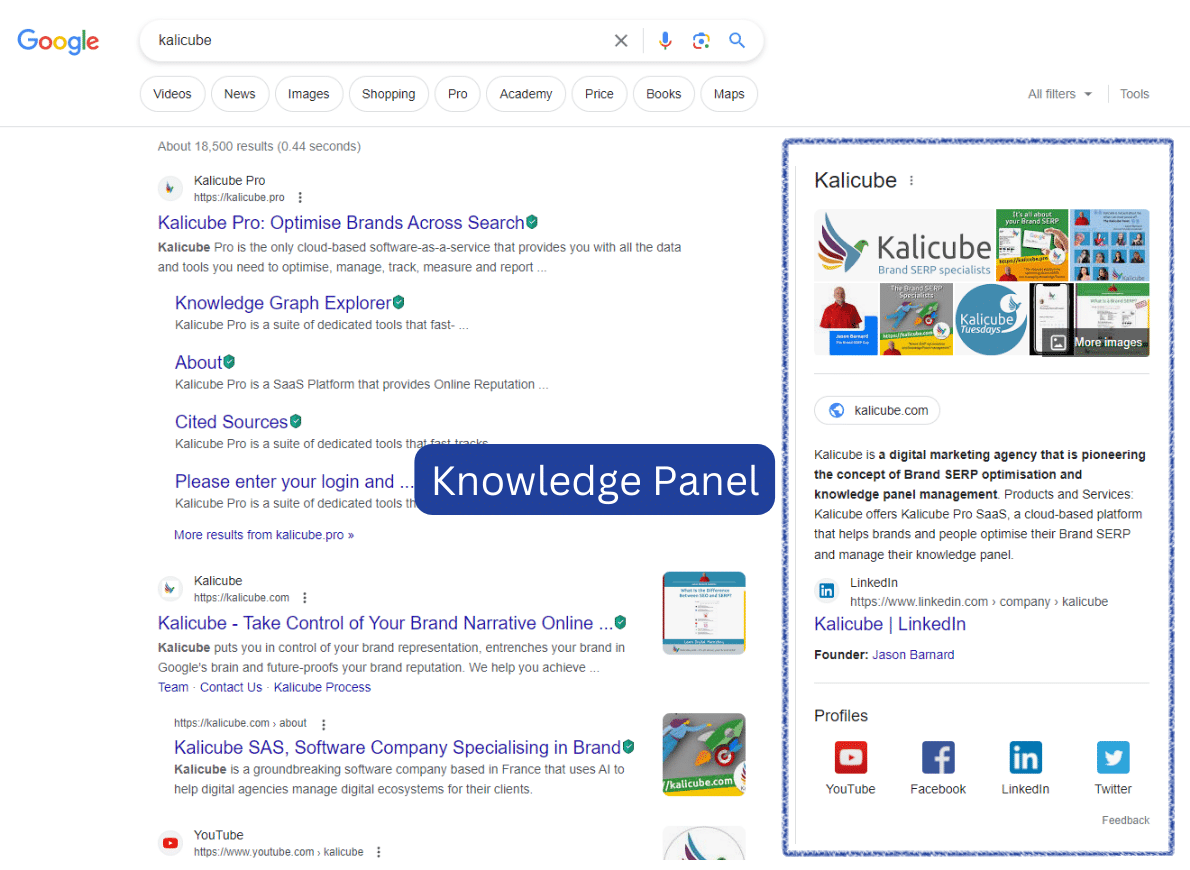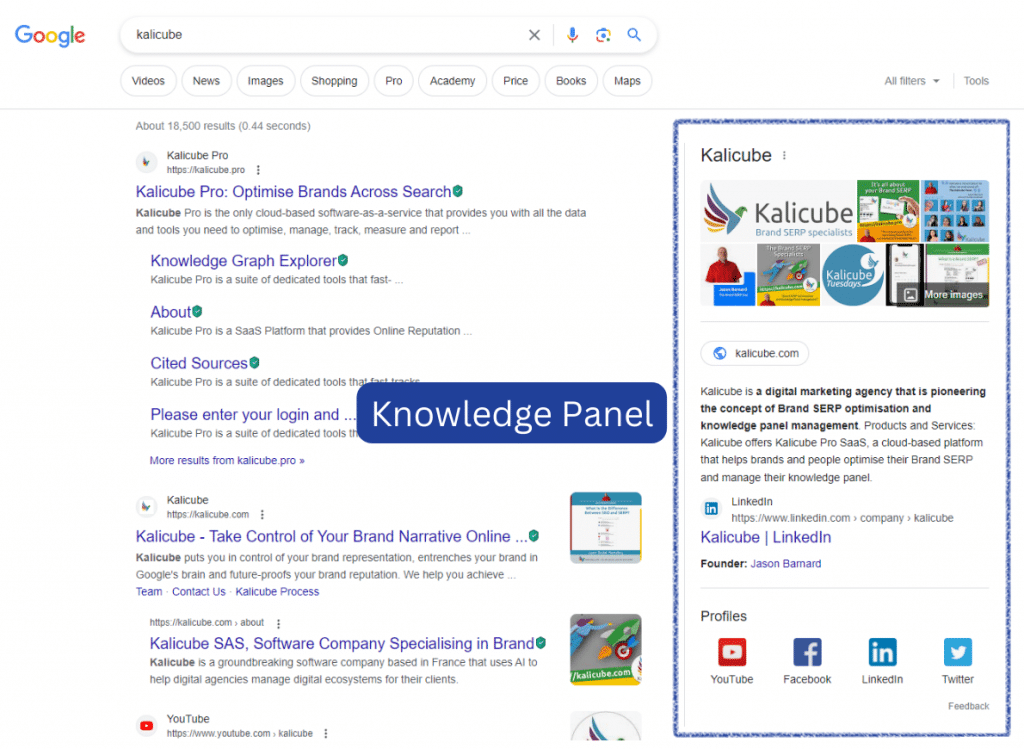 Generative AI: When a user searches your brand, Google's Search Generative Experience (SGE) will produce its understanding of your Brand SERP at the top of the SERP.  If SGE doesn't say what you want it to, it's a fundamental KPI to focus on.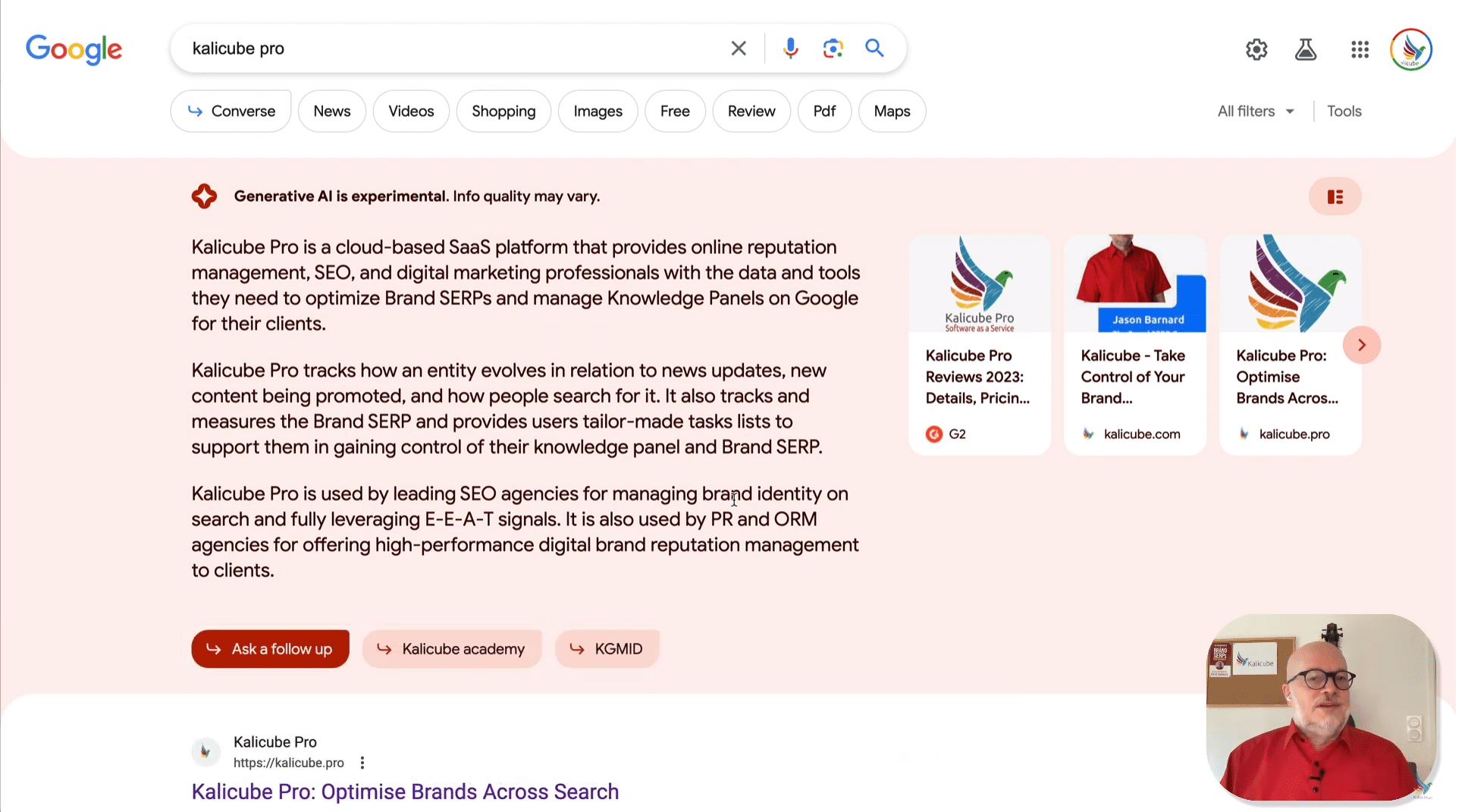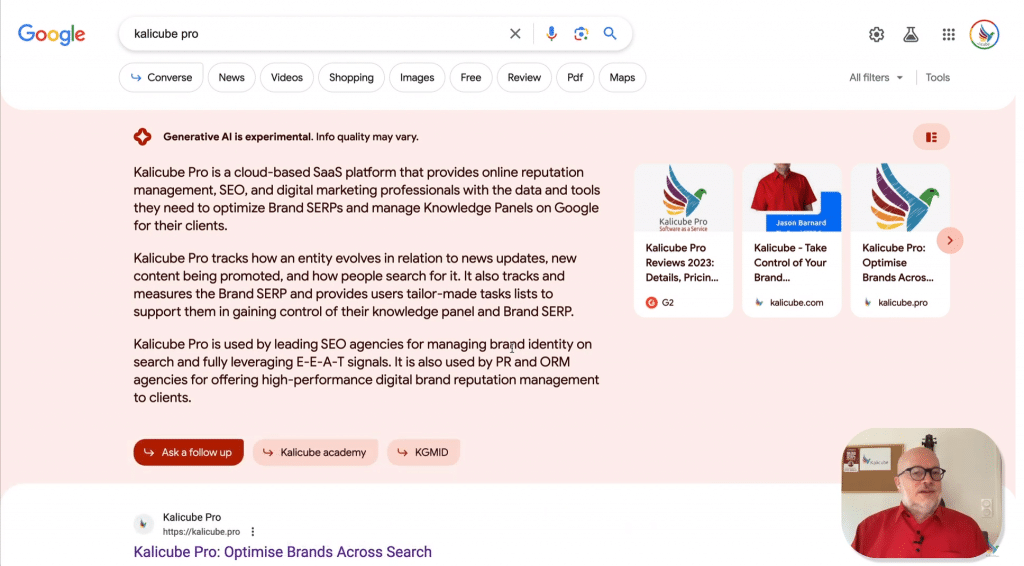 Pro Tip: The Kalicube Process will guide you through the steps to fix this.
Finally.
SERP Real Estate: How much of the Brand SERP does your brand cover? Do pages one and two of the SERP list all relevant social media platforms, results from public relations campaigns, and other positive results about the brand? Analyzing and measuring your Brand SERP can serve as a KPI to measure the understanding Google has of your entity, and thus its ability to fully apply E-E-A-T signals: Experience, Expertise, Authoritativeness, and Trustworthiness.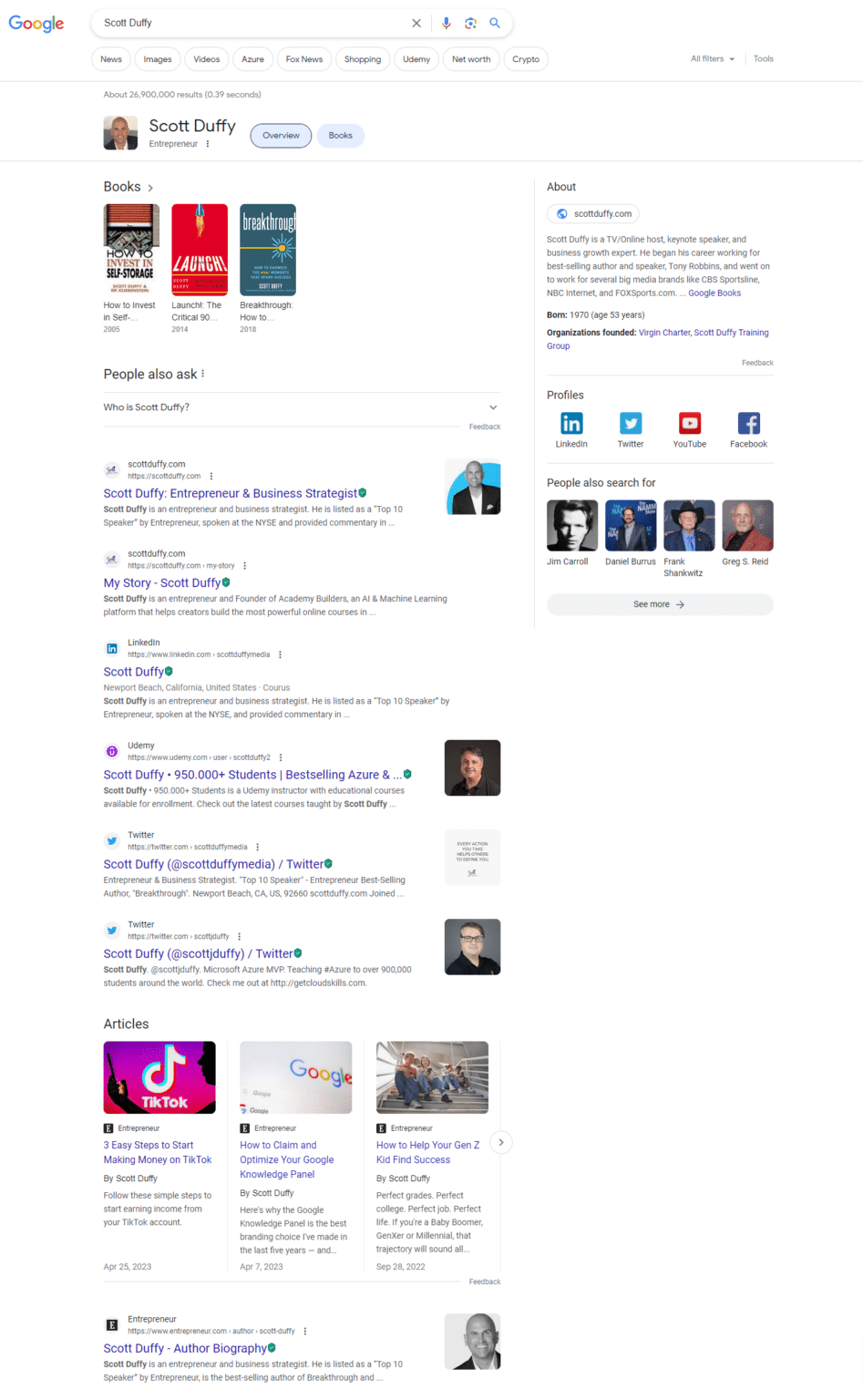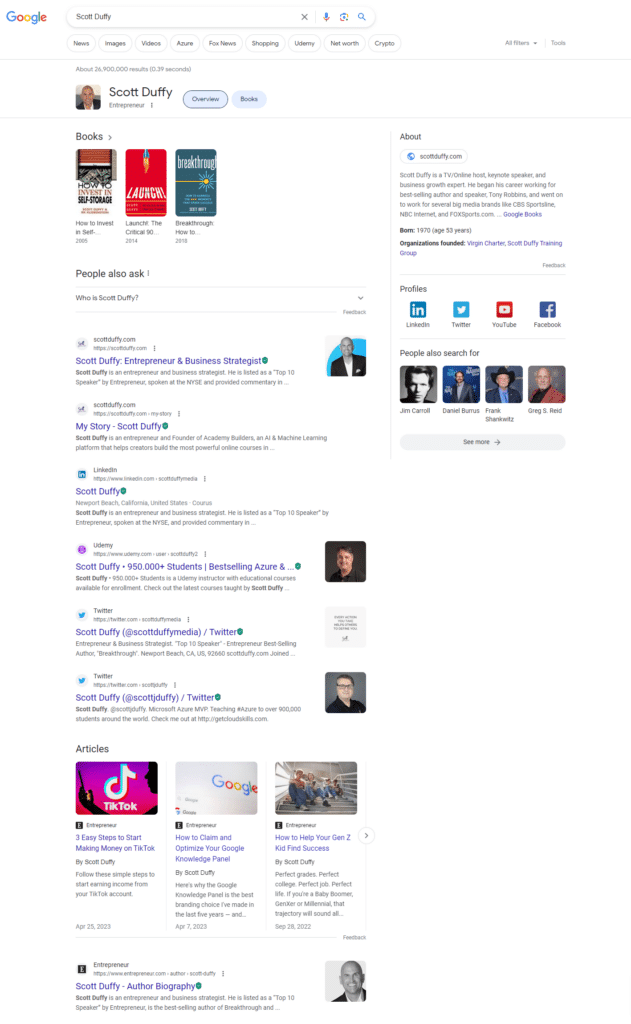 These KPIs help you get an overview of your Brand's performance, visibility and reputation in search engines like Google.
Kalicube Pro is the Best Brand SERP KPI
Your "Brand SERP" on the Kalicube Pro platform is an excellent KPI. The greener your Brand SERP is, the more positively Google perceives the world's opinion of your Brand. Engagement is vital to getting a "green" Brand SERP in Kalicube Pro.
The engagement level shows how effectively your Brand connects with your target audience. A high engagement rate indicates that your content is resonating well with your audience and getting them to respond or interact.
Engagement can come in likes, shares, comments, time spent on a page, clicks, and more. Monitoring engagement gives a brand crucial feedback: Are people finding what they want on your SERP? Are they staying and engaging or bouncing back quickly? Are they compelled to interact or act on the information?
Pro Tip: The better the engagement, the more likely Google is to rank the Brand SERP as valuable and helpful for users. This improves your SERP ranking, producing more visibility and attracting more traffic.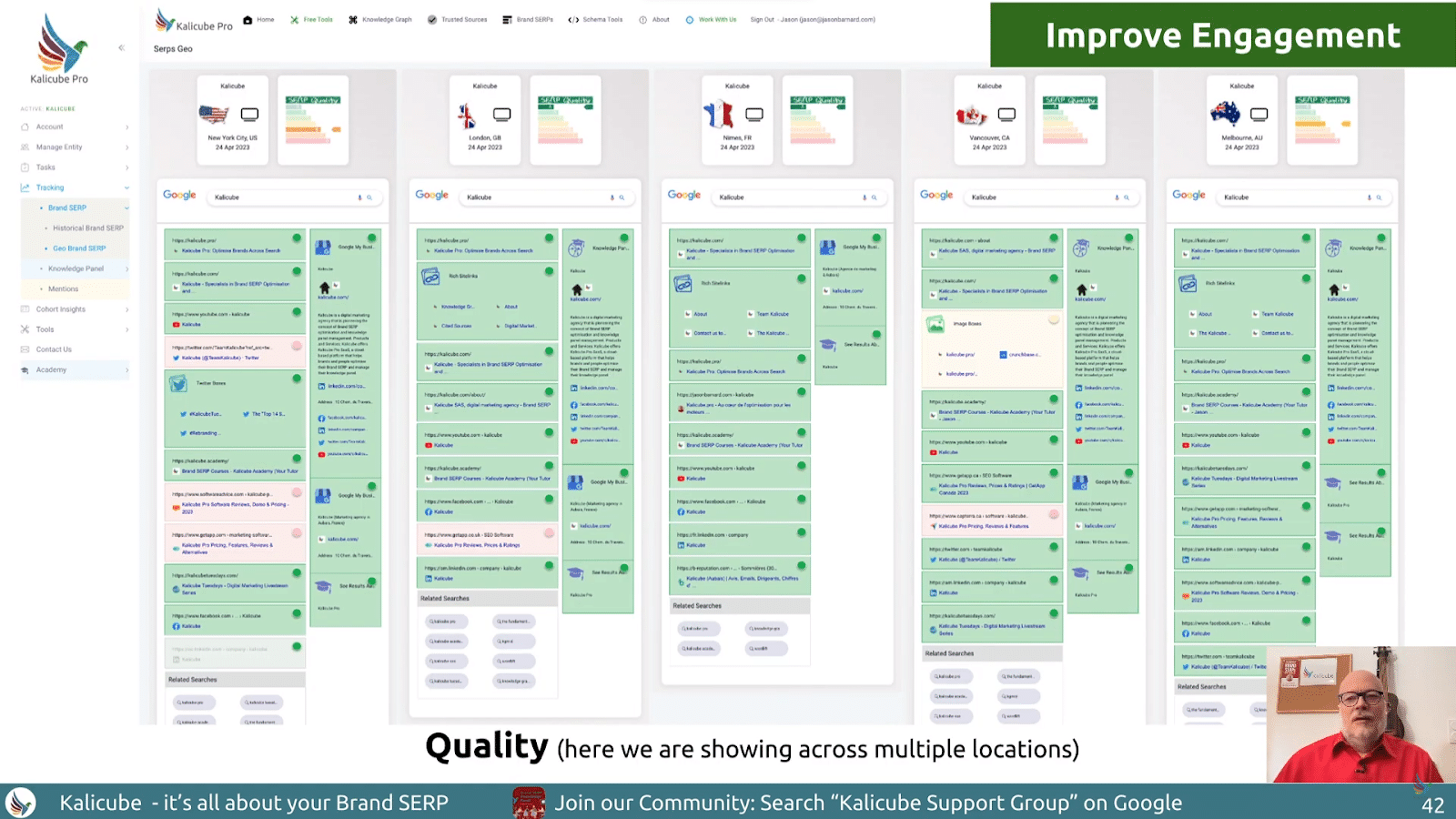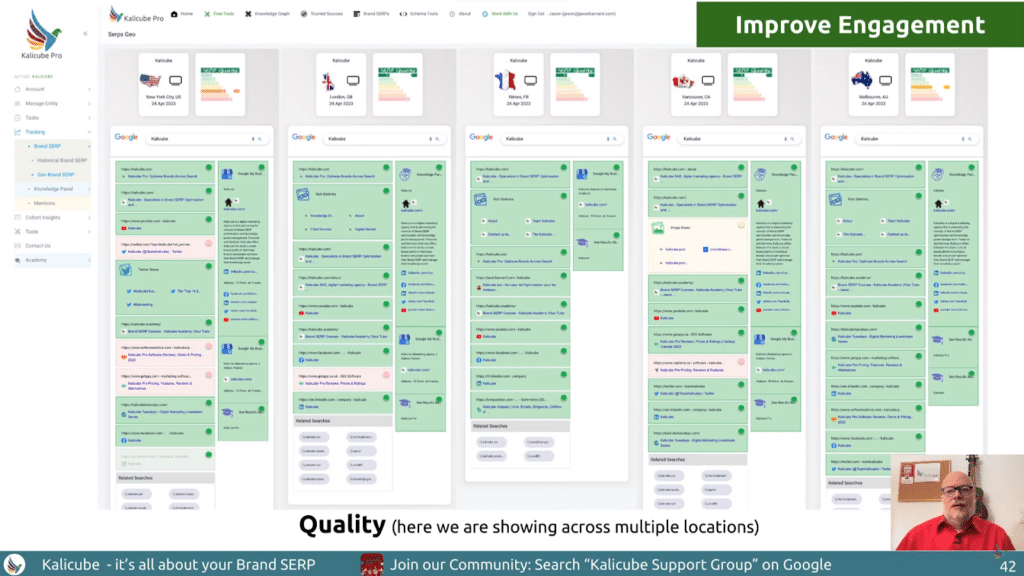 1. Kalicube Pro shows Brands how to Improve Engagement with their Audience Across Geo-regions
Kalicube Pro analyses engagement data across different geographic regions. Using its proprietary algorithms, it can track audience engagement by geolocation.
In the image below, it is clear that Kalicube's presence in Australia and France generates significantly more positive responses than in Canada and the US.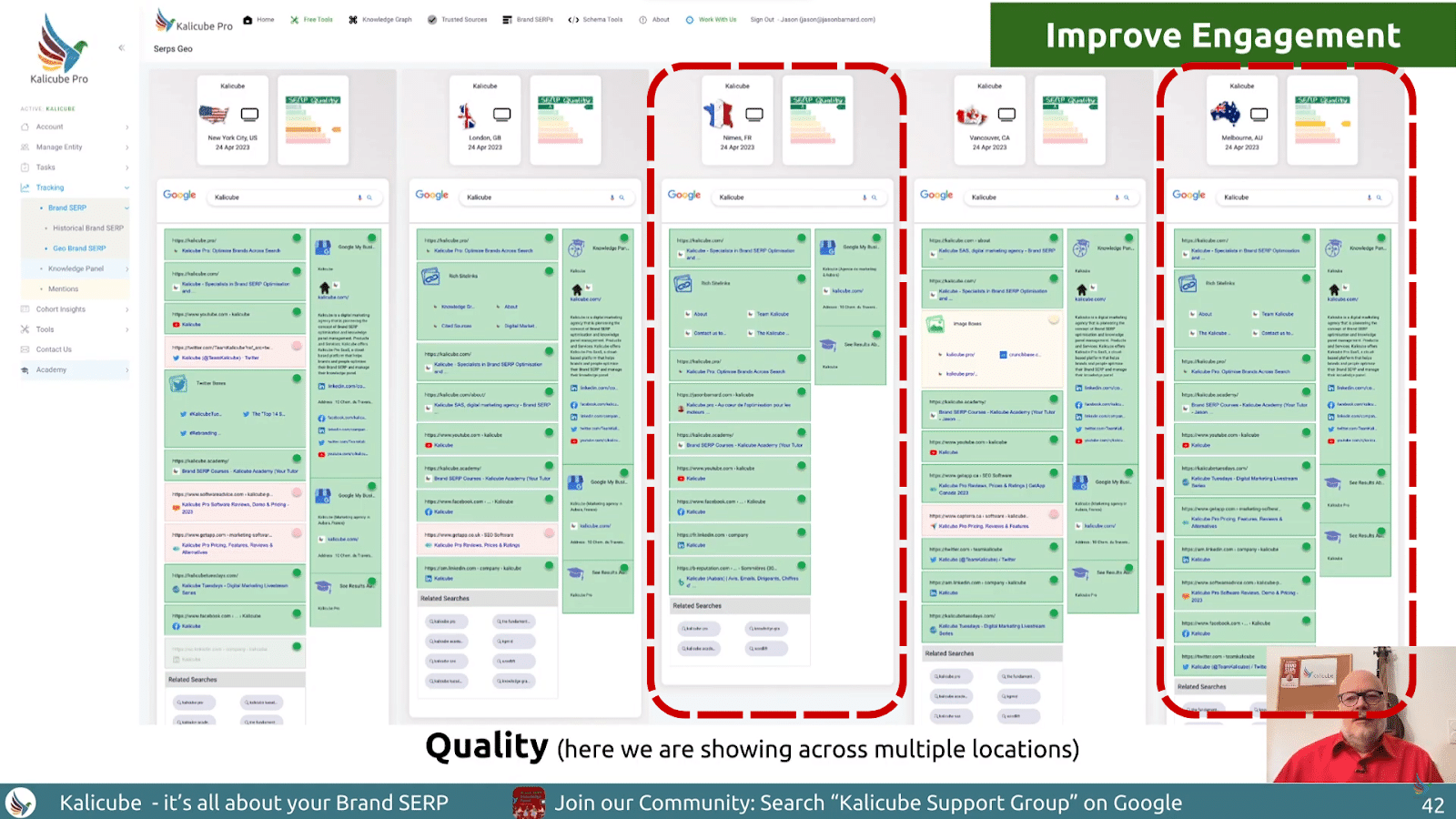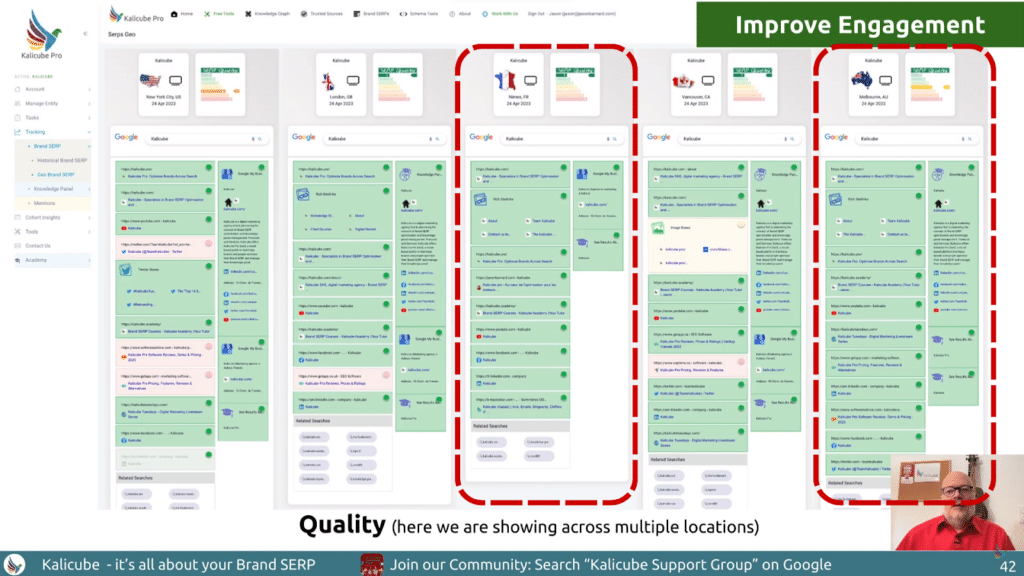 If you operate nationally or internationally, it's vital to understand how your Brand appears in search results from different locations. Google strives to deliver the most relevant results to its users, and geographic location is crucial. Google tailors how it displays your Brand to the specific audience in each geographic region. Surprisingly, many Brands overlook this aspect and miss valuable opportunities to engage with their target markets.
Localization of Search Results
Tracking your Brand SERP across multiple geographic locations gives a brand an accurate picture of how different audiences perceive it. This can give your SEO, marketing, and branding strategies a laser focus. A brand can target geolocations more effectively, improve local engagement, and create a comprehensive brand reputation management plan.
Adjust your Strategy: If you know how your audience perceives you in different places, you can adjust your SEO and marketing strategies to better appeal to audiences in each region.
Identify Opportunities: By tracking geo-specific SERPs, you can identify opportunities or regions where your Brand can grow. Perhaps you are more popular than you think in a particular location, and this is a fantastic expansion opportunity.
Competitive Analysis: You'll better understand how you compare to local competitors in different regions.
Address Regional Problems: Some locations may have specific complaints or issues with your product or service. Tracking the SERP in different locations means brands can address these issues quickly.
For all these reasons, using a platform like Kalicube Pro to track your Brand SERP in several locations is a valuable tool for refining your SEO strategy and improving your Brand's reputation.
2. Kalicube Pro helps brands take control of their Brand SERPs
Controlling your Brand SERP is crucial for driving quality and engagement. It's not about asking permission, but proactively seizing it and taking the initiative to improve your Brand's performance.
As shown by Kalicube's SERP in the UK, where control scores improved from B to A, more control leads to better quality and engagement over time.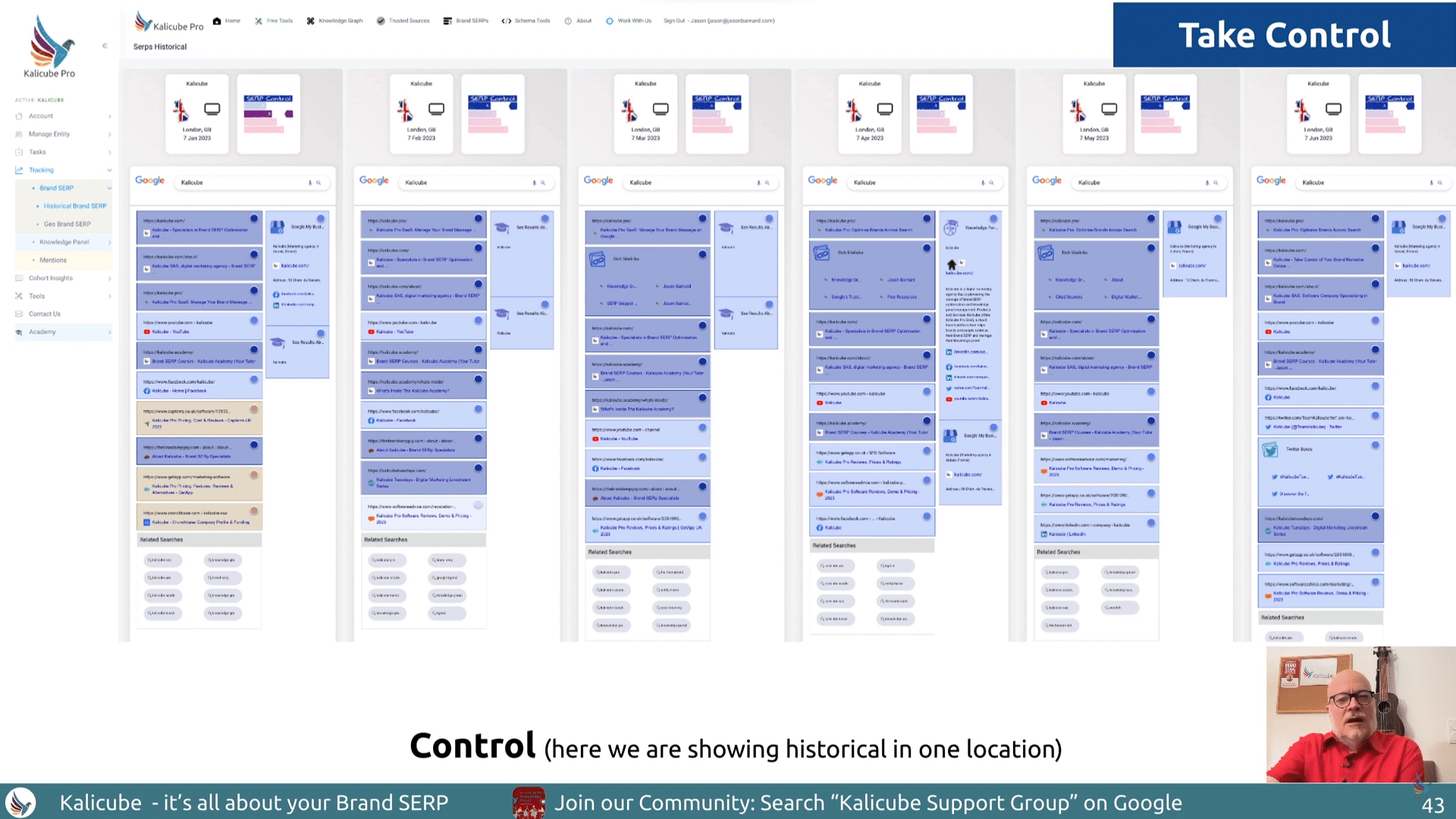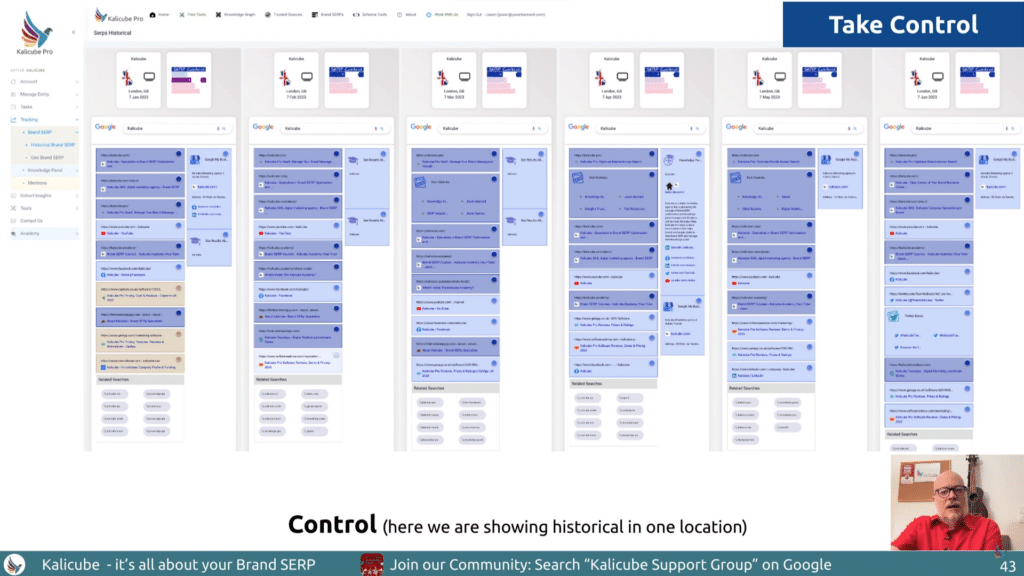 Kalicube Pro allows you to efficiently and systematically control how your Brand shows up in search results. With its innovative features, you can manage and optimize your Brand's SERP and Knowledge Panels and shape your online reputation.
SERP Tracking: Kalicube starts tracking the Brand SERP in relevant locations. This gives companies a clear view of how Google presents their Brand in search results in different regions. Based on the data collected, the platform creates a prioritised list of tasks specifically designed for the online reputation management process. These tasks aim to optimise the Brand's presence, improve its image, and convince potential customers of its reliability and trustworthiness.
Teaching the Child that is Google: Through this process, the tool essentially "educates" Google about the company or personal brand and ensures that its algorithms accurately and convincingly represent the brand in the Knowledge Panel and Brand SERP.
Continuous Learning: The platform uses innovative entity-based SEO strategies to drive change and continuously refines the proposed tasks using AI and machine learning capabilities.
Control and engagement go hand in hand when achieving success and connecting with your audience. So take control, focus on quality, and maximise engagement to ensure your brand succeeds in the ever-evolving digital landscape.
3. Kalicube Pro helps you identify priorities for your Brand SERP
Kalicube Pro allows you to set your priorities in a way that simplifies the complex task of optimizing your digital presence. Kalicube shows you what to do in your primary market and optimize your Brand SERP from top to bottom for maximum impact.
After optimising your primary market, you can move to other markets and apply the same approach.
This method not just amplifies your digital ecosystem, but also fosters unparalleled interaction with your audience around the globe. Every aspect of your brand's online presence is carefully optimised to create a seamless and impactful online brand narrative that effectively engages your audience.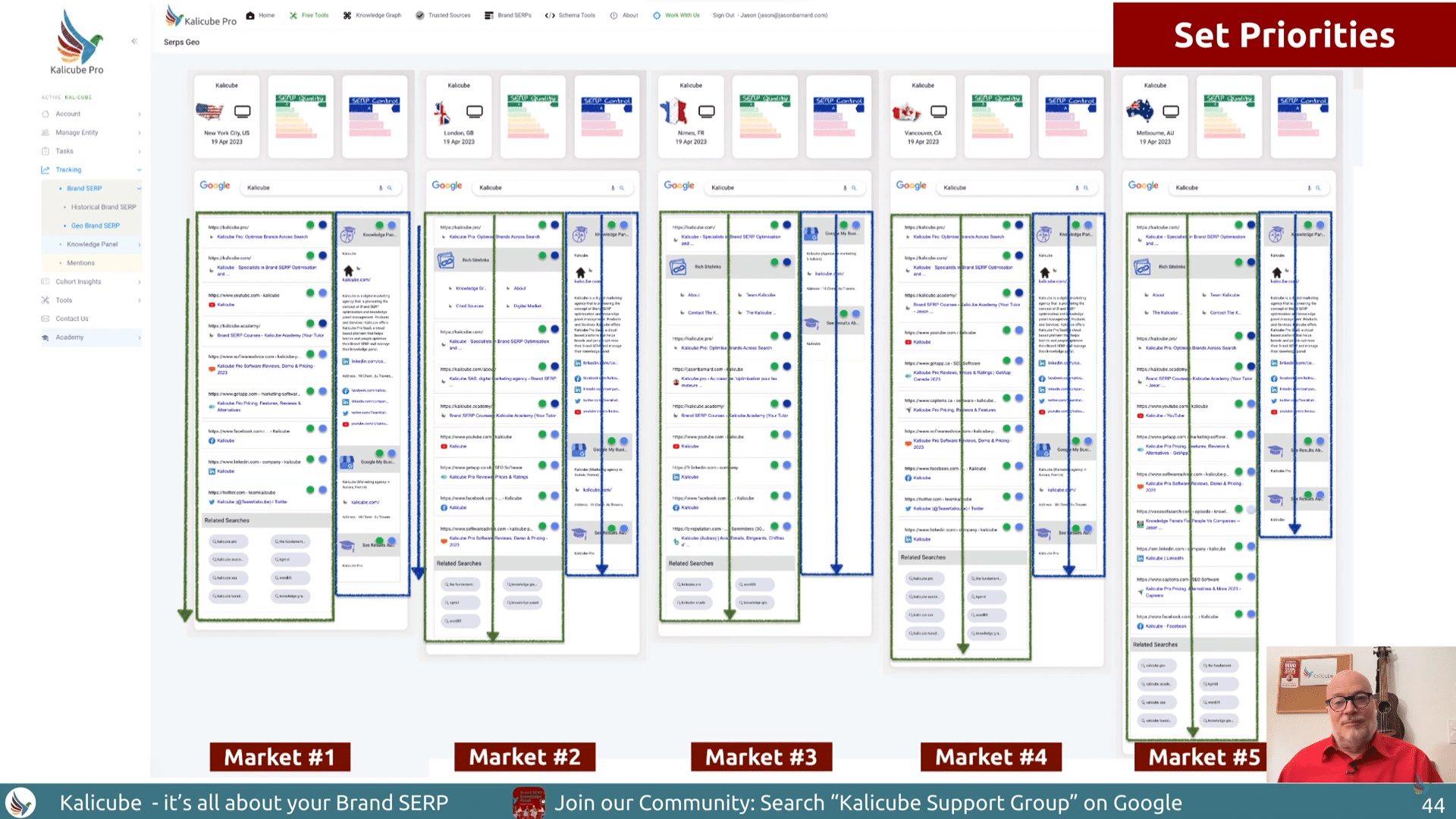 As you can see in the image above, we work diligently from the top of the Brand SERP down, leaving no stone unturned. We optimize every aspect for maximum impact. Next, we expand our reach and influence into Markets 2, 3, 4 and 5. By applying the same successful approach across multiple geographic locations, your entire digital ecosystem experiences remarkable improvement. Reach your audience like never before!
The Kalicube Pro Advantage:
Measurement and tracking: Measure and track improvements seamlessly and accurately.
Recommendations and improvement suggestions: Get valuable insights and actionable recommendations for continuous improvement.
Take control: Gain the power to move the needle on your digital presence.
Ready to up your SEO strategy and digital game? Please book a call with Jason to discuss how Kalicube Pro can boost your visibility and profits.
Contributor: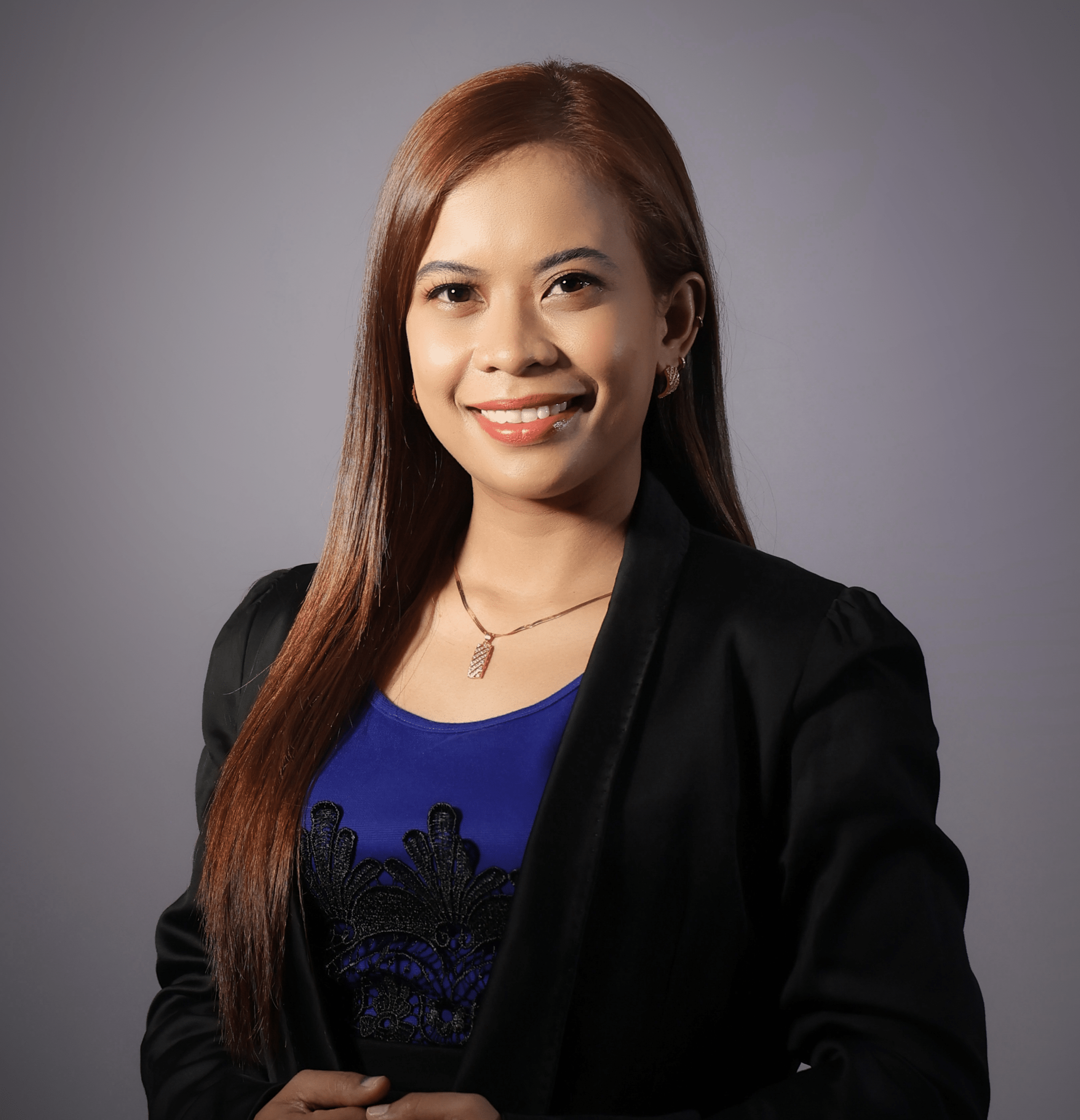 Jean Marie
Website Content Manager. Joined Kalicube in February 2022
LinkedIn: www.linkedin.com/in/jeanmarielaurente
Email: [email protected]