Filter Pills in Knowledge Panels: What You Need to Know
What are Filter Pills on Knowledge Panels and Why are They Important?
Google is now offering filtered results based on the information it is showing in Knowledge Panels.
This is huge!
They are incredibly important for anyone's Knowledge Panel (and Brand SERP) because they enable users use the Knowledge Panel to explore with different vertical results.
The filters are presented as Filter Pills (or lozenges, if you prefer).
Filter Pills in a Knowledge Panel offer Google's user filtered vertical Brand SERP results. At Kalicube we consider these Filter Pills to be "your mini-website on Google".
Let's take a look at Jason Barnard's Brand SERP as an example.
How do Filter Pills in Knowledge Panels Work?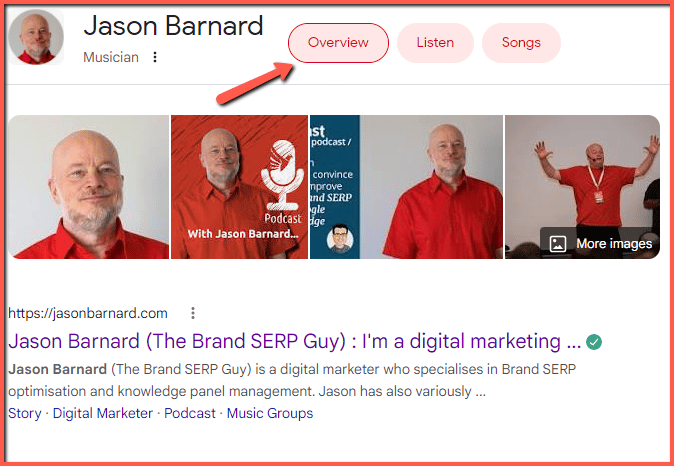 On desktop, just like on mobile. Google gives an overview of who Jason Barnard is and what he does. It then offers the filter pills as an option so that, if you want, you can listen to what he has to say on various platforms, you can see more about his videos or you can learn about his songs.
So, this provides multiple verticals on a Brand SERP, which gives easy access to these different filtered results. That means that, with filter pills, we have multiple parallel Brand SERPs that we need to control
Right now these filter pills only appear for people on desktop, but they will start appearing for businesses too at some point.
Looking at a Vertical Result Provided by a Knowledge Panel Filter Pill.
In this example, I clicked on the Songs filter pill, so we are looking at a set of results that focus on the songs associated with Jason Barnard.
…and here I started a new experiment to try to control not only the song listing, but also the images associated with each song.
I have managed to expand the list of songs from a dozen to over fifty. Now I aim to get a thumbnail from my site associated with each. So for, I have managed to get 4 images (see screenshot). So give it maybe another few months and every song will have an appropriate image that I have provided on my site.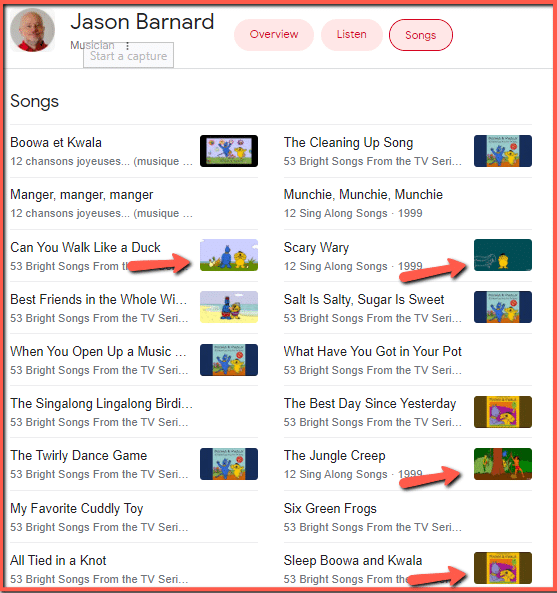 Additional resources