Video Boxes (Video Carousels) in SEO: What You Need To Know
In this article, you will learn more about Video Boxes (Video Carousels), their importance for SEO and how they contribute to Brand SERP Optimisation.
What are Video Boxes (Video Carousels) in SEO?
Simple Definition of Video Boxes (Video Carousels)
Video Boxes (Video Carousels) contain thumbnails of multiple videos on a certain topic. They occupy a prominent place on Google SERPs (Search Engine Results Pages) and are therefore an important aspect of any SEO strategy. They can contain videos from any website, including personal and company websites, but also Twitter, Facebook, News sites and, of course YouTube. Importantly, YouTube dominates. Over 80% of videos in Videos Boxes come from YouTube.
At Kalicube, this Rich Element (SERP feature) is called a "Video Box" rather than a carousel, as they can sometimes appear in both carousel and box formats.
What do Video Boxes (Video Carousels) Look Like?
Video Boxes (Video Carousels) appear as a series of 3 or 4 video thumbnails. When the user clicks on the thumbnail or the blue link next to it, they are taken to the webpage that contains the video.
Here are some examples showing Video Boxes (Video Carousels) on a search result for a company name like Kalicube or a person like Jason Barnard, The Brand SERP Guy.
For a company: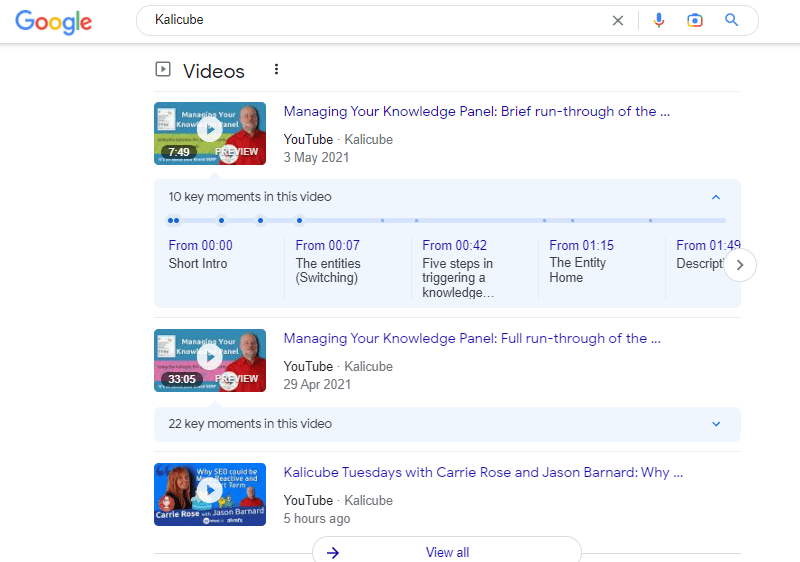 For a person (as you can see, the second result here comes from Jason's own website and not YouTube – he has done some good video SEO):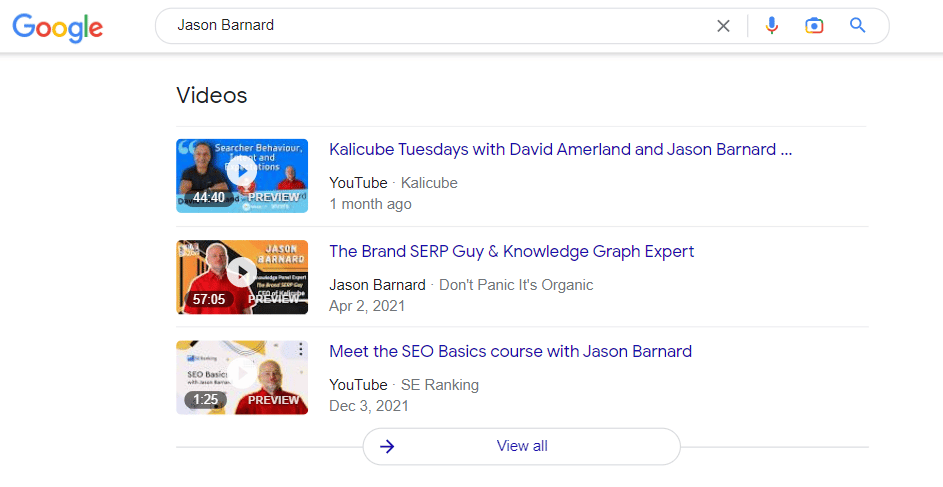 Can I Choose Which of My Videos Google Shows in Video Boxes (Video Carousels)?
You cannot choose directly, but you can influence its choices by giving Google a strong signal that your video is relevant.
And that's where video SEO (Search Engine Optimisation) comes in! When you embed videos in your pages, make sure you provide a helpful and relevant title and description that tell the user what the video is about. You can also optimise other on-page elements such as tags, the filename, video format, thumbnail and the location where your video was recorded.
Since YouTube dominates Video Boxes (Video Carousels), that is a great place to start. Add your videos to YouTube and optimise them.
Check out this article that provides a quick guide to video page optimization:
Here is Google's official statement on optimising videos for its SERPs.
How Do Video Boxes (Video Carousels) Fit Into Brand SERP Optimisation?
Video Boxes (Video Carousels) are extremely relevant and incredibly powerful in the context of Brand SERPs because these are visually appealing and will impress your audience when they google your brand name. Typically, when a user searches a brand name on Google they see mostly blue links. Having Video Boxes (Video Carousels) with colourful thumbnails as you see in the example above makes that Brand SERP more attractive and appealing.
Further, by creating videos and uploading them to YouTube, you are expanding your content marketing efforts intelligently. Videos are great marketing tools and especially powerful drivers of brand awareness. That makes a sustained video strategy a triple win: improving your content marketing strategy, increasing brand awareness and making your Brand SERP "sexy".
Kalicube Solutions