60 Simple Tips for Optimizing for Google's E-E-A-T (Content, Author and Website Owner)
In this article, you will learn 60 simple tips and strategies you can implement to boost your E-E-A-T (experience, expertise, authoritativeness, and trustworthiness) in Google's algorithms. Building EEAT solidifies your reputation with Google, and brands are able to impress, convince, and convert prospects to clients.
There are thousands of factors that affect Google's evaluation of E-E-A-T. To understand the underlying theory, please read this article about Factors and Features in E-E-A-T.
Based on our experience at Kalicube, implementing any or all of these 60 strategies will assist with optimizing E-E-A-T for Google. Each factor is weighted differently based on the industry, location, and query, so flexible thinking is required.
Ironically, as machines get more intelligent, the best way to feed the algorithm is common sense and commercial acumen.
We built Kalicube Pro to solve the weighting problem and identify the specific strategies that will work for any individual brand regardless of industry, location, and query. Generally speaking, it's safe to assume that applying the techniques outlined below will assist your EEAT.
Kalicube Pro (Kalicube's proprietary SaaS platform) automates the Kalicube Process, so crafting a bespoke digital marketing strategy that includes Knowledge Panels and positive Brand SERPs for any person or business is as simple as pushing a button. Using data sourced from Google dating from 2015 (and growing), Kalicube Pro contains over 10 million Knowledge Panels, tracks 7.3 million KGID, over 1 billion data points and tracks over 100,000 entities and dozens of countries. Kalicube Pro knows which sources Google trusts to corroborate business information online – and there are over 40,000.
Optimizing E-E-A-T for a Website Owner (Company / Corporation)
5 Tips for Demonstrating Experience to Google for a Company in the Context of SEO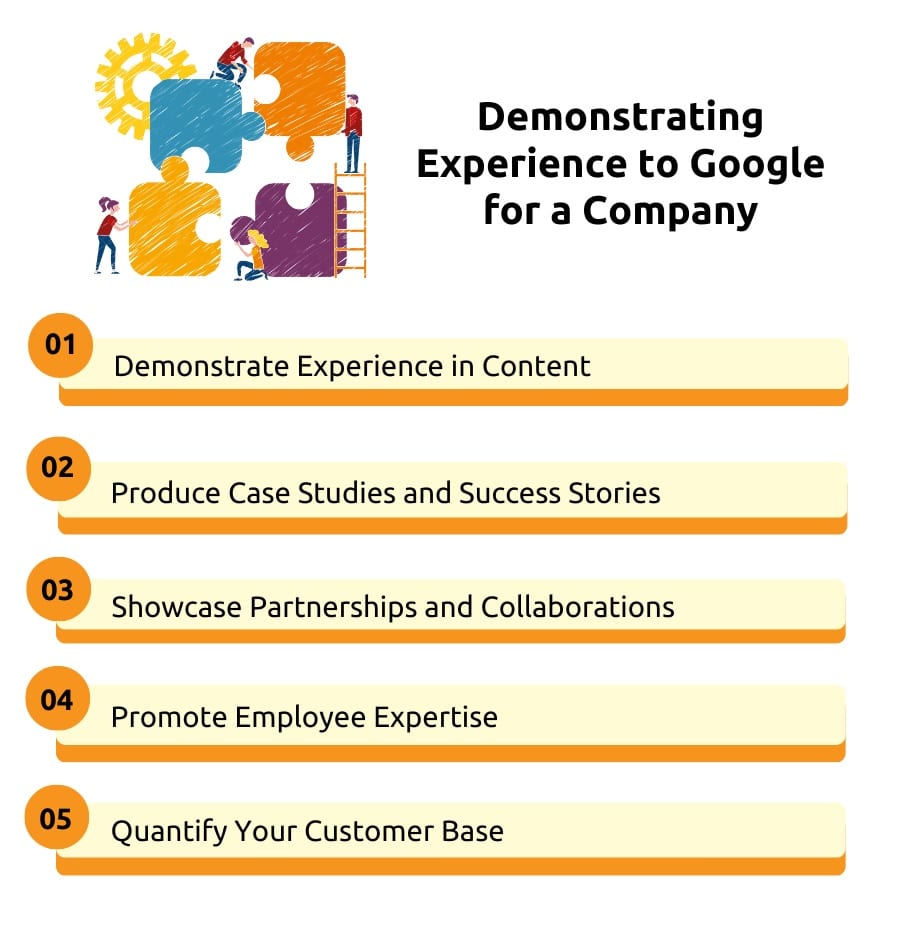 1. Demonstrate Experience in Content: Introduce words and phrases that emphasise the years your company has operated in your industry (perhaps include details about the evolution of the company) since this helps highlight your company's experience to Google.
2. Produce Case Studies and Success Stories: Case studies and success stories convey your company's depth of experience in solving real-world problems. Include these as articles or videos on your website and refer to them in your content.
3. Showcase Partnerships and Collaborations: The collaborative work your company has done with other well-established companies or industry experts demonstrates real-world experience in the field.
Promote Employee Expertise: An experienced company has experienced staff. Create pages for leading team members and clearly describe their qualifications, certifications, and experience. You will then emphasise their experience and will increase Google's understanding of the depth of experience within your company.
Quantify Your Customer Base: Numbers are important to Google, so if you have a large number of customers, this indicates extensive experience meeting customer needs. Highlight how many customers you have served over the years, and also your global reach, and perhaps even notable companies that purchase from you.
Pro Tip: Consistency and transparency are crucial. Highlight your company's experience in multiple ways across your website and other online platforms, and ensure the message is clear and honest.
5 Tips for Demonstrating Expertise to Google for a Company in the Context of SEO
1. Publish Expert Content: Create blog articles, guides, e-books, research papers, etc., demonstrating your company's extensive knowledge and experience in your industry. This content should be detailed, well-researched, and offer genuine value to your audience.
2. Highlight Industry Certifications and Awards: If your company has earned specific certifications or awards within your industry, ensure these are clearly visible on your website and mentioned in relevant content. They give Google a direct signal of the company's experience.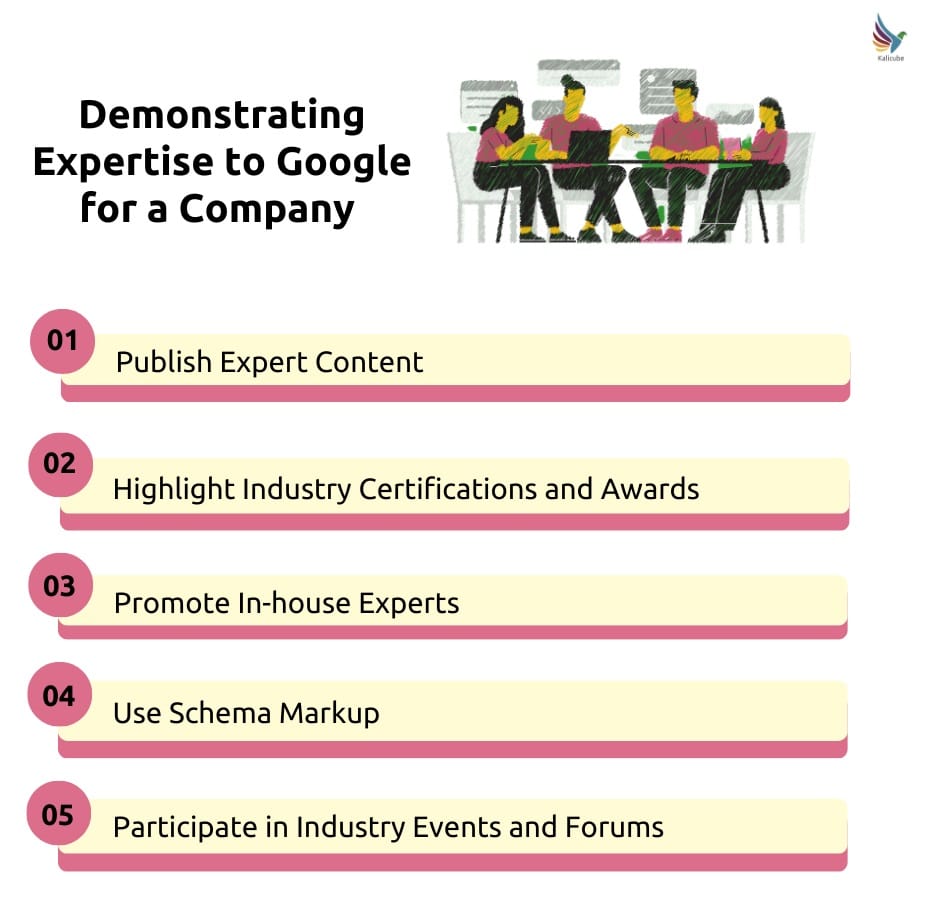 3. Promote In-house Experts: If your company employs or partners with recognized experts in your field, amplify their visibility. Their individual expertise contributes to Google's perception your company's overall expertise.
4. Use Schema Markup: Schema Markup is a form of structured data and helps Google better understand your webpage's data. It highlights things like awards, reviews, or any other element on a page supporting your company's expertise.
5. Participate in Industry Events and Forums: Speaking at industry webinars or participating in relevant discussions can indicate your contribution to your industry, signaling your company's expertise to Google. Be sure to implement a strategy for bringing any offline activity online so that Google can easily see your participation in and contribution to your industry.
Pro Tip: Consistency is the key. Matching your expertise with high-quality, helpful content is crucial in demonstrating your expertise to Google.
5 Tips for Building Authority for a Company in the Context of SEO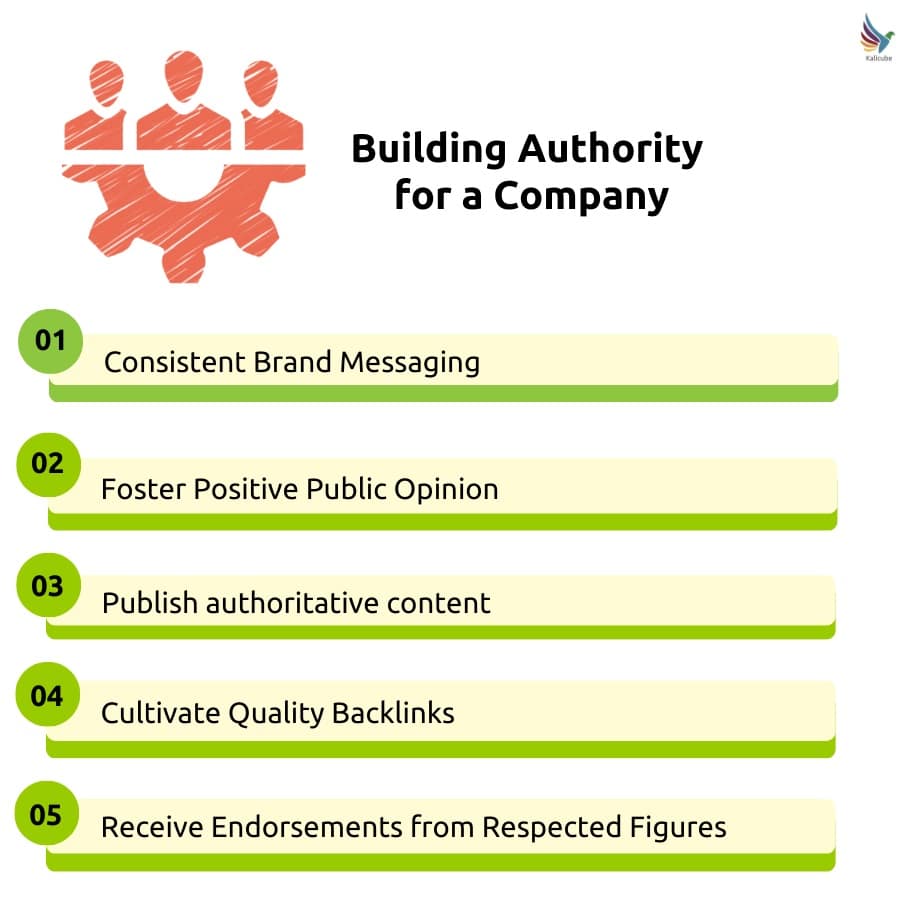 1. Consistent Brand Messaging: Ensure that the branding and messaging of your company are consistently applied across all your digital properties such as your LinkedIn or Twitter profiles. The consistency of your brand across your digital ecosystem demonstrates the credibility and authority of your company.
2. Foster Positive Public Opinion: Your business partners can help shape your company's public reputation. You can discuss with your business partners the possibility of mentioning your company on their website, other relevant platforms, and social media. Peer opinion plays a significant role in how authoritative your company appears to Google's algorithms and your audience.
3. Publish authoritative content: Whether you run a small company or a large corporation, publishing top-notch, meaningful content that resonates with your target audience is critical to building and solidifying your authority. Such content is a useful tool for positioning your company as a reliable source of information, thus strengthening your overall authority in the industry.
4. Cultivate Quality Backlinks: In the field of SEO, backlinks coming from websites of highly relevant people and reputable companies have a similar weight as official recommendations. The goal is to actively seek and secure backlinks from websites that are not only relevant, but also have a good reputation and high authority. This way, you send a clear signal to the search engines that your company is a trusted and highly respected resource in your industry.
5. Receive Endorsements from Respected Figures: When influential figures in your industry publicly endorse or mention your company, it can greatly increase the perception of your brand's authority. Their recognition is a strong testament to your brand's credibility and reputation, which in turn strengthens its reputation and influence in the industry.
Each of these practices can help bolster the perception of your brand's authority, significantly influencing your E-E-A-T.
5 Tips for Building Trustworthiness for a Company in the Context of SEO
1. Collect and Display Positive Reviews: Positive customer reviews can significantly boost the trustworthiness of your company. The more positive customer reviews, the better. You can reach out to satisfied customers, encourage them to leave reviews, and display these prominently on your company's website.
2. Securing Credentials: You can increase your company's credibility by obtaining important certifications, awards or recognitions from respected organizations within your industry. These endorsements could be prominently published on your website to inspire confidence in your brand.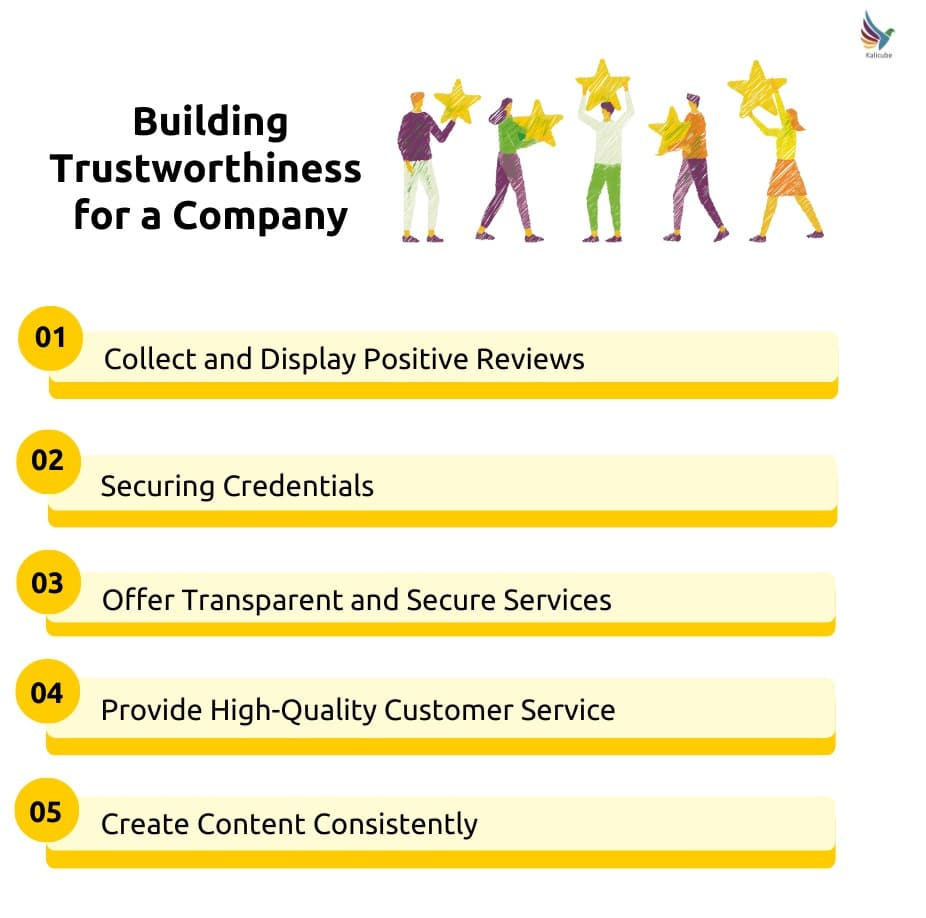 3. Offer Transparent and Secure Services: A company that is trustworthy has clear and transparent services. You have to make sure that your company has clear policies on issues like privacy, security, billing, shipping, and returns.
4. Provide High-Quality Customer Service: When you're quick and on point in responding to customer questions out in the open, you're nailing the trust-building game. It's all about letting your customers know you care about what they're saying and that you're all in when it comes to fixing things up for them.
5. Create Content Consistently: Maintaining a regular publishing schedule with high-quality, informative content positions you as an expert and builds trust over time.
Building trust is a long-term endeavor. Be patient, consistent, and genuine in your efforts, and the trustworthiness of your brand will grow.
It is important to note that Google cannot fully apply any E-E-A-T signals it sees about your company if it doesn't explicitly understand who you are, what you offer, and which audience you serve.
The visible manifestation of this explicit understanding is a Knowledge Panel. Without one, you are diluting your E-E-A-T and putting yourself at a massive competitive disadvantage.
Optimizing E-E-A-T for a Person (Author)
5 Tips for Demonstrating Experience for a Person in the Context of SEO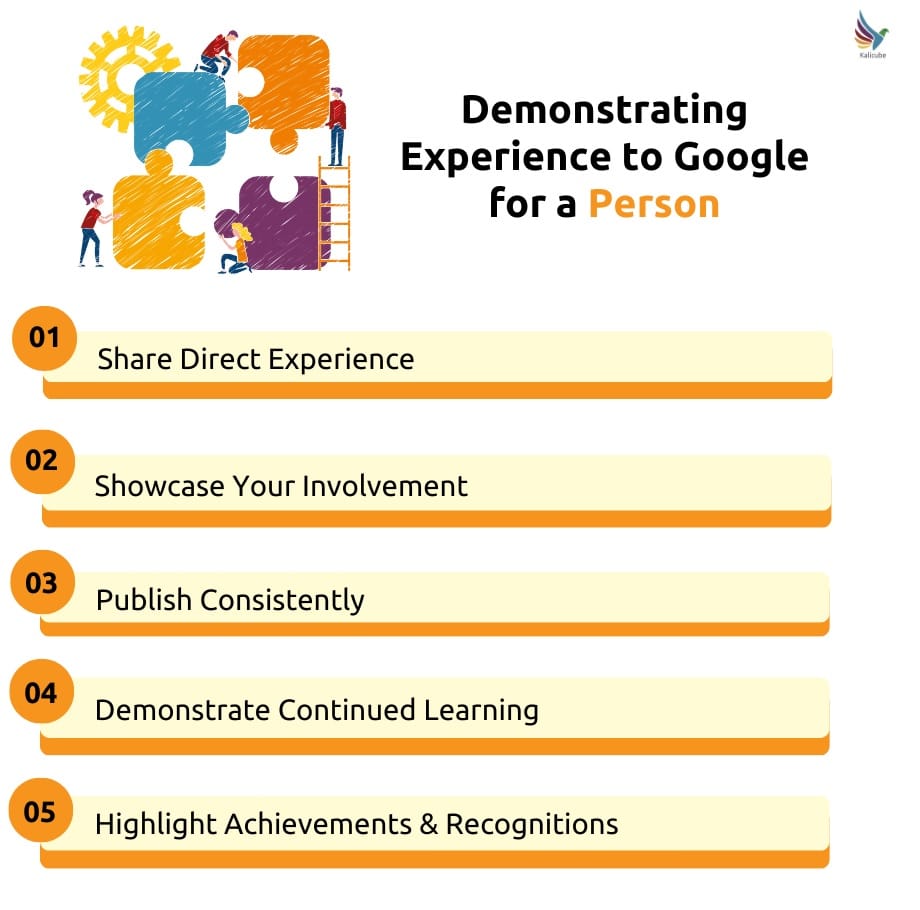 1. Share Direct Experience: Express your personal experiences related to the topic at a granular level. Letting your readers in on your first-hand know-how not only makes you more believable but also beefs up the E-A-T (Expertise, Authoritativeness, Trustworthiness) of your content.
2. Showcase Your Involvement: Showcasing your involvement means proving that you are in the field over time. Involvement is in in the form of projects you've worked on, roles you've held, or events you've actively participated in.
3. Publish Consistently: Consistency in publishing quality content on a particular topic over time shows your commitment and your active engagement in that field.
4. Demonstrate Continued Learning: Show that you are staying up-to-date with the latest trends, research, and data in your field by referencing these in your content. Continued learning indicates that you're constantly evolving your knowledge base and experience. Keep those facts, figures, and trends coming, and let your audience know you're their go-to source for all that's current and captivating in your industry!
5. Highlight Achievements & Recognitions: If you've won any awards, been recognized by industry bodies, or even been quoted or mentioned by other experts in your field, be sure to highlight these in your content. They serve as external validation of your experience.
5 Tips for Demonstrating Expertise for a Person in the Context of SEO
1. Display Relevant Credentials: One fundamental way to demonstrate expertise is by showcasing your relevant academic or professional credentials. If you have received special training or qualifications related to your area of expertise, mention this visibly on your website or in your content.
2. Regularly Update Your Knowledge: Expertise is not static; it involves keeping up-to-date with the latest information in your area. Regularly updating your knowledge and sharing this on your website demonstrates your commitment to expertise.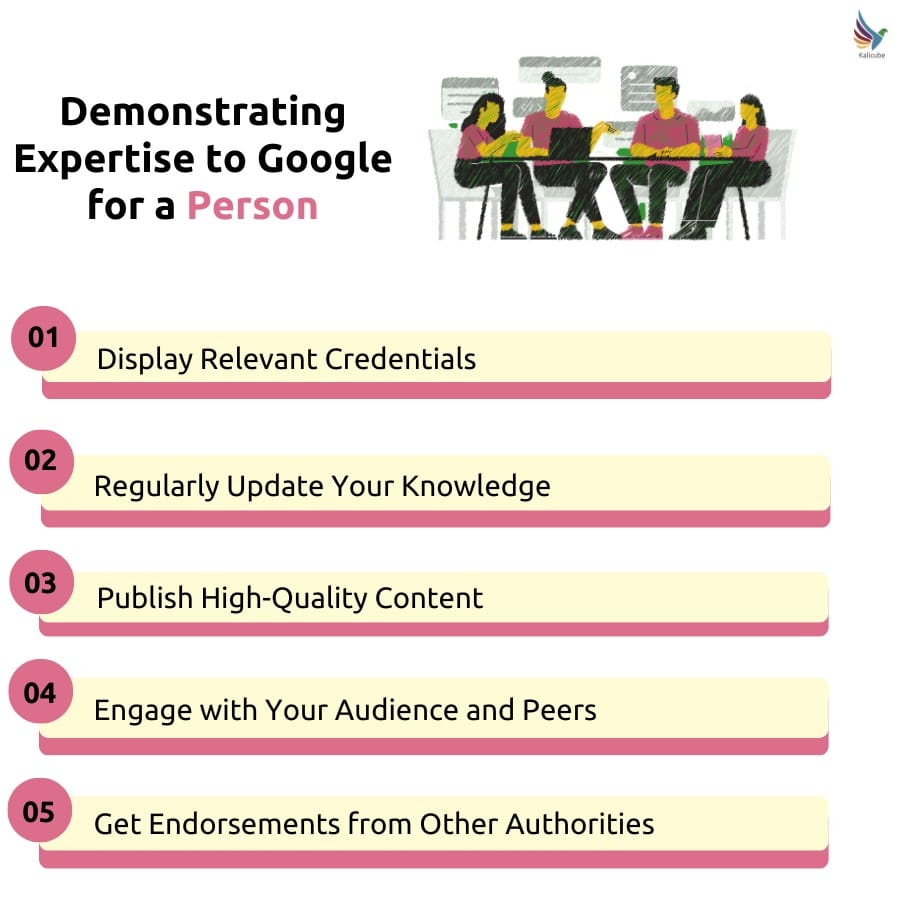 3. Publish High-Quality Content: The information you publish online is critical in establishing your expertise. Ensure that your content is accurate, comprehensive, and well-researched. Offer unique insights or analysis from your perspective as an expert.
4. Engage with Your Audience and Peers: You need to consistently engage with your audience and peers. This can mean participation in discussions on your social media accounts, webinars, conferences, or other platforms where you can share your opinions and insights. Engagement shows real-time expertise and builds your reputation as an expert.
5. Get Endorsements from Other Authorities: Getting the stamp of approval from other recognized experts in your field works wonders for boosting your expert status. This means that they corroborate with your knowledge and skills, which in turn can significantly enhance your visibility. You can make this happen by writing guest posts on reputable websites, secure references, or co-author research or publications.
Remember, it's essential to encourage the author of the content to leverage these tips to demonstrate their expertise.
5 Tips for Building Authority for a Person in the Context of SEO.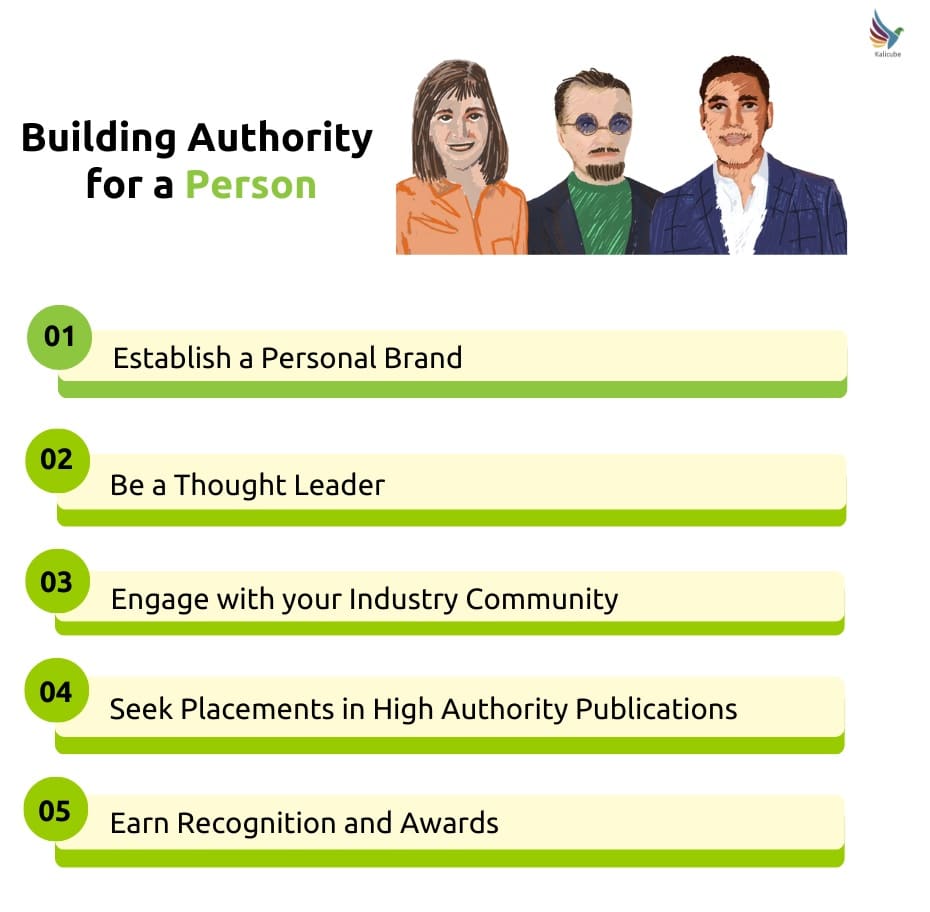 1. Establish a Personal Brand: Ensure you're notable in your niche. It is all about becoming a notable figure in your industry. You need to participate in industry events, write thought leadership pieces, and make your name synonymous with specific topics within your industry. This way, you'll not only be recognized but also synonymous with expertise in your industry.
2. Be a Thought Leader: Consistently create and share original, in-depth content within your industry. This can take the form of research, op-eds, blogs, or social media posts. The key is to enrich the conversation and demonstrate your grasp of the subject, all while adding value to your audience.
3. Engage with your Industry Community: Engaging with other respected figures in your field, actively contributing to pertinent discussions, and taking part in industry forums or groups is a fantastic way to remain at the forefront of industry trends and establish your expertise. This not only helps you stay well-informed but also solidifies your position as an authority in your field.
4. Seek Placements in High Authority Publications: Get your content featured in respected industry magazines, journals, or websites. A placement in a reputable publication proves your authority in your field, as these publications have stringent criteria for featuring guest content.
5. Earn Recognition and Awards: Make it a goal to earn professional awards and recognition in your industry. These accolades serve as public validation of your authority and expertise within your field. They are concrete evidence of your outstanding contributions and achievements.
These activities will help to solidify your authority in your field. Over time, you'll see the benefits with Google and your audience's perception of you.
5 Tips for Building Trustworthiness for a Person in the Context of SEO
1. Maintain Active and Authentic Social Media Profiles: Personal social media profiles are extensions of one's identity and expertise. Positive engagements, authentic sharing of experience and expertise, and consistent activity on these platforms can enhance an individual's trustworthiness from an E-E-A-T perspective.
2. Produce High-Quality content Regularly: Quality content that genuinely benefits the readers can establish you as a knowledgeable and reliable source of information. Regular production of such content can progressively build trust in your audience and search algorithms.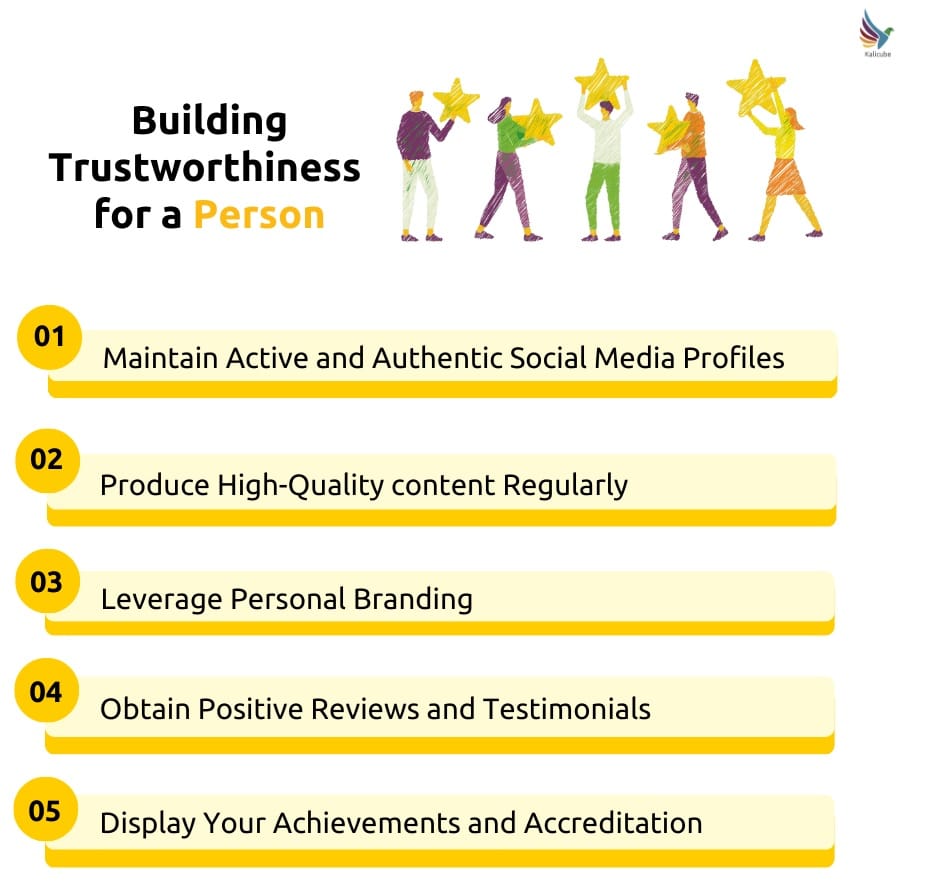 3. Leverage Personal Branding: Personal branding involves positioning yourself as a trusted and authoritative figure in your industry. Boost your brand through public speaking, participating in webinars or podcasts, writing industry-specific guides or whitepapers, and consistently providing insightful commentary on industry trends or events.
4. Obtain Positive Reviews and Testimonials: Reviews or testimonials on owned, earned, and third-party platforms can significantly enhance trustworthiness. Being positively talked about by peers, industry leaders, or happy customers often carries significant weight, not just for users but for search algorithms as well.
5. Display Your Achievements and Accreditation: Share your qualifications, certifications, and notable achievements on your social profiles, website, and any professional platforms you're a part of. Anything that exhibits your expertise and establishes you as a trustworthy figure in your field is a positive signal for E-E-A-T.
It is important to note that Google cannot fully apply any of the E-E-A-T signals it sees about you if it doesn't explicitly understand who you are, what your topical expertise is, and which audience you serve.
The visible manifestation of this explicit understanding is a Knowledge Panel. Without one, you are diluting your E-E-A-T and will be under-selling your value as a solutions provider, author, or expert.
Optimizing E-E-A-T for Content
5 Tips for Demonstrating Experience for a Piece of Content in the Context of SEO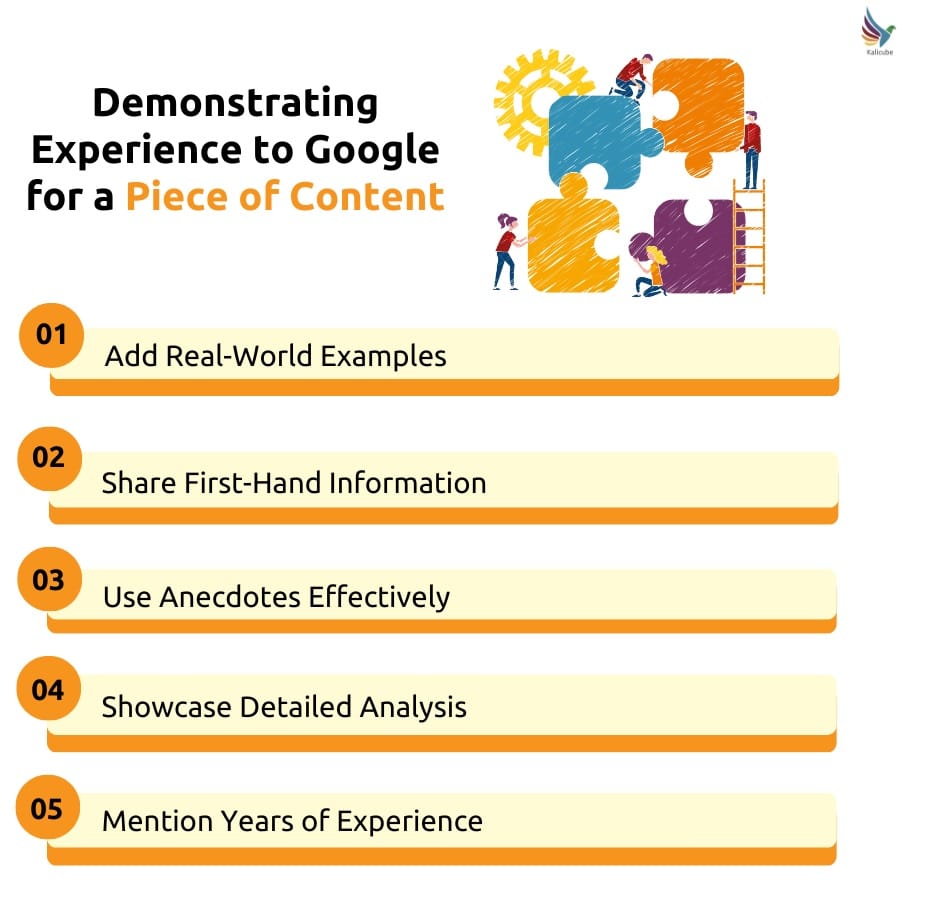 1. Add Real-World Examples: Real-world examples, case studies, and testimonials bring a sense of credibility and experience. They show that the concepts have been applied and tested.
2. Share First-Hand Information: Content based on personal experience tends to have more weight regarding E-E-A-T. Where applicable, share insights derived from your own experience.
3. Use Anecdotes Effectively: Wherever possible, use anecdotes about real-life experiences to illustrate your points. They exhibit an experienced understanding of the topic and can make abstract concepts more relatable for your audience.
4. Showcase Detailed Analysis: A detailed analysis indicates a deep understanding and experience with the topic. Breaking down complex subjects into digestible insights shows Google and your audience that you have an intimate knowledge of the subject matter.
5. Mention Years of Experience: Include the number of years of experience the author or the hosting website has in the relevant field. A number adds a quantifiable measure of experience that Google and an audience can trust.
5 Tips for Demonstrating Expertise for a Piece of Content in the Context of SEO
1. Mention Author Credentials: Explicitly mention the author's qualifications and achievements related to the content topic. If there's relevant professional experience, awards, or education, it demonstrates the author's expertise in the subject matter.
2. Showcase In-depth Research: Showcase robust knowledge of the subject matter by conducting in-depth research. Include all necessary facets of the topic. Providing comprehensive, detailed content tells Google and your readers that the author knows the subject well.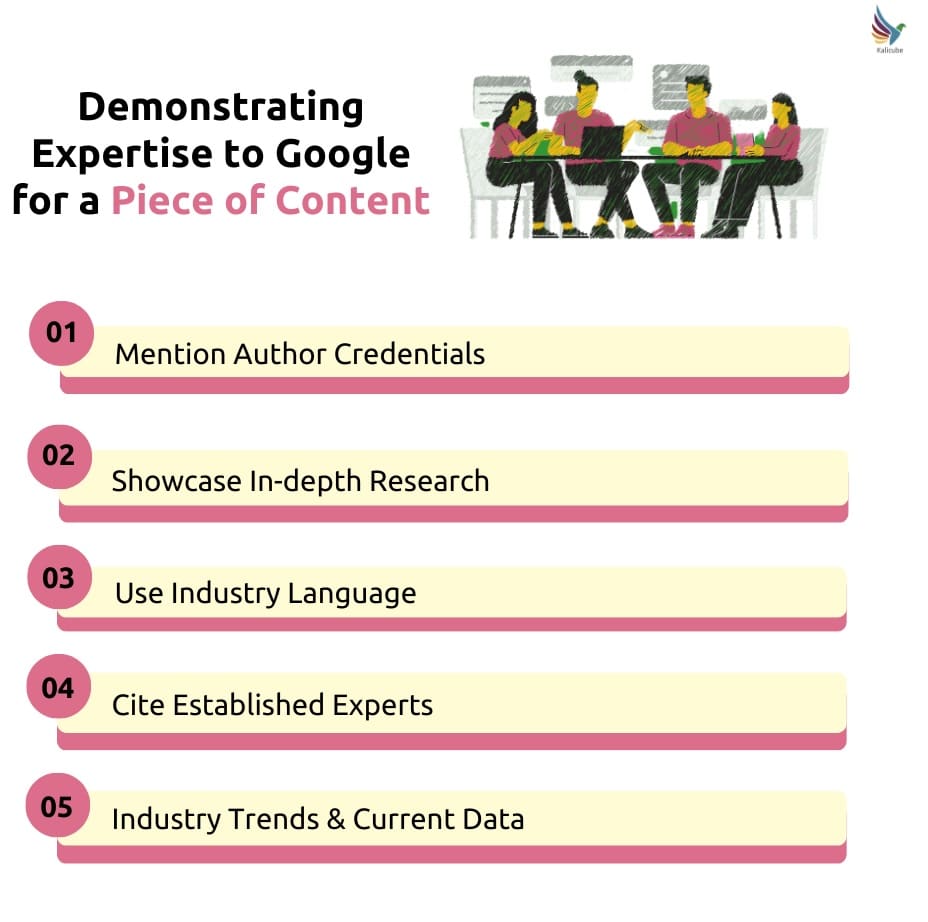 3. Use Industry Language: Sprinkling industry-specific terminology within content can showcase the depth of knowledge and familiarity with the subject. Always explain complex terms for readers who may be new to the topic (unless your audience is 100% experts, in which case don't.)
4. Cite Established Experts: Citing other known experts in your field supports the perception of expertise. By associatively linking yourself with established figures, you foster a sense of community and legitimacy around your content.
5. Industry Trends & Current Data: Regularly update your content to include the latest data and trends within your industry. Updating content shows active engagement with the evolving industry landscape, thus elevating your credibility and perceived expertise.
5 Tips for Building Authoritativeness for a Piece of Content in the Context of SEO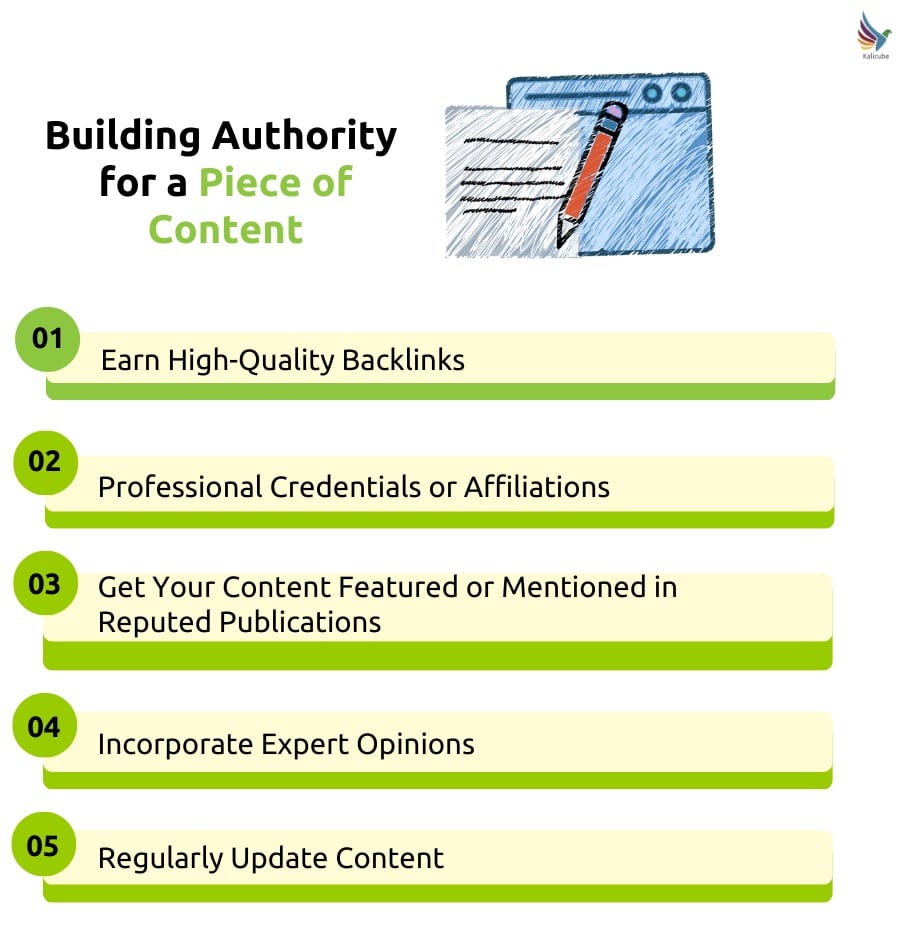 1. Earn High-Quality Backlinks: The more top-notch websites link back to your content, the more authority your content gets. These links need to come from authoritative websites in the same or closely related industries. Quality and relevance matter.
2. Professional Credentials or Affiliations: If the content comes from an author with professional credentials or affiliations, mention this. Include a biography, a byline, or a footnote. Credentials and affiliations add an essential layer of perceived authority in the eyes of readers and search algorithms.
3. Get Your Content Featured or Mentioned in Reputed Publications: Authoritative content gets recognition from other leaders in the field. Get your content featured, mentioned, or cited in reputed industry journals, magazines, or blogs. Features directly expose your content to a larger audience and create an authoritative image in front of search algorithms.
4. Incorporate Expert Opinions: Expert opinions means quotes or opinions from recognized experts in your industry. Quote those experts and let their wisdom boost your content's authority. Just remember to give credit where it's due. You are all about sharing the wisdom, not swiping it.
5. Regularly Update Content: Keep your content fresh and updated. Regular updates make you look like the go-to source and you, as an author, is committed to providing the most accurate and timely information to your audience. This is especially crucial in fast-moving fields like tech or healthcare, where yesterday's news is old news.
5 Tips for Building Trustworthiness for a Piece of Content in the Context of SEO
1. Use Credible Sources: Don't forget to drop some reputable, authoritative sources or references in your content. It's like putting on a credibility cape for your data and insights. When search engines see you're hanging with the reliable sources, your content will be considered a trustworthy source.
2. Regularly Update content: You need to ensure that your information is always up-to-date. In this way, the search engines and your audience will perceive your contents as reliable and credible. For instance, if you write a blog post citing statistics, make it a habit to update these figures as soon as new data becomes available.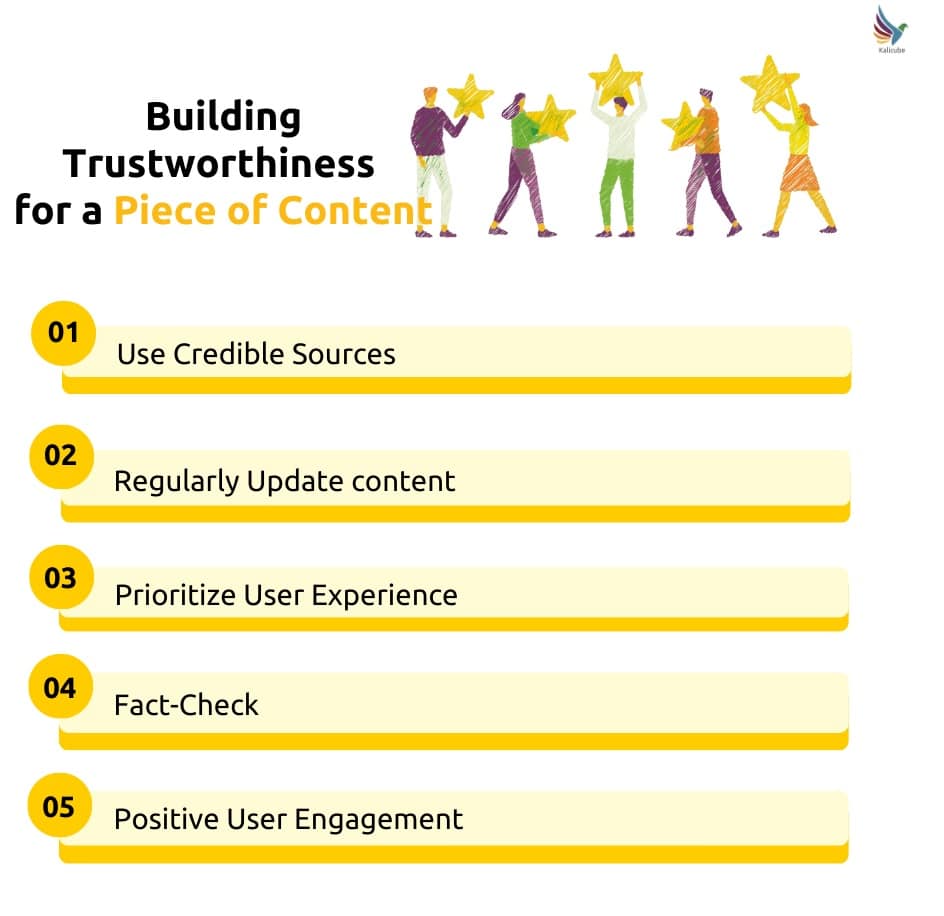 3. Prioritize User Experience: You are making content for your audience so you need to make sure that these are easy to navigate, read, and understand. You can break up text into digestible sections, use visuals to convey information, or internally link to relevant additional resources. A good user experience signals to search engines that your content is trustworthy and worth ranking.
4. Fact-Check: False information proliferates on the internet; fact checking therefore is essential. Nothing destroys trust faster than incorrect or misleading information. Your content should be structured in such a way that all information, data, arguments, and testimonials are accurate and can withstand fact-checking.
5. Positive User Engagement: The positive comments, shares, and likes your audience drop to your content signal trustworthiness to search engines. It's like a big thumbs-up for search engines. You should give your audience the nudge to join in and respond to comments to foster healthy discussion. In this way, you're not just making friends, you're telling the search engines, "Hey, these folks are into my content. You can trust it, too!"
It is important to note that Google cannot fully apply any of the E-E-A-T signals it sees about your content if it doesn't explicitly understand the website owner and author(s). The visible manifestation of this explicit understanding is a Knowledge Panel.
Without a Knowledge Panel for the company and the author, you are diluting your E-E-A-T, and your content will perform significantly less well in Google Search.
What is N-E-E-A-T-T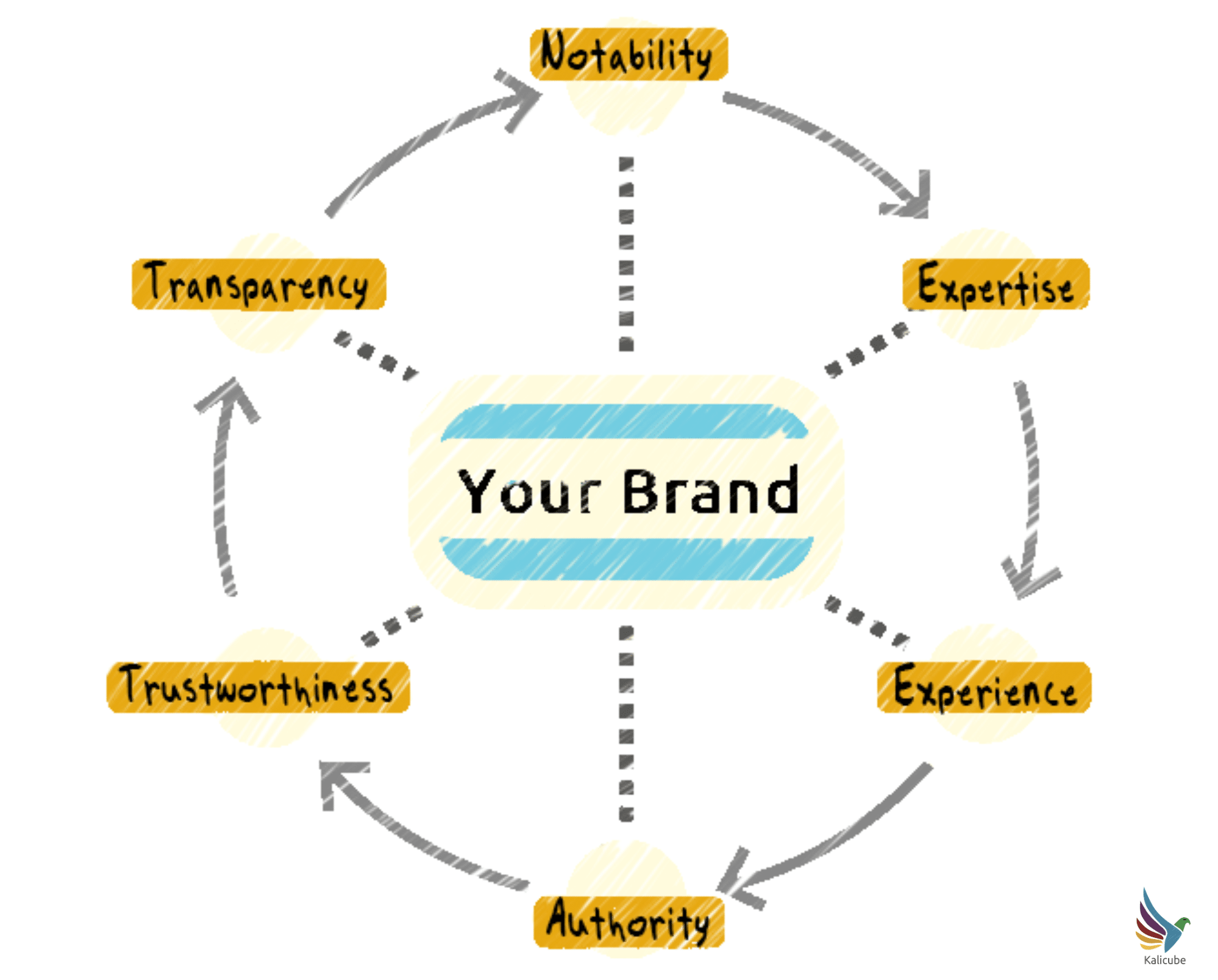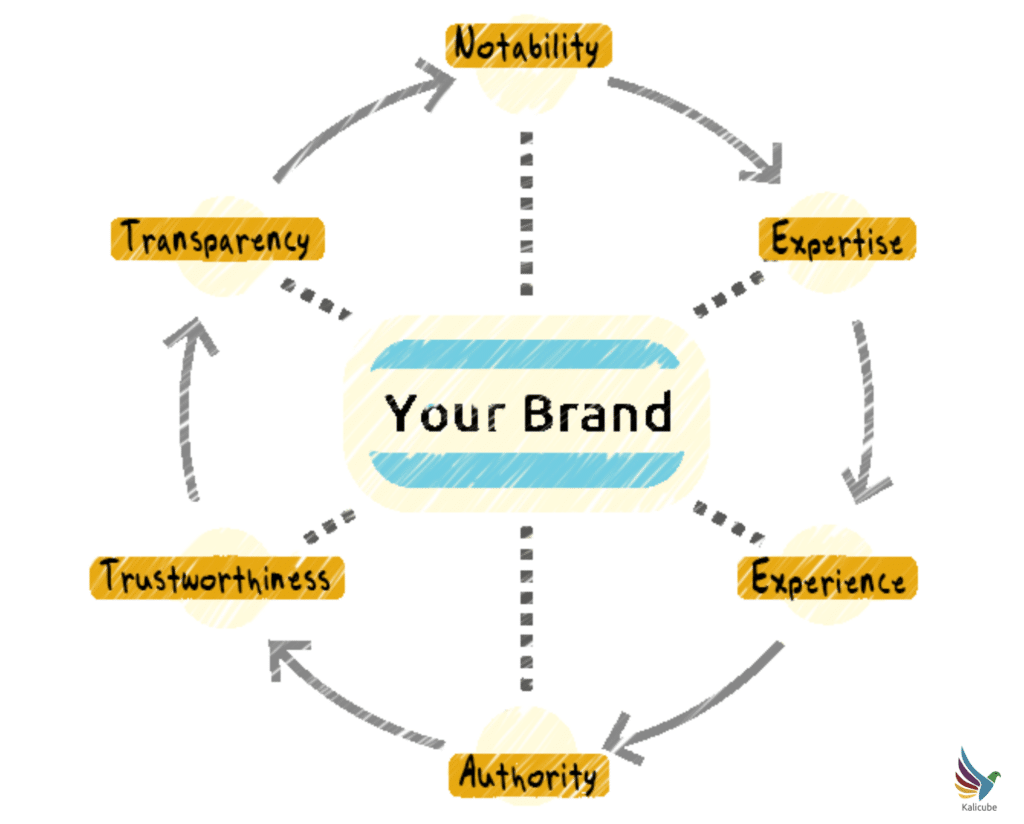 Two signals are missing from Google's E-E-A-T "formula." They are Transparency and Notability. Both are very important to users when judging the credibility of a company, person, or piece of content.
This article focuses on E-E-A-T because, as of September 2023, E-E-A-T is still the dominant approach in SEO.
In the coming years, Kalicube's broader business and user-focused concept of N-E-E-A-T-T will gain popularity. You can read an explanation of N-E-E-A-T-T in more detail here.
Conclusion about Building and Demonstrating E-E-A-T
We don't know the precise signals feeding into the factors that Google is evaluating for E-E-A-T.
There is no single E-E-A-T algorithm that we can focus on – according to Gary Ilyes of Google…
"EAT is made up of many many algorithms, baby algorithms, that are made up of the Google core algorithm."

Gary Ilyes
It may feel like we are in the dark. But if we consider what Google is trying to achieve, then the lack of precise understanding of how this works becomes less critical, and building and demonstrating E-E-A-T becomes a more "human" task.
Google Search aims to get the user the best solution to their problem as efficiently as possible. In that statement, we can see that "best" means the most accurate and helpful content that provides the solution, ideally coming from the most credible source (website owner and author).
Why does credibility matter? When Google places a piece of content at (or near) the top of the search results, it puts its reputation on the line. Its users judge Google on its ability to recommend the best content. So, the quality of the content it recommends and the credibility of the providers is vital to Google's success today and in the future.
So, for Experience, Expertise, authority, and Trustworthiness, think "credibility." For E-E-A-T (and indeed N-E-E-A-T-T) factors, think of "credibility signals."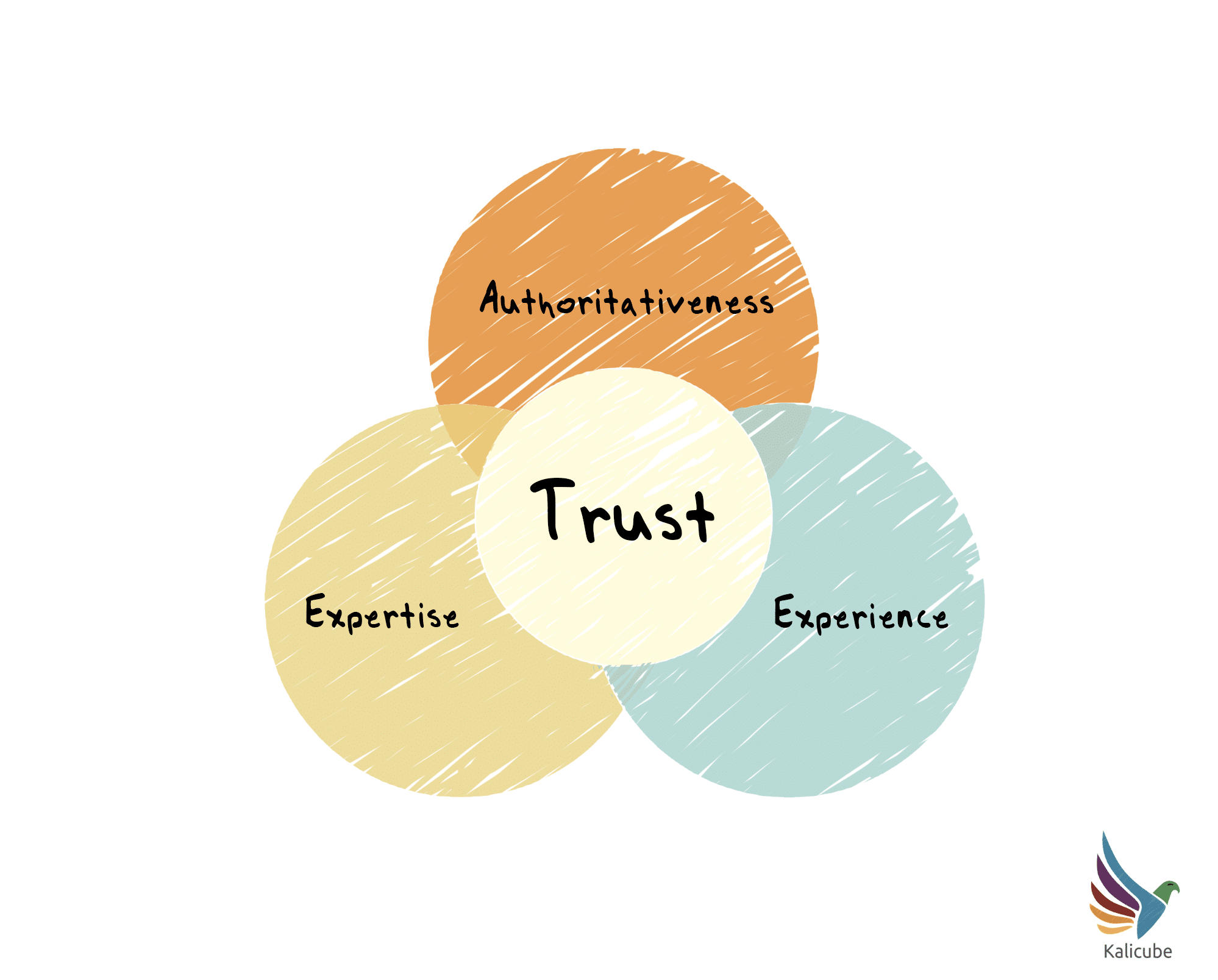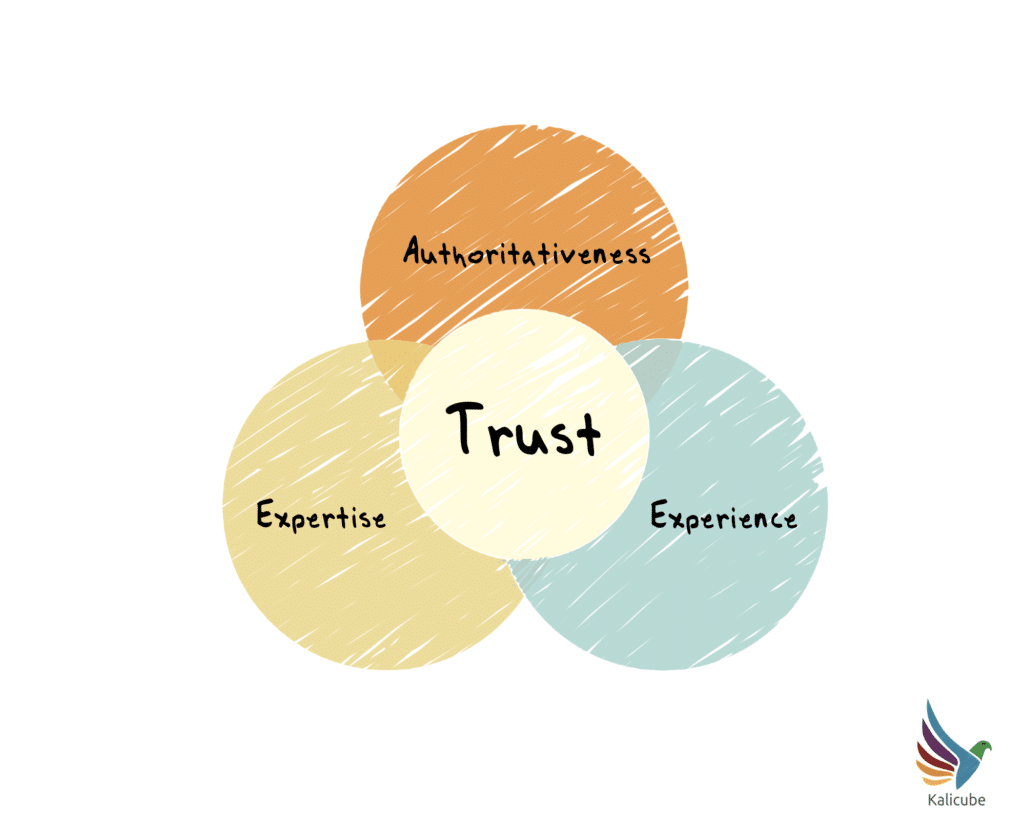 E-E-A-T is intangible. The algorithms evaluate E-E-A-T using multiple, separate "baby" machine learning algorithms that are built into the overall ranking algorithms. Dissecting these algorithms is an impossible task. The best approach is to focus on providing proof of your Experience, Expertise, authoritativeness, and Trustworthiness to your audience understandably and believably and then using SEO techniques such as Schema Markup, Semantic HTML5, site structure (and many more) to "package" that presentation so that it is easy for Google to find, digest and understand.
This article's 60 tips, techniques and strategies focus on work and presentation that will convince the human user. Convincing the user is your number 1 priority. Start by focusing on your audience and less on gaming Google. Build your strategy around your audience while ensuring SEO is baked into your work so that Google gets the message loud and clear too.
Double-guessing the Machine Learning behind E-E-A-T is unrealistic, so this list is far from exhaustive. The 60 tips, tricks, and strategies shared in this article are designed to provide a starting point that will help in most situations and a basis that sparks discussion with your marketing and sales teams to find the strategies that will work for you.
By implementing some or all of these strategies, you are more likely to elevate your online authority and trustworthiness, enhancing your Google rankings and, in turn, your brand visibility.
Remember, every brand and industry is unique, and what works for one might not necessarily work for another. Therefore, adopting a flexible and tailored approach to your E-E-A-T (N-E-A-T) optimization is essential.
With Kalicube Pro, we provide a solution that encapsulates this tailored approach to help you effectively navigate the road to stronger E-E-A-T (and N-E-E-A-T-T) for humans and for machines. It's an ever-evolving journey that entails continuous learning, testing, and refining strategies.
If you're ready to boost your E-E-A-T or N-E-E-A-T using Kalicube, book a call with Jason Barnard and get started today.