E-E-A-T in SEO: A simple explanation
What is E-E-A-T?
E-E-A-T is a concept introduced by Google as a way to assess the quality and credibility of a website. It is based on the idea that certain websites and pages should rank higher in search results because they are more trustworthy and have more experience, expertise and authority on a given subject.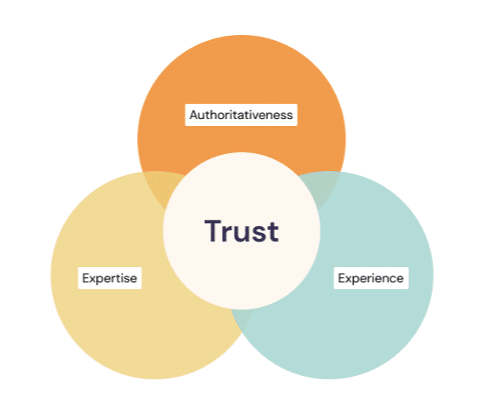 E-E-A-T is defined by Google Engineers. A team of independent, human quality raters assess how effective the algorithms work. These Quality Raters (called Human Evaluators at Bing) are trained to evaluate the credibility and expertise of the websites that are at the top of the search results based on a set of guidelines. These guidelines include things like the author's credentials, publisher reputation, and content quality. Their rating is then used by Google Engineers to improve the algorithms.
Important:
Google Quality raters have NO direct influence on algorithms or rankings. Their work takes place in a test environment that has no direct influence on search results.
In this article for beginners, you'll learn what E-E-A-T is in Google, why it is an important concept and how you can improve your E-E-A-T.
You'll find a more advanced article here: E-E-A-T for Entity SEO >>
Why is E-E-A-T Important?
Improving your E-E-A-T can have a significant impact on your search engine rankings. Google has stated that E-E-A-T is a key factor in determining the quality of a piece of content and that high-quality content is more likely to rank well in search results. It is important to note that E-E-A-T in Google's search results is evaluated purely algorithmically.
In addition, strong E-E-A-T signals can also help build trust with your audience. If your website is seen as the authority in your industry, people are more likely to trust the information you provide and are more likely to purchase your products or services.
How Can You Improve Your E-E-A-T?
There are several ways you can improve your E-E-A-T (Experience, Expertise, Authoritativeness, Trustworthiness):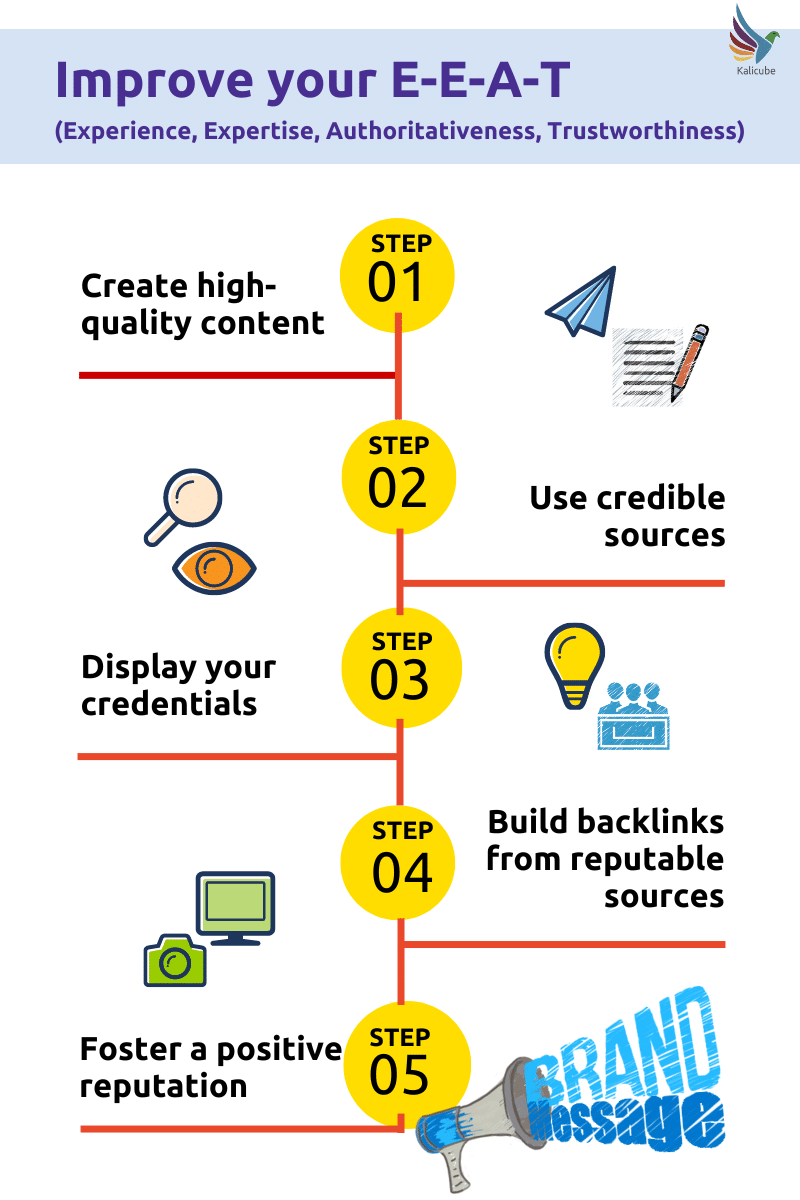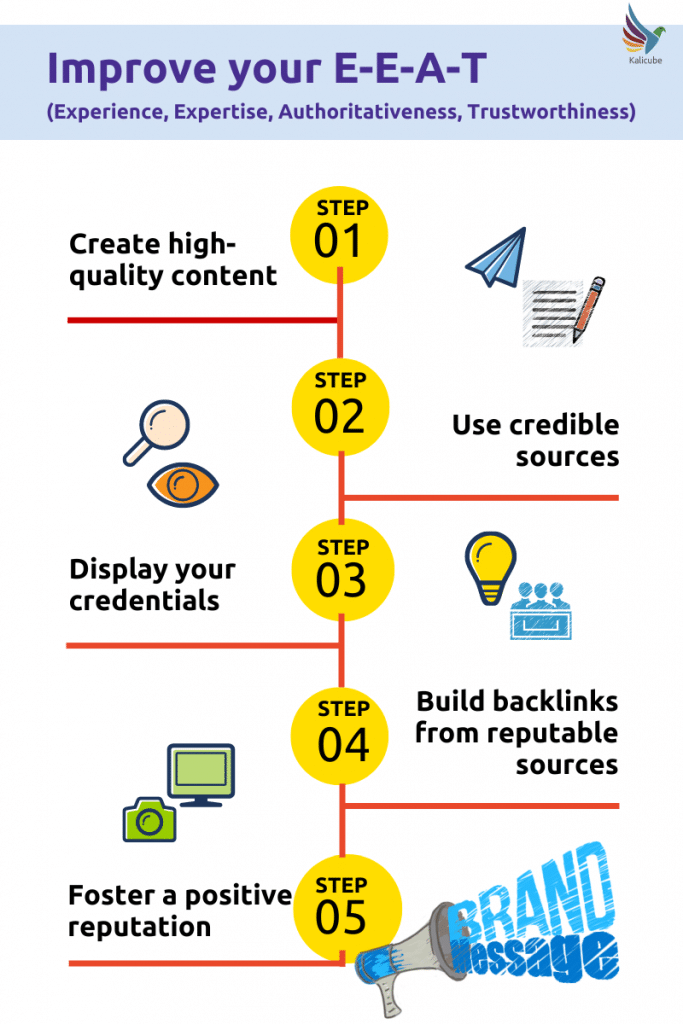 Create high-quality content: The content on your website should be well-researched, well-written, and informative. It should add value to your audience and address their needs or questions.
Use credible sources: When quoting information from other sources, make sure they are reputable and trustworthy. This way you can demonstrate your expertise and show that you did not just make it all up.
Display your credentials: If you or your team have relevant credentials or qualifications, be sure to include them on your website. This can help demonstrate your expertise and credibility.
Build backlinks from reputable sources: Google uses backlinks to evaluate the authority and trustworthiness of a website. Getting backlinks from reputable websites in your industry can improve your E-E-A-T.
Foster a positive reputation: Building a positive reputation can take time, but is well worth the effort. This includes getting positive reviews, interacting with your audience (and peers), and being active on social media.
E-E-A-T in Action
Here is a short explanation showing how E-E-A-T works in the context of SEO.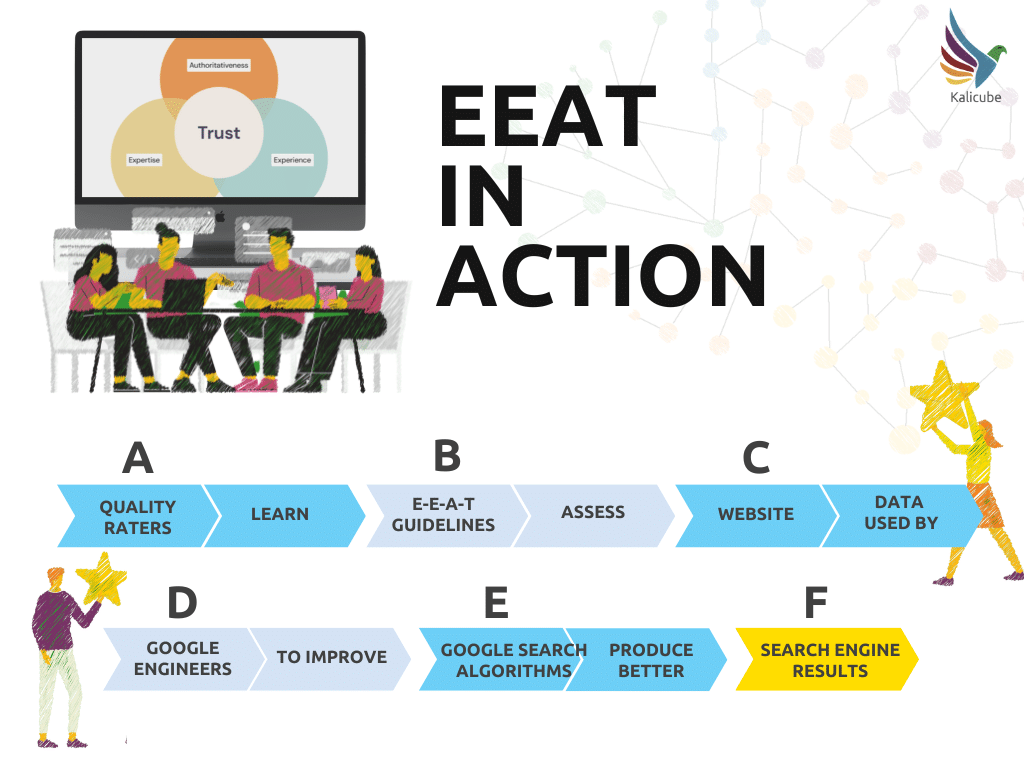 In a test environment (never live in search results), the Quality Raters use Google's guidelines to evaluate a site's credibility and expertise in the context of a particular search result. This rating is then used by Google Engineers to improve search algorithms to rank similar websites in search engine results.
Importantly, the feedback provided by Google's Quality Raters has no direct influence over search results: Their work is offline and their feedback is used by Google Engineers to improve the algorithms.
Conclusion
E-E-A-T is an important factor to consider when optimizing your website for search engines. Good practices for E-E-A-T include creating high-quality content, using credible sources and displaying your credentials clearly on your website.
Now that you understand the importance of E-E-A-T, please read our in-depth look at E-E-A-T in Entity SEO.