Elevating Online Visibility – "Austine Esezobor"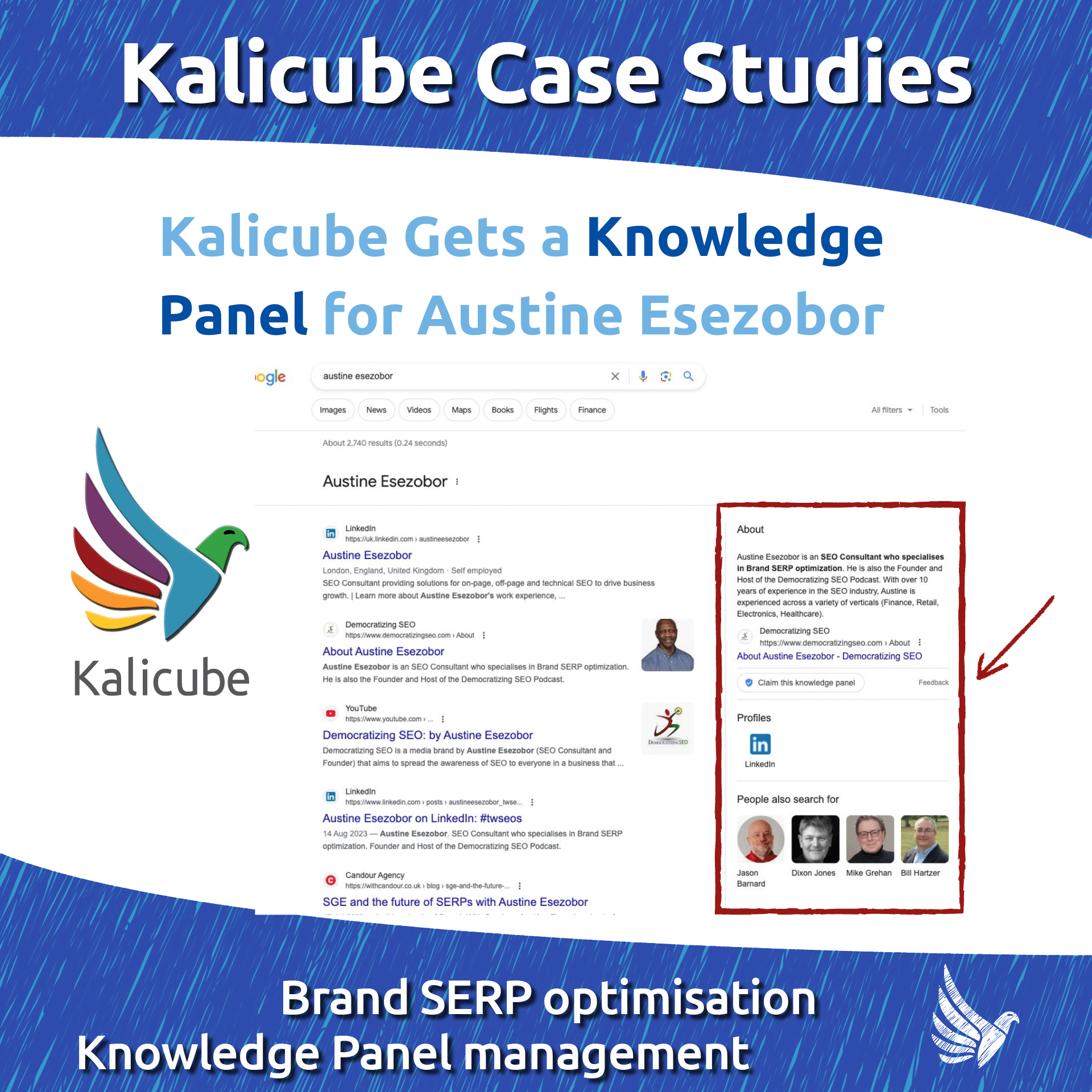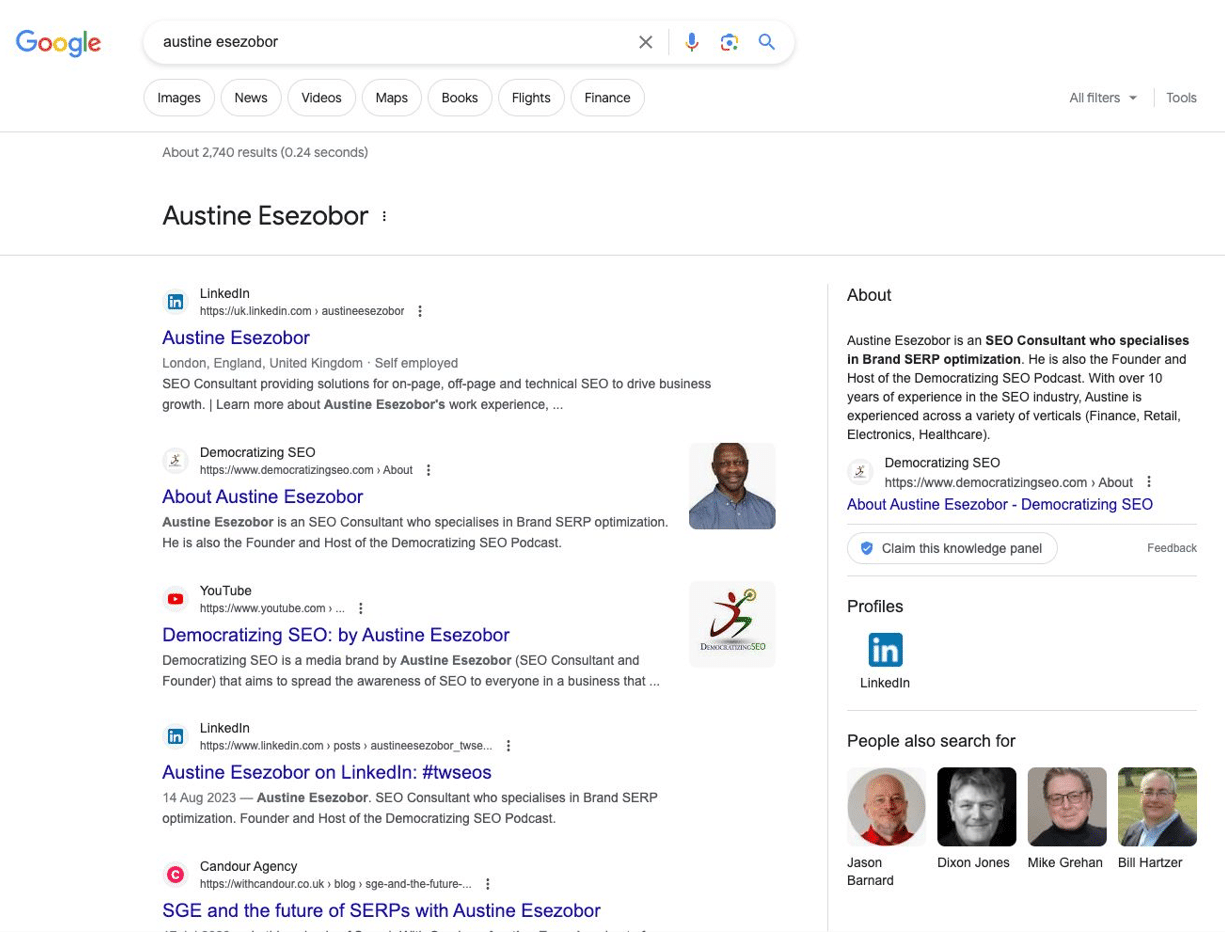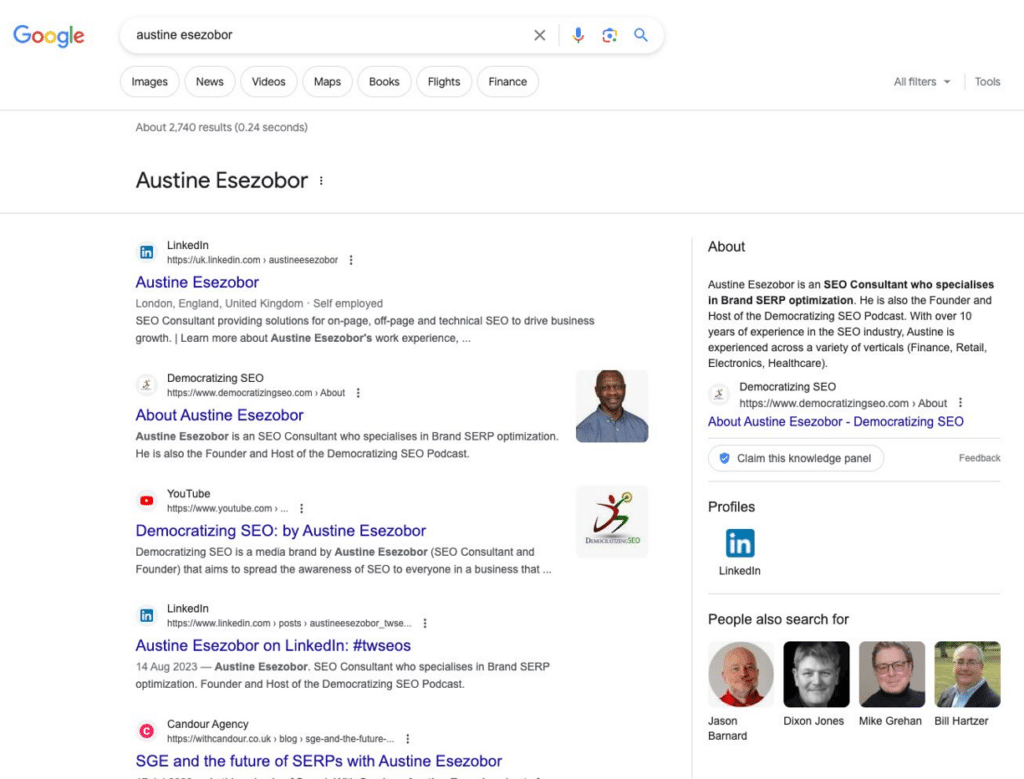 Challenge
Austine Esezobor is a digital marketer and an SEO consultant. His journey began with a challenge that many can relate to – a name that is not easy to find online. Although Austine's name is unique and meaningful, its uniqueness made it difficult for potential clients to find his online presence. When he sought to share his expertise and achieve a Knowledge Panel, Kalicube was there to support him every step of the way.
What Kalicube Did
Austine Esezobor's journey to optimizing his Knowledge Panel and elevating his online presence was made possible by the invaluable guidance and expertise provided by Kalicube. As the principal instigator behind this remarkable achievement, Kalicube played a huge role in Austine's success story.
Kalicube empowered Austine with the requisite skills for personal branding, SEO, and content optimization. With over a decade of experience and a track record of enabling 1 billion knowledge panels, Kalicube stands as the ultimate authority in the field making them the go-to source for elevating online presence.
Results Achieved
Austine's unique name was once hard to find online, but now stands out. With our collaborative efforts, we unlocked the full potential of his identity, making it a guiding light for those seeking his services. The outcome was a harrmonious fusion of his expertise and Kalicube's digital prowess, culminating in an online presence that not only showcases his skills but also ensures they are easily accessible to anyone in need.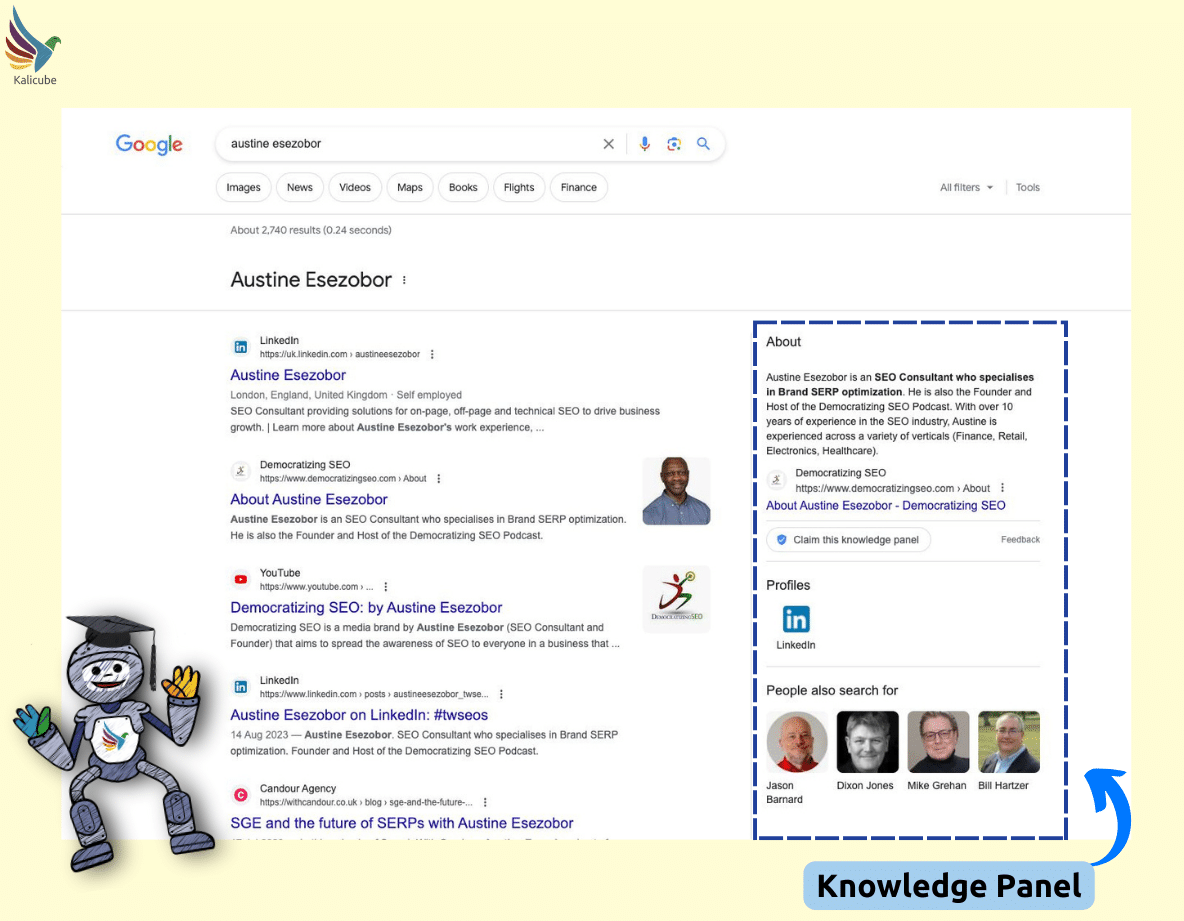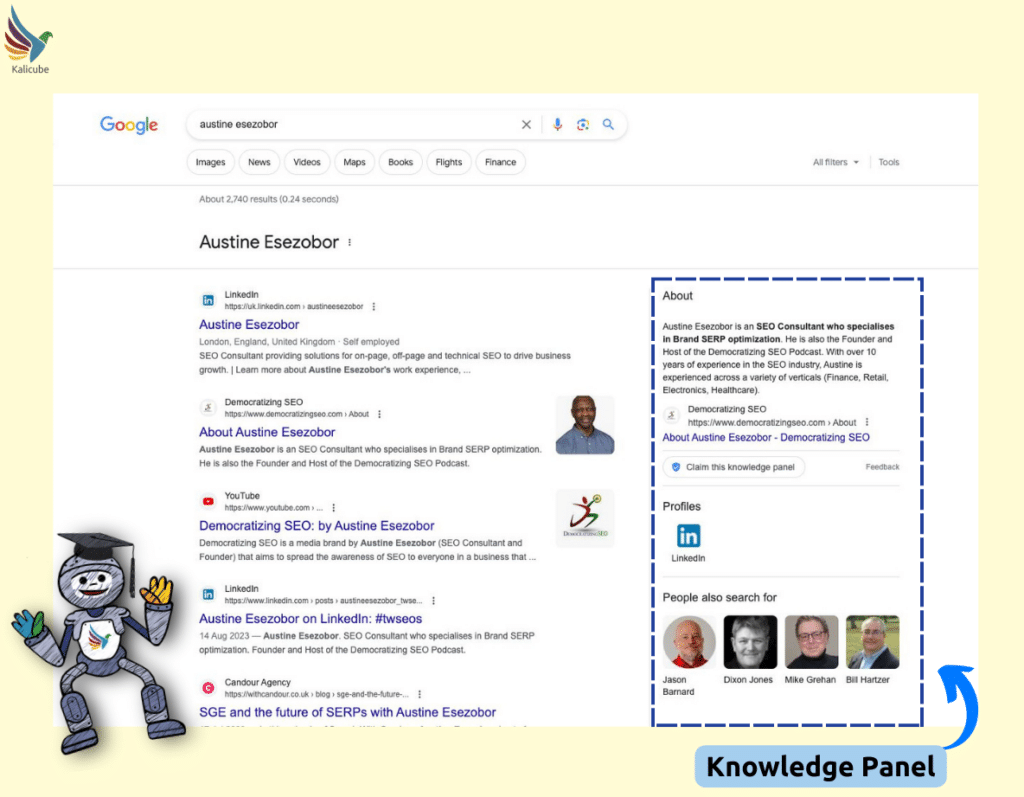 By following Kalicube's courses, Austine not only enriched his expertise but also enhanced his reputation and authority as a digital marketer and SEO consultant. Kalicube is proud to have been a part of Austine's journey to digital recognition and expertise.
The Kalicube Process is a three-pillar digital marketing strategy that allows businesses to optimize their visibility, message, and acquisition funnel across their entire digital ecosystem. The strategy is refreshingly simple: grounded in brand, marketing, and future-proof SEO. Use the Kalicube Process:
Craft the ideal digital marketing strategy so your business stands where your audience hangs out online.
Educate Google so it knows, likes, and trusts you and rewards you with a Knowledge Panel and a glowing Brand SERP
Recommends you as the best solution in the traditional and AI search results.
Kalicube Pro (Kalicube's proprietary SaaS platform) automates the Kalicube Process, so crafting a bespoke digital marketing strategy that includes Knowledge Panels and positive Brand SERPs for any person or business is as simple as pushing a button. Using data sourced from Google dating from 2015 (and growing), Kalicube Pro contains over 10 million Knowledge Panels, tracks 7.3 million kgid, over 1 billion data points and tracks over 100,000 entities and dozens of countries. Kalicube Pro knows which sources Google trusts to corroborate business information online – and there are over 40,000.
Read more about the Kalicube Process here >>
Read more about what the Kalicube Process can deliver for your business >>
Social Proof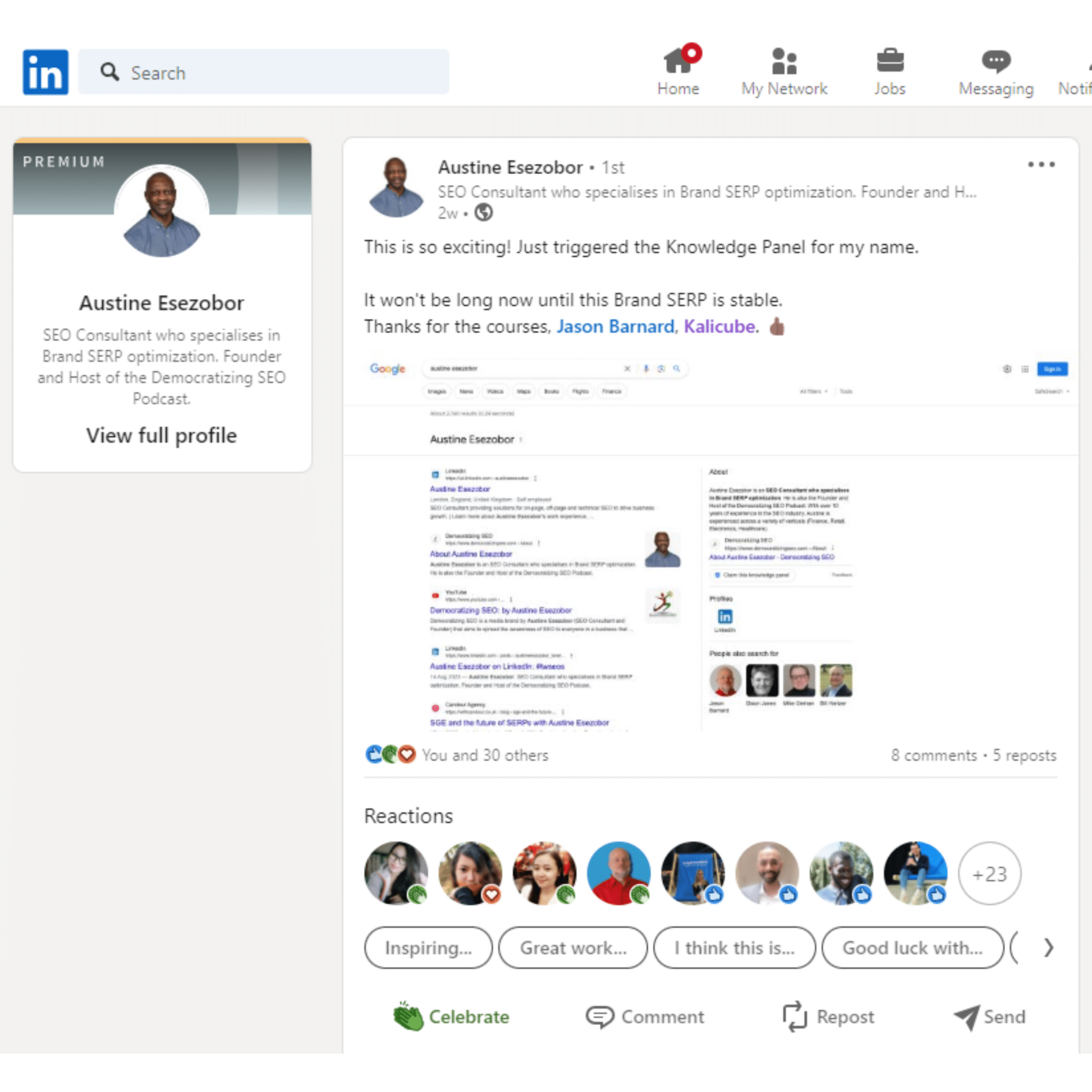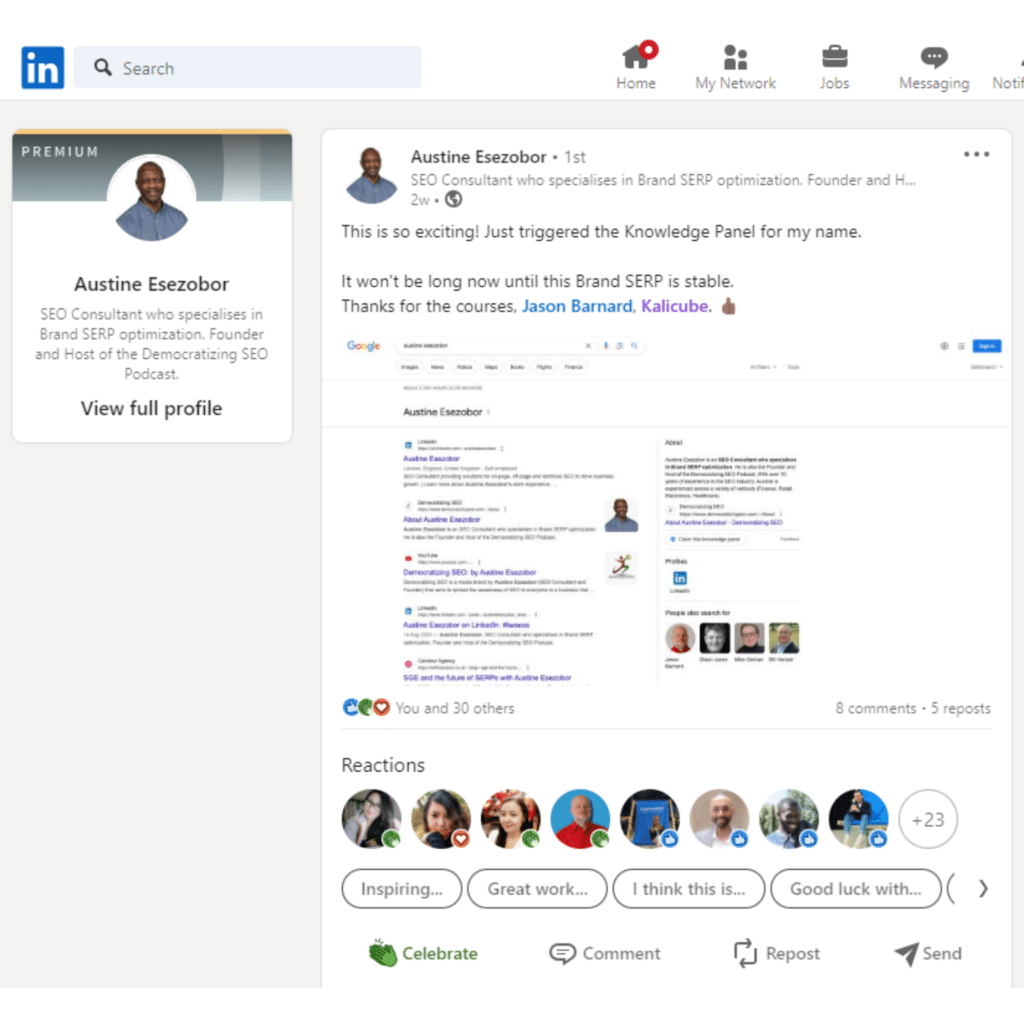 https://www.linkedin.com/posts/austineesezobor_this-is-so-exciting-just-triggered-the-knowledge-activity-7099700334024871937-ccwC/?utm_source=share&utm_medium=member_desktop
Kalicube Workflow
Course Guidance
Kalicube provided Austine with access to a series of comprehensive courses that delved deep into the intricacies of digital marketing and
Knowledge Panel Facilitation
As Austine diligently followed and completed the courses, he became well-versed in the art of digital marketing and SEO. Kalicube played a crucial role in ensuring that Austine's achievements and expertise, acquired through the courses, were recognized and acknowledged by search engines, leading to the creation of a Knowledge Panel for him.
SEO Optimization
Kalicube leveraged its SEO expertise to optimize the online content related to the courses Austine followed. This optimization not only highlighted Austine's expertise but also enhanced his overall online presence.
Promotion and Outreach
Kalicube supported Austine in promoting his newfound knowledge and expertise, attracting a wider audience interested in digital marketing and SEO. This outreach contributed to Austine's growing credibility and recognition.
Kalicube Pro is the only tool that gives business leaders the intel on what's happening with Google's Knowledge Graph and how their digital marketing strategy should respond in order to stay ahead of the competition.
Next Steps
But, the journey doesn't end there.
The next exciting step is ensuring the stability of your Brand SERP (Search Engine Results Page).
Remember: Keeping your Brand SERP stable is essential for maintaining a consistent online reputation, personal branding, and SEO success. It ensures a strong, positive, and uniform online presence, which influences how users perceive your brand and contributes to its success.
Kalicube recommends a "Done With You Service" to implement a future-proof digital strategy. Kalicube Pro (our proprietary software for brand/entity optimization) has been collecting Google data for more than eight years and counting. Kalicube Pro contains over 10 million Knowledge Panels, tracks 7.3 million KGIDs, over 1 BILLION data points and tracks over 100,000 entities and dozens of countries. Kalicube Pro knows which sources Google trusts to corroborate business information online – and there are over 40,000. Trusted by leading digital marketers, online reputation managers and SEOs, Kalicube Pro empowers business leaders and agency owners to future-proof their digital brand strategy because when Google knows, likes and trusts you, it prioritizes you in the search results.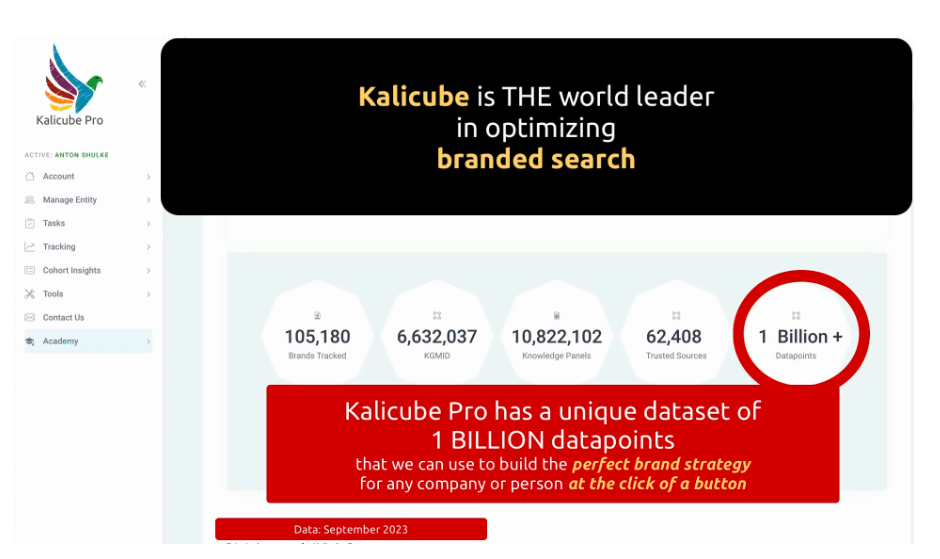 Your Options for Implementing the Kalicube Process
To implement the Kalicube Process, choose one of the three options below.
1. Do it yourself. Access our free learning resources, join the Kalicube Academy, or read "The Fundamentals of Brand SERPs for Business" book for everything you need to optimize your brand for your audience and the search engines.
2. Book a Done With You Service. The team at Kalicube Pro works with you to implement the Kalicube Process for your business – working within your existing resources and priorities and saving you valuable time. We can start building and implementing your digital marketing strategy year-round.
3. For Agencies. Enhance your offerings and stay relevant in the new AI world by subscribing to our cloud-based AI-powered Kalicube Pro SaaS solution. Your agency can offer effective and profitable comprehensive brand digital marketing services with SEO baked in. Want to learn more about how Kalicube Pro can boost revenue and your client base?
Download the "Get 6 Easy-To-Sell Services and Lucrative Margins with Kalicube Pro".
If you're ready to take your online presence to the next level, consider the Done-for-You services offered by Kalicube. Whether it's securing your Brand SERP, activating your Knowledge Panel, or managing your online reputation, Kalicube has the expertise to help you achieve exceptional results.
Start your journey today, and YOU too could be celebrating the success of your very own Knowledge Panel!
Please contact us at here now to get started.