Top Stories in SEO: What You Need To Know
In this article, you will learn more about Top Stories (SERP Feature), their importance for SEO and how they contribute to Brand SERP Optimisation.
What are Top Stories in SEO?
Simple Definition of Top Stories (SERP Feature)
Top Stories feature a carousel of fresh articles and breaking news from various reputable websites on the Search Engine Results Page (SERP). They appear for any search query that is news-oriented and in the context of Brand SERPs (more about that later)appear for companies and brands that receive a lot of press attention or whose content is newsworthy.
Here is Google's definition of Top Stories and how they are selected to appear in the SERP.
What Do Top Stories Look Like?
Top Stories appear near the top of the SERP in neat, tidy blocks of the most relevant and recent news related to the user's search query. They are usually displayed in three to four blocks with a thumbnail (showing a visual representation of the content that captures users attention), a headline as a blue link, the time since publication beneath the headline (a great way to inform users how fresh the article is) and the source of the news. Clicking on the headline takes the user to the article.
Here is an example of Top Stories for the search query "digital marketing".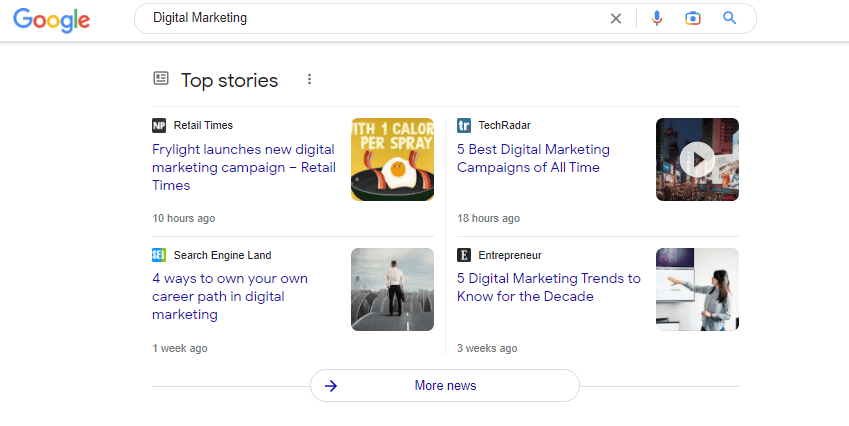 How Are Top Stories Ranked by Google?
As with other Rich Elements on the SERP, Google's complex algorithms determine which articles from the billions of pages in its search index are relevant to display for a given search query. Nevertheless, there are some recognised strategies which include publishing high-quality content, up to date news, being accepted as a Google News publisher, quality visuals… all in conjunction with the usual on-page SEO strategies.
In short, placement in Top Stories is highly competitive and is all about newsworthiness, recency, relevance and accuracy!
Here is a guide to optimising your content for Top Stories.
For big companies in particular, making it to Google's Top Stories spot is tremendously helpful for reputation and credibility. As a brand owner, you always want to give your audience the lasting impression that Google sees the authority of your brand among the hundreds of billions in its repository.
If you are a small brand, never lose hope! Google is dynamic and offers many opportunities for all. By familiarising yourself with optimisation techniques and strategies, you have the chance to keep your brand in the spotlight of Top Stories. Just remember to fill in consistency and high-quality contents in your webpages to get into the Top Stories Box.
Kalicube Solutions