Personal Rebranding and Name Change (Including Google Knowledge Panel) – "Olga Zarr"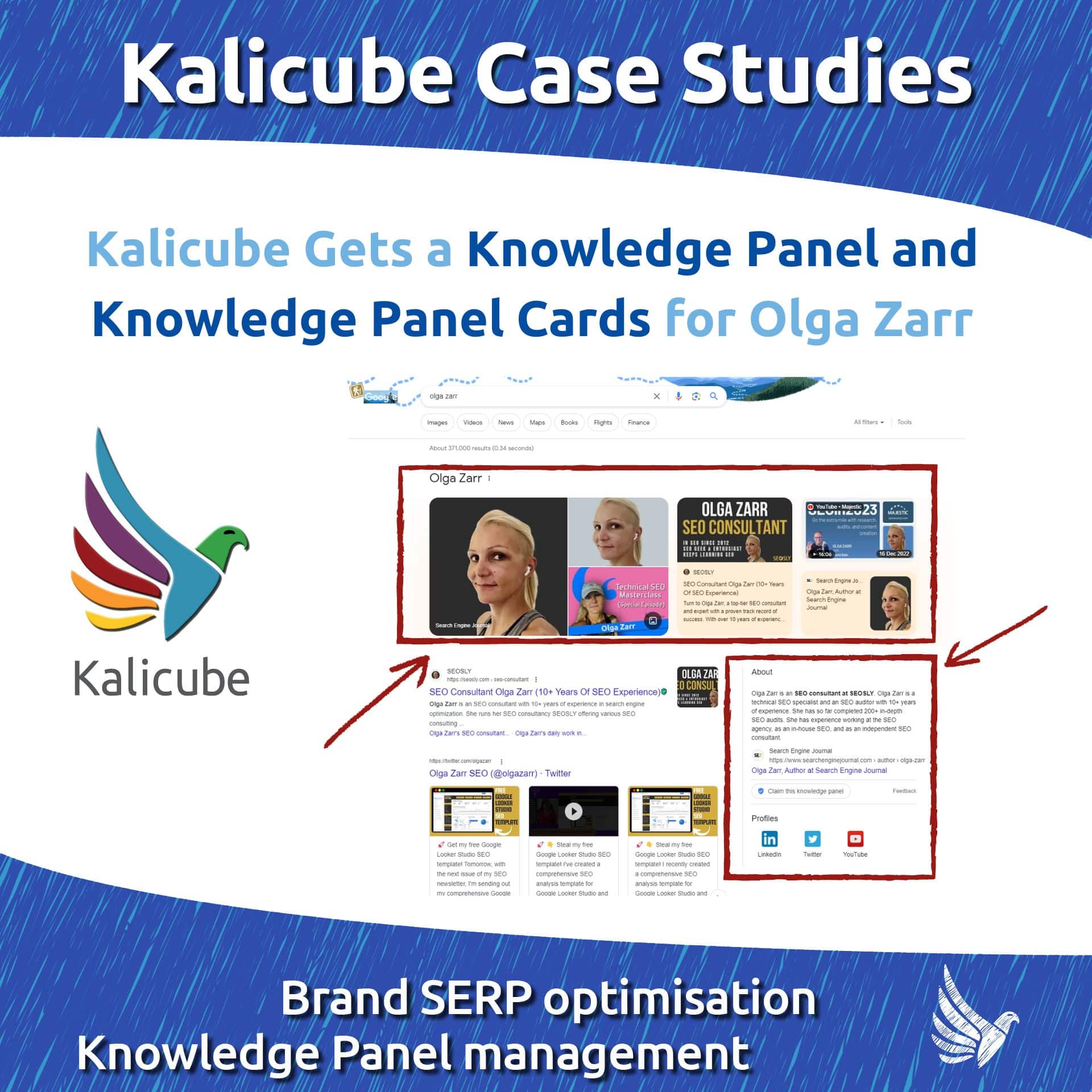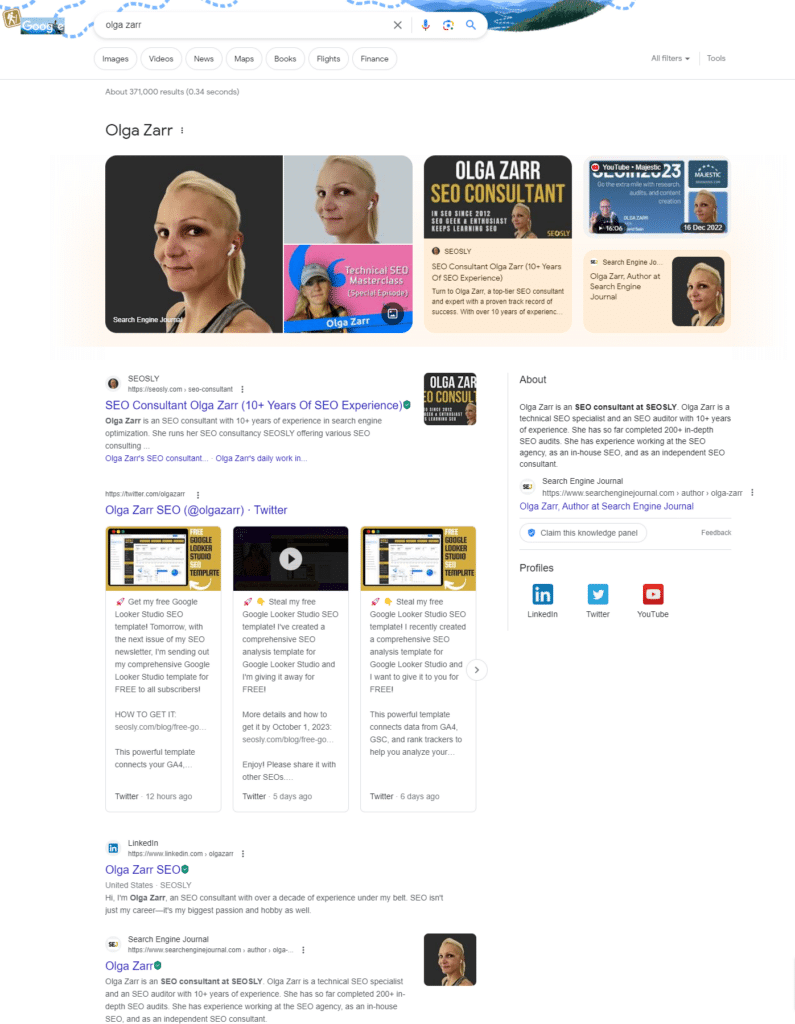 Challenge
Olga Zarr is a successful SEO consultant and writer on SEO strategy. Olga approached Kalicube to help her change her name and ensure the name change and personal rebranding protected her existing online brand equity. We were delighted to help.
What Kalicube Did
Kalicube helped Olga trigger a Knowledge Panel for her new personal brand, "Olga Zarr," and ensured the search engines understood the name change so all the SEO goodness and brand value Olga had built with her former name transferred to her new brand.
Pro Tip: One of the challenges with name changes or dual identities is Google gets confused and triggers duplicate Knowledge Panels, which fragments information about a business or person and confuses customers. The Kalicube Process ensures this doesn't happen because our deliberate data-focused approach educates Google so it understands the two names represent the same person. Google has verified Olga as a credible and verified digital brand.
Changing Olga's name took approximately six months; today, "Olga Zarr" is the name everyone knows her by. Through the Kalicube Process, Olga Zarr has expanded her online presence, retained the brand knowledge she built with her former name, and triggered and enriched a Knowledge Panel, which has helped her gain notability – and clients.
Results Achieved
Olga has an information-rich Knowledge Panel that demonstrates Google trusts her brand as a credible expert within the SEO and writing industry. Her clients can find her quickly; they have everything they need to contact and connect with Olga in one place.
Since triggering and enriching her Knowledge Panel, Olga has secured more clients, received more inquiries, and elevated her standing as an SEO and writer about SEO.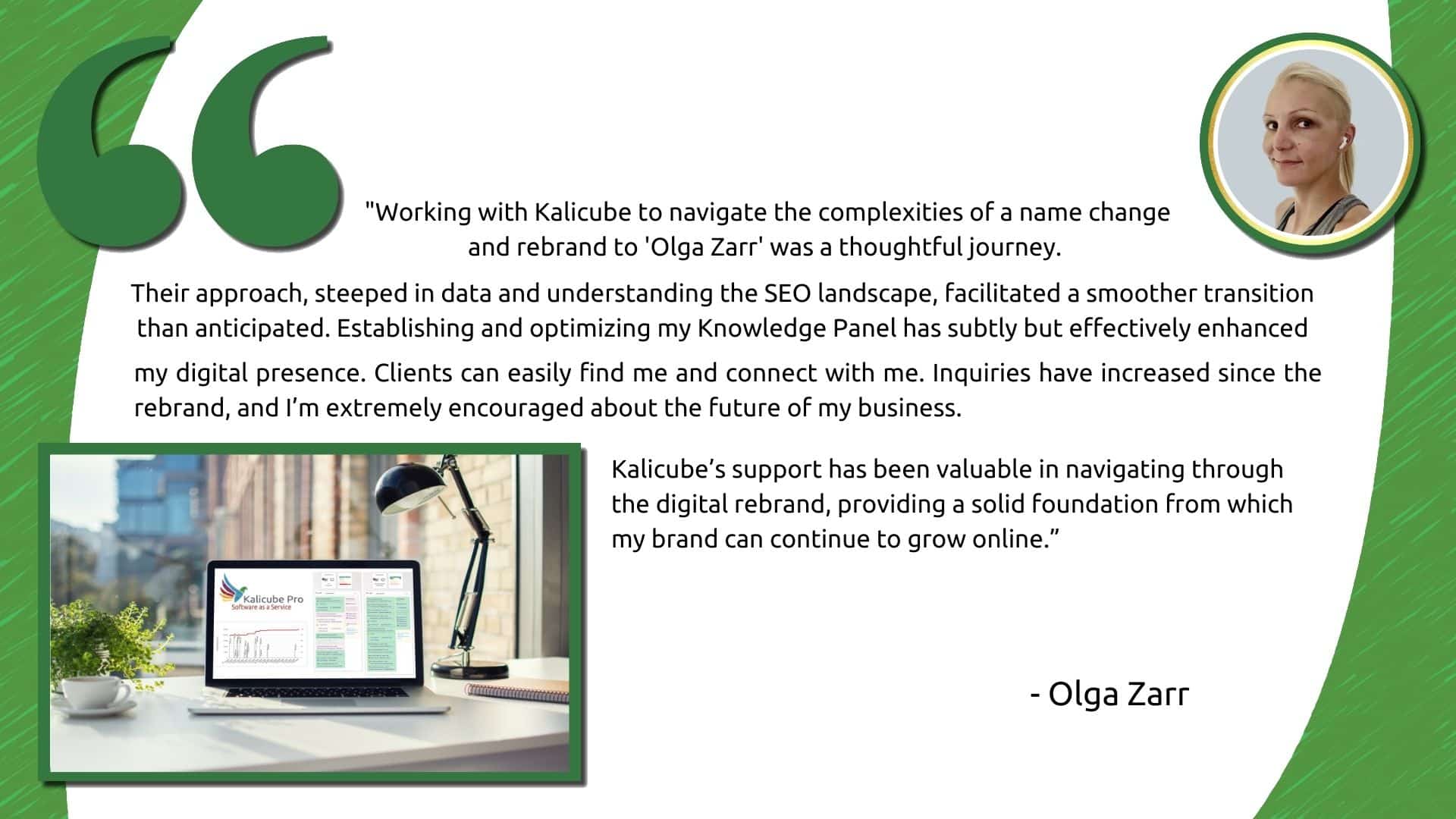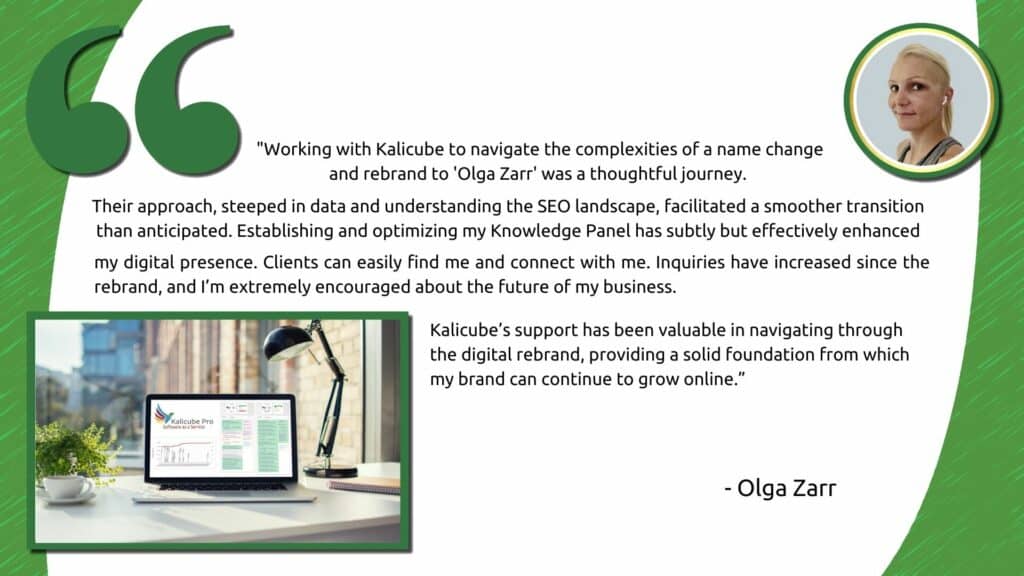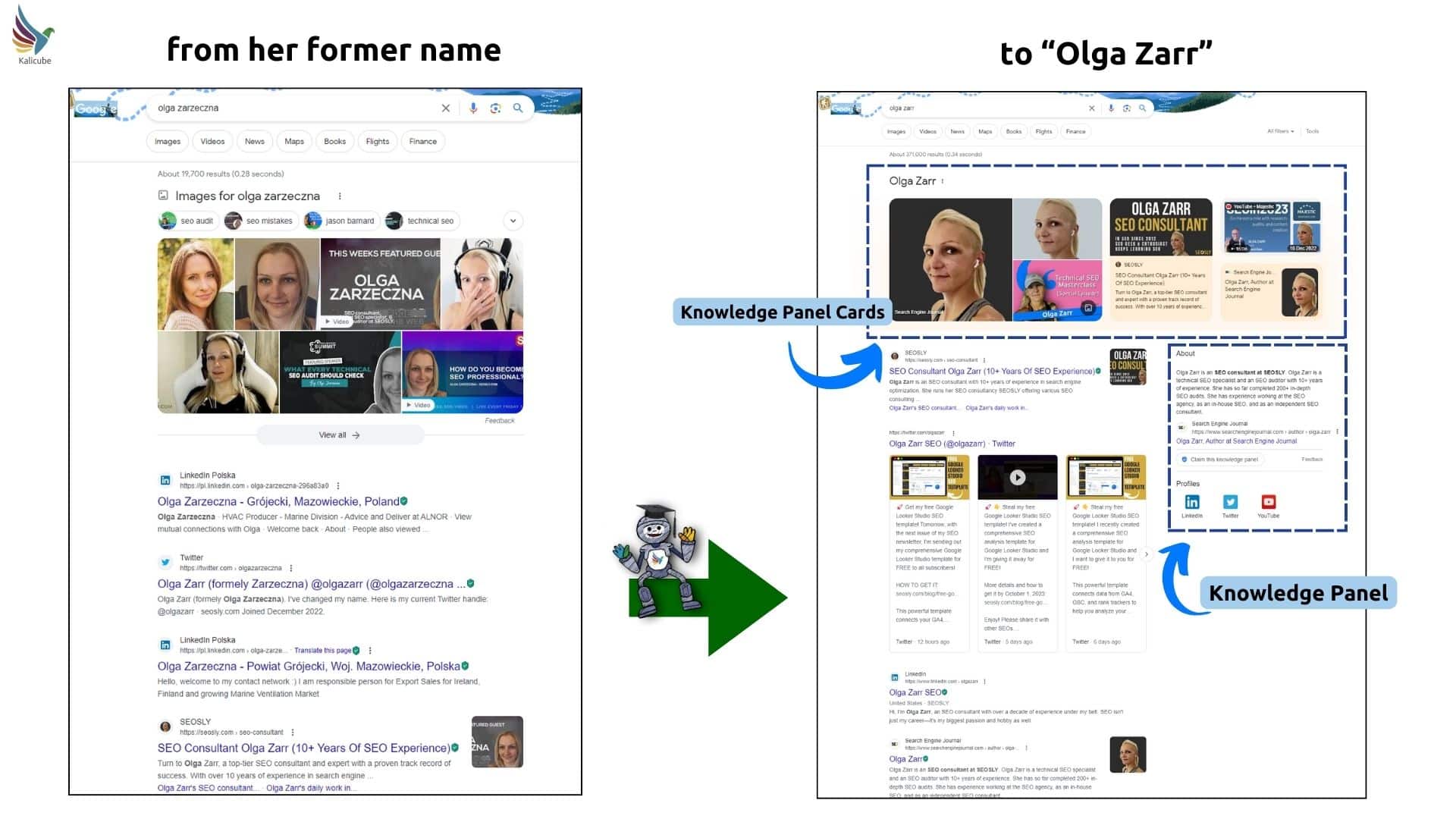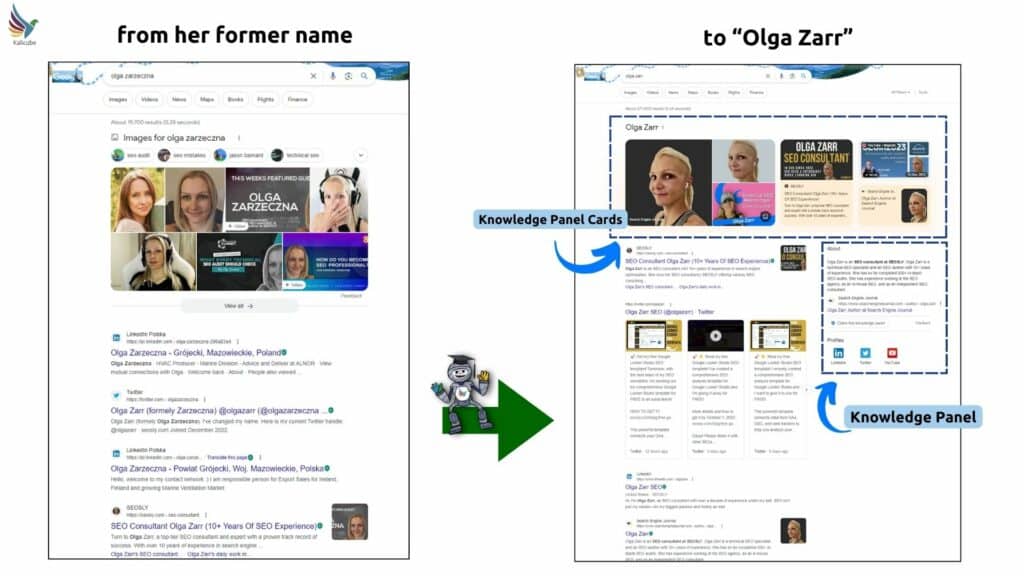 The Kalicube Process is a three-pillar digital marketing strategy that allows businesses to optimize their visibility, message, and acquisition funnel across their entire digital ecosystem. The strategy is refreshingly simple: grounded in brand, marketing, and future-proof SEO. Use the Kalicube Process:
Craft the ideal digital marketing strategy so your business stands where your audience hangs out online.
Educate Google so it knows, likes, and trusts you and rewards you with a Knowledge Panel and a glowing Brand SERP
Recommends you as the best solution in the traditional and AI search results.
Kalicube Pro (Kalicube's proprietary SaaS platform) automates the Kalicube Process, so crafting a bespoke digital marketing strategy that includes Knowledge Panels and positive Brand SERPs for any person or business is as simple as pushing a button. Using data sourced from Google dating from 2015 (and growing), Kalicube Pro contains over 10 million Knowledge Panels, tracks 7.3 million kgid, over 1 billion data points and tracks over 100,000 entities and dozens of countries. Kalicube Pro knows which sources Google trusts to corroborate business information online – and there are over 40,000.
Read more about the Kalicube Process here >>
Read more about what the Kalicube Process can deliver for your business >>
Social Proof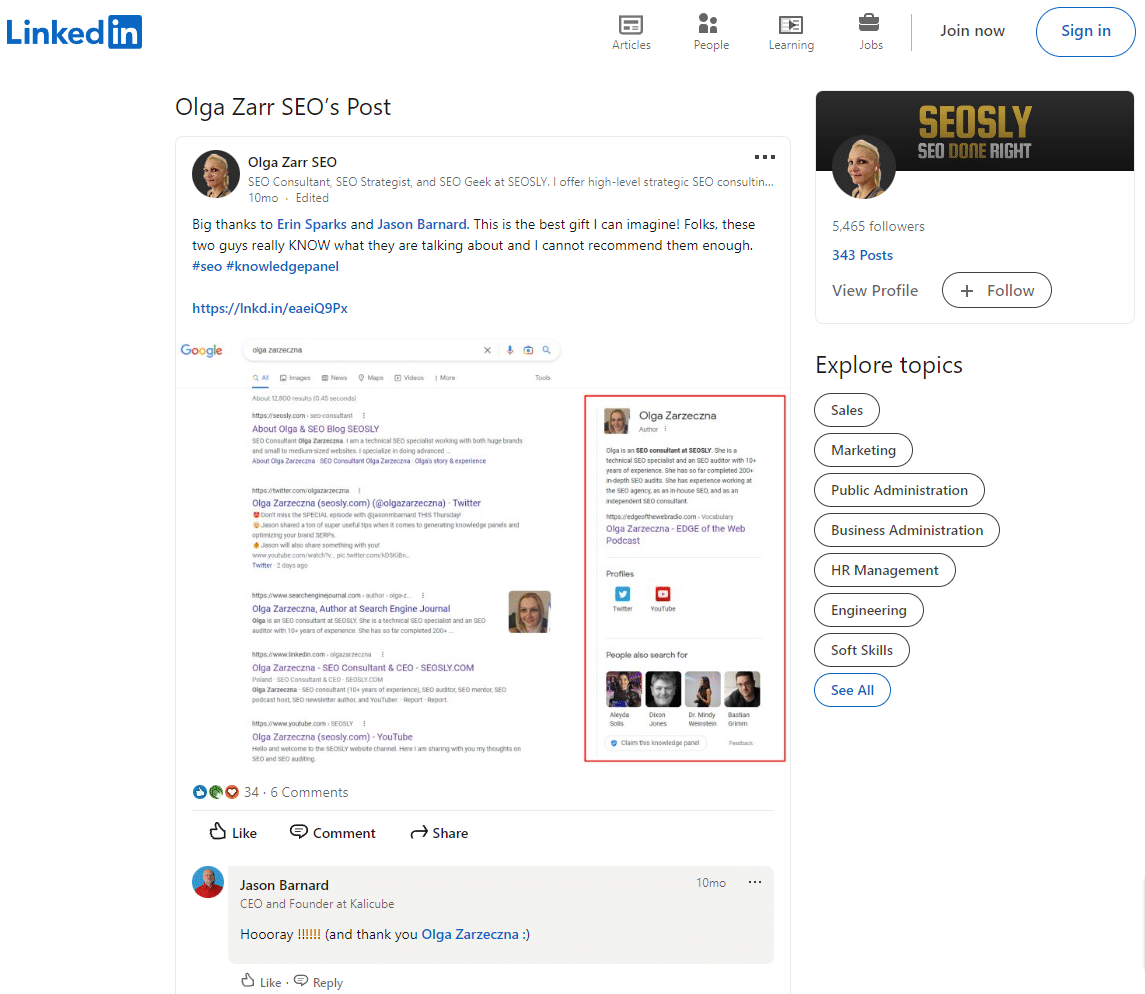 https://www.linkedin.com/posts/olgazarr_seo-knowledgepanel-activity-6999276071330193408-PkSF/
The Kalicube Workflow
Personal brand repositioning and changing a name in a Google Knowledge Panel involves a lot of tracking and statistics. Statistical analysis and monitoring is complex and time-consuming, but this transition is greatly simplified through processes like the Kalicube process and our cloud-based platform Kalicube Pro. Kalicube tracks these areas for the original name and lists and monitors the same areas for the new name.
Finding all references to (and tracking) the original name
Kalicube Pro lists all URLs in which the original name appears. The URLs include title tags, meta descriptions, schema markup, headings and content. Kalicube checks social media profiles, mentions on other websites, review sites, and multimedia content such as videos or podcasts. Leaving the original name in a prominent place will confuse the machine and your audience.
Updating to the new name
With a prioritized list of places where the original name appears, we can update them all in order of importance. Kalicube recommends updating all references on a single day to ensure a smooth transition. Without automation, this is an impossible task. Tracking the new personal brand name at the same time is essential. Keeping track of both names simplifies the process, allows you to measure your progress, and ensures that you capture every single reference to yourself, both old and new, so that you can maintain absolute consistency with the new name.
Why Automation Makes a Personal Rebrand Simple
Automated tracking over time lets you understand where and how often your name appears online, which helps you better understand and manage your digital footprint. This makes a big difference when transitioning to a new personal brand identity. Careful management of your personal rebranding is essential to ensure you don't overlook areas that still carry the original brand name, which confuses the machine and your audience and negatively impacts your SEO performance.
Kalicube Pro automates the tracking of these elements. Personal brand and name changes are more efficient, effective and worry-free. Kalicube understands that changing a personal rebrand is a significant undertaking that involves updating visual elements and dozens (often hundreds) of online references.
Effective tracking and coordination is essential for a seamless transition from the original name to the new name. Manually compiling the list of resources to update takes 12 hours or more, and you will miss about 40%. The list is not prioritized, so you'll update in the wrong order and waste time on unimportant resources. You'll miss any new resources that pop up. Manual checking, tracking and reporting is simply impossible.
Next steps
To ensure Olga has a future-proof brand that seamlessly embeds her business in generative AI results, Kalicube recommends a "Done With You Service" to implement a future-proof digital strategy. Kalicube Pro (our proprietary software for brand/entity optimization) has been collecting Google data for more than eight years and counting. We have more than 1 billion data points from thousands of industries and more than a dozen countries. We use this data to create a future-proof digital marketing plan with timelines that Olga can implement with her Kalicube team. We know where Olga's customers and competitors are online, and can develop a laser-focused strategy tailored to Olga and her business. With a combination of branding and marketing, then packaged for SEO, Olga's brand will reap the benefits of being a credible, trustworthy, and Google-endorsed business – today and in the future.
Your Options for Implementing the Kalicube Process
To implement the Kalicube Process, choose one of the three options below.
1. Do it yourself. Access our free learning resources, join the Kalicube Academy, or read "The Fundamentals of Brand SERPs for Business" book for everything you need to optimize your brand for your audience and the search engines.
2. Book a Done With You Service. The team at Kalicube Pro works with you to implement the Kalicube Process for your business – working within your existing resources and priorities and saving you valuable time. We can start building and implementing your digital marketing strategy year-round.
3. For Agencies. Enhance your offerings and stay relevant in the new AI world by subscribing to our cloud-based AI-powered Kalicube Pro SaaS solution. Your agency can offer effective and profitable comprehensive brand digital marketing services with SEO baked in. Want to learn more about how Kalicube Pro can boost revenue and your client base?
Download the "Get 6 Easy-To-Sell Services and Lucrative Margins with Kalicube Pro".
Do you have a question? Please contact us at here.