What are Twitter Boxes in SEO?
Simple Definition of a Twitter Box (SERP Feature)
A Twitter Box is a carousel of snapshots of the most recent tweets from your brand's Twitter feed. It provides users with real-time information and the latest original tweets from your Twitter feed. It usually takes up two places in the SERP, which means that a SERP with Twitter Boxes will generally have fewer Bluelinks (which is great for Brand SERPs – see below). Twitter Boxes are a great way in building the reputation and credibility of a person or business.
What Does A Twitter Box Look Like?
Twitter Boxes display your latest Tweets, in a series of three blocks in the SERP (as shown below). It shows the text of your Tweet and an image if there is any kind of visual attached to the Tweet (images, videos and GIFs are a great way to give users a visual representation of your brand that captures their attention).
Here is an example of a Twitter Box when you search for a company like Kalicube.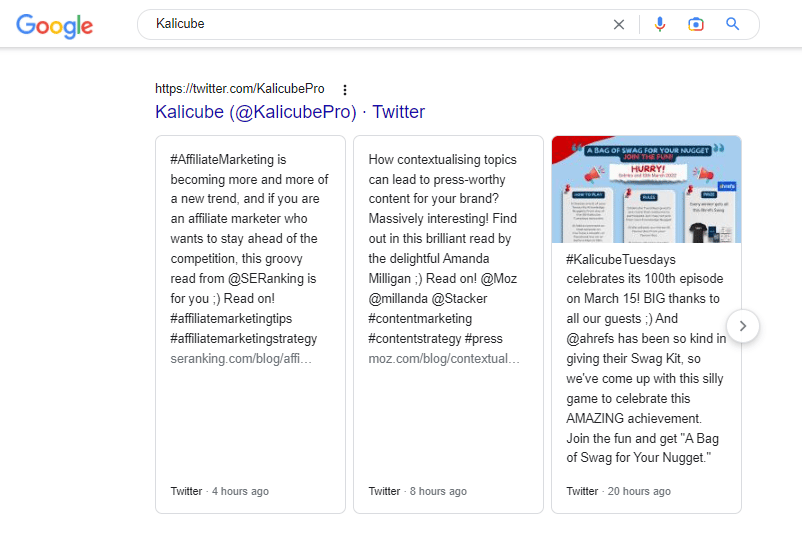 So How Do I Get A Twitter Box In Google SERP?
To trigger Twitter Boxes for our audience when they google our brand name (Kalicube) we spent a year tweeting every single day, and getting relevant people to engage with our Tweets. The regularity shows Google that the content in our Twitter Boxes will always be fresh and the engagement from relevant people on Twitter with our posts indicates that our audience will be interested in seeing these Twitter Boxes.
The good news is that Google does not give favouritism or any preferential treatment to Twitter Boxes in its SERP. The key is to give Google a signal of your strong Twitter presence, not by your thousand followers, but by consistently "tweeting" and proactively interacting with other users on the platform via the "Like" and "Retweet" buttons.
Here are some techniques that can help you get your brand Tweets on Google SERPs.
How do Twitter Boxes Fit Into Brand SERP Optimisation?
What is really interesting is that Twitter injects your Tweets directly to Google. So, whenever people search your brand name on Google, it shows a quick snapshot of your active Twitter feed. This supports the impression that you have a credible and impactful online presence, especially with users who share your interests. The wonders of active Twitter Boxes make your Brand SERP engaging and intelligent.
All of that makes them very powerful on Brand SERPs (the Google result your audience sees when they search your brand name).
Check out the lesson on Twitter Boxes to learn how you can trigger and maintain them in your Brand SERP at Kalicube Academy.