Entity Subtitle on Google: What You Need To Know
What is an Entity Subtitle?
An Entity Subtitle, in the context of Google Knowledge Panels, is the word that appears below the entity name (thing, person, place, company). It is representative of Google's understanding of what that entity is.
Google algorithms will determine your Entity Subtitle, but you can educate the algorithms through a clear and consistent statement in your biography. This biography lives on your Entity Home and is displayed everywhere you appear in the digital ecosystem.
Examples include "Author" for an individual like Jason Barnard or "Technology company" for a brand like Apple.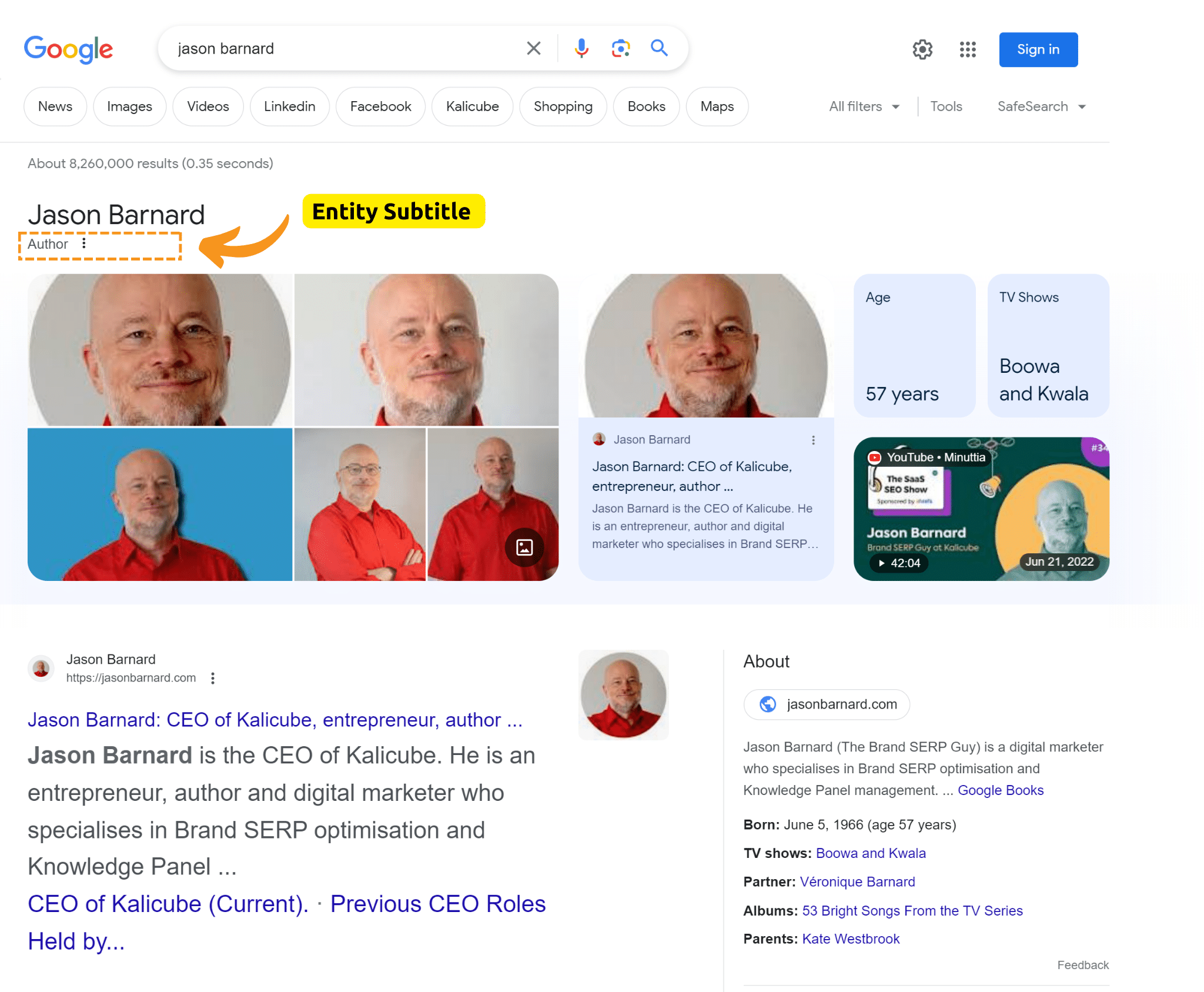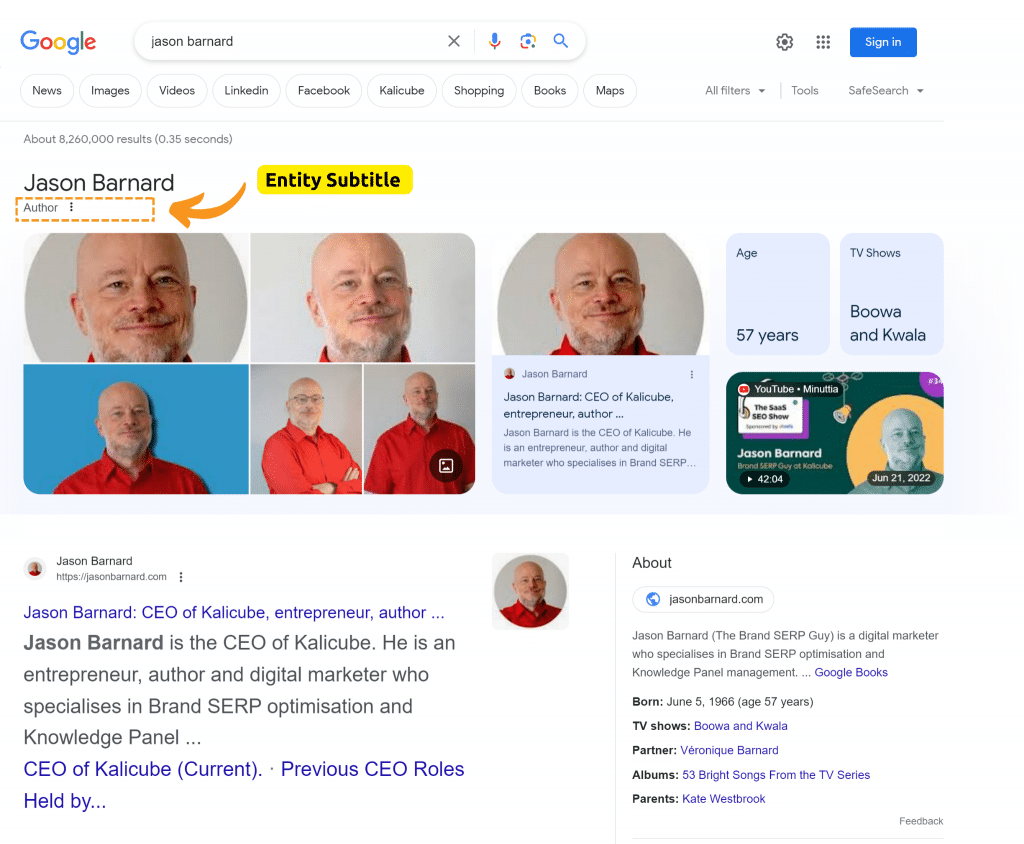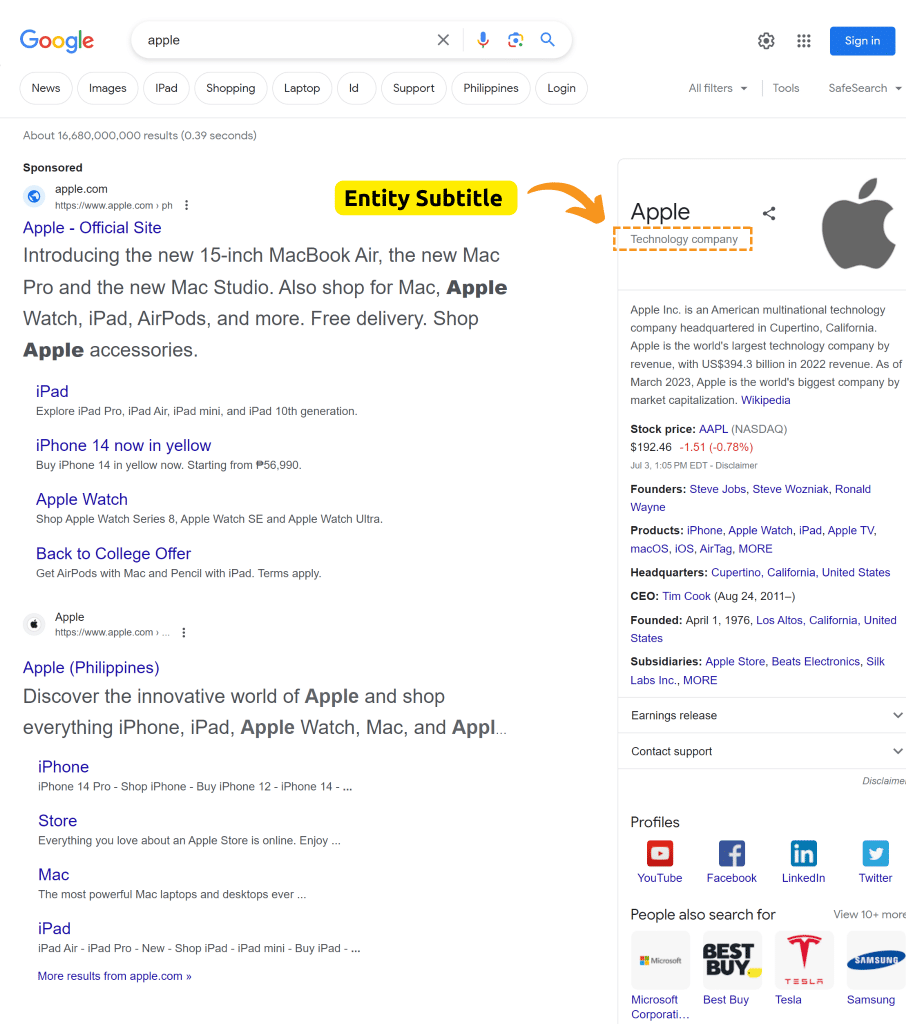 What is the Significance of the Entity Subtitle in Google's Knowledge Panel?
The Entity Subtitle is crucial as it helps Google and users quickly understand the entity.
This clear, concise summary, found under the entity name in the Google Knowledge Panel, provides information about what the company does.
The more relevant and accurate the Entity's Subtitle is, the better Google can categorise and position the entity in search results, which ultimately improves the entity's visibility.
In addition, the Entity Subtitle helps to present a consistent, authoritative digital presence, shape user perceptions, and influence engagement.
In many ways, it is the cornerstone of your entity identity in Google's "mind," as it directly impacts the audience for whom Google believes the entity can provide the most value.
The Entity Subtitle is vital for Search Engine Optimisation (SEO), Knowledge Panel Management and overall brand reputation.
How can the Optimal Entity Subtitle Improve My SEO and Overall Online Visibility?
An optimal Entity Subtitle significantly boosts your SEO and overall online visibility by helping Google understand and categorise your entity more accurately.
The subtitle influences Google's algorithms and the results returned in response to search queries relevant to your brand.
If Google clearly understands your entity through a well-composed, industry-specific Entity Subtitle, it can better position your brand in relevant search results.
For instance, if your entity is a digital marketing agency and your Entity Subtitle reads "Award-winning digital marketing agency," Google might consider your entity more relevant to users searching for award-winning digital solutions, improving your SEO presence.
In addition to SEO, the Entity Subtitle in the Google Knowledge Panel directly impacts your brand image in the public eye. This visibility can help increase user trust and engagement, leading to higher click-through rates and an effective online presence.
A unique and precise subtitle can differentiate your brand from competitors in SERPs and Knowledge Panel results, giving your entity a competitive edge.
How Often Should One Update the Entity Subtitle?
There is NO specific frequency for updating an Entity Subtitle.
Revise your Entity Subtitle when there are significant changes to the brand. Examples include changing professions or rebranding, or repositioning. Update the Entity Subtitle if the change could confuse Google's algorithms and its understanding of the entity. Updating the Entity Subtitle requires consistent changes across all your online profiles and mentions. This is an extensive task.
Regularly reviewing the consistency of information across all profiles and digital presences is a best practice for brands. Even if the Entity Subtitle doesn't change this helps to ensure that Google's algorithms understand the entity accurately.
Tips for Writing an Effective Entity Subtitle:
Keep it Short and Precise
Use Relevant Terms
Leverage Keywords
Be Consistent
Define your Unique Selling Proposition (USP)
Avoid Jargon
Conform to a Hierarchical Structure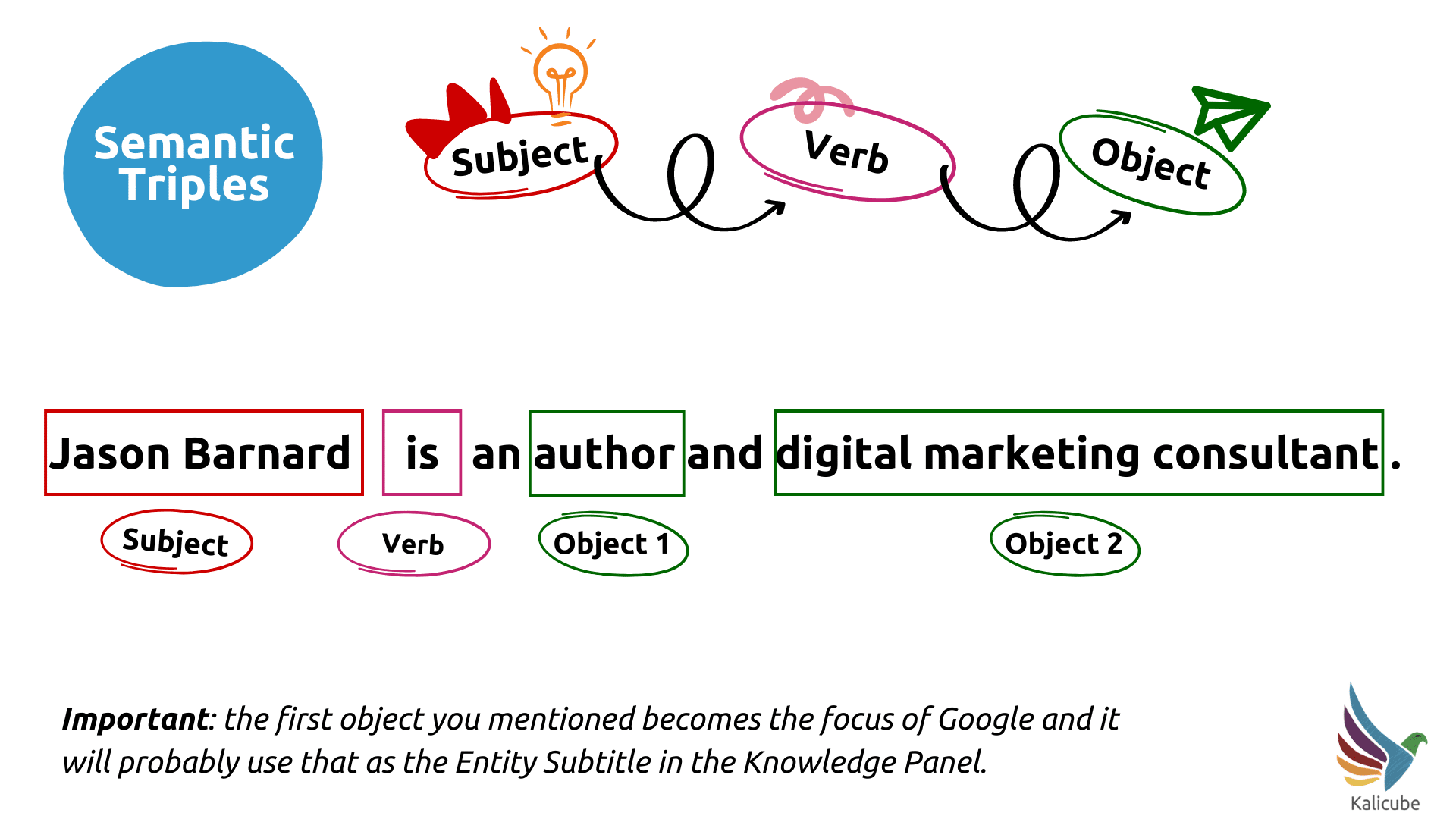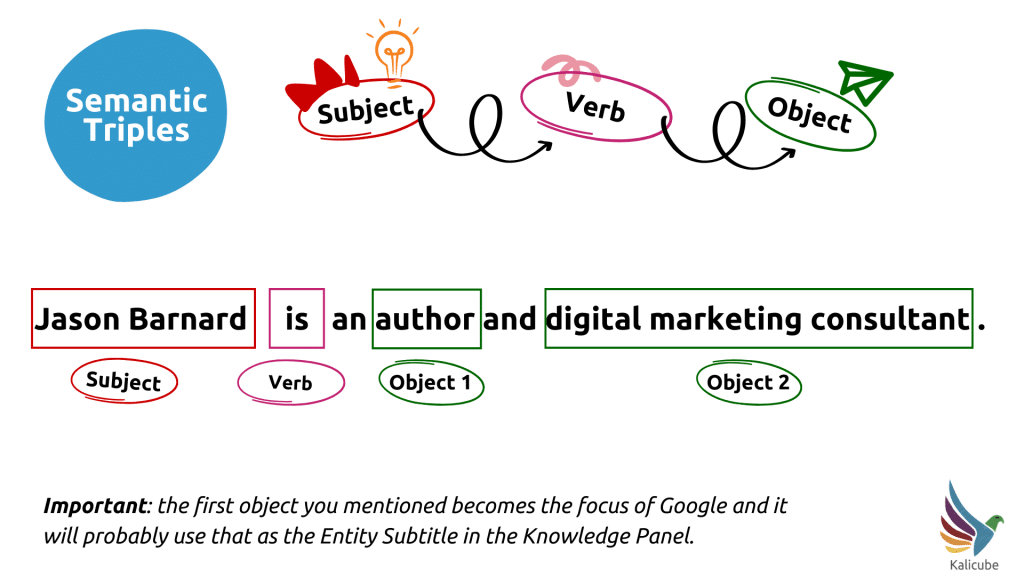 Remember that an Entity Subtitle is not just a tagline but a powerful tool to control how Google perceives your entity. Mastering the art of writing an effective Entity Subtitle can significantly impact your visibility and reputation with Google.
Can Changing the Subtitle of My Entity Improve the Ranking of My Page on Google?
Yes. Optimizing your Entity Subtitle can improve your rankings on Google, but it's important to note that it's an indirect influence. The Entity Subtitle tells Google your entity's focus in clear, concise language.
If optimized correctly, the Entity Subtitle helps Google's algorithms accurately determine the entity's relevance to specific search queries.
Pro Tip: Changing the Entity Subtitle is a fundamental change in Google's understanding of what you do and the audience you serve. This will affect every single search result you appear in. Therefore, you should be careful when defining or updating an Entity Subtitle.
Challenges and Considerations in Entity Subtitles
Potential Inaccuracies or Misleading Descriptions
Entity Subtitles can be inaccurate or misleading. If Google has misunderstood your entity based on available online data, it can show the wrong Entity Subtitle in a Knowledge Panel. Misleading subtitles can drive the wrong kind of traffic to your website or misconceptions about the entity and harms user engagement and the brand reputation.
Limited Control over Entity Subtitles
While companies and individuals can try to influence Google's understanding of an entity, you have limited influence over how Google creates your Entity's Subtitle. Google's algorithms may pick up on a particular aspect of your entity to shape the subtitle. This is especially true for profiles with different or multi-faceted entities.
Implications of Entity Subtitles on Branding and Perception:
An Entity Subtitle in a Google Knowledge Panel is one of the first impressions about a brand for users. It is a powerful element of the brand and how potential clients, customers, partners, or members of the public perceive it. Inaccurate, misleading, or unflattering subtitles can damage the brand image and credibility of the entity.
Overcoming these challenges requires a strategic approach to Brand SERP management. Ensuring the consistency and accuracy of your online presence, schema.org markup, and the focus of your content can help Google find a more accurate Entity Subtitle. Also, consider reputation management strategies, such as soliciting positive reviews, gathering authoritative backlinks, and positive mentions in relevant publications or platforms.
How does the Entity Subtitle fit into Brand SERP Optimization and Knowledge Panel Management?
The Entity Subtitle in a Knowledge Panel is a fundamental element of Google's understanding of a brand or business and impacts both Brand SERP Optimisation and Knowledge Panel management. It characterises the entity's core function or role and guides Google's algorithms in displaying accurate information about the entity on search results pages, which increases brand credibility.
You can use tools like Kalicube Pro SaaS to ensure Google understands your entity and you control your brand narrative. It can trigger a Knowledge Panel with the Entity Subtitle most suitable for your brand and improve online visibility. It takes time to change a Knowledge Panel Entity Subtitle. Providing consistent information on your Entity home and across the digital ecosystem which is corroborated by trusted third-party sources is key. The Kalicube Process shows you how to do it simply and easily and without wasting precious time.
Book a free call with Jason Barnard to find out how Kalicube can help you achieve these goals.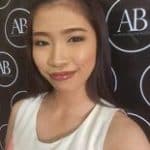 Bernadeth
Copywriting and Promotions. Joined Kalicube in December 2022