Why Kalicube Chose Duda over WordPress for Agency Work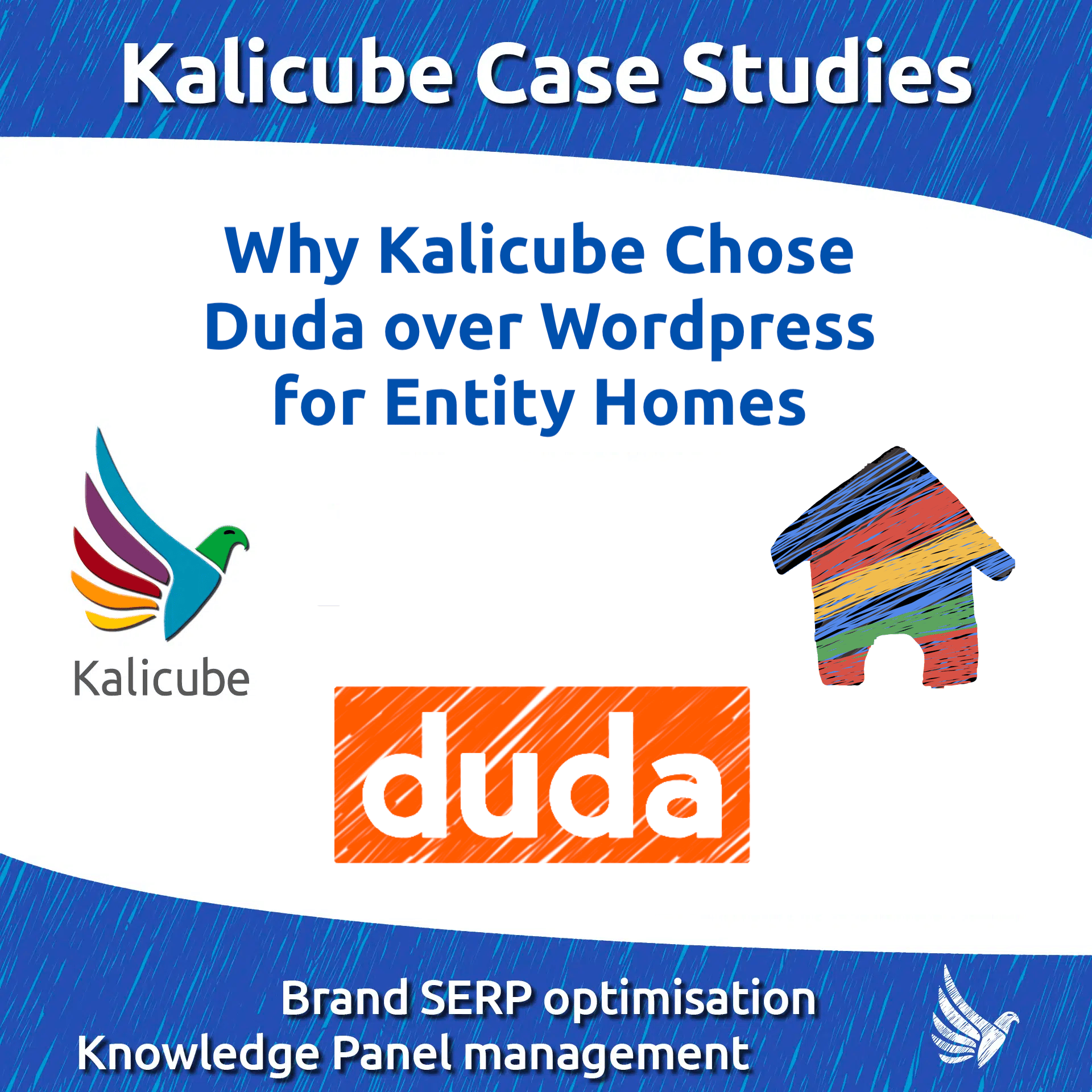 Duda: a Great CMS for an Entity Home in Digital Brand Management
We work on client websites every day. From WordPress to Wix, from Google Sites to Foursquare, with the occasional bespoke site for good measure. Strangely, we don't come across many Duda sites. And yet Duda is very very good.
What is an Entity Home and Why it is Important
The Entity Home in SEO is the reference page on the internet about a specific person or company that Google uses as a reference for factual information about that person or company.
A huge part of the Kalicube Process for managing the brand narrative on search for our clients is their Entity Home. Without a solid Entity Home, managing the brand message on Google for a person or a company is an impossible task.
At Kalicube when we optimise Brand SERPs and manage Knowledge Panels for our clients, we always start with the Entity Home. The most important aspects of an Entity Home are
Reliability;
Ease of management;
Google-Friendliness.
Duda ticks all these boxes better than WordPress.
In this article, you'll learn in more detail exactly why Kalicube made the switch from WordPress to Duda as our goto CMS for quickly building solid and effective Entity Homes for our clients.
Creating the Personal Website and Entity Home
Many of our clients are CEOs and founders of companies. They often do not have a personal website, instead relying on their profile page on their company website to manage their personal brand on Google.
This is a mistake since…
it is important to make a very clear distinction between the company and the person. This distinction is important for everyone: the person, their audience (potential investors, partners, headhunters…) and Google. Despite this, many founders, and sometimes CEOs, are unclear in their minds and communication.;
having a website allows the person to present multiple facets. In past and present "lives" a founder / CEO can also be an author, a sports star, a musician, and actor… humans always have multiple facets and a personal website allows them to represent this and (in the case of the Kalicube Process), educate Google the child;
if they sell or leave the company, they leave behind the Entity Home. Losing control of the Entity Home means that they lose control of their personal brand narrative on Google. It can take years to get that control back.
At Kalicube We Build Entity Homes for our Clients.
When a client doesn't have a personal website, the first thing we do is build a simple two page site on an owned domain for them (namesurname.com). The site becomes the Entity Home, and Google uses that as its reference for information about the person: this simple website is how we can quickly gain (and retain) control over their personal brand message (narrative) on Google.
Read more about the Kalicube Process here >>
Why Kalicube Chose Duda over WordPress?
We started with a problem that we didn't realise was a problem. Like many agencies, because we have already used WordPress, we didn't consider other options properly. We defaulted to WordPress because it was familiar and seemed to be the most time-saving solution.
Looking back, that was a mistake. For multiple reasons, as you will see.
Three Problems We no Longer Use WordPress for a Personal Website Entity Home:
WordPress isn't simple.
We often forget that WordPress has a steep learning curve, so new members of the Kalicube Team are often lost, and clients are usually uncomfortable making even simple updates to their own website;
Each install took about 3 hours.
Install WordPress, add a theme, optimise the photos, add standard plugins for speed, SEO, sitemaps and so on;
Regular updates create danger.
Every update brings potential problems: the core, the themes and the plugins can all break the Entity Home, so we needed to monitor the sites closely.
Additional Huge Problems:
Our work on this personal website doesn't extend beyond the two pages we need for the Entity Home (although the AboutPage is the Entity Home, you can't build a website without a homepage, so we have to build that 🙂
Once the client has their own website, they often want to add more pages: their charity work, their books, parrallel work, their past careers etc. Giving a neophyte admin access to WordPress is a mistake since WordPress has a steep learning curve and the client can easily break things. Worst case scenario (that has happened in the past) is that they break our Entity Home and the work we have done on Brand SERP and Knowledge Panel optimisation take a huge negative hit.
Connecting the domain to the WordPress site was often a HUGE waste of time for everyone involved. It would take anything from 4 email exchanges to a full-blown 30 minute meeting with the client and their tech department to get the DNS setup. Sometimes followed by a two week wait for the changes to be implemented.
Lastly, although site performance is relatively unimportant for an Entity Home, we found that many clients had "expert friends" or colleagues tell them that pagespeed is crucial in SEO, and so they asked us to make the site super fast. This takes time, requires multiple plugins, and (crucially) adds caching issues to the process that are difficult to manage and can slow down our work considerably.
Duda Solves all These Problems
In October 2022 we gave Duda a try. It quickly changed the game for us. It took me an hour to set up the first Entity Home website (Homepage + About). This includes learning the platform for a standing start!
Those initial problems with WordPress are solved by Duda:
Duda is simple.
The learning curve is very shallow. It took each member of our team an hour to "figure it out", and clients are quickly comfortable editing their own website;
It saves us time: Each install takes 30 minutes.
We use a set of standard Flex templates, there are no clunky plugins, and the site works on all devices right out of the box, with near-perfect SEO scores and no caching issues;
We can set-it-and-forget-it.
We don't need to monitor the sites over time since the updates are automatic and don't break anything.
The launch of each site is simple and stress-free. Once published, we are sure that:
what we created in the preview is what we see live,
the site works on all devices,
the site is Google-friendly,
the underlying HTML code is clean,
the sitemap is in place,
the robots.txt is set,
images are optimised for filesize and screensize,
the Core Web Vitals scores are firmly in the green,
caching is transparent,
accessibility is taken care of,
the most important on-page SEO is in place.
Additionally, the specific settings we need for Entity Home optimisation are quick and easy to setup: the photos in a gallery, the metas, the centerpiece content and, of course, the Kalicube Schema Snippet.
A lovely bonus that we hadn't expected is that connecting the domain to the site is super-simple. Duda has a system whereby it analyses the DNS and sets this up for you. This saves a surprising amount of time, avoids mistakes, and usually allows us to get this done without a meeting with the tech team.
Duda is More Expensive Than WordPress. Is it Really?
The huge advantage WordPress has is that it is free. But is it inexpensive? We don't think so. The cost of WordPress explodes when we take into consideration the time we spend managing it. We estimate that the Kalicube Team will save more than 16 hours a year per client.
This is huge in and of itself. But more importantly, as we scale up the volume of clients benefitting from Kalicube's done-for-you services, we will have hundreds of sites to manage. Using Duda means we won't need to employ a dedicated team to manage them, we expect to require only one person.
Taking Duda Further as an Agency
We are acutely aware that we don't use Duda to its full potential. It is hugely powerful and we are using it for small and simple personal websites. But the 11$ / month cost is worth it just for the headaches and time it saves… and the "wow" factor feedback we get from clients.
As a fast-growing agency, we expect to expand our usage of Duda. We can already see multiple opportunities:
Automation
As our client base grows, we plan to integrate automation and build Entity Homes on Duda from our own client interface.
Expanding our offer
We may also choose to offer website services above and beyond simple Entity Home management. In that case, with Duda we can invoice those services separately using their agency to client billing system.
Expanding our Client Base
We have started building Entity Home mini-websites for books, music groups and even music albums. We can do this because building with Duda is so fast, simple and reliable that we can be confident this is manageable at scale. We are hugely excited by the prospect of being able to create reliable Entity Homes quickly and efficiently for any Entity Type and help our clients take control of their brand narrative on Google in double-quick time.
Our Opinion at Kalicube: WordPress is a False Economy for Agencies
Here are both links (although you probably already know where WordPress "lives online" (aka it's Entity Home)…
Why is this site WordPress Then ?
We built all the Kalicube sites using WordPress before trying Duda. Unfortunately 🙁
We are now looking forward to switching to Duda (hopefully in 2023).