A Unique BrandTech Solution: How Kalicube Pro Saas Brings Value to Digital Marketers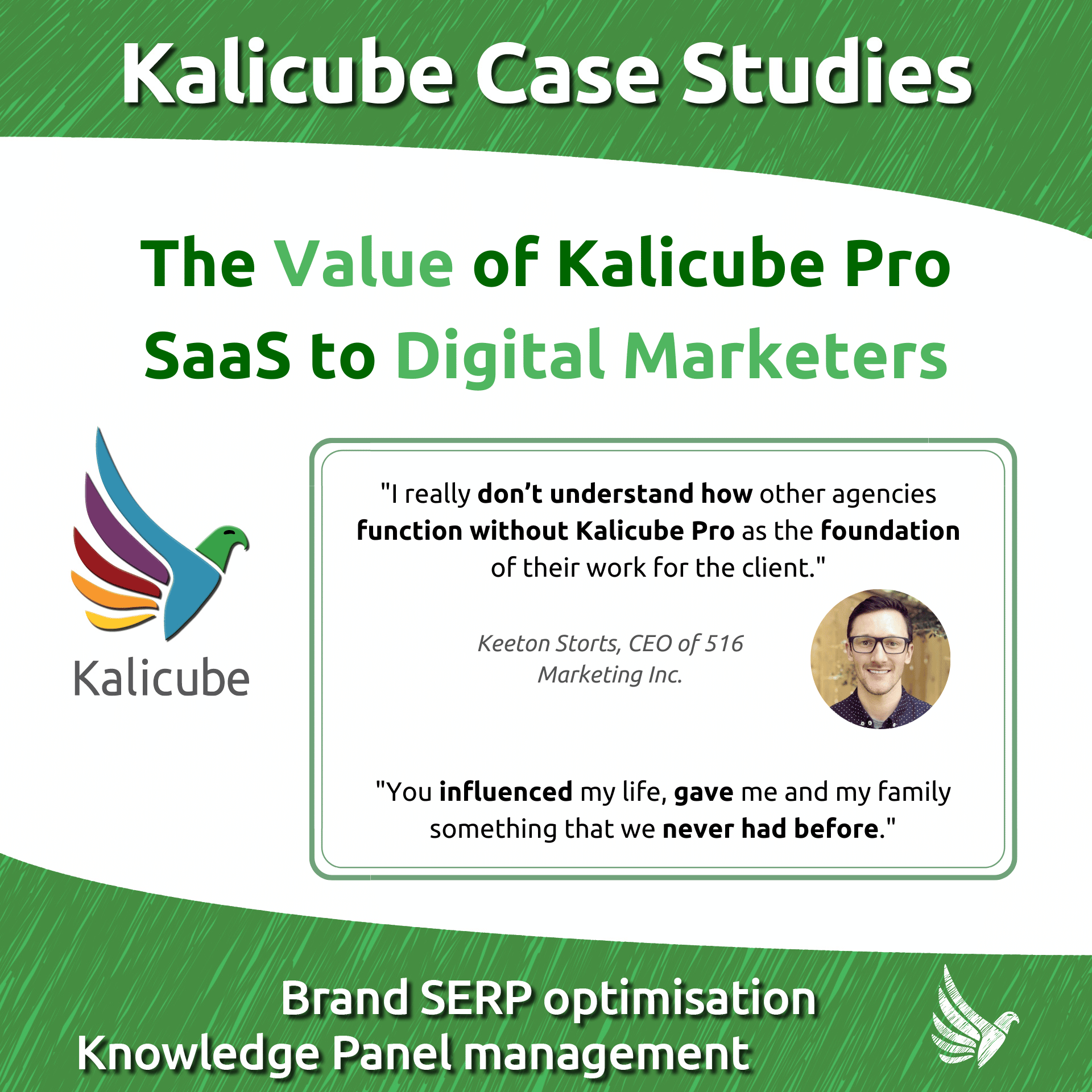 Introduction
Who is 516 Marketing Inc?
516 Marketing Inc is a digital marketing company that empowers brands to succeed online. They do this by helping clients articulate their story, amplify their message, and connect with the right audience.
The company founder, Keeton Storts, established 516 Marketing Inc on the core belief, that when a brand understands its value and is empowered to share that value with others, lives are changed.
Jason Barnard Equipped Keeton Storts to Found 516 Marketing Inc
Before launching 516 Marketing, Keeton worked as a marketing manager for a nonprofit. Although the organization was reputable in its field, it lacked the credibility of similar organizations that had a Wikipedia page and a brand Knowledge Panel. Like many digital marketers, Keeton thought the solution was trying to create a Wikipedia page for the nonprofit, but unfortunately fell short of Wikipedia's notability requirements and was deleted.
Shortly after, Keeton discovered Jason Barnard's videos online and quickly became obsessed with learning and implementing his strategy. In time, not only was Keeton able to generate a Knowledge Panel for his nonprofit, but other businesses took notice and pursued him to do the same for their brand.
This rapid growth of clientele, led to Keeton founding 516 Marketing Inc and using Jason Barnard's Brand SERP and Knowledge Panel strategy as the foundation.
"I came across Jason Barnard's content and believed in it so much that I became a student of it. I've watched all your videos and read every article you've published. I went over them again and again and studied and implemented them. After having success with the nonprofit I worked for, other companies took notice and started pursuing me to implement the same strategy for their companies. There was such a great need for this service that it forced me to launch a company of my own."

Keeton Storts, CEO of 516 Marketing Inc
Kalicube Empowers 516 Marketing with Tools to be Successful
516 Marketing Inc uses Kalicube Pro SaaS to identify opportunities for their clients' digital marketing strategy, optimize their Brand SERP and manage (or trigger) their Knowledge Panel.
"Kalicube Pro is the must-have we use for every client. It enables us to get their Brand SERP perfect and build a beautiful Knowledge Panel for them. What is really great is that we can demonstrate progress since the platform tracks and measures the Brand SERP and Knowledge Panel and provides KPIs that make sense to the client.

Then we use the insights from all the data Kalicube Pro provides to figure out the perfect bespoke digital strategy, and the client is right on board because they can see why we are building the strategy in the way we are. I really don't understand how other agencies function without Kalicube Pro as the foundation of their work for the client."

Keeton Storts, CEO of 516 Marketing Inc
Kalicube Pro SaaS is an Indispensable Platform for Digital Marketing Agencies
A Kalicube Pro subscription offers a unique system for tracking, analyzing and the digital ecosystem for a brand, company, product or person. It is truly unique, providing both brand-level and industry-level data that makes building prioritized strategies for the Brand SERP, Knowledge Panel and even defining an effective full-scale digital marketing strategy a simple process. This is precisely the reason why Keeton uses Kalicube Pro's paid platform as the foundation for his work for every client.
Kalicube Pro Helps Keeton & 516 Marketing Work Smarter
The saying "work smarter, not harder" applies to digital marketing in a big way. Keeton is incredibly adept at this and applies the concept to all the work 516 Marketing does for clients. Using Kalicube Pro data, he is able to fully understand the client's current situation in just a few minutes, and then simply and reliably identify the optimal strategies that will achieve the most traction with the least amount of work.
When a SaaS platform like Kalicube Pro can help you achieve more in less time, why waste time doing something haphazardly or manually? The platform does the hard work for you so you can focus on the more important task of actually building your business bigger and better.
"I love the moment when all that data appear in Kalicube Pro as if by magic and I can see the client's strategy unfold right in front of me."

Keeton Storts, CEO of 516 Marketing Inc
Conclusion
Building a Successful Business Changed Keeton's Life
It's wonderful to see how Kalicube Pro provided the foundation that allowed Keeton to build a cutting edge digital marketing agency that truly serves the business interests of its clients. Using Kalicube Pro as the foundational analysis of every client the agency signs has proven to be unbelievably powerful and a HUGE timesaver… and Jason's teachings even go so far as to change someone's life.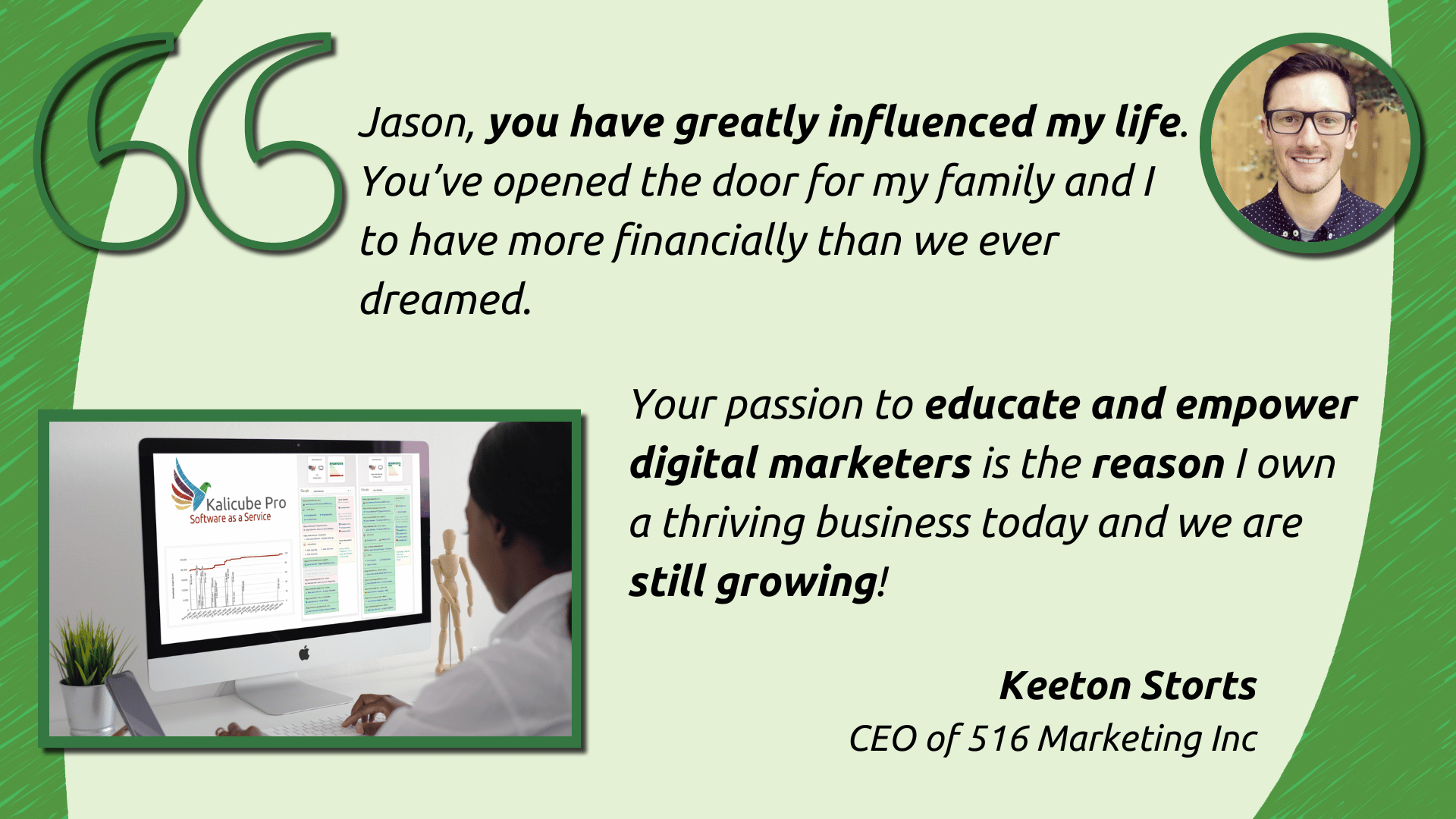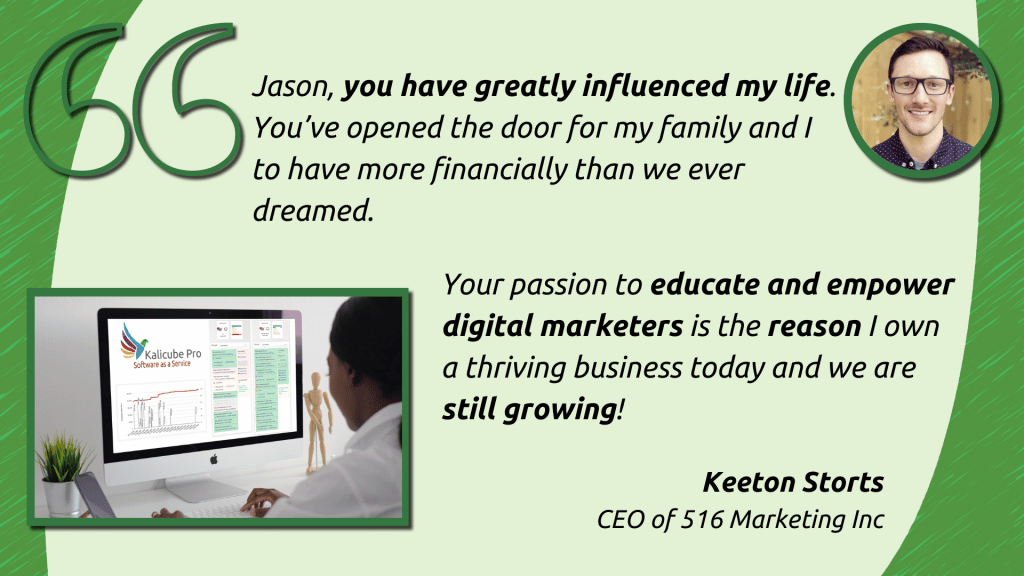 Do you want to follow Keeton's footsteps and success story? The Kalicube approach and Kalicube Pro SaaS can provide a springboard.