Rich Sitelinks Are Vitally Important to Your Brand SERP – Practical Case Study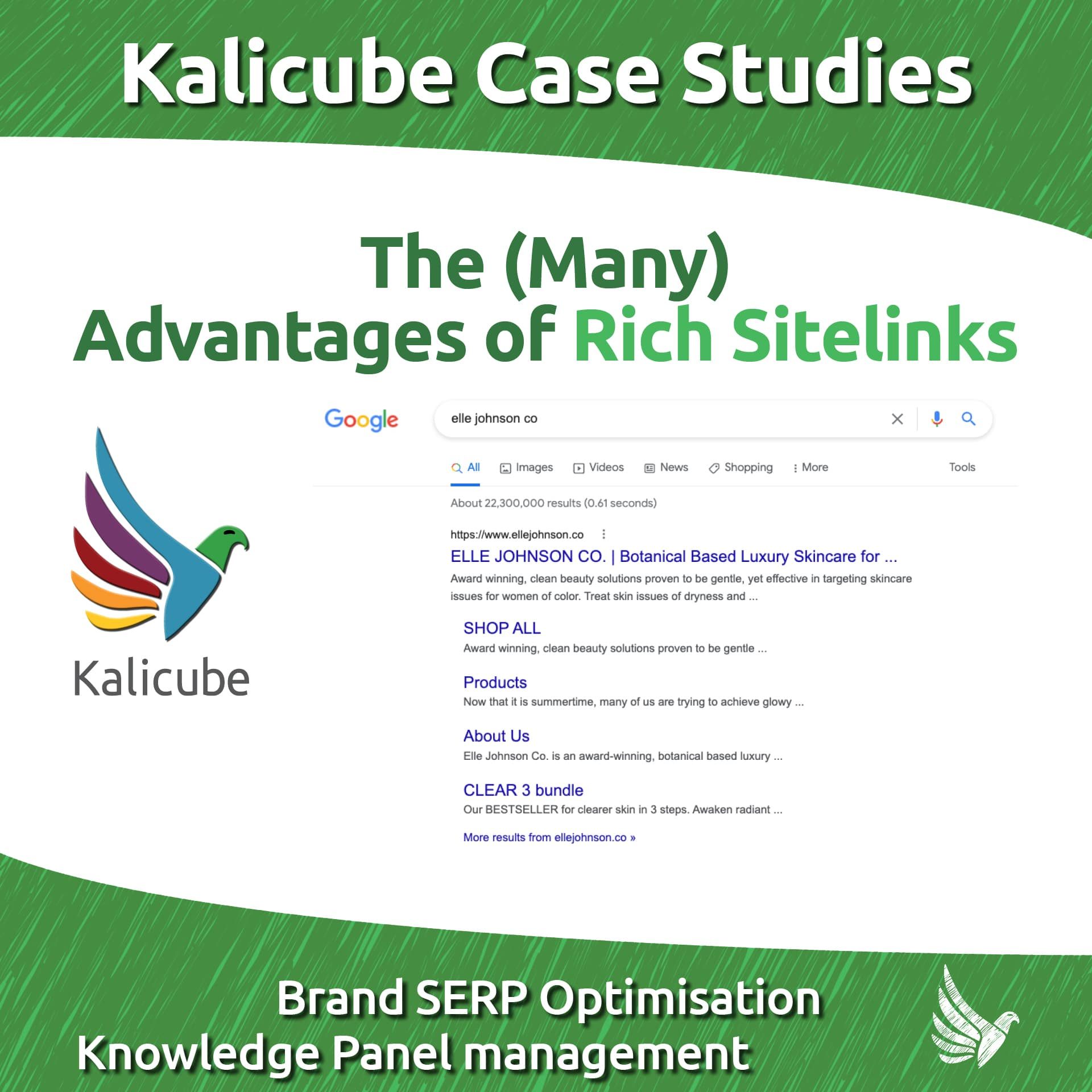 Rich Sitelinks Case Study: Elle Johnson Co.
In this study, I'll talk about the theory and practicalities of Rich Sitelinks in the context of Brand SERPs I'll start with a quick explanation of what a Brand SERP is (what your audience sees when they google your brand name), then why Rich Sitelinks are so important in that context, and finally explain the simple steps we took to get Rich Sitelinks for Elle Johnson Co.
Introduction
Who is Elle Johnson Co.?
Here's a little context: Elle Johnson Co is a small independent company that offers botanical based luxury skincare for women of colour. Their business relies heavily on their online sales and they have no SEO experience.
What Are Rich Sitelinks?
Rich Sitelinks are the links you see directly underneath your homepage when your audience searches for your brand name. Rich Sitelinks on your Brand SERP are Google's way of displaying a variety of deeper content that allows your audience to quickly navigate directly to the parts of your site they want to visit.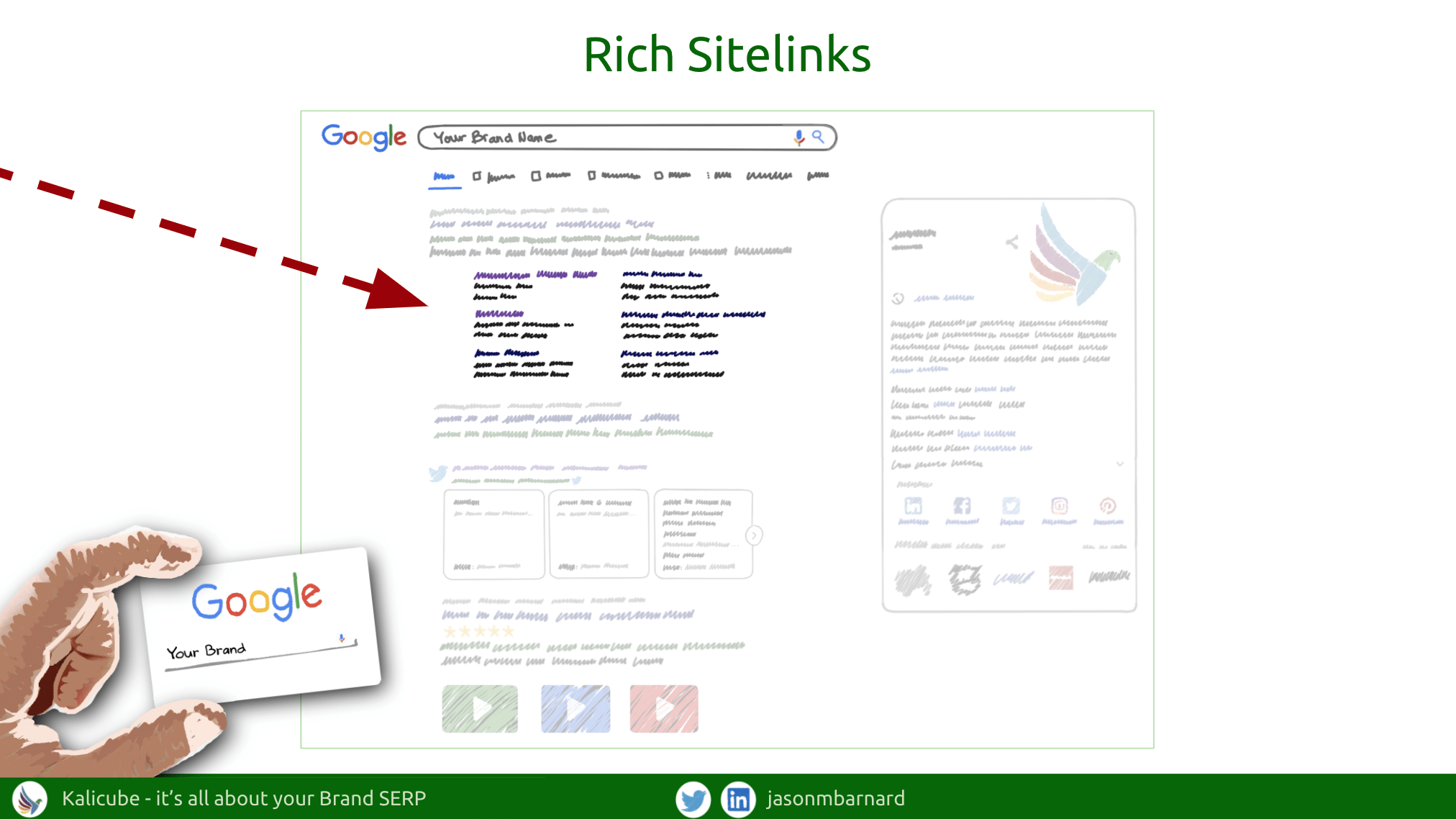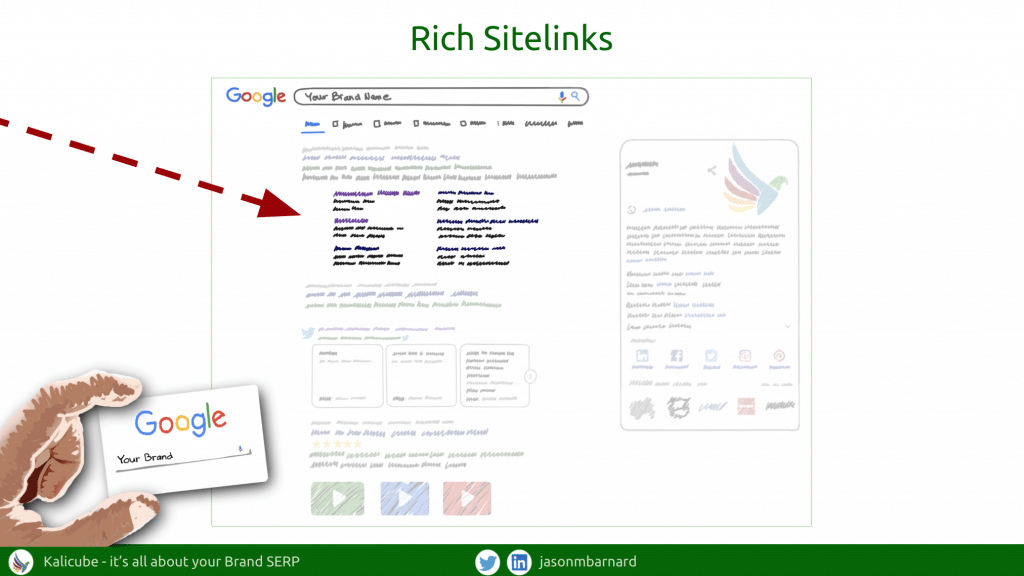 Problem
Case Study: The Before and After
Rich Sitelinks are the links you see directly underneath your homepage when your audience searches for your brand name. Rich Sitelinks on your Brand SERP are Google's way of displaying a variety of deeper content that allows your audience to quickly navigate directly to the parts of your site they want to visit.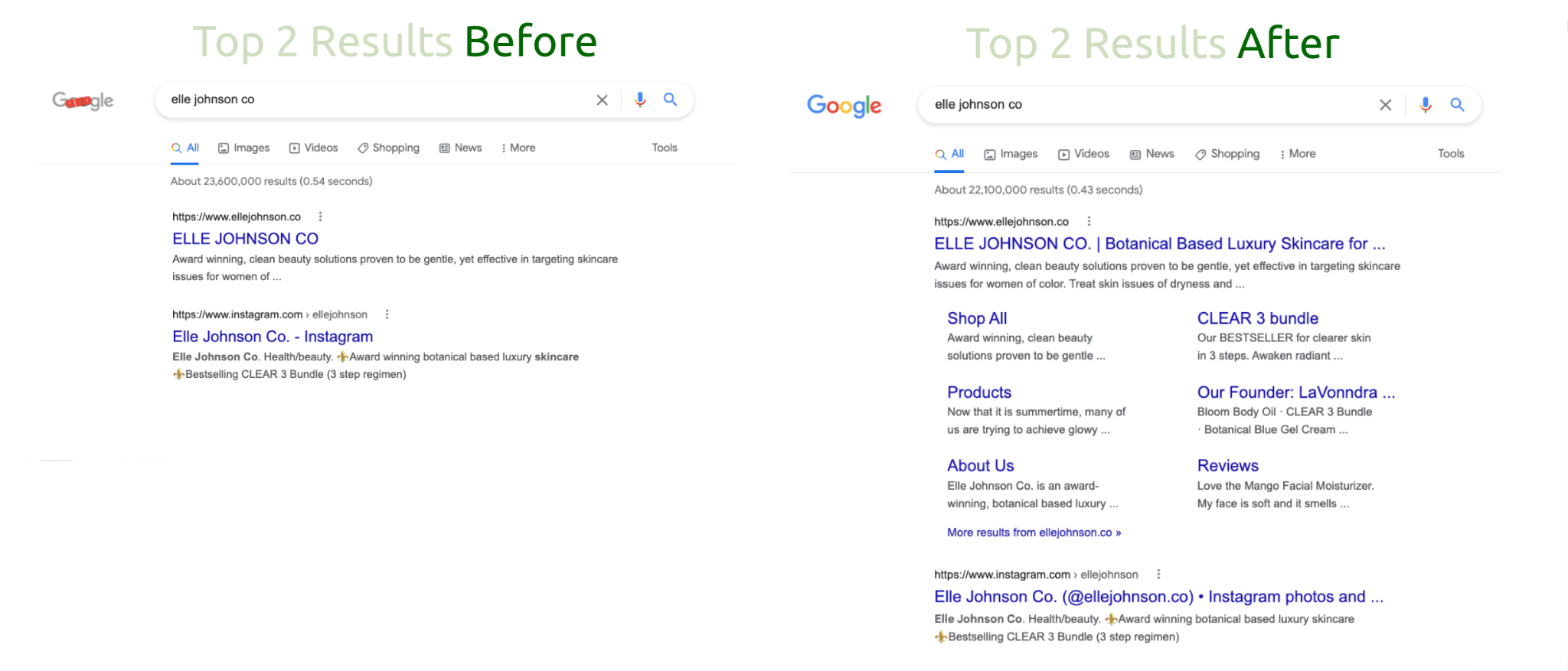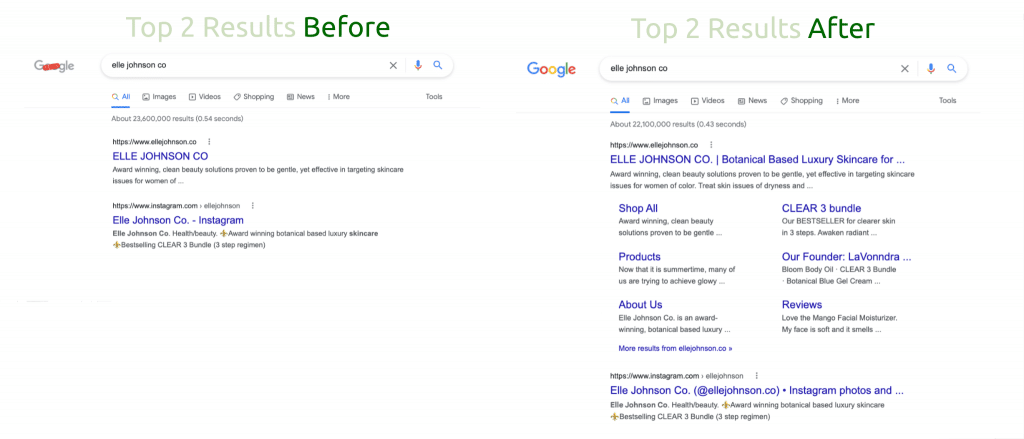 These simple before and after screenshots show very clearly the HUGE difference that Rich Sitelinks bring when a brand's audience googles the brand name. Remember, anyone who searches your brand name is either doing business with you or thinking about doing business with you. They are your A-list audience.
These Rich Sitelinks are stunningly important for two reasons. Firstly, Elle Johnson's clients and prospects can easily access the parts of the site that are important to them in just one click, right from Google. Secondly, Elle Johnson Co. controls the brand message on a big chunk of SERP real estate.
Why You Need Rich Sitelinks
To understand why you really need Rich Sitelinks, you need to look at Google's overarching goal – it wants to provide its users with the best possible experience. People use Google to find the solution to their problems. In the case of a search on your brand name, they want to find the best way to interact with you. Google wants to help them do that as efficiently as possible, whatever their needs.
Bear in mind that, the people searching for your brand name on Google are your target audience, but they are also Google's users. Google's goal is to give its users, who are also your target audience, the best possible experience when they search for your brand name.
Rich Sitelinks are an amazing way to get Google to help you help your audience. In this situation, Google's goal of optimising the experience for its users benefits you: with Rich Sitelinks, the people you care about and who matter to your business (potential customers and prospects), can get directly to what they are looking for in your website.
Are Rich Sitelinks a Realistic Target for my Company?
The question here is, can you get them? The short answer is, yes. And it really isn't very difficult.
Google WANTS to add Rich Sitelinks to your Brand SERP because it wants to give its users a great experience. The only reason Google doesn't add them right below your Homepage on your Brand SERP is that it doesn't really understand what you have to offer on which pages would help your audience.
You don't have to be a geek or know code to trigger Rich Sitelinks in your SERP. Common sense and good marketing are all you need to get those Rich Sitelinks on your Brand SERP. For Brand SERPs I have seen over and over again, a simple, solid CMS that covers the fundamental technical aspects is absolutely fine. If the business owner has no SEO experience, then it is often better since it helps them focus on the important aspect. Content.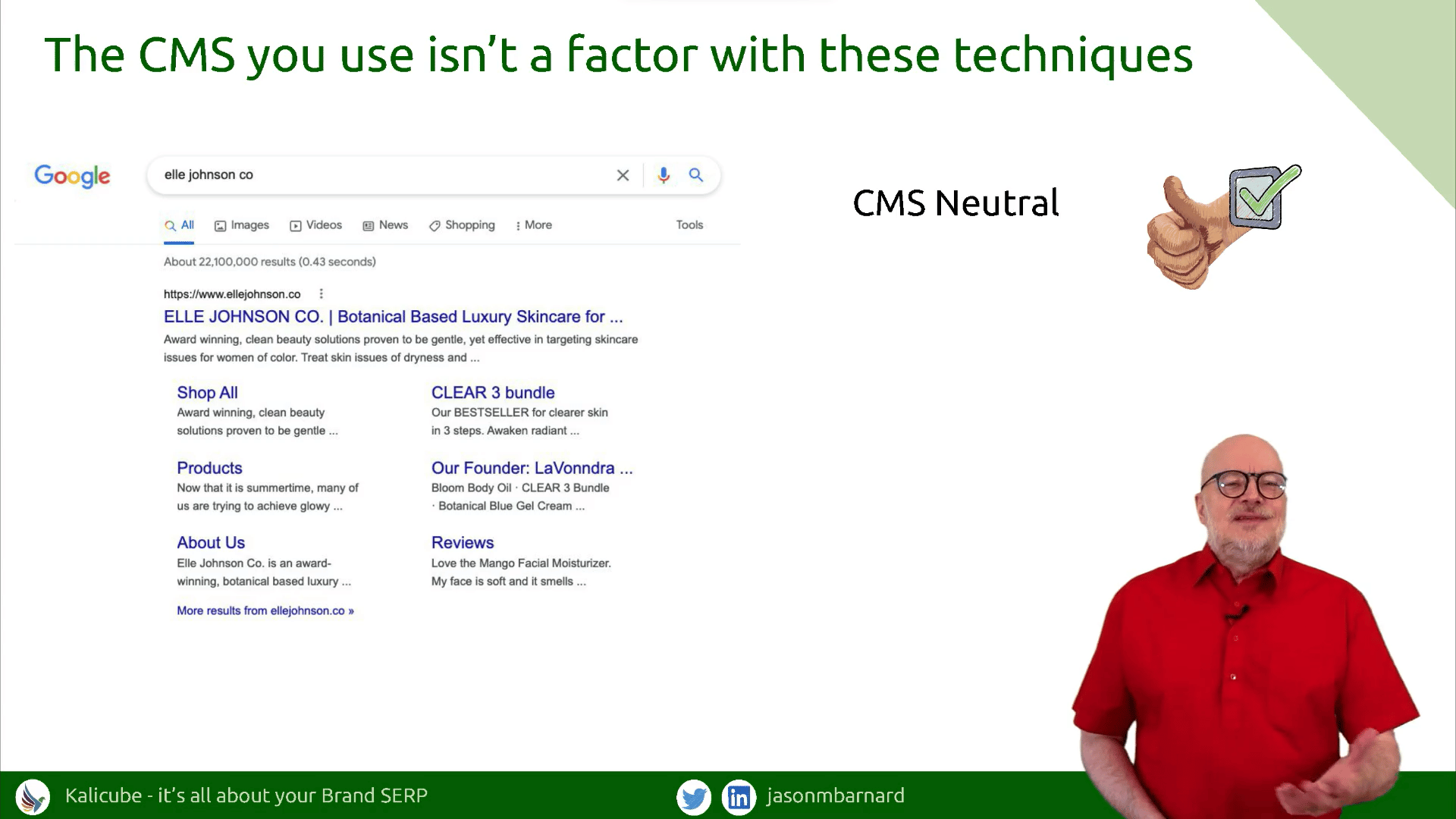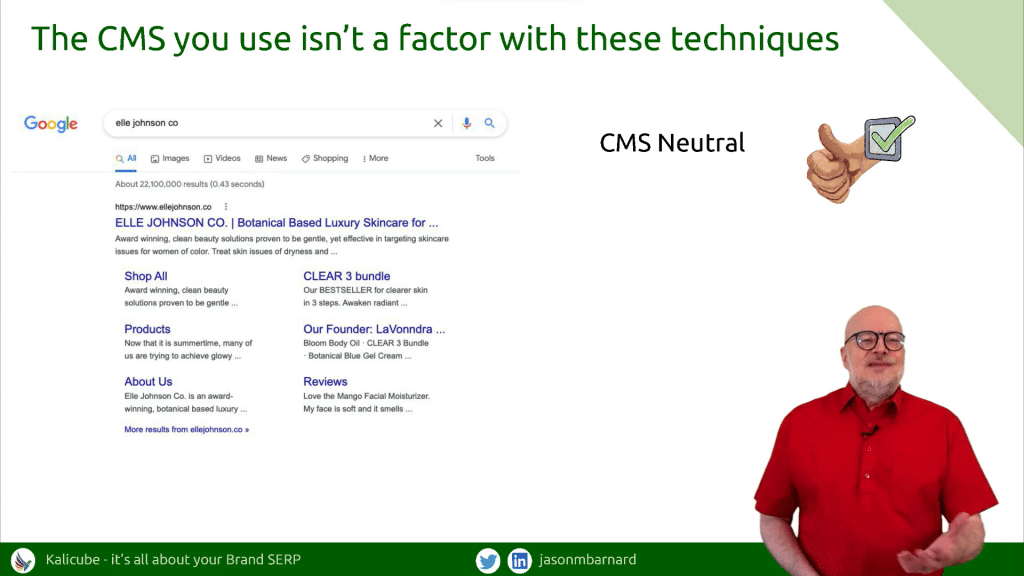 How Many Companies Have Rich Sitelinks on their Brand SERP?
Stats from Kalicube Pro indicate that only 60% of companies have Rich Sitelinks on their Brand SERP. Given the great user experience they provide, the amount of real estate they represent on the SERP, and how easy they are to get, this is a MASSIVE miss.
Solution
Case Study: The 6 Steps for Elle Johnson to Get Rich Sitelinks
How Long Did It Take?
In Elle Johnson's case, it took a month. And in most cases, that's a reasonable estimate for how long it takes from the point where you have seen that you can trigger those Rich Sitelinks to the point where you get them if you implement the strategies and techniques from this case study.
How Did We Get Rich Sitelinks?
The Homepage
For Elle Johnson Co, the first step was to improve the homepage. Firstly, we updated the meta title: keeping the brand name, "Elle Johnson Co." and adding a presentation of Elle Johnson's core offerings. This change is easily manageable in your CMS – in most CMS it is referred to as the "SEO title" or "title tag". We didn't change the meta description since they already had the right approach – using relevant vocabulary and providing a convincing argument for doing business with them.
When someone searches for your brand name, they know who you are. They are either a prospect trying to decide whether or not they want to buy from you, or an existing client navigating to your site. Either way, on your Brand SERP you really want to be clear and positive about your brand and explain why they should start (or keep) doing business with you. In that context, the meta title and description on the homepage are absolutely vital because they are the first thing your audience sees on your Brand SERP.
But we went further! We also redesigned the homepage to provide clearer information about the brand and highlight the overarching benefits Elle Johnson can bring to their customers. That means that when prospects and clients land on the homepage, they see a very compelling message that reassures them that they are, indeed, doing business with the right brand.
One important consideration for the content and layout of your homepage is that it is never the final destination for anyone. It is simply a stepping stone to another place on your website where the person takes action: contacts you, reads your blog, buys your products…
A Dedicated About Page
For Elle Johnson Co. we rewrote and redesigned the company's About Us page and created a dedicated About page for the founder, Lavonndra Johnson.
The About page for a company is rarely well thought-out. The About page for the founder and CEO is generally completely overlooked. And yet both are essential elements of a website. Your audience wants this information, and so does Google. In the context of Rich Sitelinks on Brand SERPs, they are second in importance only to the Homepage.
These About pages are great candidates for Rich Sitelinks, and sometimes just this one simple step can trigger them.
Why? Because Google knows that someone who is thinking about doing business with this company, or for someone who is already doing business with this company, it is very reassuring to see that Elle Johnson explains who her company is and what it stands for.
Beyond the considerations of Google and Brand SERPs, well-thought-out About pages make it easier for your audience to research, understand, and get closer to the company.
A Dedicated Reviews Page
We created a dedicated reviews page that showed the great feedback Elle Johnson gets from satisfied customers.
It seems strange, but Google likes to see review pages on your site. Although it is not always easy to get such pages to rank outside your Brand SERP, a reviews page is a great candidate for Rich Sitelinks.
Why? Because Google knows that your audience listens to their peers (we all do). It understands that we look at company service reviews to answer foundational questions such as: "Do people like me appreciate this company?" and "Can I trust the brand?"
Ideally, you would use reviews collected on a third-party site such as Trustpilot, Verified Review, or even Google My Business, but in this case reviews Elle Johnson had collected directly did the trick.
Improving Category Pages
We updated the category pages with improved meta titles, meta descriptions, and (importantly) content.
Google often has difficulty understanding how the website is organised which is typically something that holds back Rich Sitelinks for e-commerce sites. In this case, that wasn't an issue. However, it didn't have enough content in the category pages to display them in Rich Sitelinks.
The solution was simple – for Elle Johnson Co, we rewrote the meta titles and description to give a clearer indication about the content of the category and added a description on the page underneath the category titles to provide Google with some context and some text for the Rich Sitelinks.
Identify Popular Products
We updated the links to key product pages to help Google understand which items appeal most to Elle Johnson's audience.
Google doesn't intuitively know which specific products your audience is most excited about, or most interested in. You might think it is obvious, but Google doesn't see your sales figures, and cannot rely on market trends since every brand is unique.
To guide Google and show it which products appeal most to Elle Johnson Co's audience, we made sure that we linked to the popular products from multiple relevant pages on the site, so that within the site itself, Google found a large number of references to the products we were prioritising. That showed Google that the CLEAR 3 Bundle is more important than the other products, which encouraged it to use this particular product in the Rich Sitelinks.
In short, we educated Google about which products are important to Elle Johnson's audience by using internal links as signposts.
Get Some Help From Third Parties
Lastly, we got a little help using links from other sites. This is the technique that corresponds most to traditional SEO tactics.
Google sees an external link back to a specific page as a "vote", so every link from a third party site back to any of the pages we identified for Rich Sitelinks will increase Google's perception of the importance of the page to our target audience.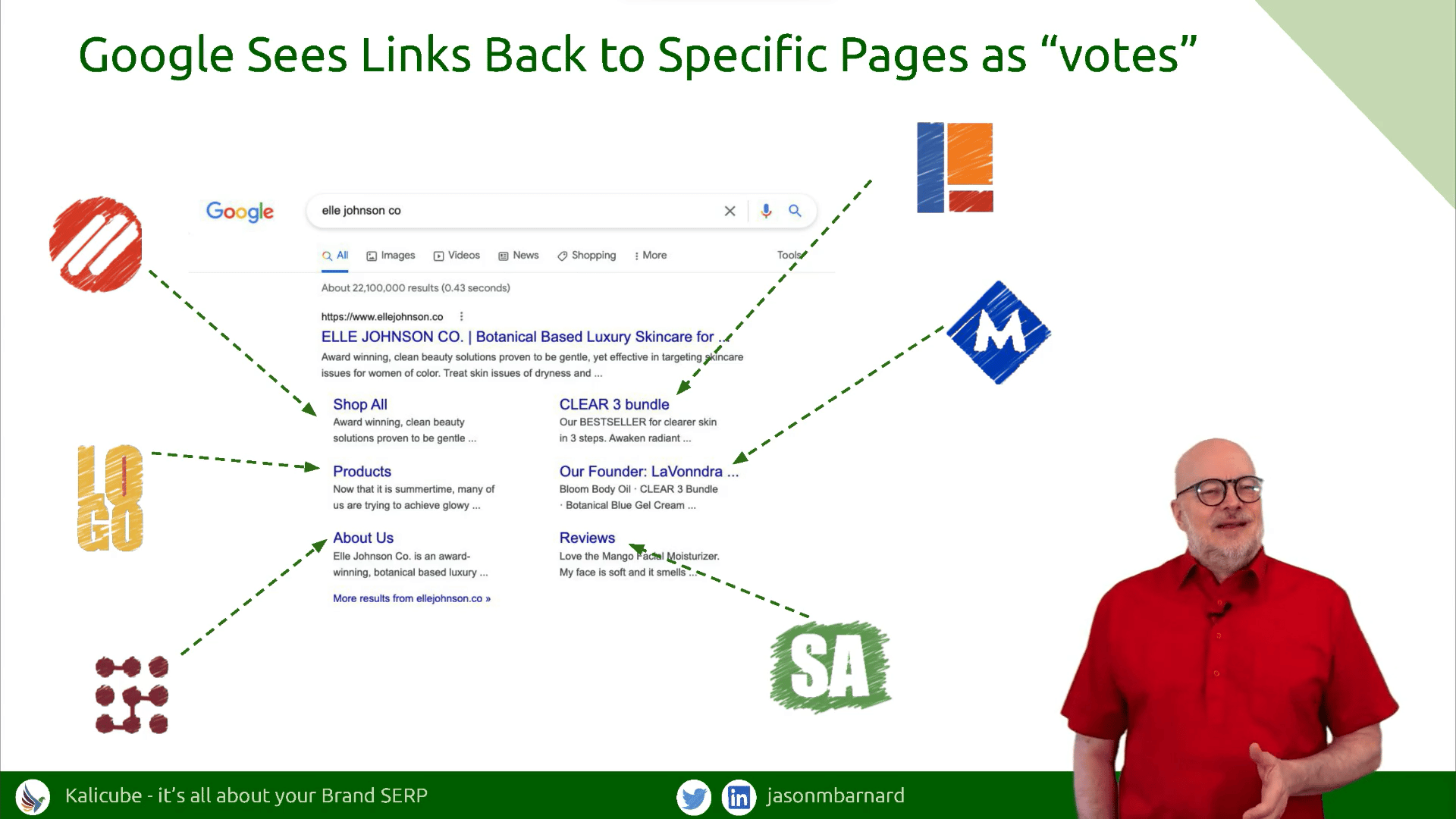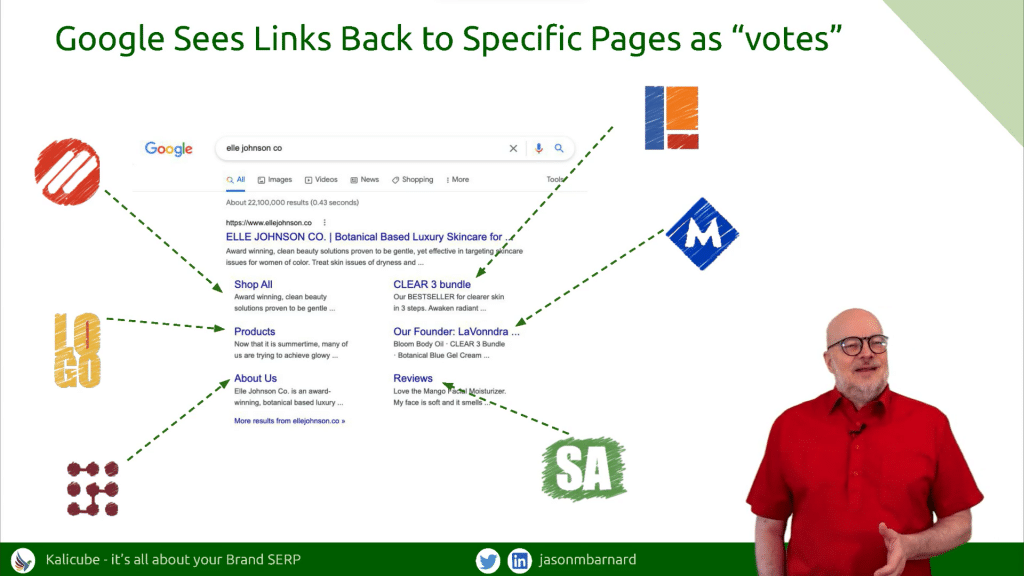 On its own, this technique won't trigger Rich Sitelinks, but in combination with the other techniques, external links are a great way to influence the choices Google makes.
Tracking Results
Obviously, if you are putting resources into triggering and managing Rich Sitelinks, you'll want to track the results both to demonstrate the effectiveness of your work, but also to adapt your strategy as you go along.
You can use any SEO tracking tool. Simply add your exact match brand name as a keyword and you'll see when the Rich Sitelinks appear and which pages Google has chosen to display. There are dozens of great platforms out there, but the platforms I most often recommend to my clients are SE Ranking, Ahrefs, SEMrush, and Woorank.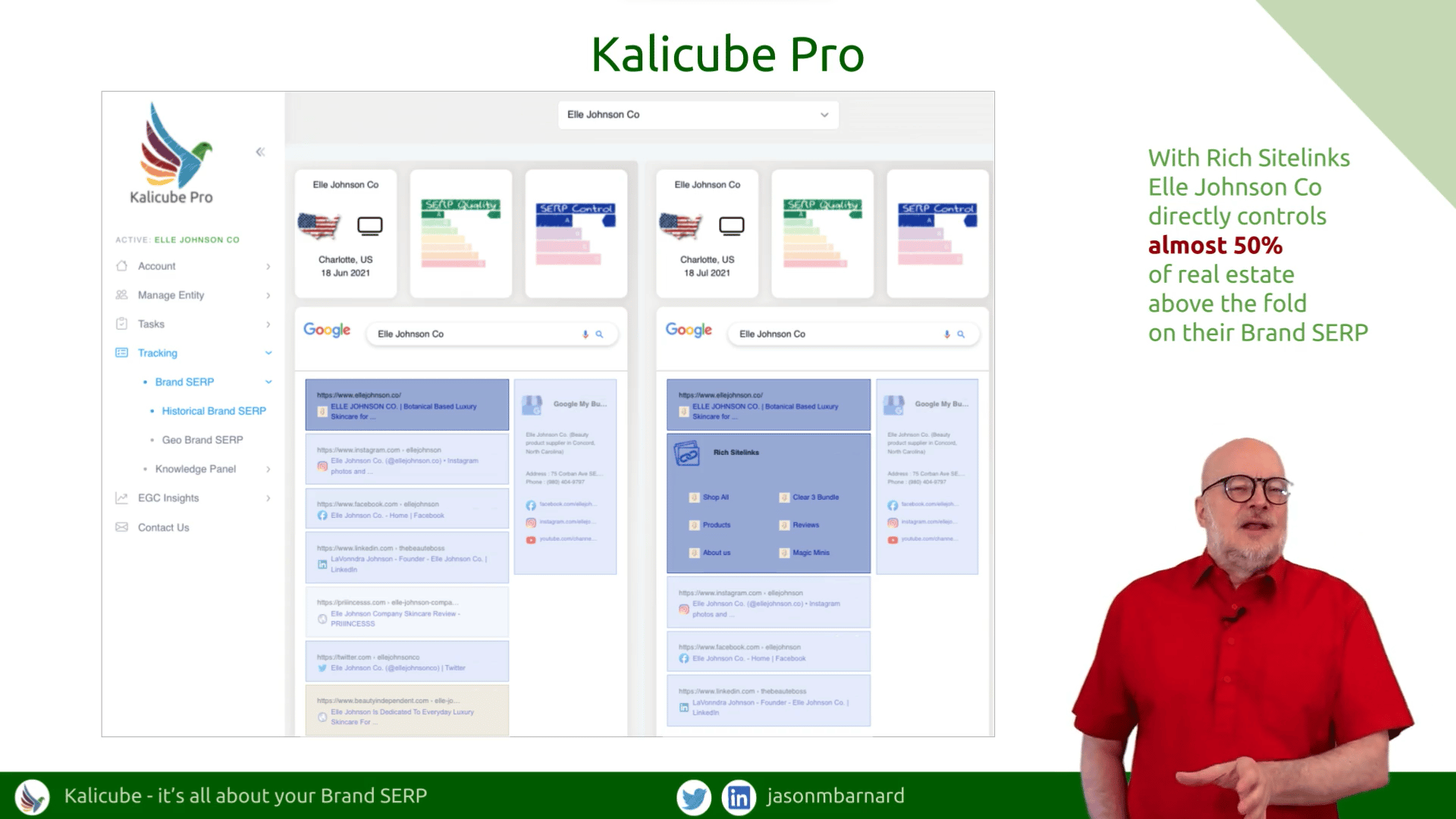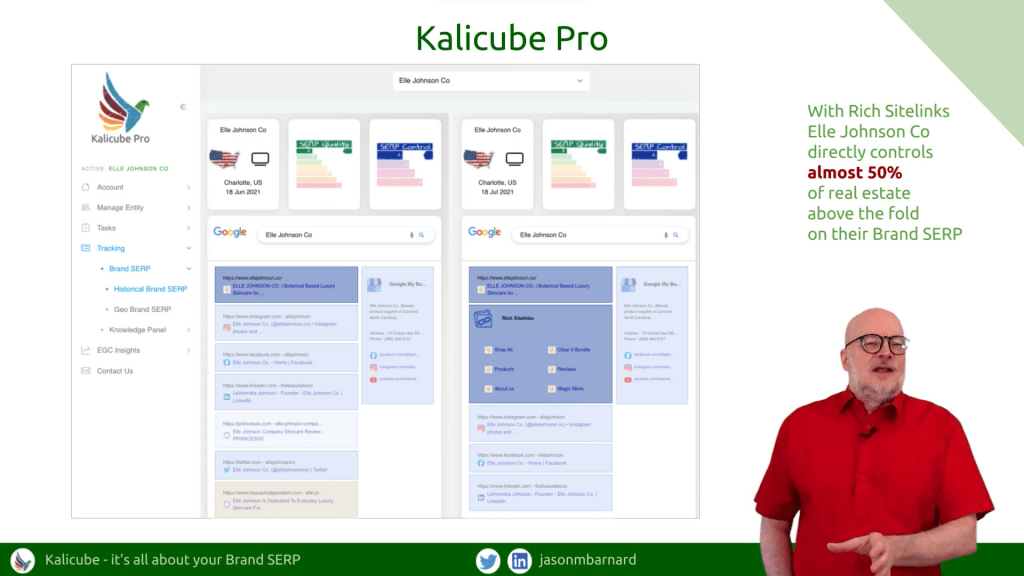 I'm a Brand SERP geek, so I built a platform JUST for tracking the Google results for exact match brand names: Kalicube Pro. We have a specific manner to display the Brand SERP that really helps you understand what Google is thinking and clearly track your progress. Kalicube Pro is highly specialised and pretty complex and is generally used by agencies working on Brand SERPs for their clients. It is overkill for brands doing this DIY where I recommend simply tracking the brand name on one of the tools I mentioned above.
Conclusion
In the context of a search on your brand name (your Brand SERP), it is tempting to think that, because your homepage ranks #1, you can leave Google to decide on the rest.
That's a massive oversight. Rich Sitelinks alone demonstrate just how much you can control what your audience sees when they google your brand name. You'd be a fool to not want to design your Google Business Card and give your audience the best possible user experience when they are searching your brand name.
My advice is simply to start with your Homepage and Rich Sitelinks because both give you control and allow you to help your audience find what they want on your site which will keep them on board as clients or convert them as prospects.
Related articles:
Sitelinks in SEO: What You Need To Know
Google's concept of Rich Sitelinks in Brand SERP
Improve YOUR Brand SERP in just a few hours!
With this course:
Optimise Your Homepage
Trigger and Optimising Rich Sitelinks
Improve the Results You Control
Improve Your Social Accounts
Improve Other Results You Partially Control
Improve the Results You Do Not Control
SEO Tactics You'll Need
Optimise Google Ads