Was December 2021 the Moment Google Truly Switched From Strings to Things?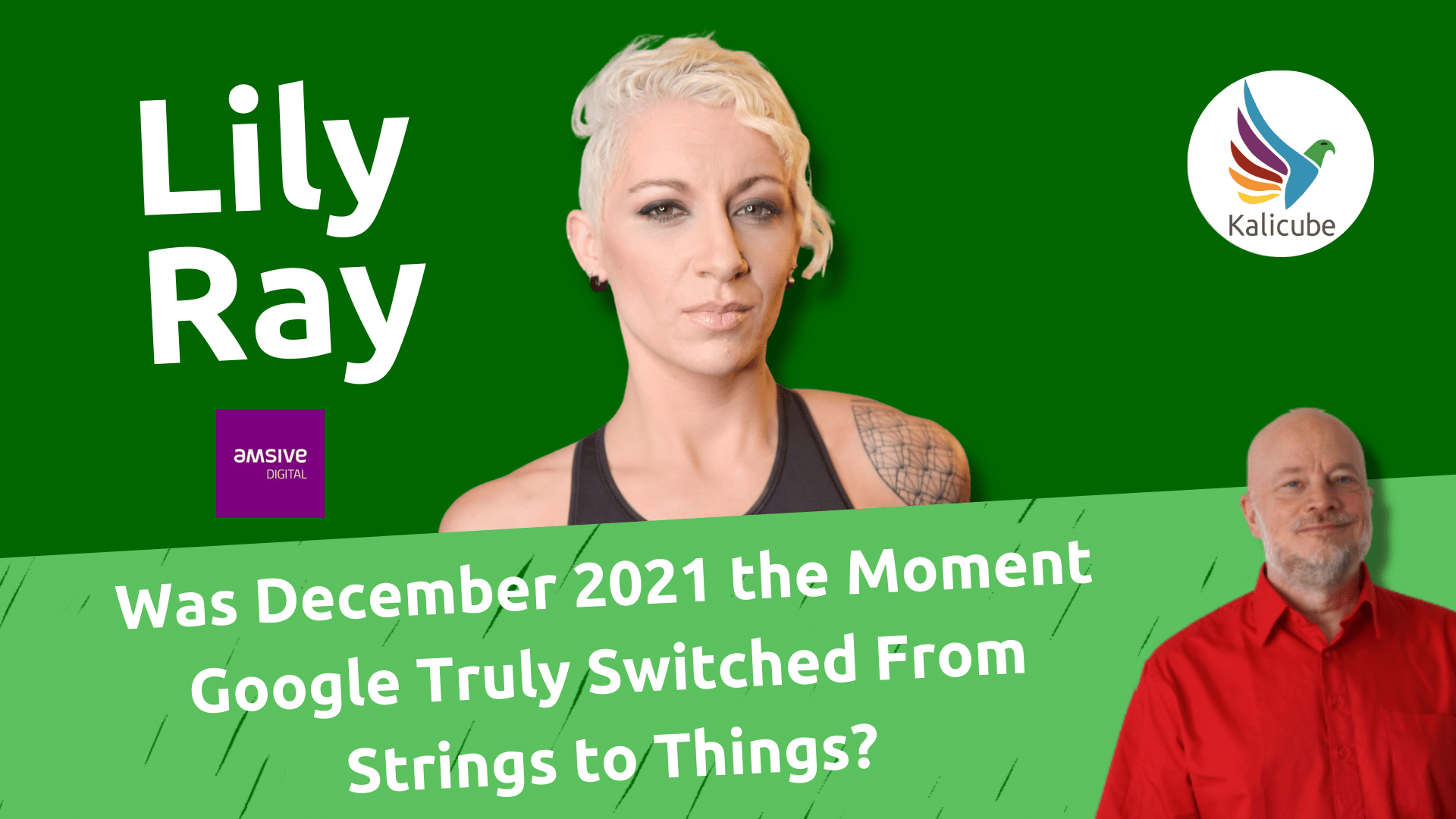 In this clip, Jason Barnard (The Brand SERP Guy) suggests to Lily Ray that the duality of Knowledge Graph and Google Core Algorithm updates in December 2021 will prove to be the moment "from strings to things" became a reality rather than just a Google soundbite.
00:25 Knowledge Graph Update
01:18 The Pivotal Point "From Strings to Things"
01: 40 Other Google Updates
02:10 Jason Barnards 2022 Prediction

Transcript of: Was December 2021 the Moment Google Truly Switched From Strings to Things?
For you, we'll probably stick to musician… I'm a musician too, strangely enough.
You are indeed. You're a very good musician.
Ooh, thank you. I'm blushing. I know you're a brilliant DJ, so we can just compliment each other for the next hour. How delightful!
Now you said, no (Google) updates today. Look at this. The Knowledge Graph is updating as we speak. So it does happen every time you and I are on screen together. There is some kind of "Googly" update and what I wanted to do, I was looking at this and it struck me how incredibly volatile the Knowledge Graph has been over the last six weeks. And it corresponds to the volatility that you'll be talking about later on in the core algorithms and the SERPs. And it started to update yet again today. So, we're looking at eight updates in six weeks. That's phenomenal because if you look at the one at the top, that's the same period from last year. It updated twice then took a big, long festive holiday. And this time, it's updated twice and then gone totally nuts during the festive season.
So the Knowledge Graph is updating at the moment, incredibly frequently, loads of activity going there. And it happens to correspond to core updates and volatility on the SERP, which I think might prove to be the pivotal point where we went "from strings to things". And it's now in the Core Algorithm, as opposed to just being a soundbite from Google. That's my take on it.
Yeah. I have no idea if that's true and not, but it's feasible for sure. And definitely, it's not just the Knowledge Graph and obviously, the core updates and everything. There's all kinds of Google updates happening everywhere. Discover is also seeing a lot of volatility for our clients in the past couple of weeks and months too. And so it's just been really hard to keep track of everything that's going on across all the different features.
Right? No, it's gone nuts and they're adding gazillions of different Rich Elements, SERP features that it's really hard to keep up with and the platforms are struggling to actually track them all and add them all and there are experiments right, left, and center. And I've stuck my neck out
That is my prediction for 2022.
We'll look back on this and think "that was the day", "that was the moment", "that's when it all changed". But later on, you'll be looking into 2022 with your crystal ball, and that will be terribly, terribly exciting.