4 best customer review websites for SEO
Originally Published on SEMrush November 23, 2020 (Jason Barnard)
In this post, I will go over extensive and independent research to evaluate which is the strongest customer review websites for SEO. As a note, these are all paid UK platforms.
The four platforms
The four platforms considered for this article are:
feefo.com
ekomi.co.uk
trustedshops.co.uk
trustpilot.com
A Quick Recap on What These Sites Offer
Your company pays a monthly fee to one (or more) of these review platforms to collect customer reviews about your company, products, and services.
The above services offer code snippets that you can install on your site that will display your ratings to your site visitors.
These snippets also feed that information to Google which allows it to display the stars and ratings we see on some search results and in AdWords text ads.
To benefit from the stars in search engine results pages (SERPs), using a third-party site to collect your reviews is not necessary, but in my opinion, is advisable because of the credibility these sites have in Google's eyes.
What Are the Key SEO Benefits of Customer Review Sites and Platforms?
Beautification for Benefits
Proving the quality of your offer to Google
Let's dig deeper!
Beautification for Benefits
Most SEO experts agree that when Google records a click-through rate for a given position that is higher than expected, and the bounce rate for those visits to the webpage is not high, Google tends to reward that web page with a higher rank.
We know that the more attractive listings on a SERP catch the eye and tend to get better click-through rates at any given position.
These "beautified" listings tend to get more clicks than Google would consider their "fair share."
This attracts Google's attention — those that get extra clicks by being more attractive than the listings surrounding them will tend to rise in the rankings as long as they fulfill the users' needs.
In this manner, well-performing pages are likely to be rewarded by Google in a 'rich get richer' fashion.
One easy to understand measure for user fulfillment is bounce rate — is it normal, higher, or lower than expected?
One major beautification feature of any SERP snippet are the yellow review stars, also known as rich snippet stars.
When implemented properly, recognized third-party customer review sites more or less guarantee that your pages get those stars, a more attractive presentation, more than your fair share of clicks… and a rise in rankings.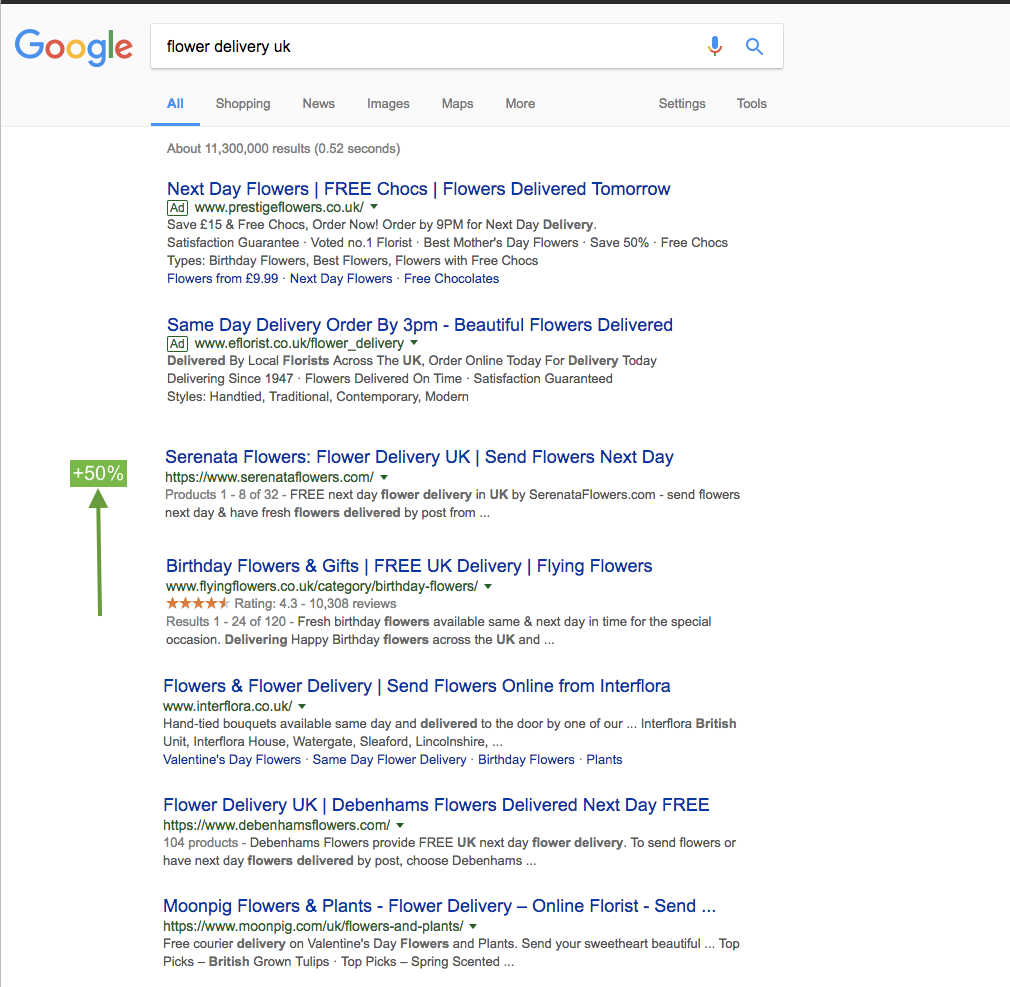 Warning: If you get bad reviews and your score is below 4 out of 5 stars, the beautification effect turns ugly, so make sure you're providing stellar service to earn a high rating!
Proving the Quality of Your Offer To Google
These third-party sites stand as the guarantor that the customer reviews collected are from real customers.
From an SEO perspective, with the guarantee these platforms provide, Google accepts that the reviews are reliable and honest appraisals of your company and offers.
Google's primary aim is to provide the best solution based on a users' search (in this case, the products and services you and your competitors offer).
All other things equal and assuming you get mostly good reviews (80% or more), Google's algorithm will tend to place you higher in the results as it will be more confident that your company is a good solution for its users.
There is a second element to this equation – the confidence that Google attributes to the third-party who is the guarantor of your great client reviews.
The more Google is convinced of THEIR credibility, the more credibility your reviews will have. That is key to your SEO.
What is The Best Customer Review Site or Platform for SEO?
Beautification for Benefits
All four platforms offer rich snippet stars in the SERPs that allow you to polish up your placement.
No winners there.
SEO Boost
The question to answer is: which review platform has most credibility in the eyes of Google and will therefore bring the most credibility to each of your customer reviews?
Who Is the Most Visible?

Measurements from SEMrush showing the presence of the platforms in Google
Trustpilot is well ahead of the field in every case. Feefo is clearly in second place, followed by Trusted Shops, and eKomi in last.
Who has the Most SEO Power?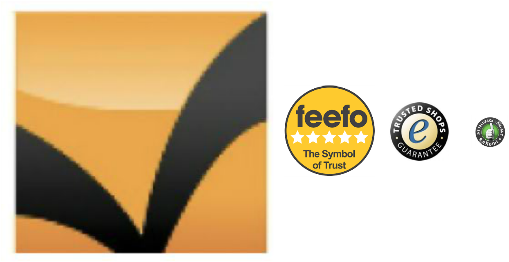 Other Considerations
Current Trends?
Over the two years, I have been looking at customer review platforms for SEO. Feefo has been steadily gaining visibility.
Trusted shops are on the rise, particularly since the start of 2017, overtaking Ekomi, currently the only platform of the four losing ground.
Trustpilot has a phenomenal lead from an SEO point of view.
From the above analysis, Trustpilot has around a 600% advantage compared to the closest competitor, and has held that advantage for several years.
I cannot see how any of the others can overtake them anytime soon, especially when one considers that Trustpilot continues to gain visibility over time.
Google Penalties?
Whether a company has suffered from Google penalties in the past speaks volumes about a company's commitment and responsiveness to SEO.
Out of curiosity, I checked a couple of open platforms — reviewcentre.co.uk and ciao.co.uk.
Both have suffered enormous losses from Google penalties in the last few years.
Review Centre appears to have been a serial Panda victim while Ciao appears to be a serial victim of Penguin.
None of the 4 sites in this article appear to have suffered any Google penalties, which is reassuring.
Being closely associated with a site that has been penalized is obviously not going to help your SEO!
And the Winner Is…
Trustpilot is the strongest customer review site for SEO.

Trustpilot wins this accolade hands down.
5 years ago, they were already well ahead of the competition in SEO visibility, and that gave them authority in the eyes of Google.
A very strong SEO strategy over the last 2 to 3 years has pushed them further and further ahead of the competition.
With (arguably) a 6 fold advantage, I am left with the simplest of choices.
Bonus: Interestingly, Trustpilot is the only one of the 4 that has an explicit presence in Google's Knowledge Graph.
The Knowledge Graph is the vital place to be moving forward in Search Marketing and is a subject that I am very keen on.
Expect an article on that topic soon.
Disclaimer
Please do remember that, as an SEO and ORM expert, I chose to look purely at SEO benefits of each platform when performing this research.
I have not taken into consideration other factors that may play a role in deciding which platform is right for you — such as ease of implementation, pricing, services offered, internationalization, etc.