What Kind of Information Can Be In My Personal Knowledge Panel?
What is a Personal Knowledge Panel
A Personal Knowledge Panel is a feature in Google Search that displays information about a specific person by name. It is part of Google's Knowledge Graph, a system that organizes information about people, places, and things. Anyone can have a Personal Knowledge Panel, as Google does not have strict "notability" requirements. When Google is confident in its understanding of a person, it displays an overview of relevant information about that person in the Personal Knowledge Panel.
Your Personal Knowledge Panel acts as your digital business card and is a valuable tool for people to present their professional brand on Google.
Pro tip: A person who is notable and has a Wikipedia article will automatically get a Personal Knowledge Panel. Without Wikipedia, getting a Personal Knowledge Panel is more challenging and achievable for everyone (see my Knowledge Panel below). Read this article about triggering a Knowledge Panel without Wikipedia or Wikidata >>
What is the information included in a Personal Knowledge Panel
The information in a Personal Knowledge Panel is pertinent information about a person's professional and personal life. Typical facts are in the list below.
Your name
Your occupation
Your geographic location
Educational background
Associated organizations
Associated people
Social media profiles
Images
Notable achievements, awards or accolades in your field of work
If you have a Personal Knowledge Panel, you will typically have the following information.
Your name
In a Personal Knowledge Panel, your full name appears prominently at the top. Your name will list your first name and surname. A middle name or initial can display if it appears publicly. Nicknames or pseudonyms feature if you use them professionally.
The name in the Personal Knowledge Panel must be identical to the name you use in your professional branding and authoritative sources to promote consistency and ensure the search engine algorithms recognize it.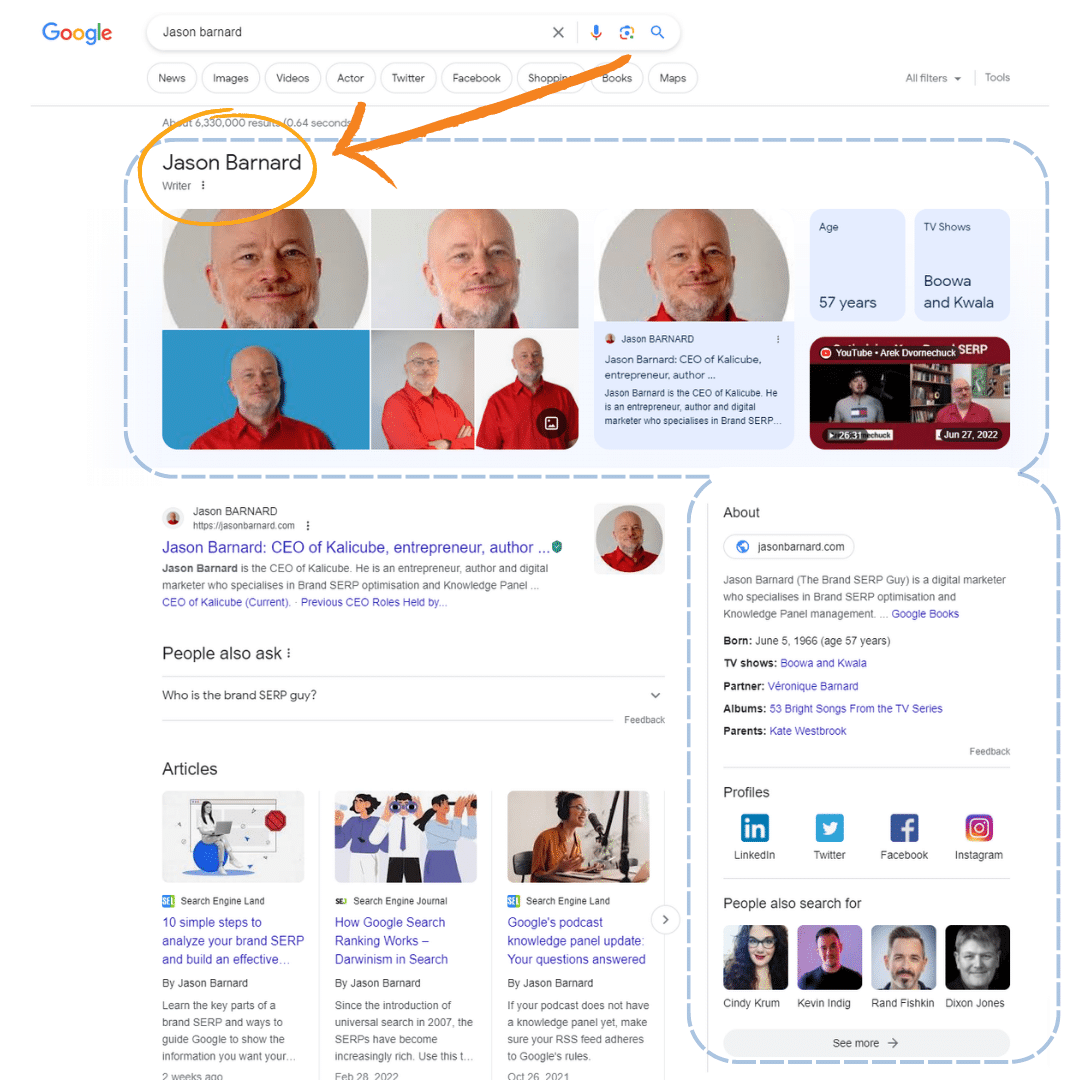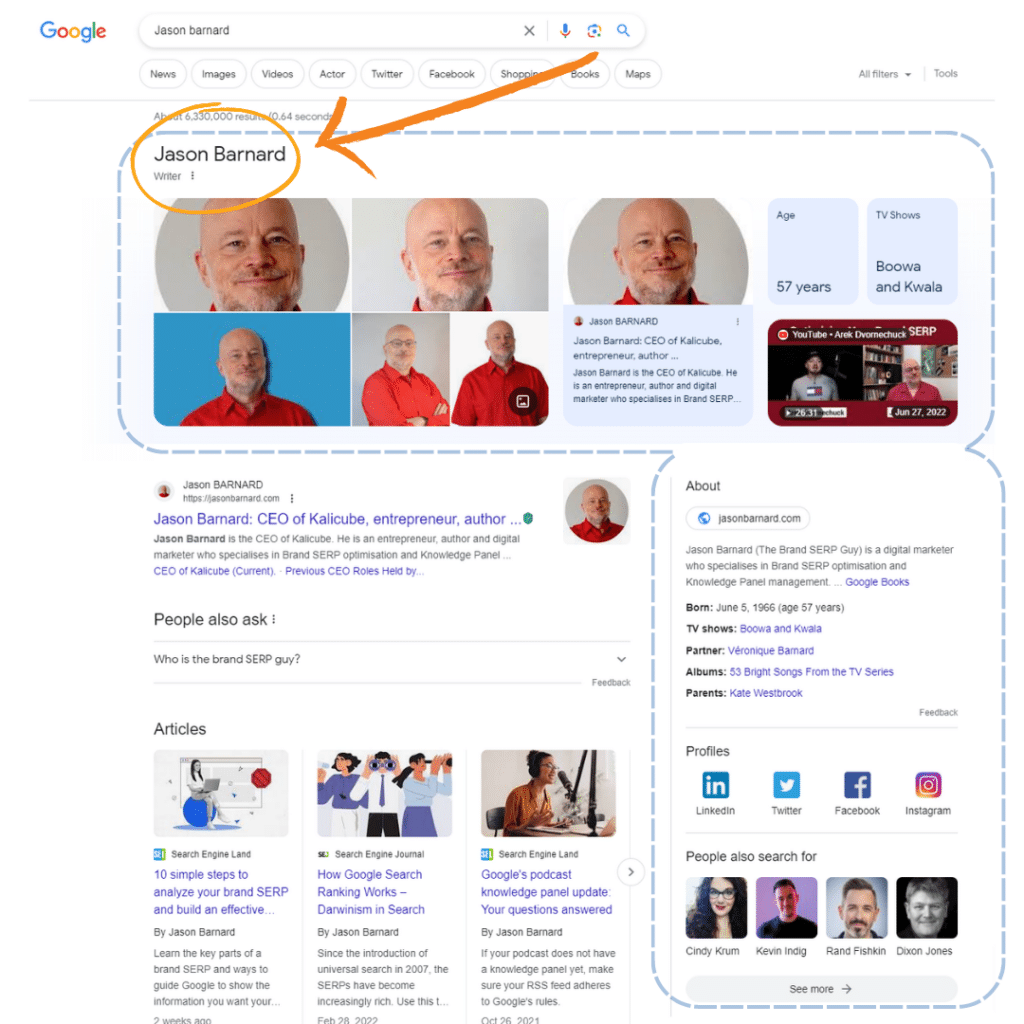 Occupation
Your occupation appears as part of the primary data, under your name or in the overview section. What is displayed and its arrangement may vary. Google lists your occupation from reputable sources online. Ensure your occupation is represented correctly in these sources so your Personal Knowledge Panel reflects it accurately.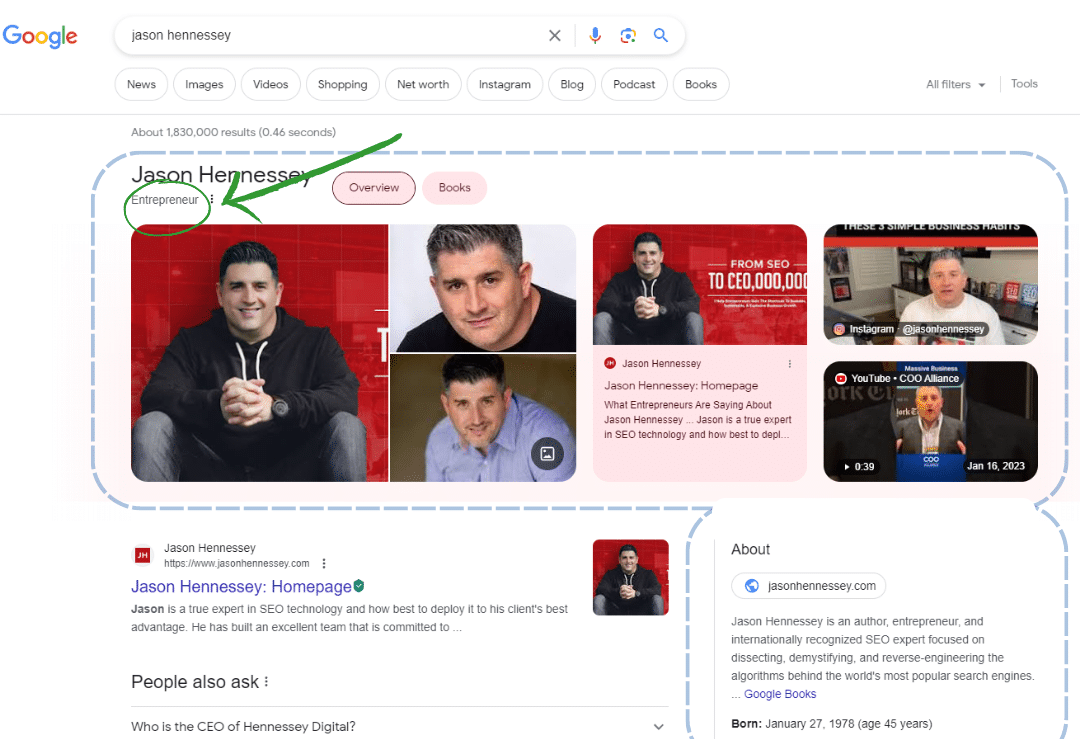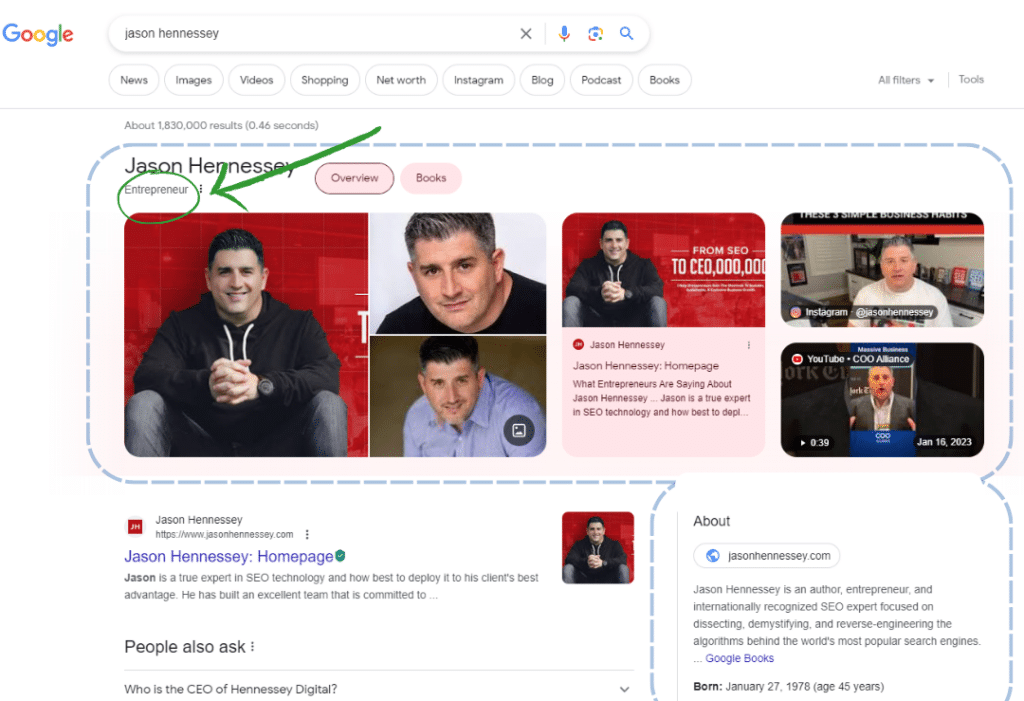 Geo-region or Geographic Context
The geographic context in a Personal Knowledge Panel generally refers to the nationality or country of which you are a citizen or known to originate from.
Geographic context is significant for well-known people who represent their country in an international field like sports, politics, the arts, and science.
However, not all Personal Knowledge sections include information about a person's geographic context because Google displays the details the Google Knowledge Graph deems relevant.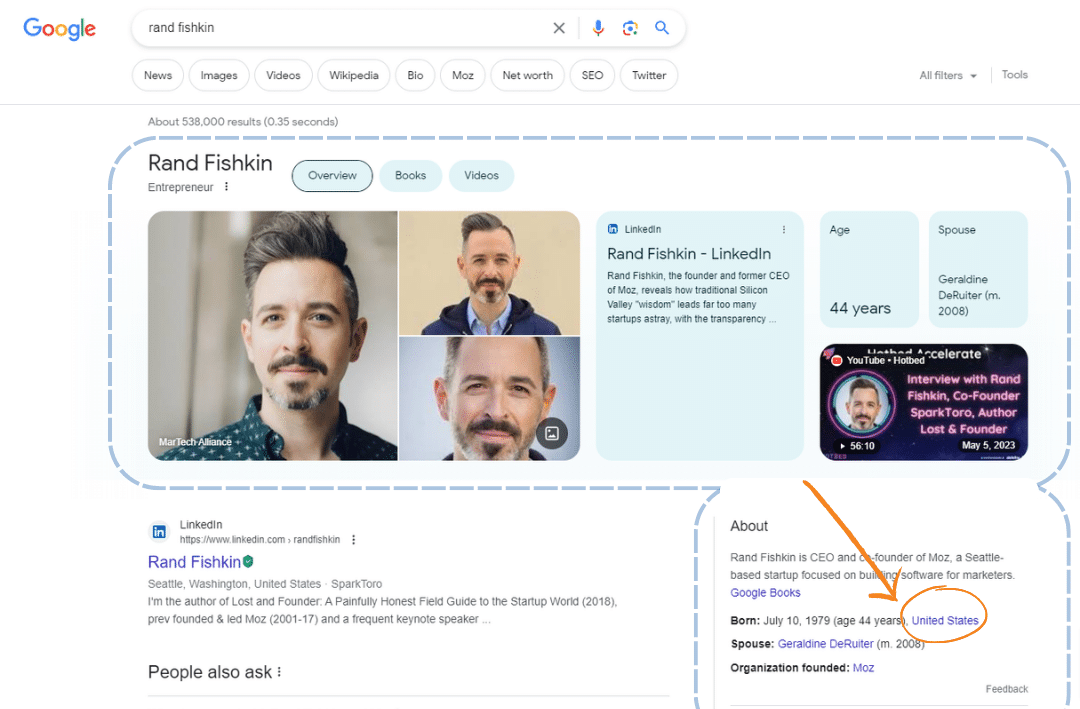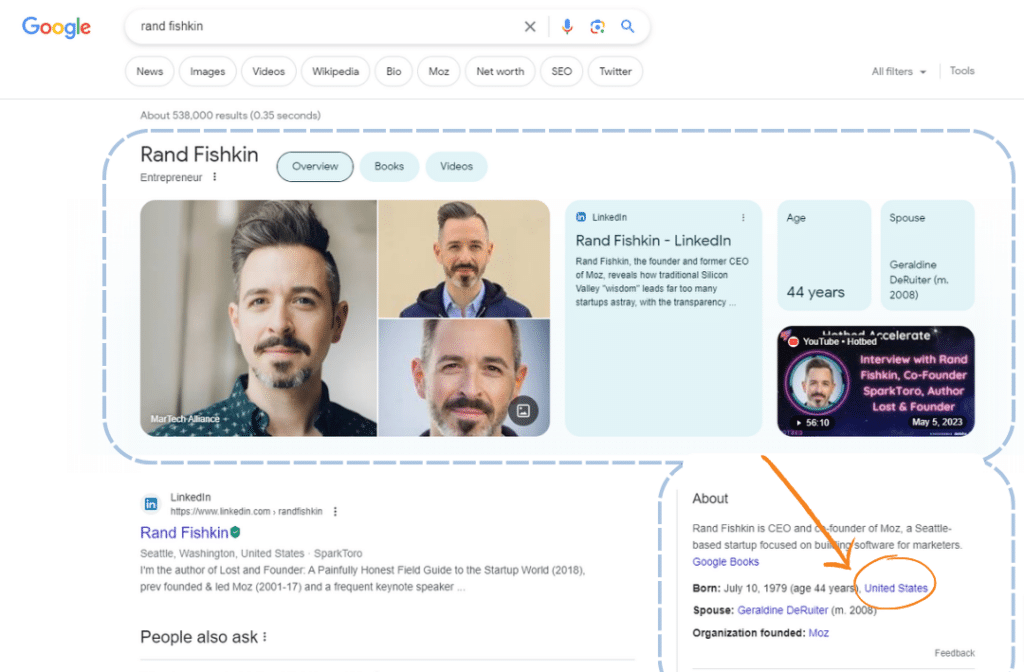 Educational Background
Your educational background refers to the schools, colleges, and universities you attended and the qualifications you earned. For example, if you have a bachelor's degree in computer science from Stanford University, this may be listed along with the appropriate years.
This information can be particularly useful in supporting your credibility in your field. Other educational achievements or affiliations, such as notable research, teaching, or fellowships may appear if relevant.
Note: Depending on the sources from which Google pulls the data, your information may not be available publicly or represented accurately. Always ensure that your online profiles (such as LinkedIn) are up-to-date and accurate.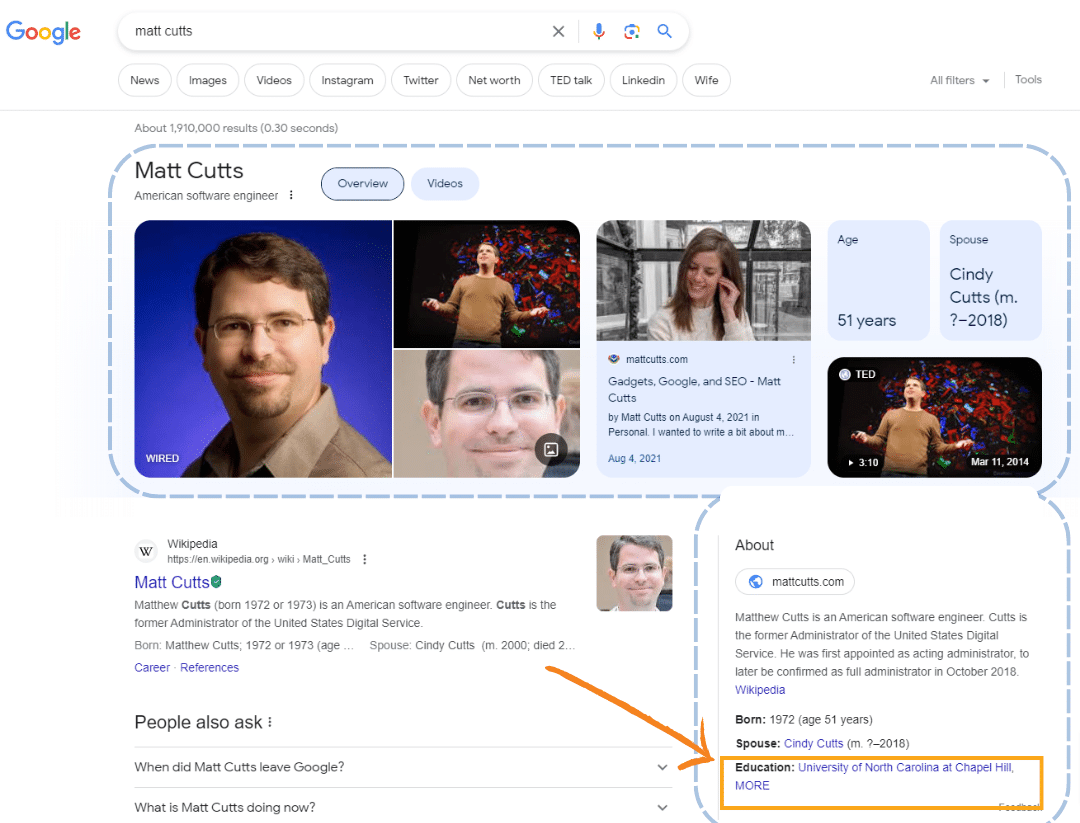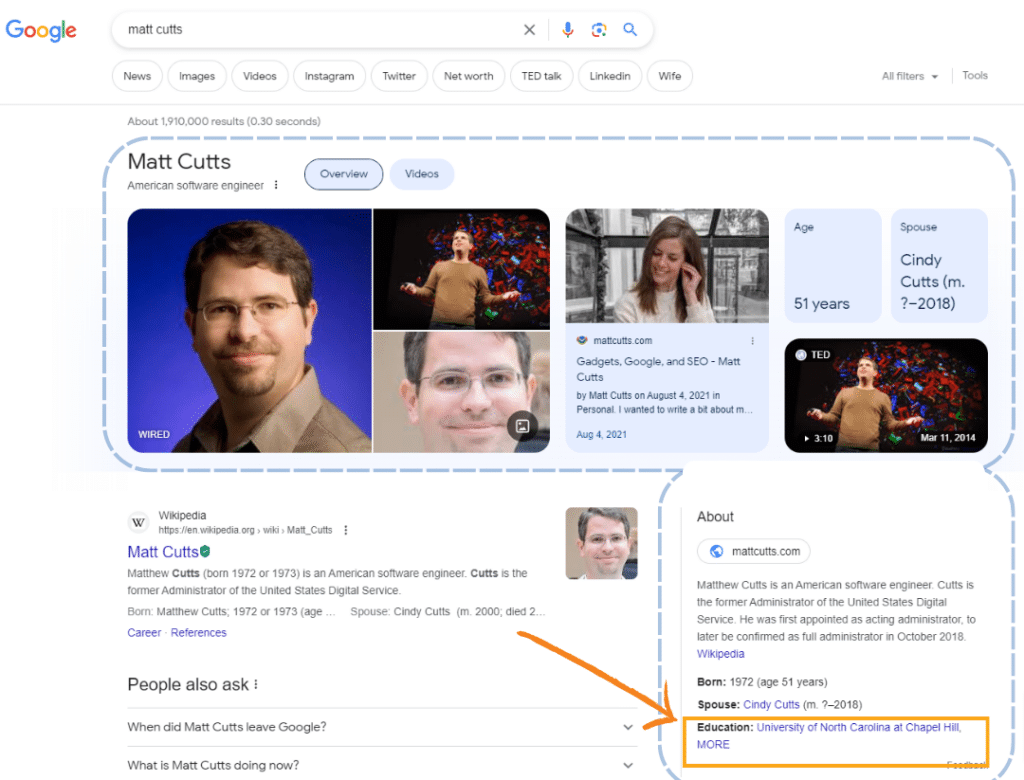 Associated Organizations
These refer to companies, institutions or other entities with which you are associated. These may include:
The company or companies you work for or with now.
Previous employers, especially if they are notable or relevant to your public profile.
Educational institutions you have attended.
Nonprofit organizations, committees or boards on which you are a member.
Any other individual with whom you have a significant and publicly recognized association.
These affiliations provide more context about your background, current role, and professional or public activities. They are notable in demonstrating expertise and credibility in particular areas.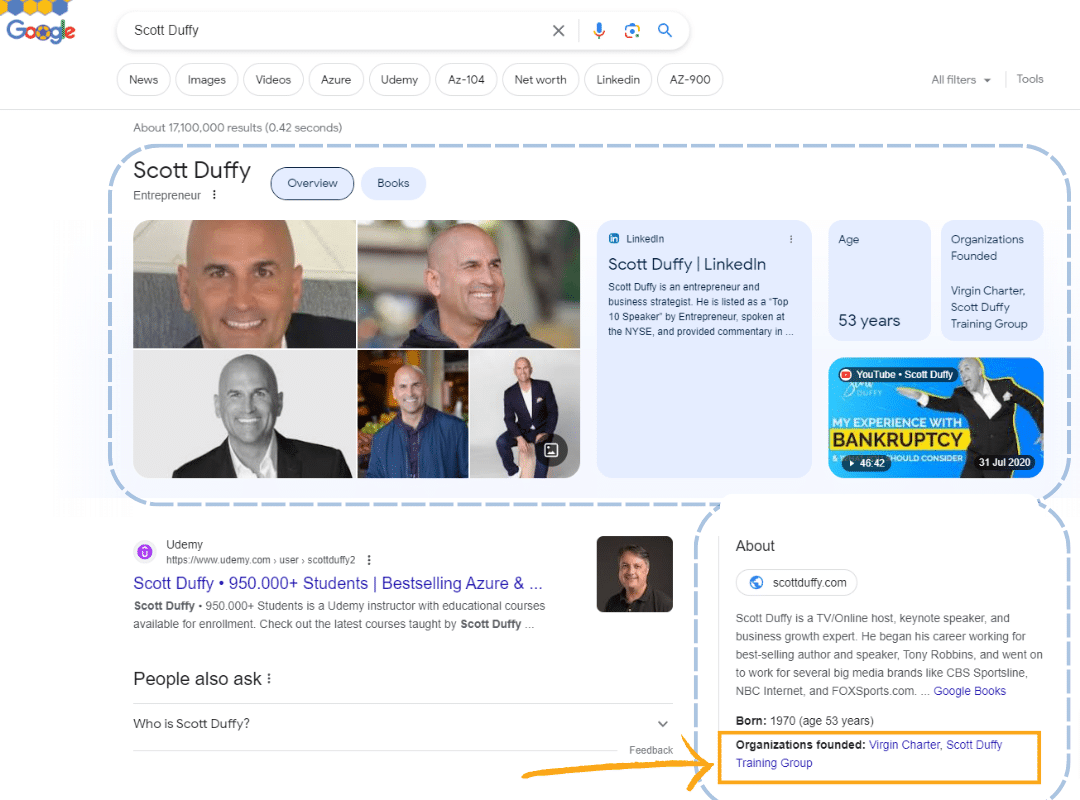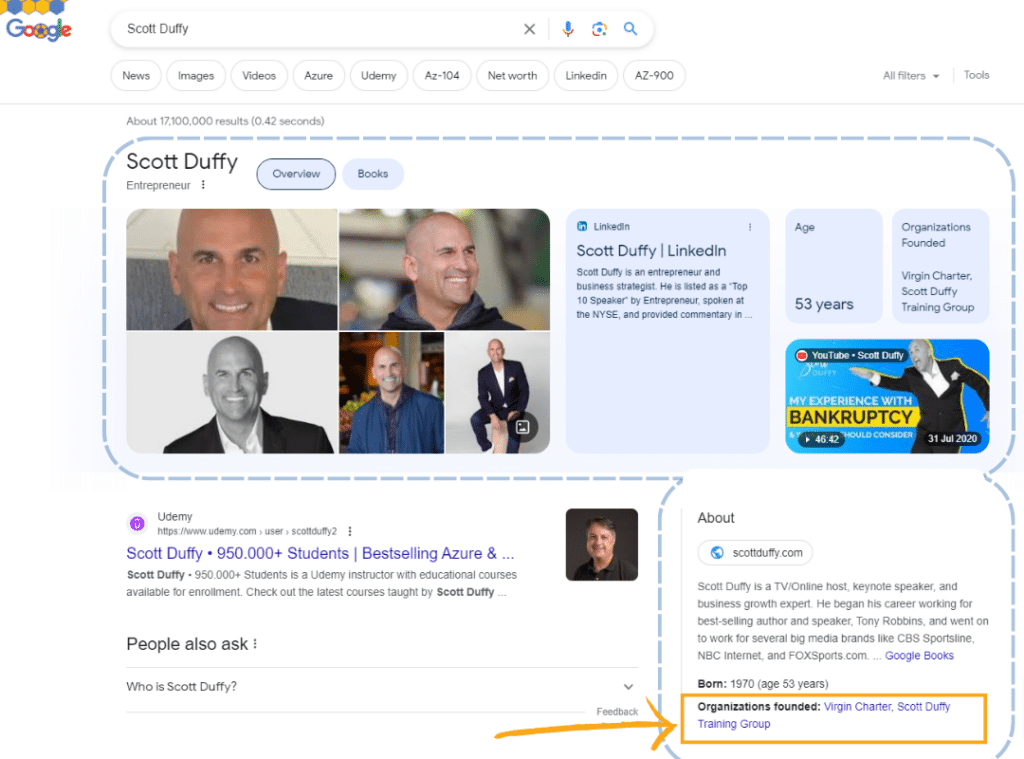 Associated People
These are individuals with whom you are closely connected. They may be colleagues, partners, family members or other closely related individuals.
In a corporate context, for example, they could be co-founders or team members of the same company. If you are a celebrity, it could be other celebrities you frequently work with or family members who are also notable.
These associations provide more insight into your network and can help users understand your relationships within your professional or personal life.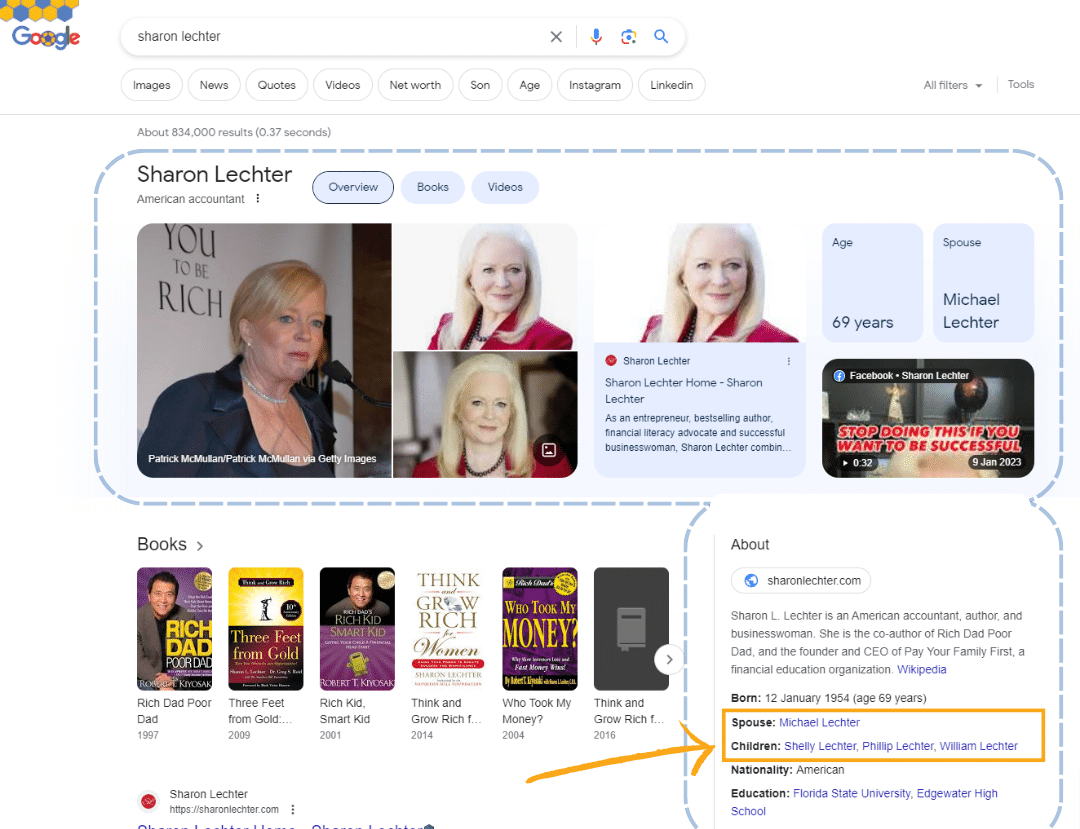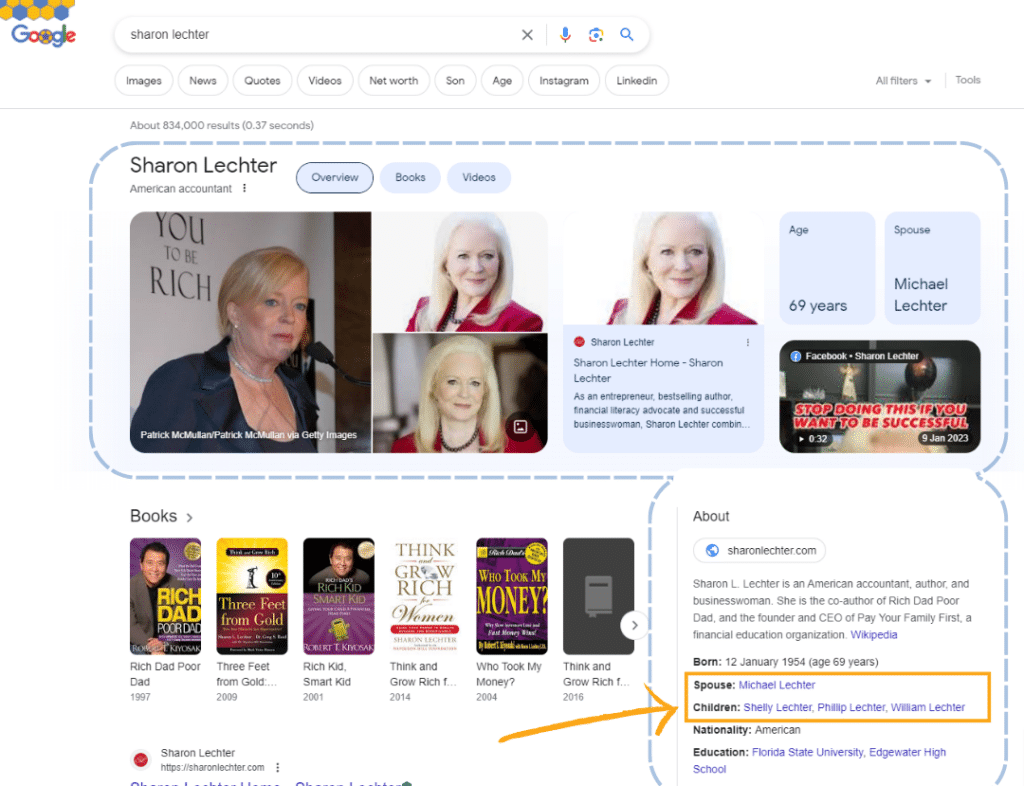 Social media profiles
In a Personal Knowledge Panel, social media profiles refer to your known and verified profiles on various social media platforms. These may include (X) Twitter, FaceBook, Instagram, LinkedIn, YouTube, or others on which you maintain an active presence.
When listed, they usually appear as icons that users can click on to go directly to their respective profiles. People can easily find and interact with you on these platforms via your Knowledge Panel.
Google usually verifies that social media profiles are authentic before linking to them in your Knowledge Panel, and depending on your online presence, not all panels may include these links.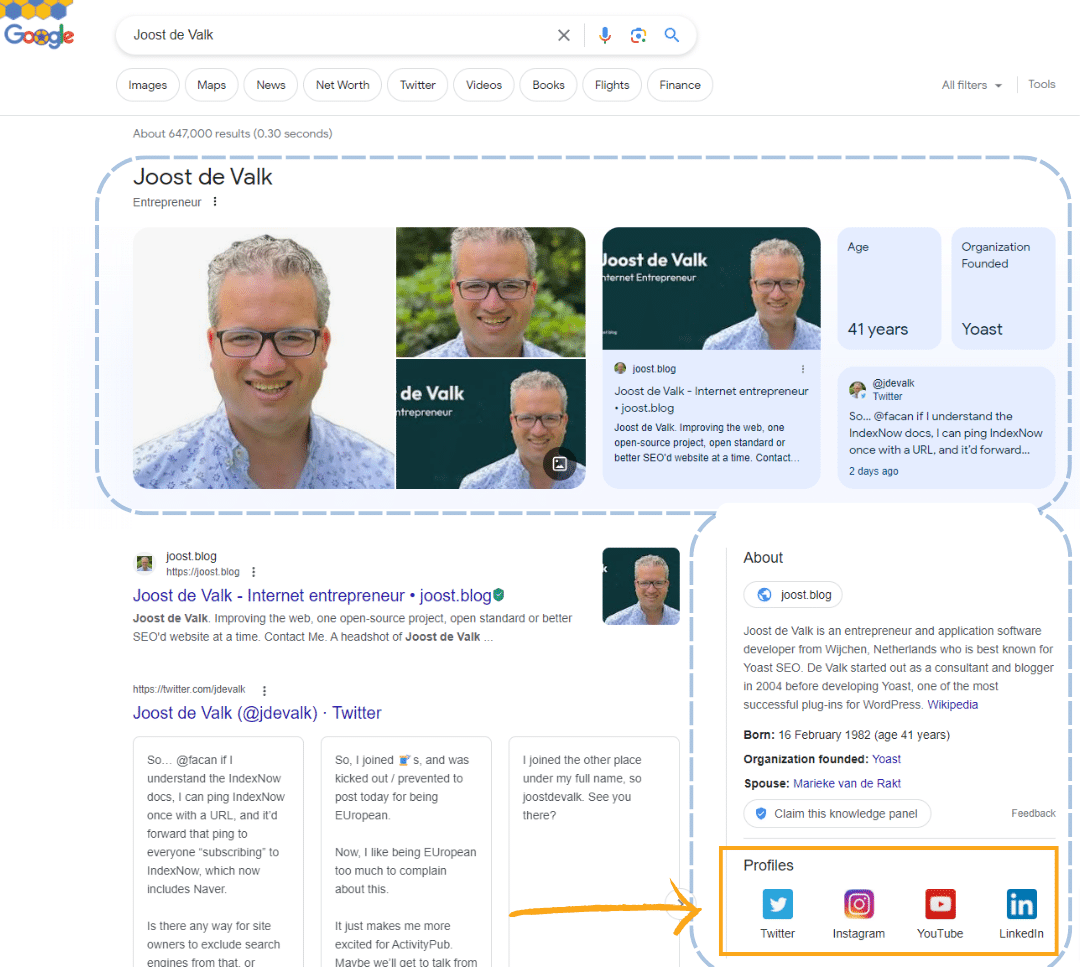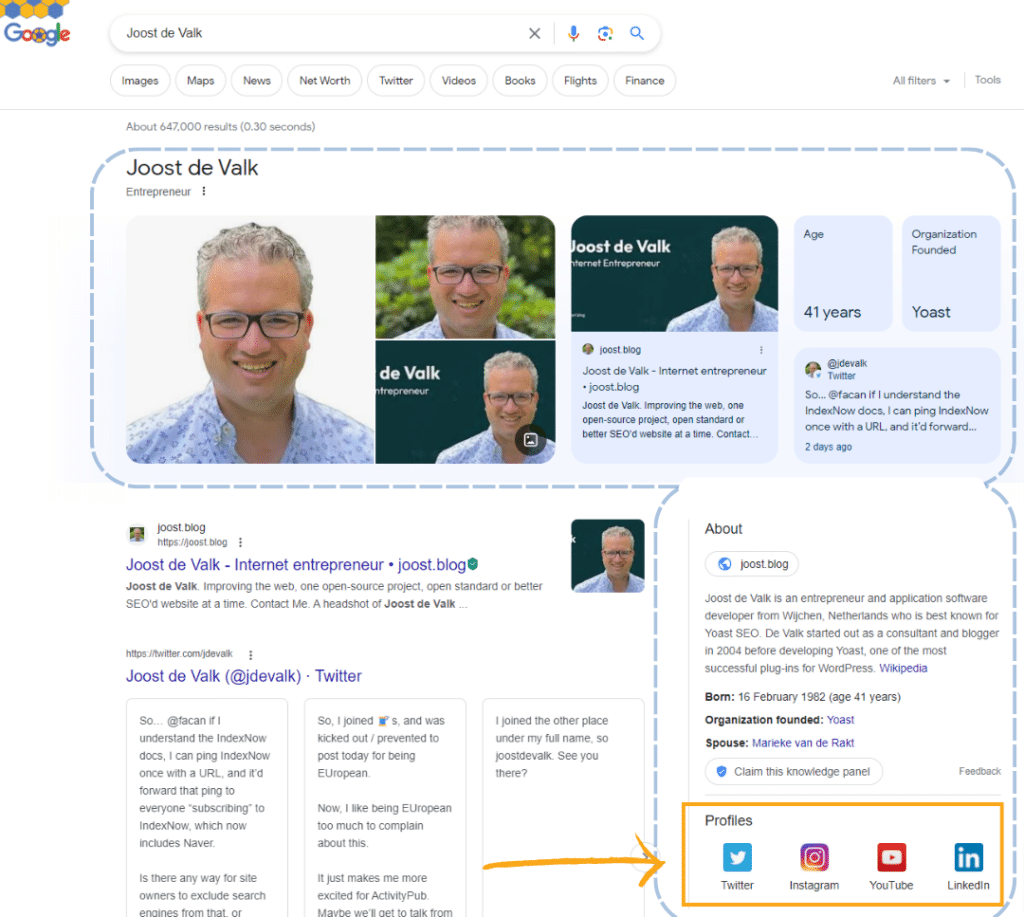 Images
Images refer to the pictures that visually represent you. The main image is often displayed at the top of the panel and usually shows your portrait or a photo in which you feature prominently. These images come from various online resources that Google's algorithms deem reliable and authoritative, such as your official website or social media profiles, news articles, or other notable online sources.
Some Personal Knowledge Panels may also display additional images or a carousel of pictures showing you in different contexts, which may relate to your profession or public presence.
The images in a Personal Knowledge Panel play an integral role in your online branding and recognition. It is vital these images accurately represent you.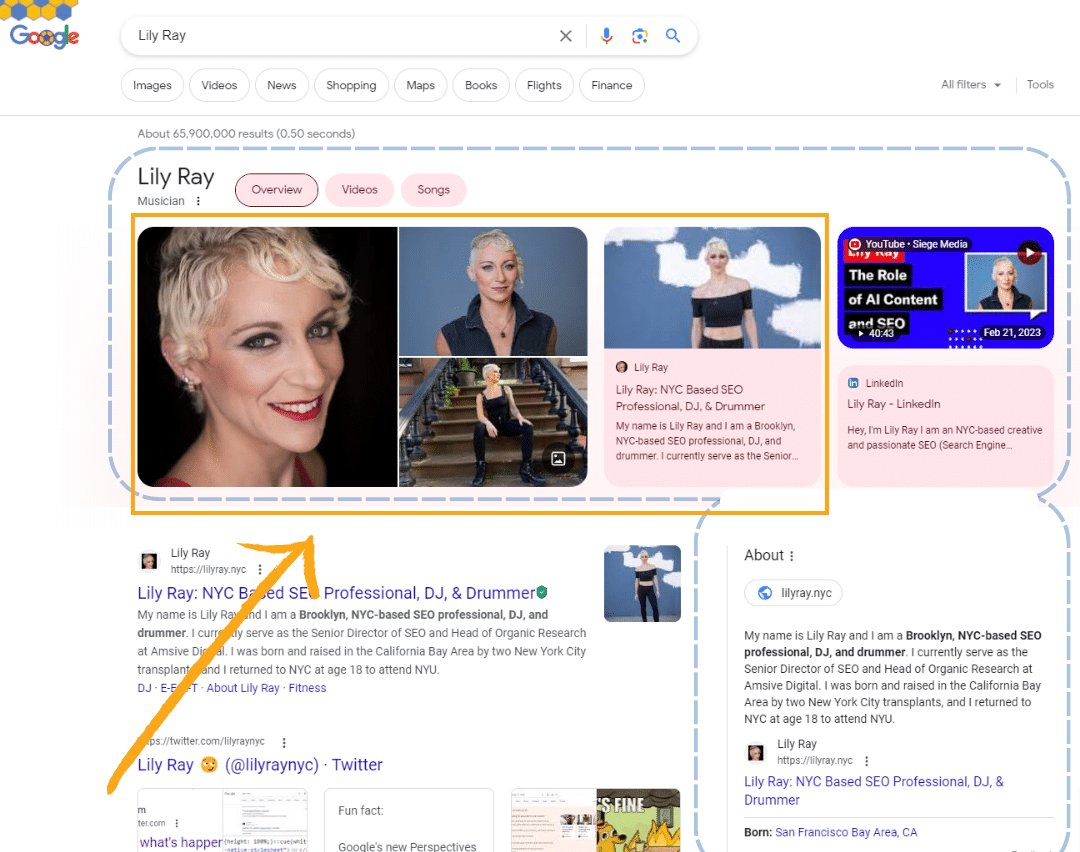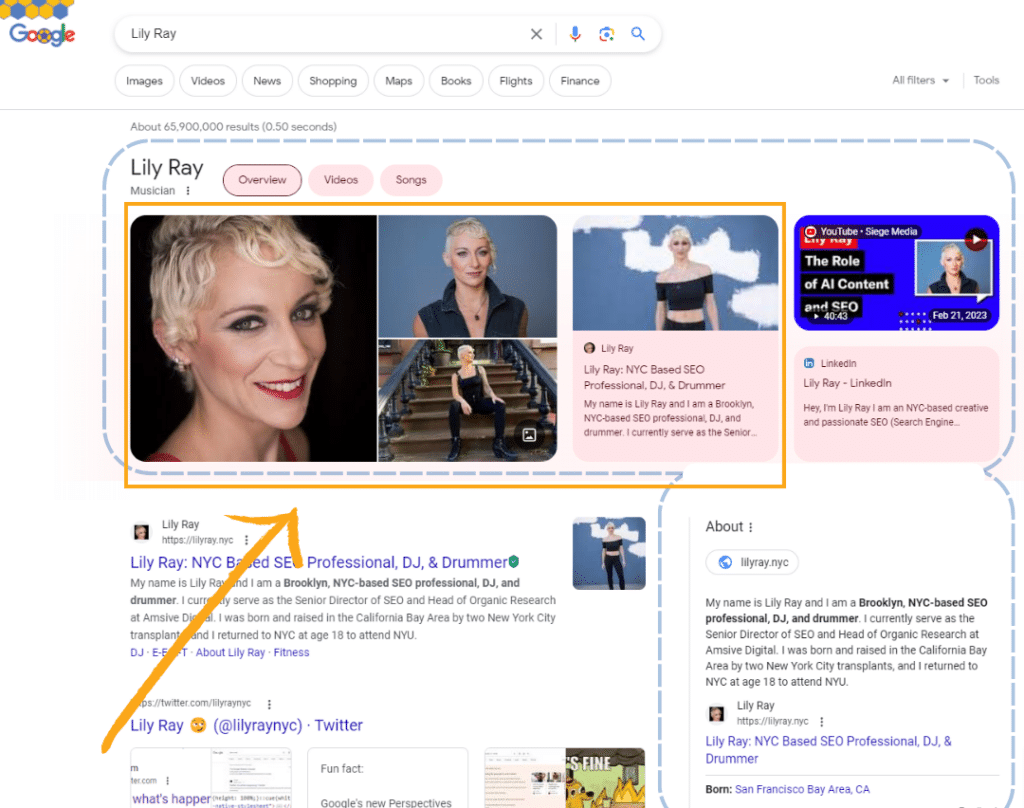 Notable achievements, awards or accolades in your field of work
In a Personal Knowledge Panel, significant accomplishments in your professional field include notable achievements, awards or accolades. Examples are in the list below.
Recognition or awards from prestigious institutions, peer organizations, critics, or industry associations.
Published works, patents or inventions, groundbreaking projects, or closed deals.
Significant leadership or advisory positions
Record-breaking or first-time achievements.
Mention on industry-recognized lists such as Forbes 30 Under 30, etc.
This section is very strategic as it adds credibility and highlights your authority in your field. However, these accomplishments usually come from authoritative and reliable online sources. Your accomplishments must be well-documented and easy to find online.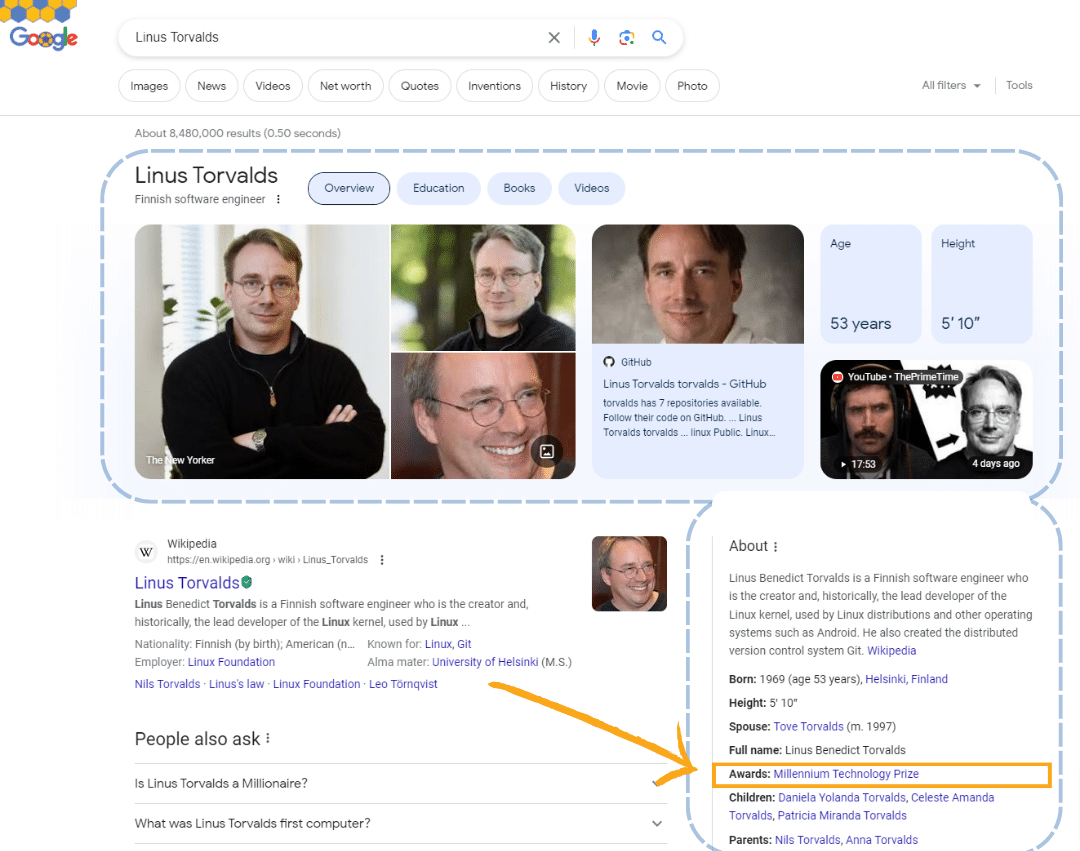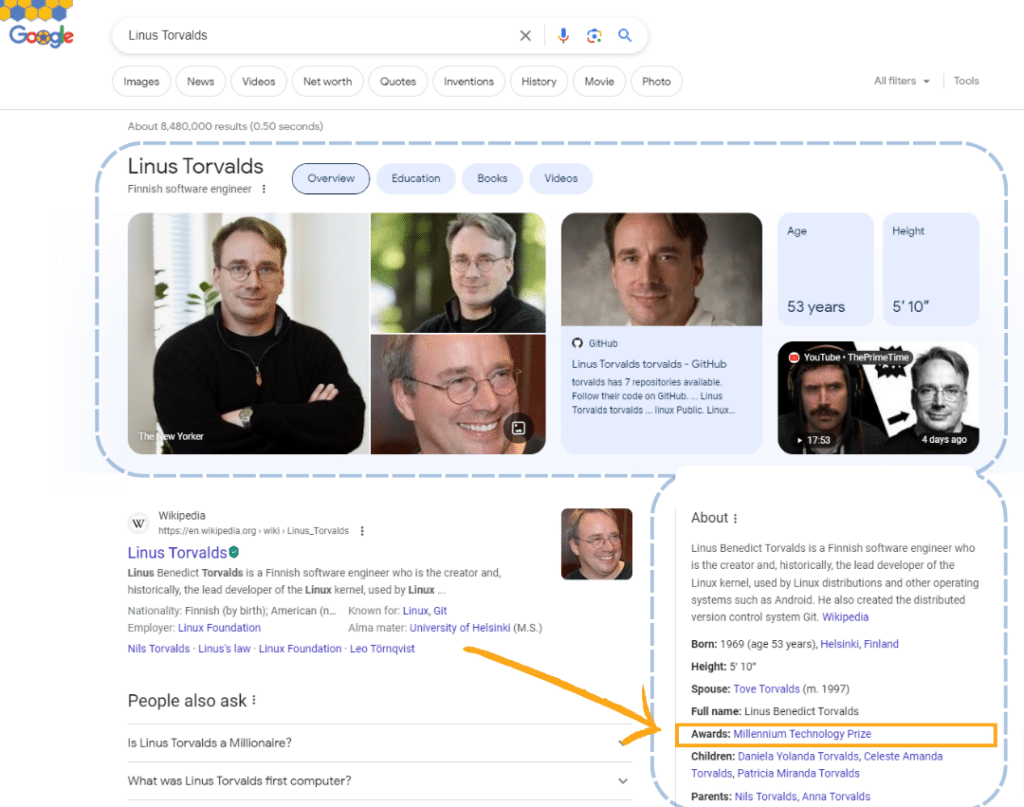 How Does Google Decide Which Information it Displays on a Personal Knowledge Panel?
Google's Knowledge Algorithms determine which information appears in your Personal Knowledge Panel. You have no direct control over it. However, if you work carefully with the Kalicube Process, you can exercise indirect control through your own website (or, more accurately, Entity Home).
They evaluate the information they find about you online based on the clarity of presentation and the relevance, authority, and trustworthiness of the sources.
The factors determining what information Google ultimately displays are in the list below.
Does Google explicitly understand the information?
Is the information relevant to the person and their audience?
When properly triggered with information from Google's Knowledge Graph, a Personal Knowledge Panel can be a reliable and extremely impressive presence on your Brand SERP (Search Engine Results Page) for your name. A Personal Knowledge Panel with lots of information vividly portrays your professional brand and services, and it's a seal of approval from Google.
Ensuring you have the Knowledge Panel you deserve and your audience sees it when they google your name is a critical part of your personal brand.
Kalicube is a specialist in Brand SERP Optimization and Knowledge Management, and it helps in building Personal Knowledge Panels.
Guidelines and Support: Kalicube provides the Kalicube Process – a strategic guide for triggering and managing Knowledge Panels. The Kalicube Process helps you better understand the process and start with ease.
Kalicube Pro: Kalicube offers a comprehensive consultancy and SaaS deal using Kalicube Pro. It includes millions of data points from various industries and develops a step-by-step strategy for building your Knowledge Panel.
Digital Ecosystem List: Using Kalicube Pro, you can create a comprehensive 'Digital Ecosystem List' encompassing all aspects of your online brand. The Digital Ecosystem List is part of Kalicube's three-step process and an essential requirement for modifying your Knowledge Panel data.
Free DIY Option: Kalicube offers a free Knowledge Panel checklist. This detailed checklist shows you how Kalicube uses the Kalicube Process to manage Knowledge Panels for clients.
Troubleshooting: If you have issues with your Knowledge Panel (e.g., inaccurate information or it has disappeared), Kalicube offers services to troubleshoot these issues. Kalicube has extensive experience in improving or rebuilding Knowledge Panels.
Time-saving tool: Kalicube Pro is an automated system that helps you find all the critical sources you need for your Personal Knowledge Panel.
 Please book a call with Jason. Let's discuss how Kalicube can assist you in streamlining your online presence and optimising your Knowledge Panels to boost your brand visibility and reputation.
Contributor: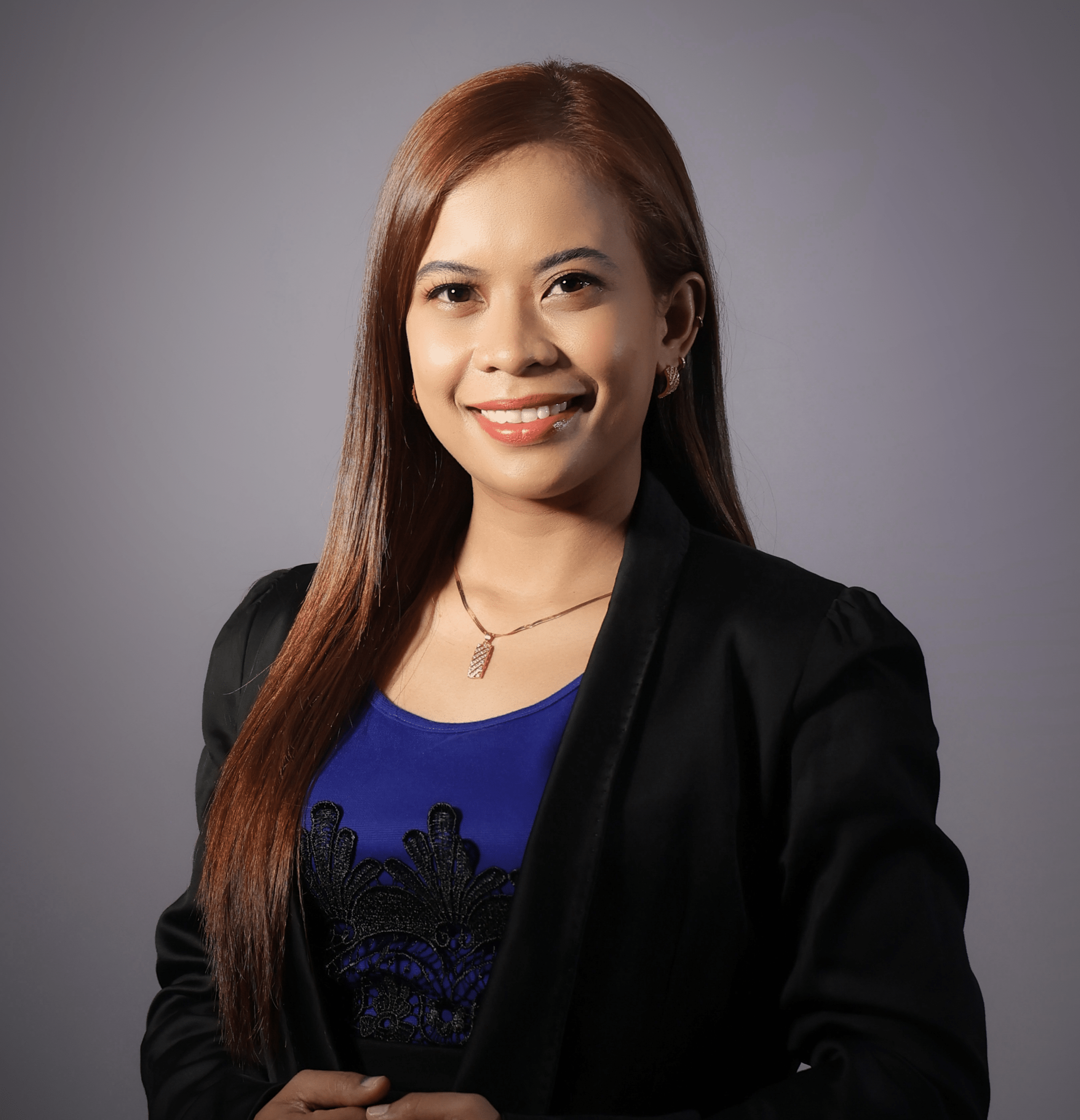 Jean Marie
Website Content Manager. Joined Kalicube in February 2022
LinkedIn: www.linkedin.com/in/jeanmarielaurente
Email: [email protected]