The Kalicube meta title experiment: What Google does when it doesn't understand your meta title
Using a mysterious meta title can pique users' curiosity, but may not be the best strategy for your Brand SERP (Search Engine Results Page) and overall Search Engine Optimisation (SEO) efforts. 
Why? Because Google doesn't understand the words and doesn't use them.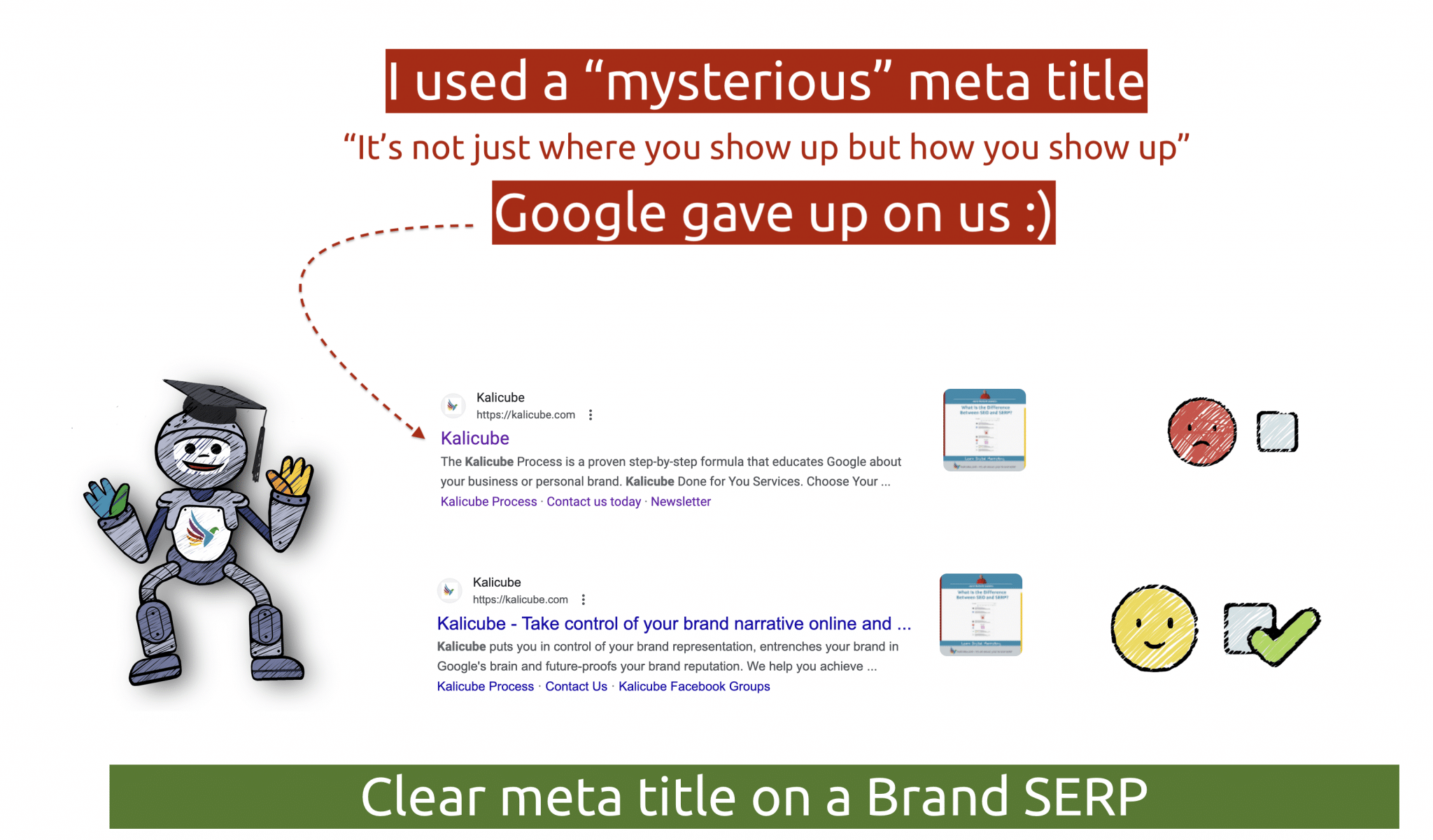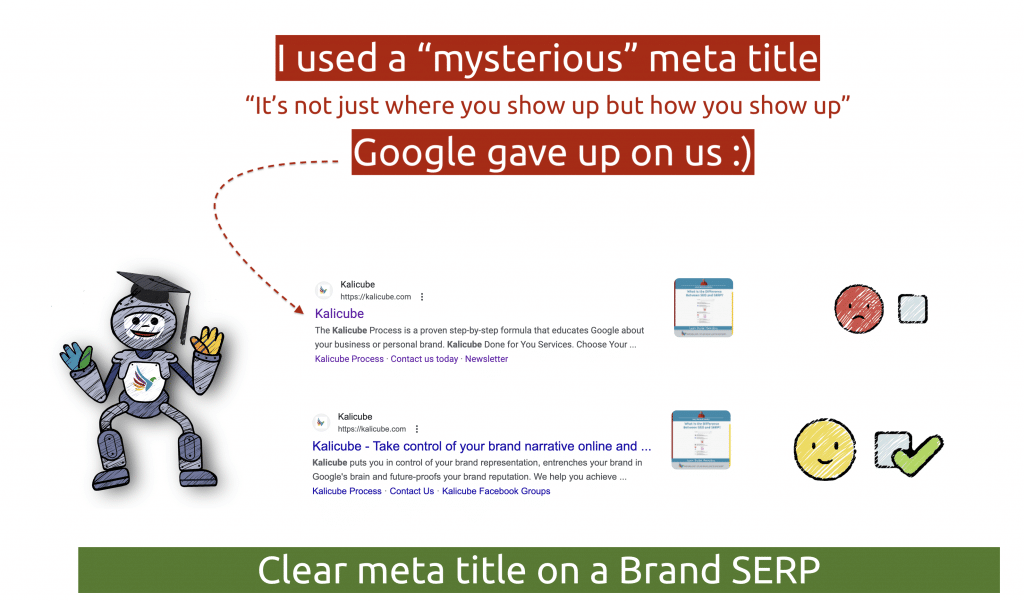 The "mysterious meta title experiment"
We tried a meta title experiment at Kalicube and used a mysterious, but unclear title:
"Kalicube – It's not just where you show up, it's how you show up."
And what happened? Google got confused and "gave up."
The lack of clarity and conciseness in Kalicube's meta title prevented Google from properly understanding and presenting the content on the web page.
As a result, Google "gave up" when trying to create a relevant snippet for the Brand SERP . In such cases, Google simply displays the name "Kalicube" in the SERP for a relevant search query because it doesn't have enough information to create a more detailed snippet.
If Google finds that your title tag is not relevant, not clear or does not accurately reflect the content of your website, it may decide to rewrite the title for its search engine results. In this case, Google pulls information from other sources such as your meta description and the content of the page itself to create a more appropriate title. Google does this to provide users the most relevant and helpful information for their search queries.
Have a clear meta title on your Brand SERP
A clear meta title on a Brand SERP is critical to effectively convey your brand's message and make it easier for search engines and users to understand what your website is about. 
A clear meta title should be –
Concise
Contain the name of your brand; and,
Contain an accurate description of the content of the page.
This helps search engines like Google index the page correctly and gives users a better idea of what to expect when they click on your page in search results.
Importance of clear meta title for your Brand SERP
A clear meta title is important for your Brand SERP for several reasons:
Relevance
A clear meta title helps search engines like Google understand the main topic of your page. This makes it more likely that your page will appear in search results for relevant queries.
User Experience
When users see your result in search engine results, a clear meta title helps them determine if your page is relevant to their needs. This increases the likelihood that users will click on your result and ultimately improves your click-through rate (CTR).
Branding
A well-crafted meta title that includes your brand name conveys your brand message effectively, and helps build brand awareness and visibility in search results. This can lead to more trust and recognition from users searching for your brand or related products/services.
Perception of legitimacy
An accurate and well-written title gives your website a professional appearance and establishes credibility with searchers.
Clarity
A clear meta title ensures that search engines and users understand the purpose of your page. This minimises confusion and the possibility of Google paraphrasing your title, which could lead to users being shown less relevant results.
With a precise and concise meta title that reflects the content and purpose of your page, you can effectively convey your brand message, improve user experience, and achieve better visibility in search engine results.
And if the meta title looks too long to you…. think again. The standard recommendation for meta title length is 70 characters. But Kalicube writes clear and concise meta titles up to 166 characters with 27 words and the search engines publish the full title on mobile devices. Now that's getting your brand message across.